Activation Lock: Checkm8 Review & Best Alternative
Posted by Leonard White on May 31, 2023 11:00 AM • Category:
Unlock iCloud
5 mins read
Apple has built the security feature Activation Lock into its products to safeguard user data in the case of loss or theft. Activation Lock considerably improves security, but it can be a hassle for customers who have forgotten their Apple ID login information or who bought a used device that has an active lock. In such situations, users often look for solutions like Checkm8 to bypass Activation Lock. In this Checkm8 review, we will explore Checkm8 and discuss the best alternative options available for bypassing Activation Lock.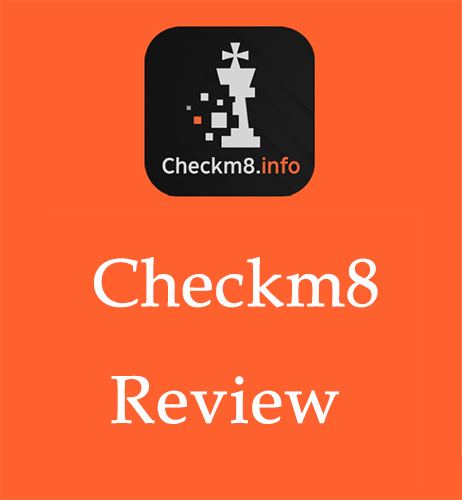 Part 1: What is Checkm8?
Due to its capacity to get through Activation Lock on specific iPhone and iPad models, Checkm8 is a bootrom exploit that has attracted a lot of interest in the iOS community. It makes use of a weakness in the bootrom, a read-only memory chip that launches the operating system and initializes the hardware of the device. So, the question is can checkm8 bypass icloud? Yes, Checkm8 allows users to bypass iCloud Activation Lock, enabling them to access and use a device that would otherwise be locked.
Pros & Cons of iRemove:
Pros:
Device Compatibility: Checkm8 works on a wide range of iPhone and iPad models, including older devices. It supports devices from iPhone 4s up to iPhone X.
Permanent Solution: The bypass performed by Checkm8 is permanent and remains in effect even after software updates or restoring the device.
No Apple ID Password Required: Checkm8 does not require the user to know the original Apple ID and password associated with the device.
Cons:
Limited Device Support: While Checkm8 supports several iPhone and iPad models, it does not work on newer devices such as iPhone XS, iPhone XR, iPhone 11, and iPhone 12, and their respective variations.
Technical Expertise Required: It takes high technical knowledge and proficiency to use Checkm8.
Tethered Solution: To keep the bypass working, it needs to be linked to a computer every time the device is reset or switched on. Regular users may find this to be inconvenient.
How to download and use Checkm8?
Checkm8 is a powerful exploit that targets specific iPhone models running specific versions of iOS. It is intended to get beyond Apple's secure boot chain and access the system at a low level. However, it's crucial to remember that Checkm8 is only meant for experienced users and should only be used for testing or research because doing so could void the device's warranty and potentially harm it irreparably. Here are the steps to download and how to use Checkm8:
Step 1: Check Compatibility: Checkm8 is compatible with select iPhone models ranging from iPhone 4s to iPhone X. Make sure your device falls within this range.
Step 2: Download Checkm8: Checkm8 is available as a command-line tool. You have the option to download it directly from the official GitHub repository. Open your web browser and visit the Checkm8 GitHub page.
Step 3: Install Dependencies: Checkm8 relies on several dependencies to function properly. You must set up these dependencies on your PC before running Checkm8. Refer to the instructions provided in the readme file of the GitHub repository for further information on installing the required dependencies for your operating system.
Step 4: Enter DFU Mode: To use Checkm8, you need to put your iPhone into Device Firmware Upgrade (DFU) mode.
Step 5: Launch Checkm8: Open a terminal or command prompt on your computer. Navigate to the directory where you downloaded Checkm8. Run the Checkm8 command-line tool and follow the specific commands provided in the GitHub repository's readme file.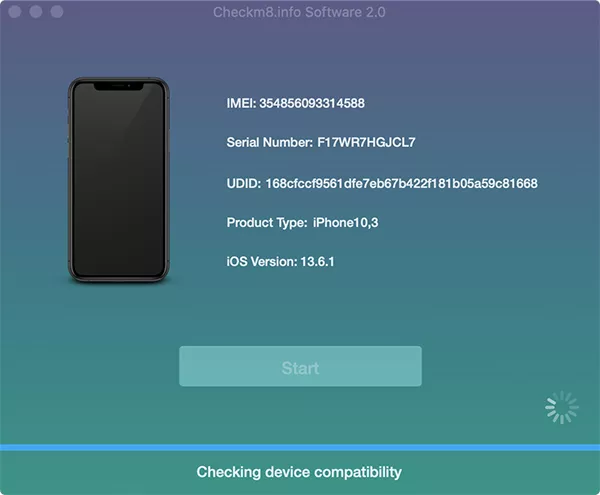 Part 2: TunesKit Activation Unlocker: The best alternative to Checkm8
TunesKit Activation Unlocker is a software tool designed to unlock and bypass the activation lock on iOS devices. It provides an alternative solution to Checkm8 for users who are unable to use or prefer not to use the Checkm8 exploit. Here's an introduction to TunesKit Activation Unlocker, how to use it, and its advantages:
The professional software TunesKit Activation Unlocker enables users to get past the activation lock screen on iPhones, iPads, and iPods touch. Apple implemented the activation lock security feature to stop unauthorized access to a device connected to an iCloud account. TunesKit Activation Unlocker offers a reliable method to unlock iOS devices and regain full control over them.
Pros & Cons of TunesKit Activation Unlocker:
Pros:
User-friendly interface.
The high success rate in removing the activation lock.
Compatibility with a wide range of iOS devices and versions.
No advanced technical skills required.
Cons:
How to Use TunesKit Activation Unlocker:
Using TunesKit Activation Unlocker is straightforward. Here's a step-by-step guide: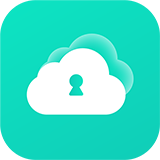 Features of TunesKit Activation Unlocker:
Bypass iCloud Activation Lock without passcode
Supports iPhone, iPad, and iPod touch
Turn off Find My feature without password
Available on Windows and Mac
Try It Free
600,000+ Downloads
Try It Free
600,000+ Downloads
Step 1

Connect Device

Download and install TunesKit Activation Unlocker from the official website. Launch TunesKit Activation Unlocker on your computer. Connect your locked iOS device to the computer using a USB cable. Click the "Start" button in TunesKit to initiate the unlocking process.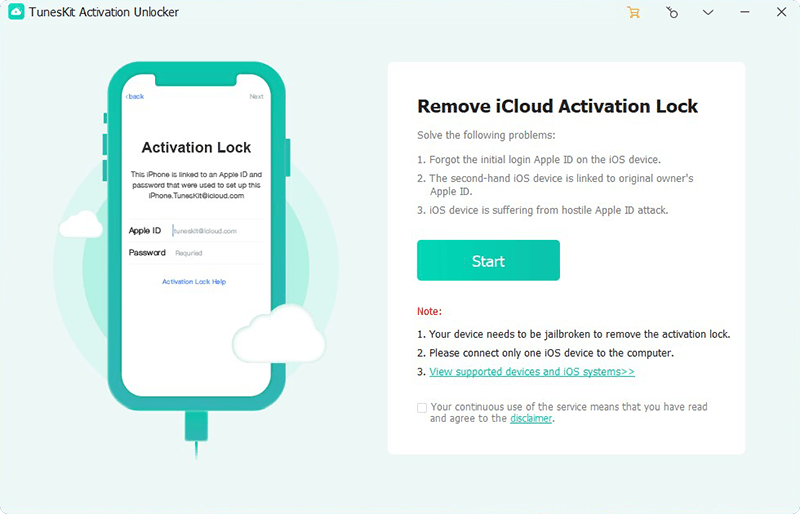 Step 2

Jailbreak system

Methods to jailbreak your device are different on Mac and Windows, go click the right tutorial link below to jailbreak your system, then reboot your computer.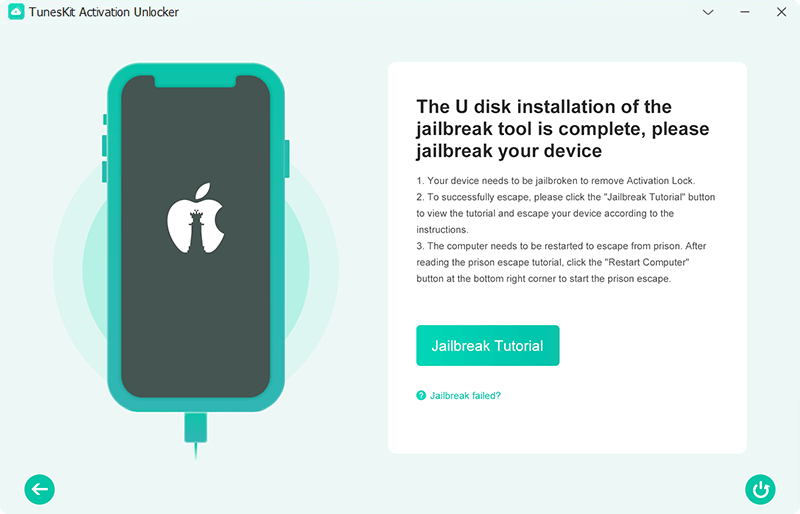 Step 3

Remove iCloud Activation Lock

Go Start to Remove, TunesKit will start removing the activation lock from your device. Please make sure your device stays connected during this process.  You can either set up your device as a new one or sign in with a different iCloud account when the activation lock has been properly lifted.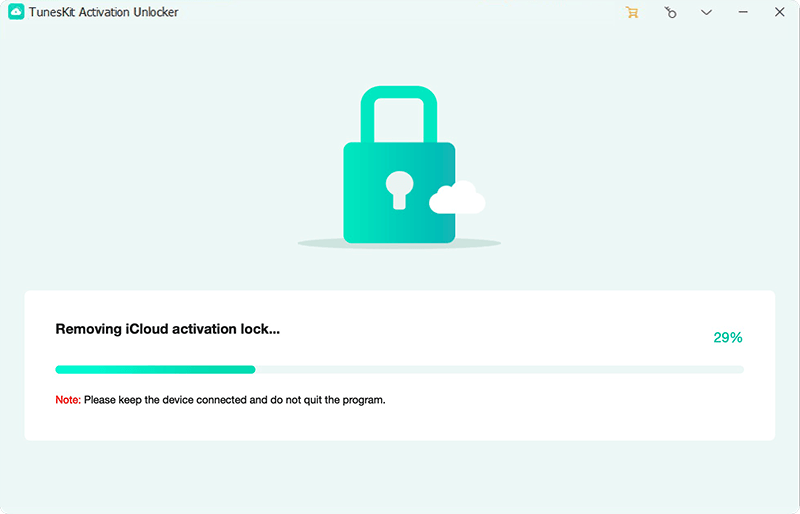 Part 3: Comparison between checkm8 and TunesKit Activation Unlocker
While both Checkm8 and TunesKit Activation Unlocker are tools used to get around the activation lock on Apple devices, their features and compatibility vary. A hardware-based hack called Checkm8 uses a flaw in some Apple devices' bootroms to its advantage. Bypassing the activation lock or installing modified firmware are both possible. However, Checkm8 is mostly used by developers and academics and requires technical knowledge and experience to use. Although it has more sophisticated features, novice users could find it inappropriate.
The TunesKit Activation Unlocker, on the other hand, is a software-based method that offers a simple interface for getting around the activation lock on Apple devices. It provides a streamlined procedure that makes it simple for non-technical people to unlock the activation lock. For those who have lost their Apple ID or bought a pre-owned device with an activation lock, TunesKit Activation Unlocker is intended to be more accessible and practical. It provides a simple answer without calling for a deep understanding of technology. Here are some advantages and disadvantages of both unlocker tools:
| | | |
| --- | --- | --- |
| | Checkm8 | TunesKit Activation Unlocker |
| Advantages | Full low-level access to iOS device | User-friendly interface |
| | Powerful exploit for advanced users | High success rate in unlocking |
| | Can be used for research or development | Compatible with various devices |
| | | Supports Mac and Windows |
| Disadvantages | Advanced technical skills required | Requires a paid license |
| | Risk of device damage or warranty void | |
| | Limited to specific iOS device models | |
Part 4. Conclusion
In conclusion, the Activation Lock is an important security feature that aids in preventing unauthorized access to our gadgets and personal data. This Checkm8 review has shed light on its capabilities as a powerful tool for bypassing Activation Lock. While Checkm8 may be useful for certain purposes, it's important to emphasize that its usage should strictly adhere to legal and ethical guidelines.
One viable alternative method worth considering is using TunesKit Activation Unlocker. TunesKit Activation Unlocker is a reputable software tool that specializes in removing Activation Lock from iOS devices. It provides a secure and legal way to bypass the Activation Lock by utilizing advanced algorithms and techniques. With TunesKit Activation Unlocker, users can regain access to their locked devices without compromising their security or violating any laws.