How to Repair Videos Not Playing on the Computer
Posted by Adam Gorden on Oct 28, 2020 5:00 PM • Category:
Repair Videos
5 mins read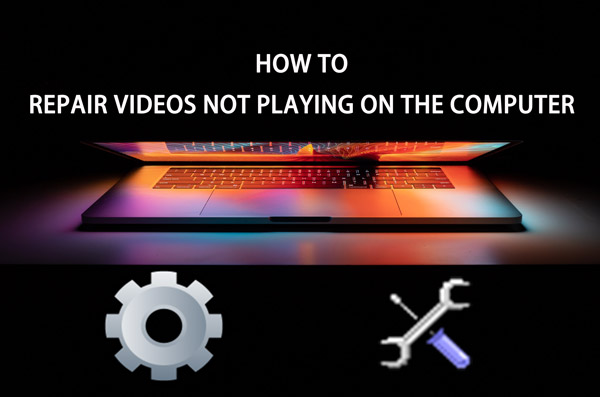 Videos have become a fundamental way of sharing ideas. From horror movies to regional recipes and from the stand-up comedy of your favorite artist to your neighbor's cat, we use videos every day. They are interactive, vivid, entertaining, informative, and lively. With better and cheaper internet solutions, access to videos, and thus these ideas have increased manifolds. They are not only restricted to downloading your favorite movie but take multiple forms in video streaming services, social media applications, e-learning platforms, and even business presentations.
However, there are certain times when these videos won't play on computers. In this article, we look at the common problems related to playing videos and how you can fix them. Also, we introduce an incredible video repair software with the utility of solving most of the issues you face within seconds.
Part 1. Common Types of Video Issue with Their Reasons
You should find the reasons why your videos won't play on computers before solving this issue. Here are some common cases I have listed below.
#1

Cannot run a video file

Likely, your media player doesn't support the extension or type of file. There might also be a case that your device has insufficient plugins to run the file.
#2

Choppy, jerky, or blurry video

The video might have been corrupted while recording, downloading, or transferring the file. This problem could be attributed to a faulty removable drive, a camera, or a recording device.
#3

Distorted Sound

Sometimes the audio is out-of-sync with the video, contorted. or even omitted at places. The problem could be with the existing audio drivers.
#4

Missing Video Codec

Codec files are required for encoding and decoding video and audio files. Oftentimes, your device and the media player don't have the required codecs for running a particular file.
#5

Sluggish or Slow video playback

This problem encountered while streaming videos online or even playing some downloaded videos on your media player. The issues could be attributable to your internet speed, browser, insufficient system requirements, or the file itself.
#6

Video buffering and browser crashes

In some devices, it is a recurring problem, and users often ask, "why are YouTube videos not playing on my computer?". These users often witness their screen getting frozen, or the browser becoming unresponsive while playing YouTube videos.
#7

Virus Infection

A virus or malware infection can create several problems for your device ranging from a slowdown in the processing capacity to deleting random files. Another devastating problem is that it can corrupt your video files.

Note: Now you knew the reasons. Then we will introduce one professional video repair tool to help you to fix video and even HD video not playing properly on computer, which is TunesKit Video Repair.
Part 2. Repair Videos Not Playing on Computer by TunesKit Video Repair
TunesKit Video Repair provides a one-stop solution to several problems encountered with a video not playing on the computer. TunesKit offers support for more than 25 media formats such as MP4, MPEG, M4V, AVI, 3GP, MP3, MKV, MOV, etc. Moreover, it also supports all-important resolutions like HD, UHD, Full HD, 4K/ 8K/ 12K, H.265, HEVC, 360, VR, and many more. You don't have to worry about your camera video not playing on the computer as it can run files from digital cameras, camcorder, surveillance camera, drone camera, smartphone, DSLR, or even dashcam and CCTV.
TunesKit can fix videos that are jerky, choppy, blurry, frozen, out-of-sync with the audio, not playable, or misses a video codec in just a few seconds.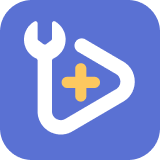 Key Features of TunesKit Video Repair
Repair several files simultaneously
Interactive and easy to use interface
Free lifetime services and upgrades
Preview for repaired files before export
Compatibility across a host of Windows and Mac OS
Try It Free
600,000+ Downloads
Try It Free
600,000+ Downloads
All you have to do is following a three-step process to fix these issues:
Step 1

Select and add the targeted file to TunesKit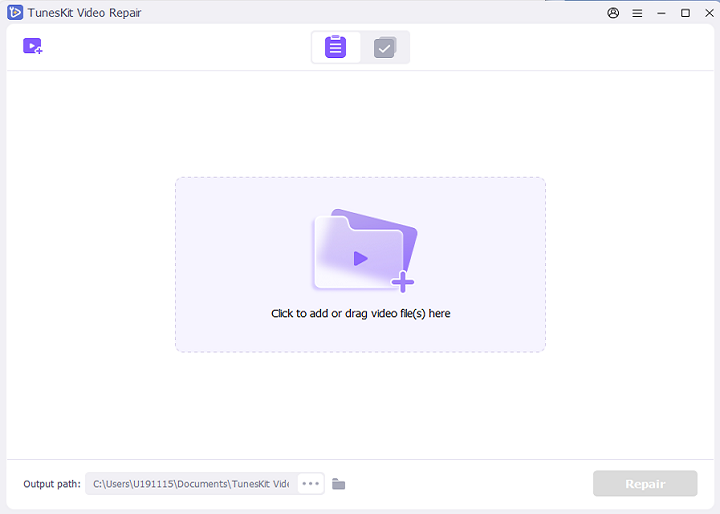 Step 2

Click on the "Repair" button to start repairing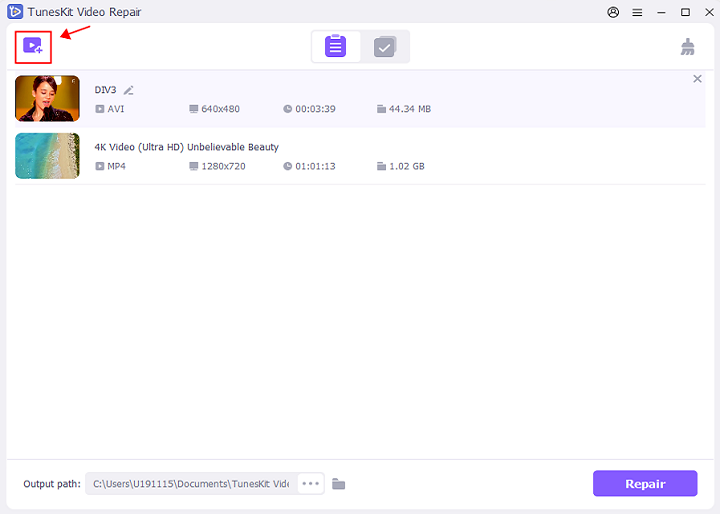 Step 3

Preview the repaired file and export it to your device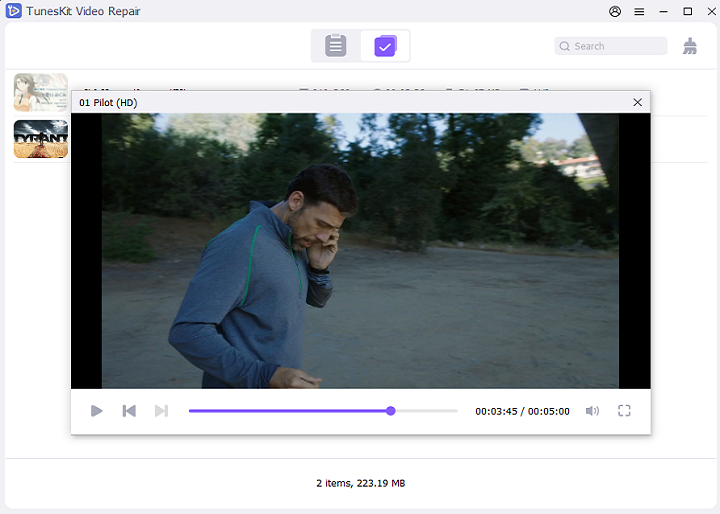 Part 3. Fix Videos Not Playing on Computer by Some Traditional Ways
#1

Download additional plugins and codecs

Likely, your media player doesn't support the extension or type of file. There might also be a case that your device has insufficient plugins to run the file.Often, when a video is not playing on your device, there may be missing plugins or codecs. Plugins add an extension to your existing program and codecs help in encoding and decoding files. To fix this problem, you can keep codecs for auto-update in your media player, download required plugins manually from third-party providers, and keep adobe players updated for video on browsers.
#2

Reinstalling drivers

Whenever there is trouble with the audio/video of the file, a likely reason is the available drivers. Deleting old drivers and then installing a new one like a video card driver might do the trick. Especially for issues related to audio, new sound drivers downloaded from the Device Manager. Media players, like VLC, support manual audio-video sync functions. To the last resort, performing a system reset might also fix the problem.

However, audio-video repair software such as TuneKit Video Repair can fix this problem within seconds.
#3

Check System Settings and Troubleshoot problems

Make sure that your device has proper system requirements to run a program. Disabling hardware acceleration can increase the performance of your device and could fix the problem of sluggish video.
#4

Antivirus and Malware Protection

Keeping your device healthy and secure is imperative for the safeguard of your files. Powerful antivirus software with malware protection can help in identifying threats and duly removing them. If you prepare your work presentation on your home device, you might encounter that your Powerpoint video is not playing on another computer (say your work computer). The reason could be a targeted trojan horse malware that takes over your computer and infects files.
The Bottom Line
Videos have truly become an integral part of our life. They used for work, entertainment, leisure, and education. Problems with running these important files have an immense social, emotional, and financial cost attached to it. Make sure that you only connect to trusted devices. Keep a good antivirus program running, update your device regularly, that can protect your files and devices. However, not everything might be in your control. A comprehensive solution such as TunesKit Video Repair can alleviate many of your problems, and you won't ever have to say that your HD video is not playing properly on the computer.
In addition to that, it can also fix choppy videos. You can head down to their website and take a look at their free trial now!