Capturing games and sharing them online has become a medium to generate money. Online gamers often share their gameplay to earn followers and money. If you have seen such a channel, you would have noticed that they are recording their Windows or Mac screens in high resolution! They do it with the help of a game video recorder.
With video game recording software, anybody can record their game and share it online. A few tools also come equipped with built-in editing options to make it easy for the user to make changes before posting them online. If you are a newcomer who wants to post and upload the gameplay video online, you can't miss this article. Here we will list the 10 best game video recorders to help you record gameplay without losing quality on your Windows/Mac computer.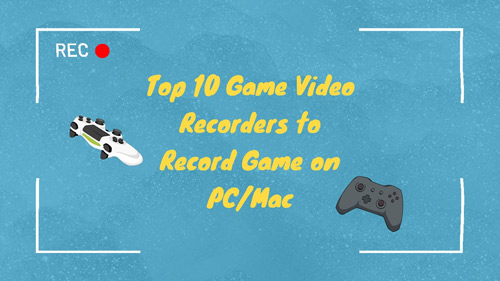 1. TunesKit Screen Recorder
TunesKit Screen Recorder is a competent recording tool you can use as a video game recorder. Apart from recording the screen and the webcam. It allows you to save a game recording in different formats as per the need. When you switch to game recording mode, it will automatically recognize the launched game and locate the game window, and no other content that is not a game will be recorded.
The best thing about TunesKit Screen Recorder is the ability to display a preview of the recording and capture external audio. As independent software, you will not be bothered with ads and pop-ups. Likewise, the latest technology helps it record Steam games, Sims series, and other gameplay videos in high-quality at 60fps. You can further take a screenshot during your gameplay recording!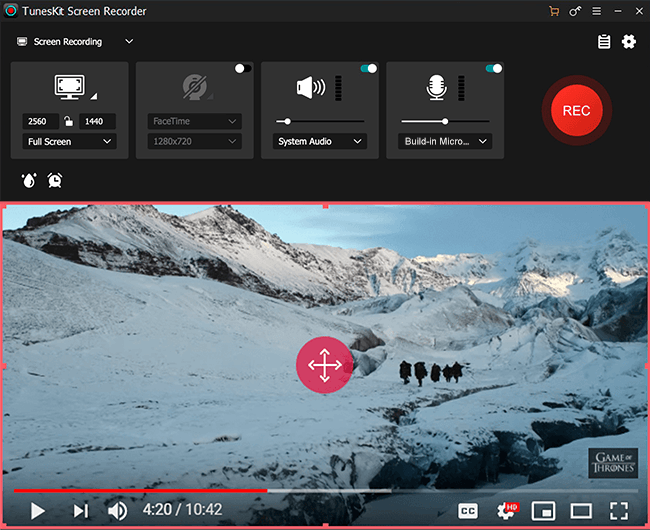 Pros
User-friendly interface
Compatible with the Windows and Mac
Support game recording mode for high-quality gameplay video recording
Record game sound and microphone voice, even webcam
Cons
The trial version leaves a watermark
It is not available for Linux
2. OBS Studio (Windows and Mac)
OBS Studio is an open-source platform that allows users to record their screens and webcam. The video game recording software helps record content from multiple sources and mix them to create a broadcast. The flexibility of recording external audio makes it easy to add voiceovers at a later stage. Additionally, the built-in editor makes adding clips to a game easy. The lightweight program functions efficiently for both performance and non-performance tasks.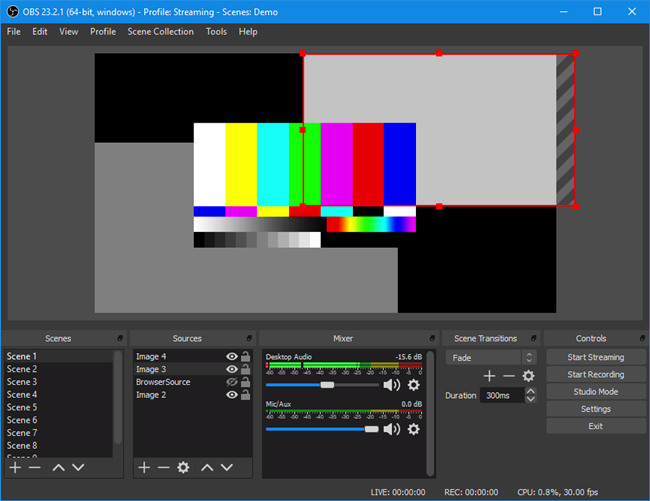 Pros
Open-source and free to use
Captures content from multiple sources
Comes with over 20 plugins
Cons
Outdated interface
Cannot link an audio file
3. Xbox Game Recorder
If you play games on Windows and like to use a free tool to record gameplay on your PC, you can consider using the built-in Xbox Game Bar. It is free video game recording software for Windows 10 & 11 and records a game as you play. Enabling it is easy, and you can assign shortcut keys. You can further change the settings of the recording based on the game. Once out, you can view the captured recording under the My Videos folder.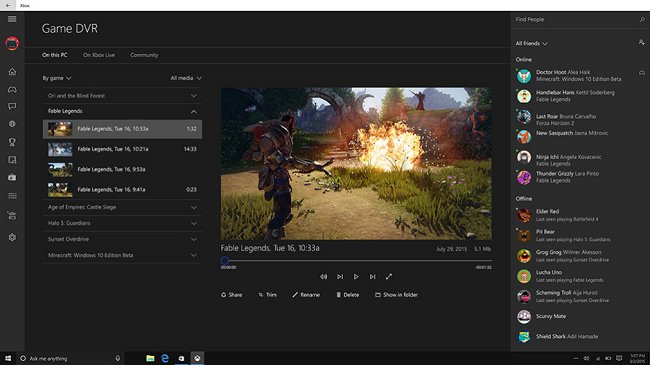 Pros
Built-in recording tool for Windows 10 & 11
Straightforward and functions efficiently
Cons
The interface fails to load at times
Inconsistent performance
Bandicam is the best video game recording software if you need something light for your Windows. Apart from games, you can use it to record anything running on the screen. The advanced recording features make it easy to capture in high quality. At the same time, the customization provides ample opportunity to set up suitable recording parameters. For example, it uses H.264 to compress videos and store them in smaller file sizes.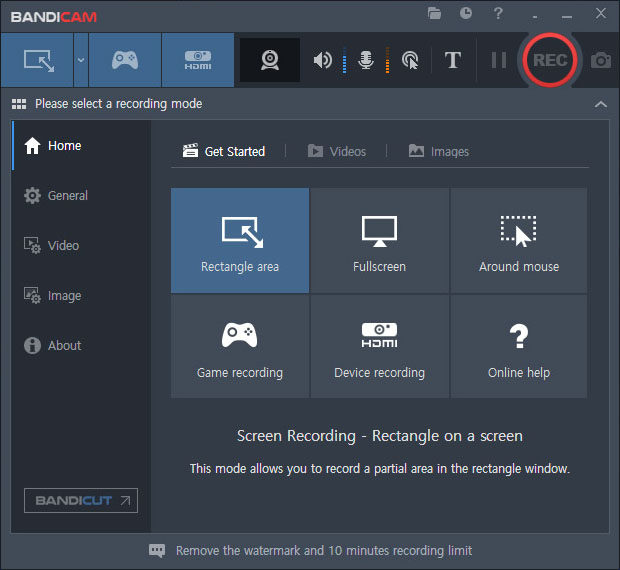 Pros
Different recording modes
Unlimited recording feature
Uses H.264 for compression
Cons
Only 10 minutes in the unregistered version
Available only for Windows
5. ShareX
Your search ends for the best game recording software with ShareX. The free-to-use tool allows you to record gameplay screens in different modes – full, window, region, and more. You can also select whether you like to record cursor movements apart from setting up a delay time in capture. Additionally, you can record the onscreen activity in an animated GIF! The best thing is uploading recordings to different cloud services and an impressive image editor.
Pros
Numerous sharing options
Scrolling page capture
Audio capture
Cons
Configuring can be difficult
No game capture
6. QuickTime Player
Apple's QuickTime Player is not a full-fledged tool like iMovie. However, it offers necessary features that help record the screen and stitch two clips. Mac's video game recording software comes with numerous features such as preparing slideshows, text slides, and more. It is suitable for creating streaming media, which in the case of gaming is highly helpful. You must put in some time to utilize all the options.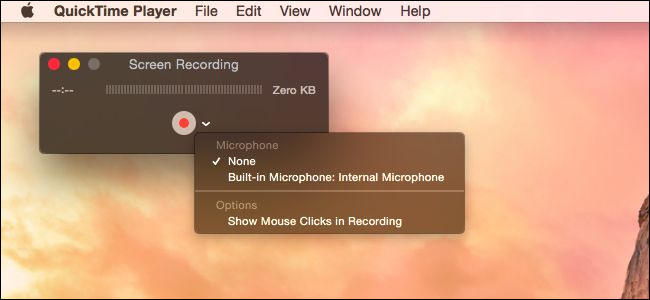 Pros
Plays a wide variety of content
Supports all media formats
Intriguing design
Widely available
Cons
Lacks features
Screen recording is limited to MOV format
7. iMovie
iMovie is an excellent video editing platform from Apple. The video game recording software on Mac is suitable for personal use. The software has useful features such as media organization, color grading, green screen effects, narration, screen recording, etc. Given the editing capabilities of the tool, you can change how you like to represent your gameplay. The slick interface and video sharing options make it an exciting choice for anyone who likes to record their game.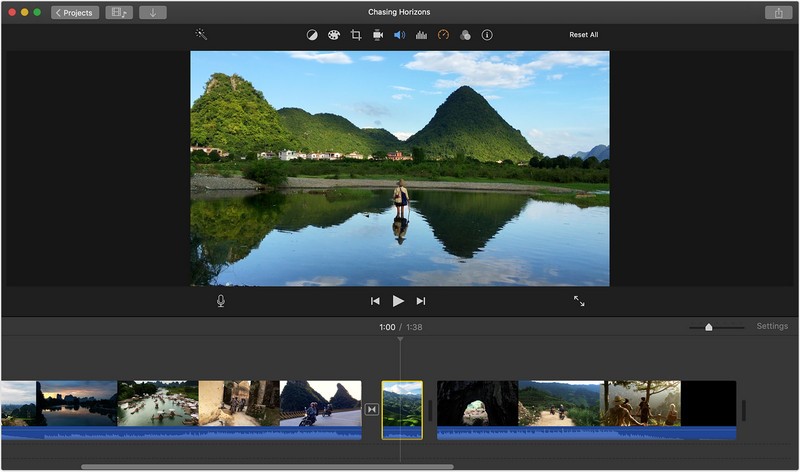 Pros
Simple interface
Classy themes
Excellent chroma keying
Cons
Features are not powerful enough
Limited to two video tracks
8. Camtasia
Camtasia is also a game recorder for YouTube, which is a two-in-one software: screen recorder and video editor. Therefore, you have the advantage of editing the screen recording clip of your game without leaving the platform before saving it and sharing online. The video game recorder comes with an intuitive interface, making the options easy to access. The support for a wide range of video and audio formats makes it simple for any user.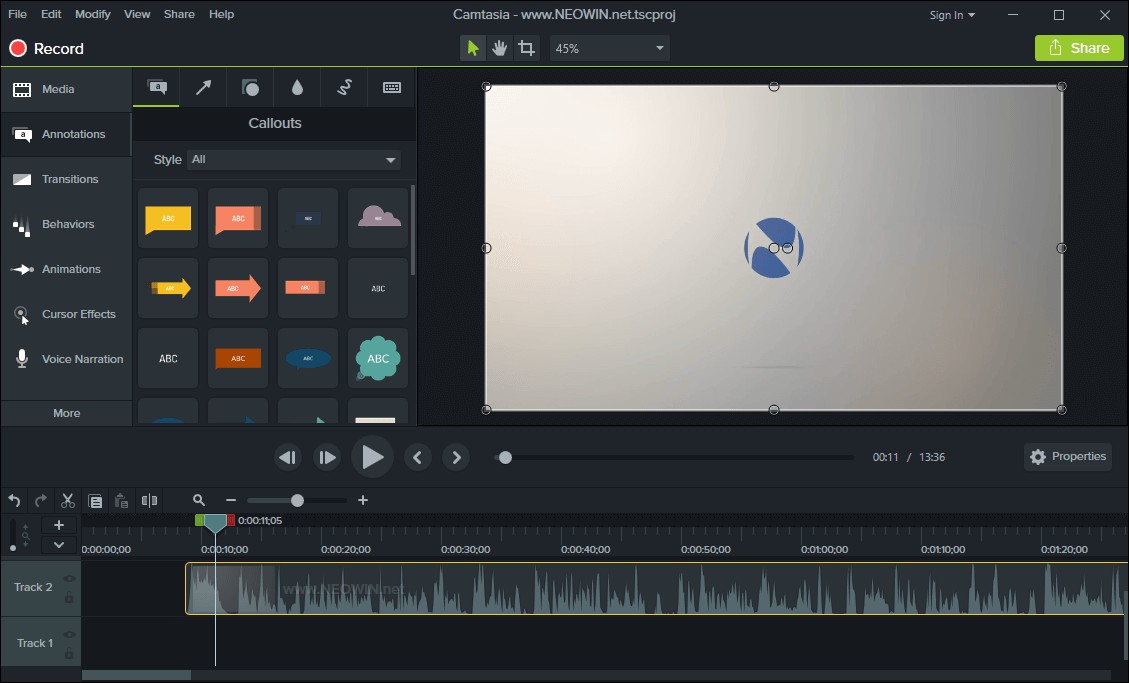 Pros
Professional features
Complete control over effects
4K video support
Social sharing integration
Cons
Expensive
Limited preset library
9. Snagit
Snagit is a reliable and efficient application for screen recording. Most of the rivals do not match the functionality offered by the software. In fact, it is the best video game recording software for it has different features that make it excellent for use. The built-in editor comes in handy. The software also offers the chance to record webcam, scroll screen capture, and advanced annotation with a customizable interface.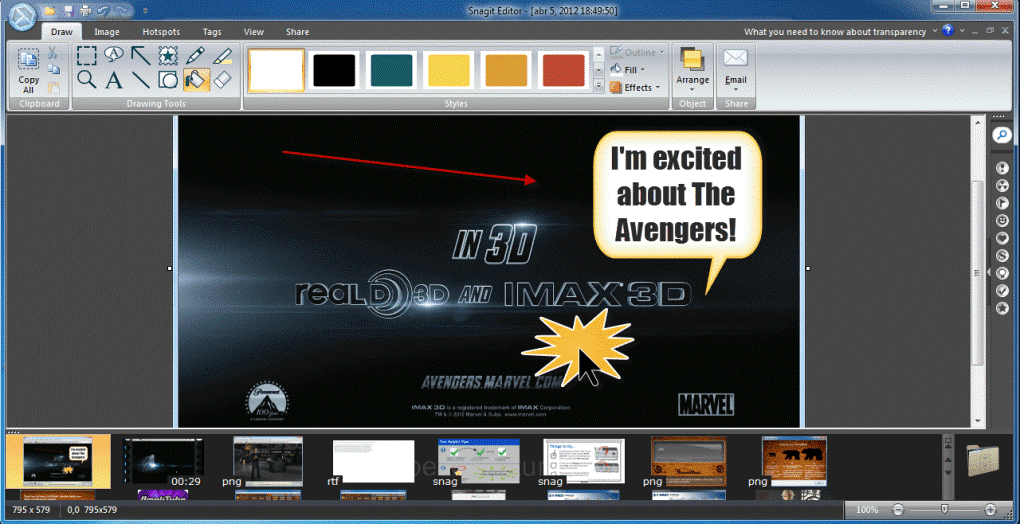 Pros
Panoramic scrolling capture
Integrated GIF maker
Export to cloud services
OCR functionality
Cons
Expensive
File syncing required third-party application support
10. Nvidia GeForce Experience
GeForce Experience from Nvidia is a popular tool for recording gameplay. Its ability to function efficiently while handling multiple tasks makes it the best video game screen recorder in its class. As it is integrated, you can access it immediately during gameplay. You can customize the settings and upload the video to video-sharing platforms after the completion of the recording.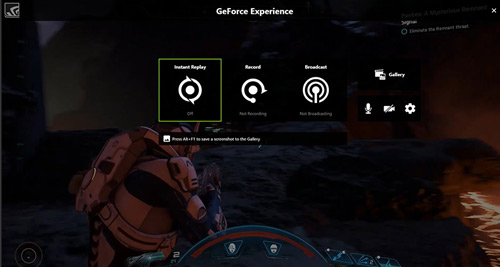 Pros
Seamlessly integrates with PC and laptop
Hotkeys make it easy to launch and record the screen
Integration available with gaming platforms like Twitch
Cons
Requires software & hardware knowledge
Not available for non-Nvidia cards
Conclusion
You need the best game video recorder if you like to record your gaming action, and TunesKit Screen Recorder is highly recommended here, which supports high-quality gameplay recording without latency. Why not try it and start your gameplay recording now.
Today's tools offer an excellent solution to choosing the right one. Of course, each software has unique features with pros and cons. However, what makes the best tool is the one that helps you capture with ease, offers customization, and comes with the built-in editor. All these features and options make it a straightforward action for you to record your game and share it with the world.

Nick Orin is a review writer, software geek and Mac OS enthusiast. He spends all his free time in searching useful software and gadgets to share with others.