14 Best Game Recording Software to Capture Games Easily
Updated by Nick Orin on Sep 23, 2022 6:00 PM • Category:
Record Audio
9 mins read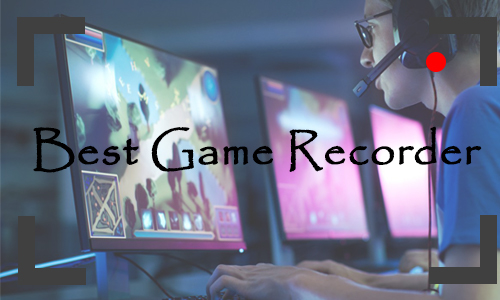 Even though the console is on the rise, lots of gamers still depend on PC for their gaming needs. And as live streaming and YouTube Gaming emerges, it demands gamers to be content creators. Besides, services like Twitch and Mixer have created a whole new world for gamers to play live games to a broad audience while interacting with the fans. If you aspire to put on a show yourself, it all starts with the correct software to capture gameplay. So, we're going to explore the 14 best game recording software in the post.
1. TunesKit Screen Recorder - Best Game Recording Software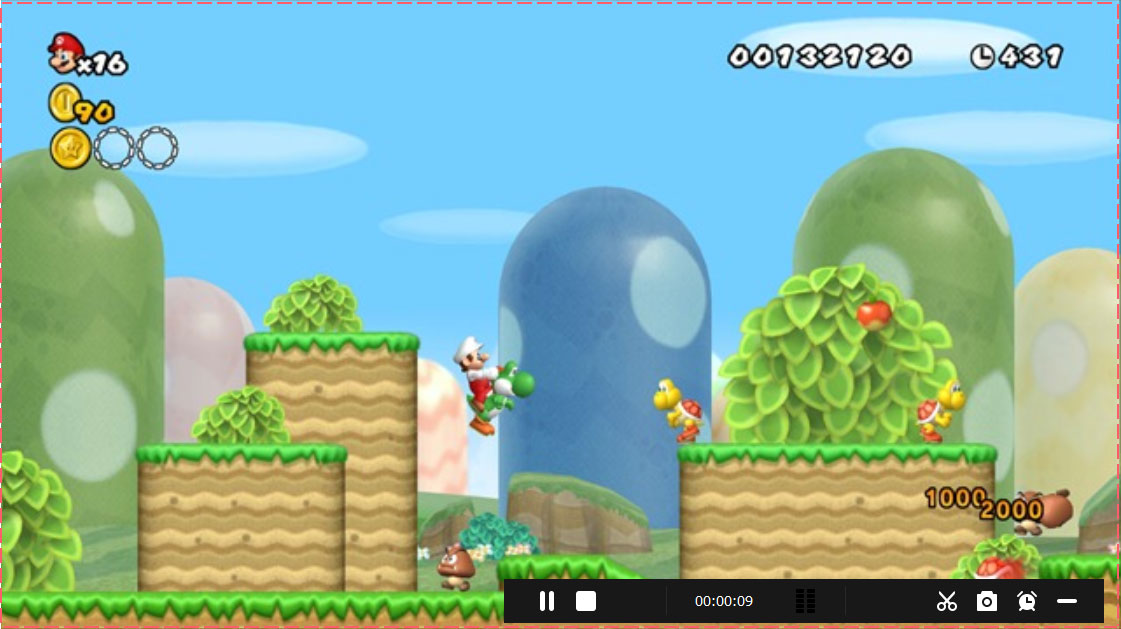 Among the numerous similar programs in the market, TunesKit Screen Recorder is one of the best game recording software you can try. It enables users to record their computer games with good image and audio quality. You can choose to capture the system sound or microphone sound simultaneously or separately according to your needs. Besides, it supports lots of output media formats and devices, so that you can save it in MP4, MOV, M4V, WMV, etc. and then play it on different devices like Xbox, PS4, iPhones, Android phones, smart TVs, etc. Moreover, this program is easy to use, and no matter you're tech-savvy or not, you can easily handle it without any trouble
Pros:
1. Records gameplay on PC and Mac with high quality;
Supports to record anything you want from desktop besides games;
Simple to operate with clear buttons and interface;
Provides tons of video formats and mobile devices.
Cons:
Trial version will add watermark on the recordings.
2. Windows Xbox Game Bar - Best Free Game Capture Software on PC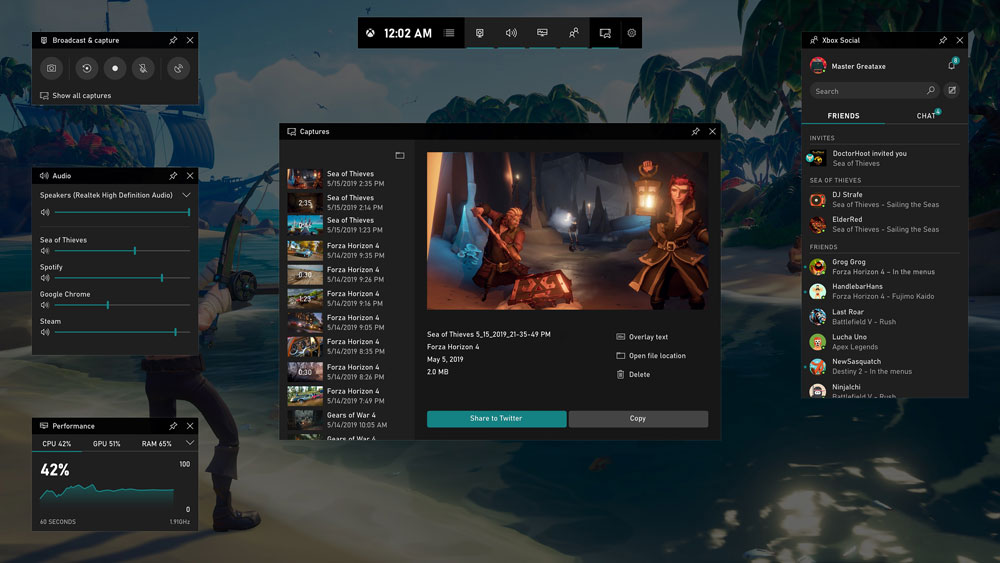 Want to record a game without installing additional programs? Then this best free game recording software is the one you shouldn't miss. Xbox Game Bar is a built-in game recording tool on your Windows 10 or 11 computer. It consists of several translucent widgets, including the capture tools, Audio, Xbox Social, Resources, and Performance. With instant access to the capture tool by clicking the Win + G button, you can check your computer situation or start your game recording immediately without having to exit any game in progress.
Pros:
Quickly launch to records gameplay on Windows 10 or 11
Widgets can socialize, check, and record;
Simple to operate with clear buttons and interface.
Cons:
Launch the tool sometimes requires multiple clicks of a shortcut key.
3. OBS Studio - Best Free Game Recording Software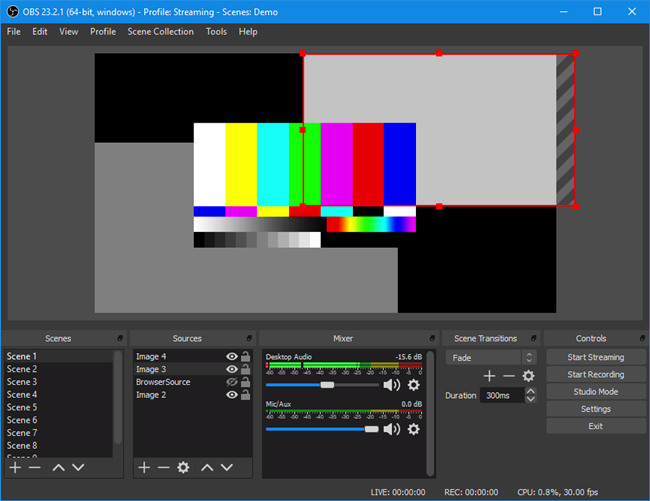 OBS Studio is an all-in-one free game recording software. You can consider OBS as the best game recorder out there because it is versatile. The tool combines nearly all the features you need in recording and editing a screen recording footage. The tool allows you to live-stream your gameplay as well as presents you with a wealth of utilities when it comes to transition and tools. You can fine-tune your recording professionally without limits on the frame rate.
And here's what makes it unique: The tool allows you to downscale on the fly and at the same time gives you control that's rare on other programs. Besides, OBS supports all major players like Twitch, YouTube, and Facebook live. The tool is available for Windows, Linux, and Mac communities. The only problem with OBS is that getting started with OBS for the first time can be a little intimidating. But it has tons of tutorials online in case you get stuck.
Pros:
The tool records from the graphics cards thus can record full-screen;
It has a free open source;
Captures HD quality screen footages
Cons:
The User Interface can be a bit intimidating for beginners.
4. ACTION! - Best PC Game Recording Software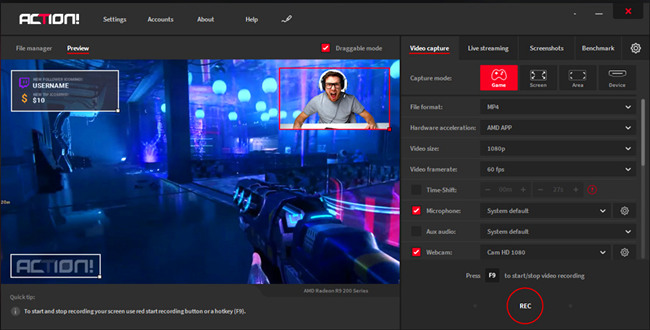 Readily get an all-around game recording solution. Are you looking for a speedy gameplay capture? ACTION! is the best game capture software you need. The tool captures everything, from OpenGL to NVIDIA and DirectX. And that's just the beginning. ACTION! brings a lot of features to the table.
It allows you to add tabs on your recording or add a little slow motion to your gameplay footage. Besides, with a hit on the hotkey, you can take screenshots. And that isn't all. The tool has Greenscreen mode for any video that requires extra attention. Another exciting feature is the audio system which can record audio in M4A format. And here are more bonus features: Live audio commentary and high-resolution recording including 4K and even 8K videos. All in all, this is a do-it-all tool for the Windows community alone.
Pros:
Slick User Interface;
Provide a wide variety of formats;
3. Record video games of 4K and 8K footage.
Cons:
Not appropriate for an old machine.
5. NVIDIA ShadowPlay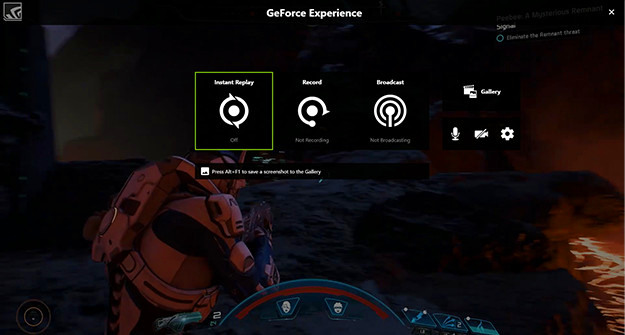 Freely capture your gameplay directly from NVIDIA graphics cards. Does your system use Nvidia's graphics cards? Because NVIDIA ShadowPlay can be the best free game recording software free of charge. The tool presents excellent gameplay streaming as it is integrated into the GPU. And here is the best part of the tool integrating to the GPU: The software will not use your system resource to handle the hefty work while you're gaming. Instead, your GPU will do the hard work.
Better yet, the app has a seamless instant replay utility that features the action you execute in the past 30 seconds. And even more, the tool can highlight your top moments for quick sharing, painlessly broadcast your footage, make GIFs, and take 4k quality videos.
Pros:
Completely free with features that other premium app cannot offer;
Intuitive user interface;
4k recording at 60fps;
Have an instant replay utility.
Cons:
Only available for NVIDIA graphics cards;
It lacks some crucial feature.
6. AMD ReLive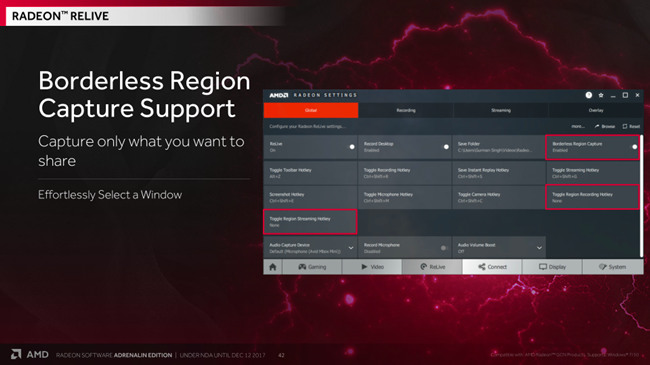 Use this tool to record gameplay directly from your AMD graphics card. AMD ReLive is one of the best free game recording software for gamers with AMD cards. In fact, the tool is purposefully integrated into AMD cards for games. It is reasonably quick and includes all the basic recording features at no cost. What's more, AMD ReLive allows you to separate audio tracks, stream your latest match online, or set an overlay. Like NVIDIA ShadowPlay, AMD ReLive captures gameplay using GPU'S power. And here is what makes it unique: The tool comes with a Screen Editor and allows the capture of multi-channel audio. These two features make this tool stand out from other programs.
Pros:
Completely free;
Comes with a screen editor;
Allows capture of multi-channeled audio.
Cons:
Only useful for folks with AMD GPUs;
Has limited rates.
7. Medal

Medal (as known as Medal.TV) is a game community to stream and share your highlight game clips. Medal desktop software comes with a built-in game recording feature to record the gameplay up to 4K quality with 144 fps in 10 minutes clips, and you can cut and edit them as you like. If you are installing this game recorder for the first time, it will guide you through the preset recording preferences in the booted guide.
Pros:
Auto-capture the game clips when launching the game;
Share the game clips to other platforms;
Record gameplay up to 4K quality in 144fps.
Cons:
Only record gameplay for up to 10 minutes;
Support Windows and Android by far.
8. Plays.tv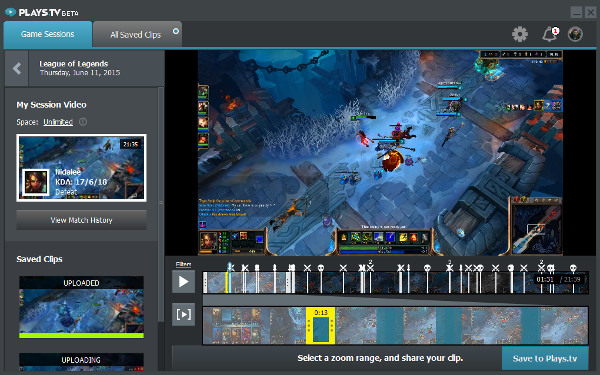 Uniquely capture your gameplay within the shortest time possible with this tool. Plays.tv readily records and edits gameplay. The process is super simple, even for a beginner. But what makes it unique? The tool has a social media portal of all sorts that enable a gamer to build an audience. This makes it stand as one of the best game capture software.
The tool is lightweight to record gameplay without using most of your computer resources. Besides all the regular features every screen recorder has, the app has a silk utility for Instant Replay that presents the last 90 seconds of your gameplay.
Pros:
Present a unique bookmark system and Instant Reply feature;
Completely free;
Intuitive user interface.
Cons:
It has few video editing tools.
9. XSplit Gamecaster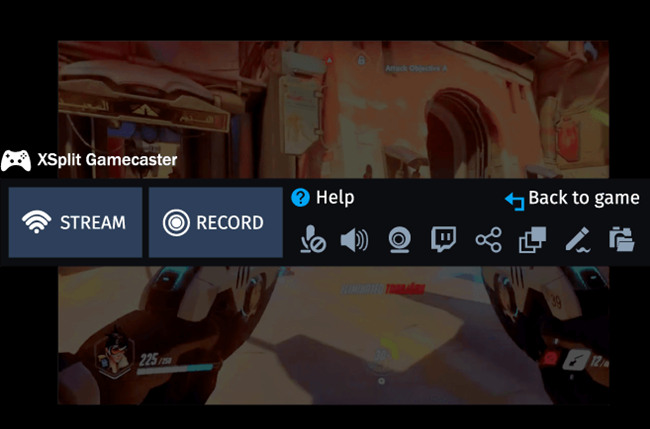 Unleash power-packed utilities for easy gameplay recording. XSplit is one of the best game recorders in the recording world. The software live-streams and records gameplay in high quality. It has an intuitive user interface that even a beginner can get started with a single button press. It allows you to put your customized watermark, add annotations, picture-to-picture mode, and social media integration.
Pros:
Free version presents enough to get you started;
Provide options for local recording and streaming;
Support readily available.
Cons:
Premium features unlock after paying for a subscription.
10. D3DGear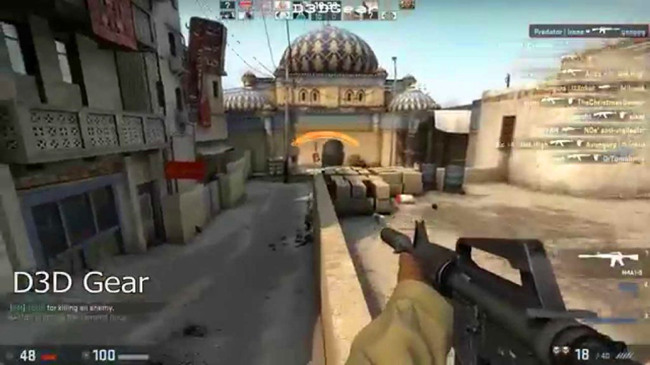 Access powerful recording solutions with a silky user interface. D3D Gear looks simple. But the looks don't say it all. The tool has a lineup of utilities that address nearly all of your game recording needs. It has a lightweight design to consume less of your computer resources and comes with a file compression system that can compress all your captured screen footage.
Pros:
Simple UI;
Real-time compression.
Cons:
Outdated user interface;
Limited feature.
11. Fraps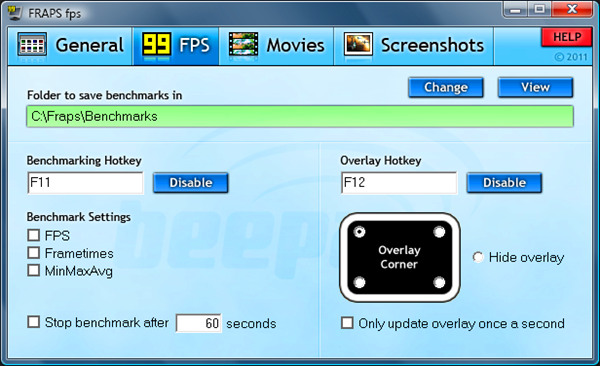 Tap into classical screen recordings. If you've been in the gaming world for a long, Fraps might sound familiar to you. The tool is well-known as one of the industry's best game recorders for PC for it has been around for decades. The tool lacks updates, but it is still standing strong. It lacks a fancy user interface. But that shouldn't fool you—Fraps can execute impressive results if your machine has enough power.
Basically, the tool is a game recording software with benchmarking and capture utilities. With the benchmarking ability, Fraps can capture a wide range of footage resolution. However, the tool lacks a video editing tool, but it reliably works if you have an older version of Windows.
Pros:
Captures multiple resolutions;
Offers custom frame rates;
Have a benchmarking statistics.
Cons:
Have problems with the current operating systems;
Lack video editor;
Has no update.
12. FBX Game Recorder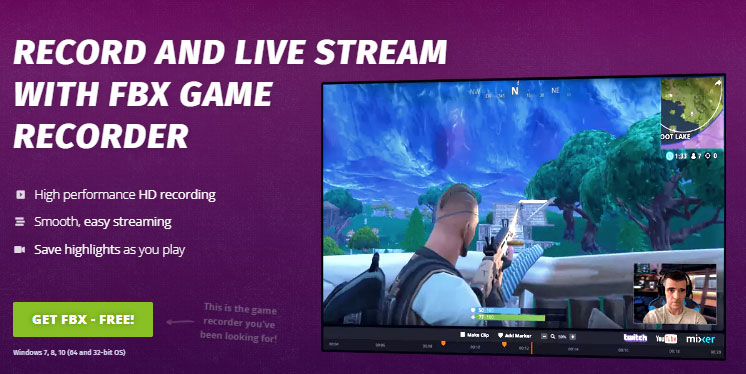 FBX is a reliable video game recording software that allows you to record the gameplay in high quality with no lag. And it also lets you stream and record the game in the meantime. You're able to record your webcam and voice while recording. And then edit the gameplay on its built-in editor, such as adding stickers, sounds, text captions, etc. Instant clips, non-stop recording of web and desktop games, screenshots, and more are available on this game recorder.
Pros:
Stream and capture game in high quality;
Support instant clips;
Adjustable to your bandwidth to eliminate jerky live stream.
Cons:
The free version can only record for 15 minutes;
The free version will have a FBX watermark.
13. Gecata Game Recorder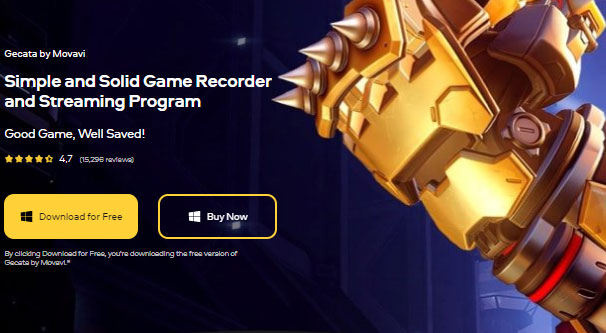 Gecata is a game recorder designed by Movavi for recording games. Just like the FBX, it also supports streaming and recording the gameplay, so you are able to share your gameplay on social media platforms. This lightweight game recorder will record desktop games smoothly in 4K resolution up to 120 fps. Also, when you're streaming, it can save your voice audio separately so that you can edit the clips with game sound only.
Pros:
Support monitoring the metrics in real-time;
Record game footage up to 4K quality ;
Record voice audio separately while streaming
Cons:
For Windows only;
The free trial version has limits.
14. Bandicam - Game Recorder for PC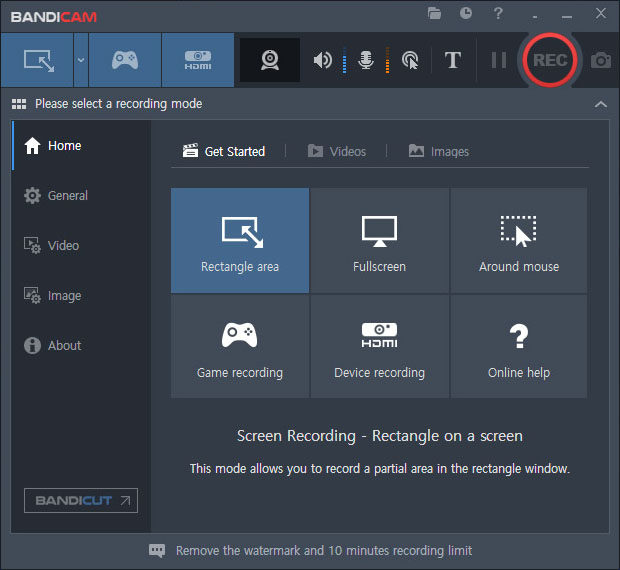 With its own game recording mode, it's fair to say that Bandicam is also one of the best PC game recording software. You may be used to using this program to record the usual on-screen activities on your PC, but you should also try its game recording feature to start a game recording. This mode will show you the fps while recording the game, and you can record the webcam and microphone voice at the same time. Besides the 4K UHD, it is capable of recording gameplay up to 480fps through hardware acceleration.
Pros:
Come with a game recording mode;
Customize the recording preference;
Record gameplay up to 480fps.
Cons:
The free version has recording limits;
Lack video editor;
The high quality video recording will take more memory.
Conclusion
As you can see, it isn't a must for you to spend a fortune to access the best game recording software. You can tap into the free game recording software and as well as paid tools for advanced options. These top 14 game recorders are unique in their own ways. So, whether you prefer a lightweight tool or one that provides a wide variety of formats then this is the place to be. If you ask us, we still recommend TunesKit Screen Recorder as the best game recorder for your Windows and Mac computer. Anyway, come and try them out.