How to Download and Record Audio from Tumblr
Posted by Adam Gorden on Feb. 12, 2018 14:15:30 PM • Category:
Record Audio
5 mins read

Having millions of monthly visitors, Tumblr is not only a popular microblogging platform but also a social networking site. With a personal Tumblr account, members are able to write blog posts, upload digital files, like music and videos, share beautiful images with others. Put it another way, Tumblr is one of the biggest paradises for music lovers to explore favorite music playlists from posted audio and video files by Tumblr users. But when it comes to downloading audio from Tumblr by your own, there might be some troubles you will meet, since there are no download links offered in various Tumblr video and audios to download pleasure music from Tumblr directly. Therefore, is there any solution on downloading audios from Tumblr for playing them anywhere and anytime without Internet? Obviously, the answer is positive. You can find out two simple and professional methods to grab audio from Tumblr in the following article, respectively downloading Tumblr audio via Google Chrome or Firefox and recording audio from Tumblr music and videos.
Solution 1. How to Download Tumblr Audio via Google Chrome or Firefox
If you are a super enthusiast of Tumblr songs, you might have the knowledge that it's possible to download audio from Tumblr via Chrome or Firefox. Actually, the download process is a little difficult to the newbie. But no worries! No matter you have a basic understanding of downloading Tumblr audio or not, there is a detailed tutorial on guiding you to download audio tracks from Tumblr using Google Chrome or Firefox.
Step 1. Double click to open your web browser, Chrome or Firefox. Once launched, you can enter into Tumblr web page with Tumblr account. And the next thing you need to do is to find out the Tumblr page, in which you would like to make Tumblr audio download.
Step 2. When you discovered Tumblr music, please right click the song and it will pop up a new tool bar where you can touch the Inspect option.
Step 3. Now, you can see a new tool bar to click the Network tab and tap the Media button. Please be well noted that if you don't click the Media option, you won't get wanted audio files accurately.
Step 4.Please start to play the song and it will show up a new window with a lot of options, and you can touch the right click to tap Open Link in New Tab.
Step 5.If you are entering to a new page that means you have done all right steps. Now, you can start to play this Tumblr audio at the new page. At the same time, please right click around the audio track and choose Save as… to define the output settings. Or you can directly click the Download icon and this file will be saved as MP3 automatically.
Solution 2. How to Record Audio from Tumblr with TunesKit Audio Capture
If you have tried the method mentioned above, you will notice that sometime this way doesn't work well as claimed. As a consequence, there is an alternative way to get Tumblr audio effectively, which is using a Tumblr audio recording application to capture and download audio files from Tumblr music and videos. TunesKit Audio Capture is worth to be recommended Tumblr audio recorder. By adopting innovative and advanced recording and re-encoding technology, TunesKit Tumblr audio recording software can grab music tracks from Tumblr video and audio files and save the recorded Tumblr audios as MP3, AAC, FLAC, WAC, M4A, M4B, etc. Plus, it is aso capable of fixing and editing ID tags for saved audio files and supporting multi-track Tumblr audio grabbing function. What's more, this TunesKit audio recorder is also an outstanding audio cutter, meaning it enables you to cut and trim unwanted recorded Tumblr audio tracks by doing a few clicks.
Detailed Tutorial to Record Tumblr Audio Step by Step
Download and install TunesKit Tumblr audio capturing software on your computer. The following steps would show you how to record and download music from Tumblr media files in detail.
Step 1

Launch TunesKit Tumblr Audio Capture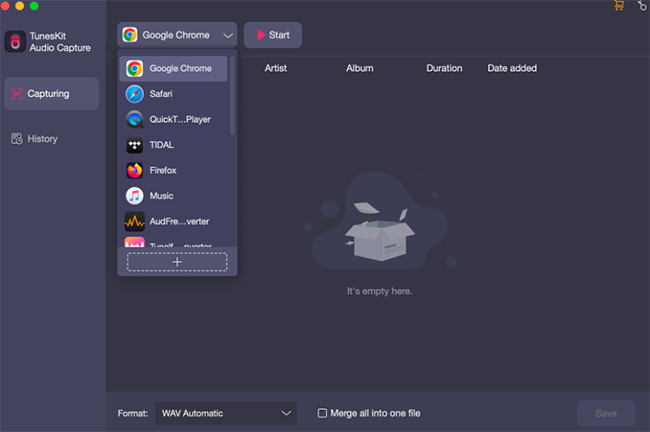 Simply click the smart Tumblr audio recorder to open it from desktop, and it will pop up a main interface, where you can see downloaded web browsers, media players and streaming music services, and other programs are listed automatically. Please check out whether your wanted web browser is included in the line. If not, you can click the "+" button to add any software according to your needs. Before you start to record audio from Tumblr, you can set the output format for recorded Tumblr audio files firstly by clicking the "Format" option.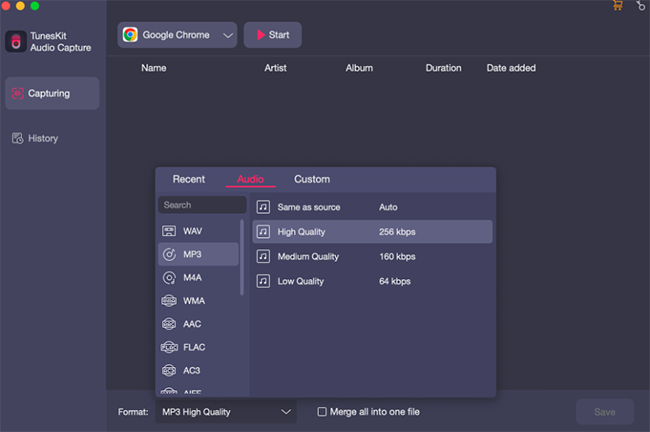 Step 2

Play and grab audio from Tumblr music and videos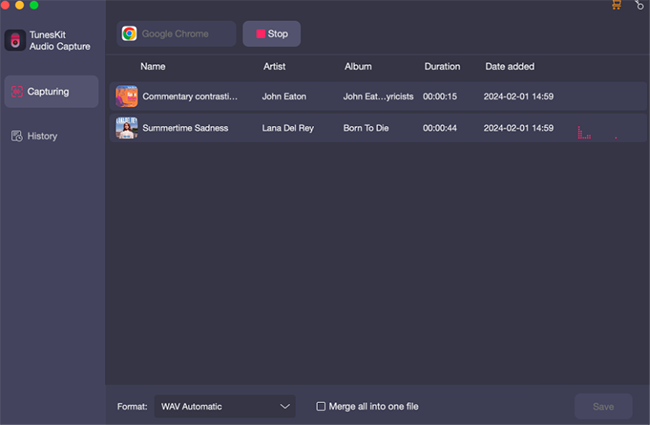 This step is very familiar with the steps introduced in solution one. You also need to choose and open the favorite web browser. And then you can enter to Tumblr page, login in your Tumblr account and find out the Tumblr audio files that you would like to download and record. Now, it's time for you to play audio tracks from Tumblr blogs. While enjoying Tumblr music, TunesKit audio recording app can start to capture and download Tumblr songs automatically.
Step 3

Edit recorded Tumblr audio files by cutting and trimming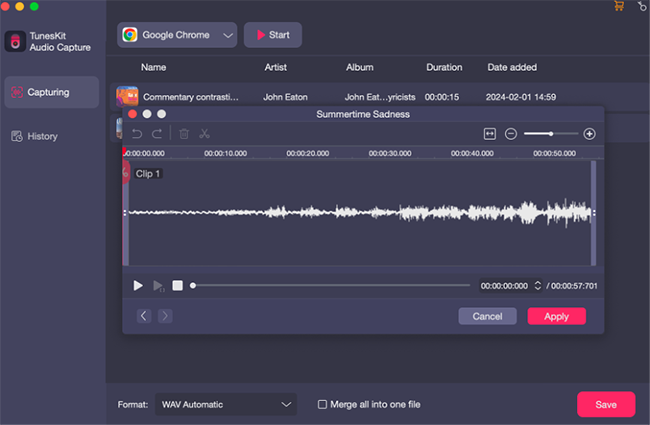 Since this extraordinary Tumblr audio grabber supports multi-track recording technology, you can play lots of Tumblr songs simultaneously. Only if one file has been recorded successfully, please tap the "Edit" menu at each recorded track, and it will open a new window. And then you are able to cut and split Tumblr captured audio tracks flexibly.
Step 4

Stop recording process and save recorded music from Tumblr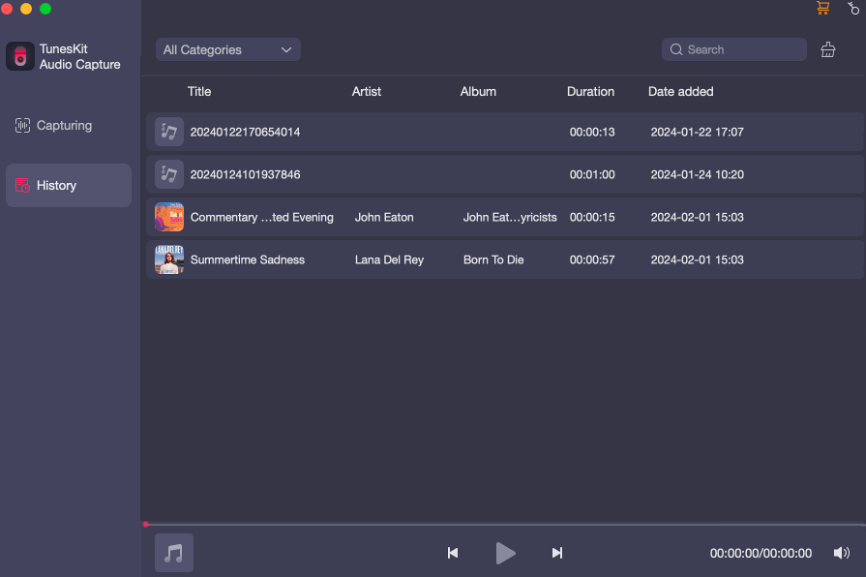 If you would like to stop recording process, there are two ways for you to finish it. One is to quit the whole web browser, and the other is to stop playing Tumblr songs and videos. No matter which way you choose, you will see the same process that the Cancel button becomes Save option quietly. The last step you need to do is click the Save button to save recorded Tumblr music files.