Download and Convert Instagram Videos to MP3? Solved!
Updated by Adam Gorden on July 29, 2021 6:30 PM • Category:
Record Audio
6 mins read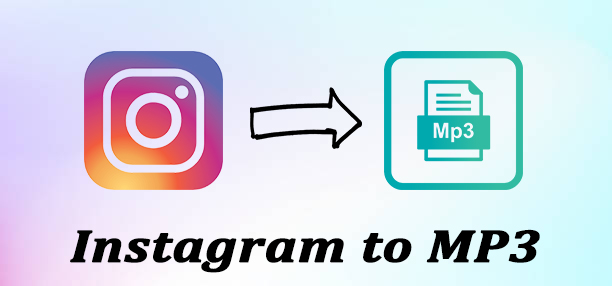 As one of the most popular social networks in the world, Instagram is widely used by people all over the world. Some are sharing their daily lives, some are exploring new things, and still others are following their favorite idols or celebrities. If you're a music lover, you may have found that some musicians post music videos, formal or casual, on their Instagram. What if we found these videos so awesome that we would like to download them as MP3 audios to enjoy freely?
Of course, you can. Here in this article, we have tested some of the top-ranked online Instagram to MP3 converters and the results are shown below. Now continue reading and learn more about it.
Part 1. Top Four Online Instagram Video to MP3 Converters
If you search online, you'll find plenty of online Instagram to MP3 converters available. Sometimes we are dazzled by so many choices, So we've tested the top four for analysis.
1) ytformp3.com
An online Instagram to MP3 and Video Downloader that can help you easily download and convert videos and audios from Instagram. All you need is to access Instagram on your computer or mobile and search for a video that you'd like to download to MP3 or MP4.

-Copy Instagram URL and paste the link to Convert
-Click the download icon to save the video to MP3 or MP4
Comment: The conversion result is successful. It's easy to operate and the converted audio retains a high quality.
A free Instagram to MP3 Converter that helps you to download and convert Instagram video to MP3 quickly and easily online. All you need to do is visit Instagram on your pc or mobile and search for a video that you wish to convert to MP3.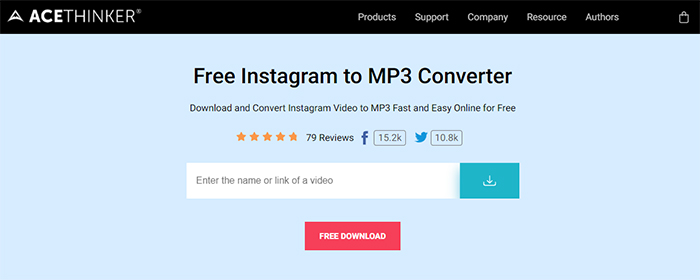 -Copy and enter the link of an Instagram video
-Tap the download button and select MP3
Comment: The conversion result failed. We tried four Instagram videos and three of them failed. The conversion process is easy but searching for videos takes a long time. Besides, a conversion failure will show find no downlaoding link from the url.
An online Video Converter tool to help you save videos on your computer or smart devices for free. If you have ever come across a video on Instagram that you wished to convert to an MP3 audio file, it's the best tool online that will allow you to achieve this goal.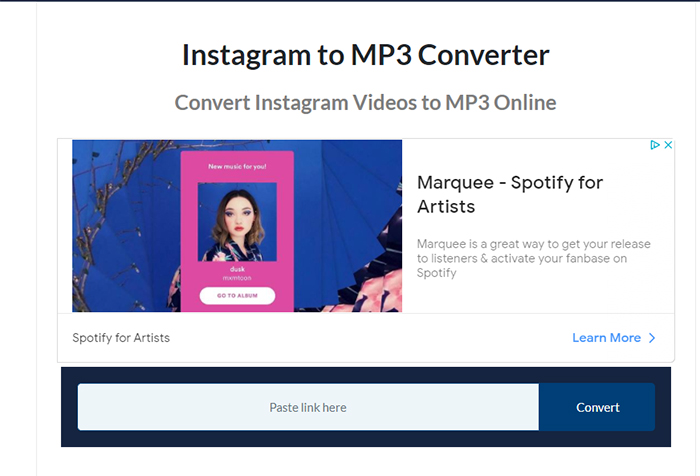 -Copy and paste the link of Instagram video
-Click the Convert button to start the conversion
Comment: The conversion result failed. Although it is as simple to operate as two converters above, there are many unplesant ads on the home page. In addition, none of the four vidos were successfully converted to MP3. It will show you a non-smiling face with 'Sorry , We cant extract any download link from this url!'
4) offmp3.com
One of the most convenient online programs to convert videos from Instagram to MP3 audio. While checking a video on instagram.com, you can dowload the video in various formats with this smart online converter.

-Copy the video URL from the address bar
-Paste the URL in the search box and press enter
Comment: The conversion result is successful. The main page is in esthetic and minimalist design, and the operation is easy for users. After downlaoding, you are provided with the option to edit the downloaded MP3 audio tracks.
In all, those four online Instagram Audio Downlaoders are free and super easy to use. Though they cannot provide a lossless qaulity of MP3, you can get the MP3 files you want from Instagram with them.
Part 2. Download Audio from Instagram via TunesKit
TunesKit Instagram to MP3 Downloader is essentially an audio recorder. It is not limited to download Instagram audios; it can record and download any audio source on your computer. There are two major features that distinguish this tool from other similar products.
One is the sound quality and formats it provides. Instead of using the traditional real-time recording technique, TunesKit Instagram to MP3 Downloader rips the audio data of the playing Instagram videos, which means the captured MP3 is of the same sound quality as the original videos since the captured data is intact. By comparison, songs downloaded by other Instagram videos downloading programs will suffer different degrees of quality loss. In addition, there are 6 formats, including MP3, WAV, FLAC, ACC, M4B, M4A, for users to choose so that we can play the downloaded MP3 songs on different devices and platforms.
The other major features are the multi-task function. What if we want to download and convert multiple Instagram videos to MP3? To cater to this demand, TunesKit Instagram to MP3 Downloader is capable of recording and downloading multiple tracks at the same time, with each track focusing on only one song. It means that those tracks won't mingle with each other or unwanted noises. While downloading and converting Instagram videos to MP3, you can also do other things on the computer without worrying about the downloading music gets ruined.

Key Features of TunesKit Instagram to MP3 Downloader
Record and download music from YouTube or any other programs
Preserve the original audio quality and ID3 tags
Support multi-track recording, editing and merging
Multiple formats: MP3, WAV, FLAC, ACC, M4A, M4B
Try It Free
600,000+ Downloads
Try It Free
600,000+ Downloads
Detailed Steps to Use TunesKit Instagtam Audio Downloader
Basically, what you need to do is launch TunesKit Instagram to MP3 Converter, in which you open Instagram and play the videos. The program, will automatically download and convert Instagram videos to MP3.
Step 1Launch TunesKit Instagtam Audio Downloader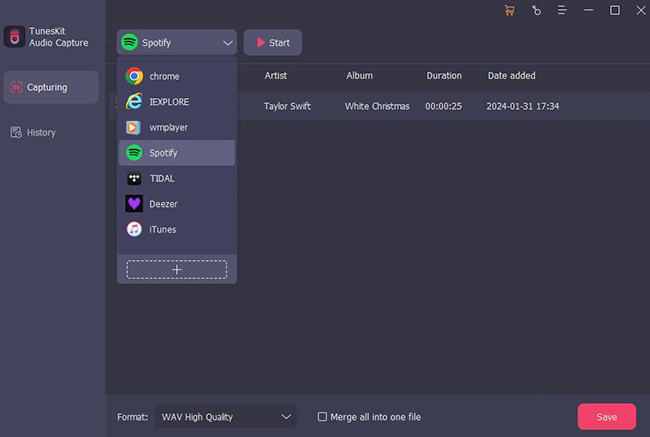 Before purchasing the complete product, TunesKit Instagram to MP3 Downloader offers a free trial for users to experience this program on its own. After launching the downloader, the first window you see is the list of target programs. Check the list and see if the browser you want to play Instagram videos with is in the list; if not, you can press the "+" icon to select the browser. Or you can drag and drop the browser into the list.
Step 2Configure output settings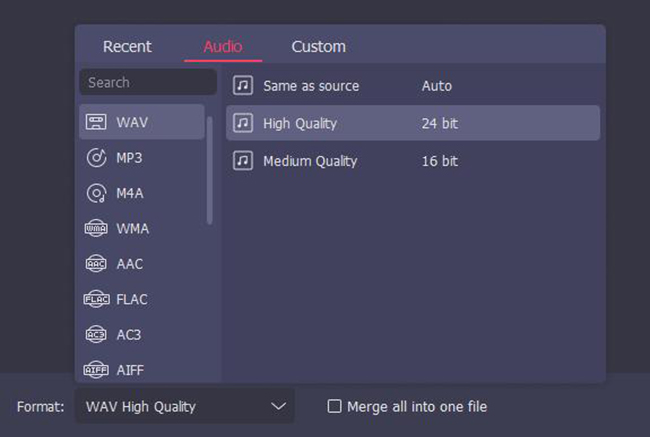 Don't forget to adjust the output preferences. Click the Format icon in the main window, then the Preferences menu will pop out as shown in the image above. In the window, you can change the output format, codec, channel and other options.
Step 3Download and Convert Instagram Videos to MP3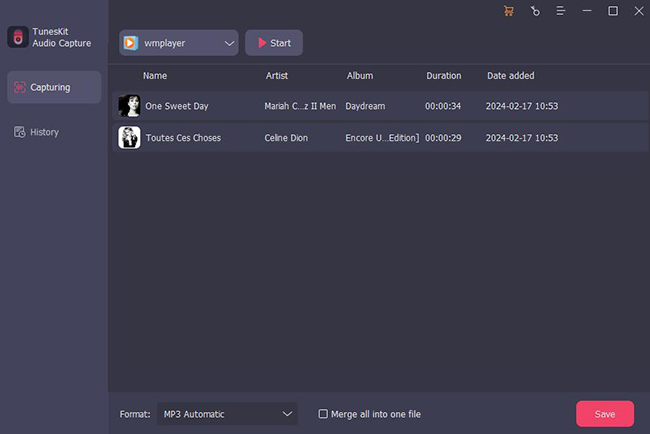 Tap the browser icon, the web browser and a downloading window will show up automatically. Play the Instagram videos in the browser. The downloading will begin after several seconds, and the titles and the ID3 tags of the songs will be recognized after around 25-30 seconds. When the downloading and capturing is finished, click the Stop button at the right bottom.
Step 4Triming downloaded tracks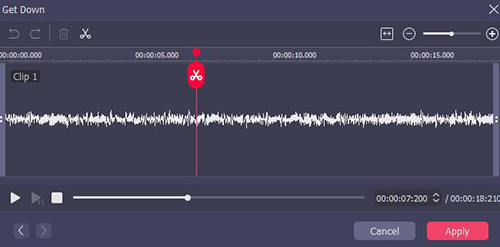 There may be some undesirable segments or ads in the downloaded songs. Therefore, in the downloading result window, you can click the Edit button at the tail of each track to open the editing window. With this editing tool, you can trim the music however you like. By editing, you can get rid of the unwanted segments, etc. Besides, you can edit the ID3 tags. When finished, return to the main window, you can open the History tab to preview the tracks you have downloaded.
Part 3. Conclusion
In conclusion, there are many ways to download Instagram videos to MP3. Among the top 4 online Instagram to MP3 Converters, ytformp3 and offmp3 can download your favorite videos with a high success rate and fast speed. While the two others have a lower success rate and are filled with unplesant ads. With TunesKit, you have no worries about the ads, success rates and audio quality. It offers more features than the onlin converters, but you have to pay a small amount of money. Anyway, each method has its own merits, and it's up to you to decide which one to choose.