2 Available Ways to Stream Tidal Music to Samsung Galaxy Watch
Posted by Adam Gorden on Mar. 13, 2020 6:15 PM • Category:
Record Audio
4 mins read
In today's media-driven world, music streaming has become a hot market and Tidal is in competition with larger services, while crafting its own value-added experience. Tidal offers its service to a wide array of wearables from Samsun, which expand the watch's integration of streaming music service options.
Many users who love listening to music when working out are bound to appreciate this service from Tidal. However, the service is only open to those users who subscribe to Premium Plan on Tidal. Luckily, we will introduce the ways to listen to Tidal music on Samsung Galaxy Watch even though you are using a Free account now.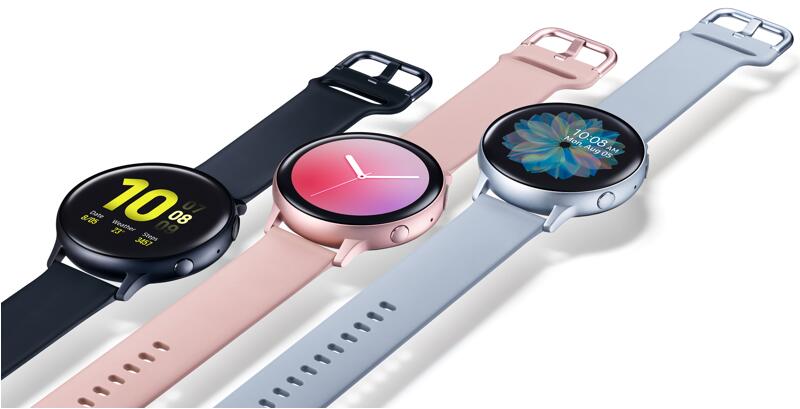 Way 1. Play Tidal Music on Samsung Galaxy Watch with Premium
When you sign up for TIDAL through the Samsung Galaxy Watch, you automatically get 3-month of TIDAL's Premium service for free. After that three months, you need have an active Premium account to get TIDAL on the watch. Here's how to enjoy 3-month of service from TIDAL on the watch.
How to Get started from Android or iOS devices
For Android devices:
1) Download and open Galaxy Apps on your Phone.
2) Search for TIDAL, then install the TIDAL Wearable app.
3) Open the app on your Samsung Wearable.
For iOS devices:
1) Open the Galaxy Watch Apps on your iPhone.
2) Tap "View More" under Recommended Watch Apps.
3) Search for TIDAL, install, and open the app on your Samsung Wearable.
How to Link with TIDAL for listening on Samsung Wearable
1) Go to link.tidal.com on your computer, phone or similar.
2) Log in if you are an existing member, or sign up to TIDAL.
3) Enter the code displayed on your Samsung Wearable to link it to your account and begin streaming music from TIDAL on your watch.
Way 2. Stream Tidal Music to Samsung Galaxy Watch for Free
Samsung Galaxy Watch gives you access to all music from the TIDAL streaming service but only for Premium users. There are three months for you to enjoy music from TIDAL on the watch. How to continue the playback of TIDAL on the watch if you stop the subscription of TIDAL's Premium service? TunesKit Audio Capture could solve your issue.
TunesKit Audio Capture is a professional and powerful audio recorder for music streaming services. It is capable of tackling the recording and conversion of streaming music, so you can get your required music tracks from TIDAL with its help. Then it's easy for you to transfer Tidal music to the watch for listening.

TunesKit Tidal Music Downloader Key Features
Record and download songs, playlists, albums, artists from Tidal program
6 plain formats including MP3, AAC, FLAC, WAV, M4A, and M4B available
Preserve streaming music with the original audio quality and full ID3 tags
Support many customization functions and groove the songs even offline
Try It Free
600,000+ Downloads
Try It Free
600,000+ Downloads
Part 1. How to Save Music from Tidal with TunesKit Locally
Before recording music from Tidal, you need to download and install TunesKit Audio Capture to your computer. As the Music app on the watch support MP3, M4A, AAC, OGG, and WMA audio files, you need to use TunesKit to save Tidal songs to these formats.
1

Add the Tidal app to TunesKit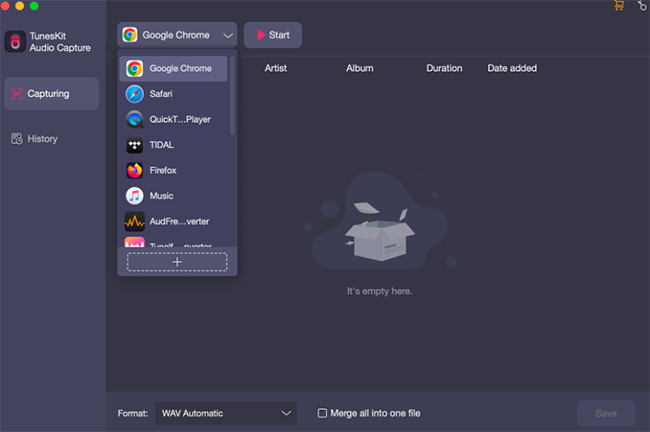 Open TunesKit and check the interface of TunesKit. If you don't see the Tidal app listed on the program list, you need to add the Tidal program to TunesKit by drag-and-drop. Or you could click the "+" button to add it.
2

Adjust the output audio format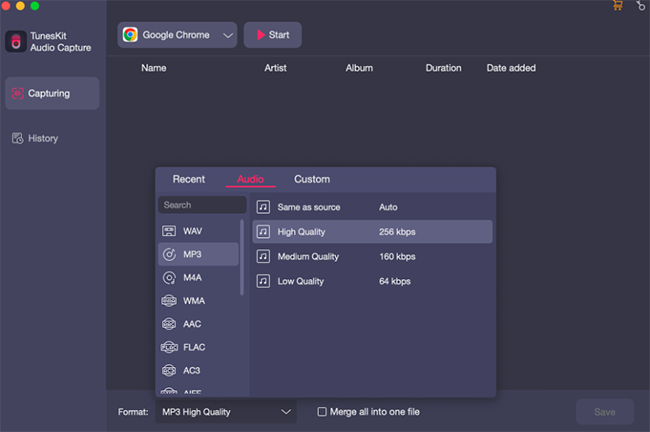 Then you need to configure the output audio parameters before recording. Just click the "Format" button to navigate to the setting of audio parameters. In this option, you could set the format, channel, codec, bit rate, and sample rate.
3

Begin to convert Tidal to MP3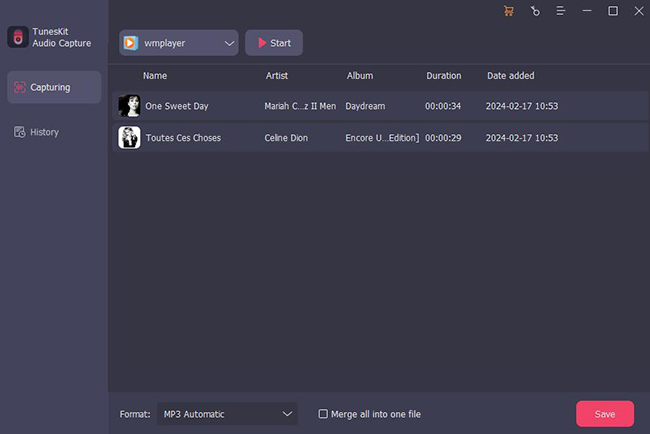 After that, launch the Tidal app from TunesKit. Then choose to play a playlist or album from Tidal and TunesKit will record those music tracks from Tidal after several seconds. You can stop recording music from Tidal by clicking the "Stop" button.
4

Trim and cut Tidal music tracks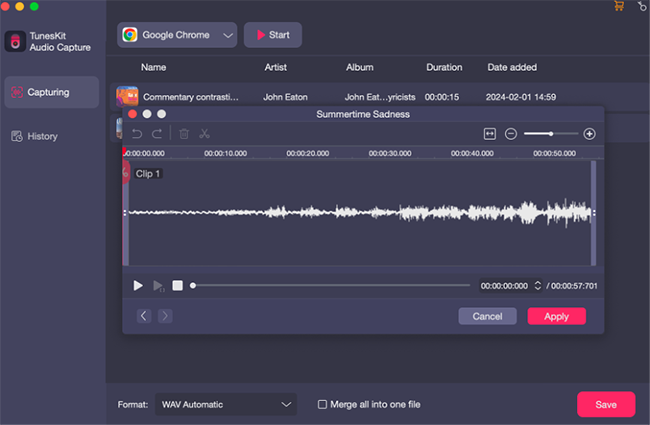 You could choose to customize those recorded Tidal music tracks after recording. Just click the "Edit" button at the rear of each track and you can go to merge, trim or merge each track. Then save all your edited music tracks to your computer.
Part 2. How to Import Tidal Music to Samsung Galaxy Watch
Before you prepare to move Tidal music to the watch, you need to sync Tidal music to your phone at first. After that, you could upload Tidal music to the watch for listening with the following steps.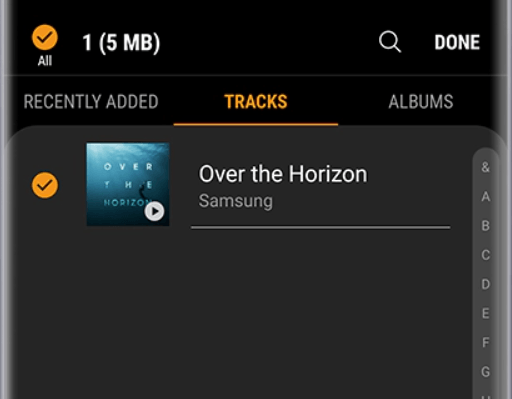 1. Tap Apps icon from the Home screen of your mobile device, then touch Samsung Watch.
2. Touch Settings > Send content to Watch > Select tracks and choose the Tidal songs you want to transfer to your watch by touching Done.
3. Touch Back to have your Tidal songs automatically synced to your watch while it is charging.
4. Touch the slider next to Auto sync to turn it on and press the Home button on the watch screen to access your Tidal music on your watch.
5. Touch Music Player and continue to touch the Phone icon to switch the player to play Tidal music stored on your watch.