How to Download Music from Napster for Offline Listening
Posted by Adam Gorden on Sep 3, 2019 6:15 PM • Category:
Record Audio
5 mins read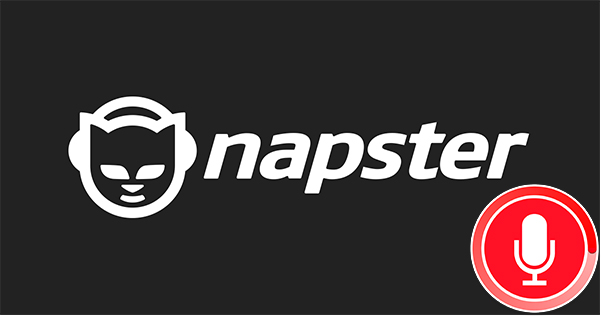 Featured by the large library of music, Napster is a well-established music streaming service that provides millions of music. Users need to buy different subscription plans to gain access to music on Napster. Though music from Napster download is available in the Napster app, it is only available to Premier users, and offline audio files are mostly WMV and DRM-protected, which means they can be only used on your devices and cannot be edited.
Either you are looking for a way to download Napster music normally on your device, or you want to download Napster music files that can be used however you want, the answers are here. In other words, we will introduce the normal way of music from Napster download and Napster music download free method.
Part 1. Napster Music Download: What You Should Know
Napster, once shut down for copyright violations, was acquired and rebranded by Rhapsody in 2011. And now the famous music download service is a legal and paid streaming music service with a huge music library.
1. Napster Subscription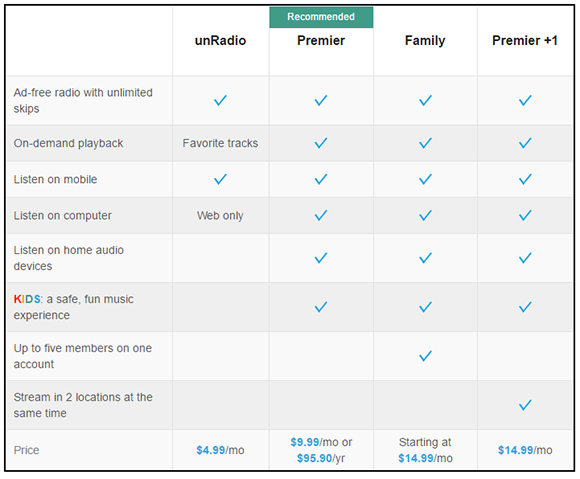 Note:Napster offers a 30-day free trial of Premier to all users.
2. Availability
Napster offers service across all 34 countries around the world. Besides, it is compatitible with a wide range of devices except for the older windows operating systems as well few older devices like iPod Nano, iPod Shuffle, Sony Walkman, or Philips MP3 players.
3. Audio Quality
Napster mobile app offers three streaming options: Good (AAC+ 64 kbps), Better (AAC 192 kbps), and Best (AAC 320 kbps), which is equivalent to the Low and Standard Quality of HiRes Audio. While Home audio systems applies 128 to 192 kbps AAC, depending on the device. PC client downloads are streamed in WMA 160 kbps for offline listening.
4. Offline Mode
Offline mode lets you save music on your phone or computer to keep the music playing without a WiFi or cellular connection. With offline mode, you can play your Napster music anywhere you go.
Part 2. Napster Download Music from Napster App - the Normal Way
To download Napster music from its app, you need to purchase a premier subscriber.
Step 1 Download the Napster app for Windows / Mac from the official site of Napster.
Step 2 Find the track you want to download. Then place the mouse on the track and you can see the arrow-shaped button (which is the download button) at the rear of the track. Click the button and the downloading will start.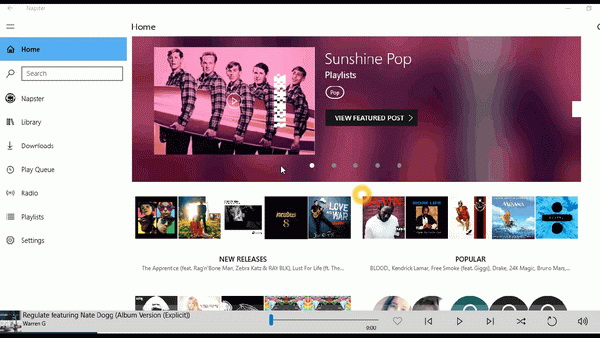 Step 3When the download button turns from white to blue, the downloading is complete and you can view the downloaded track on the "Download" tab.
Part 3. Napster Music Download Free with TunesKit Audio Capture
So is it possible to download Napster music without paying for the premier? The answer is "Yes", but we need the help of a tool.
TunesKit Audio Capture is a powerful Napster audio recorder that can record and capture audio from almost any software on your computer, Napster included. Unlike conventional audio recorders, this software can record high-quality audio from Napster to MP3, WMV, FLAC, M4A, M4B and AAC without any sound quality degradation. The rest of its main features are listed below.

Key Features of TunesKit Audio Capture:
Record streaming audio from Napster
Save all Napster recordings to common audio formats
Preserve audio quality and track information of the original Napster music
Support multi-track recording, trimming and merging
Support various audio effects like trimming
Try It Free
600,000+ Downloads
Try It Free
600,000+ Downloads
After seeing the introduction of TunesKit Audio Capture, you probably have figured out what our plan is. Yes, we will capture the Napster music with TunesKit Audio Capture. Every new user will get a free trial. Since the recording sound quality will be the same as the original tracks, the recording is equal to conversion in a sense. Plus, we can convert the audio into different formats according to our own needs.
Here is a tutorial of using TunesKit Napster Music Downloader.
Step 1

Open TunesKit Audio Capture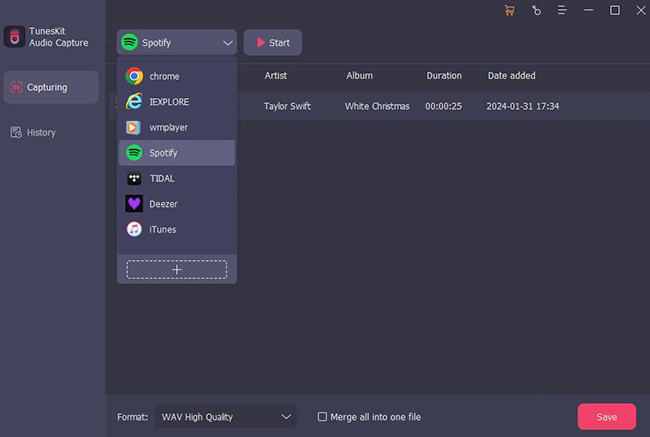 Initiate TunesKit Audio Capture, and the main interface will pop out, where the list of target software is placed. Drag and drop Napster icon from the desktop to this window will add it to the list. Note that you don't have to open the target software now, because once you tap the target software before recording, the original window of the target software will be closed and a new window of it will be created.
Step 2

Manage all output configuration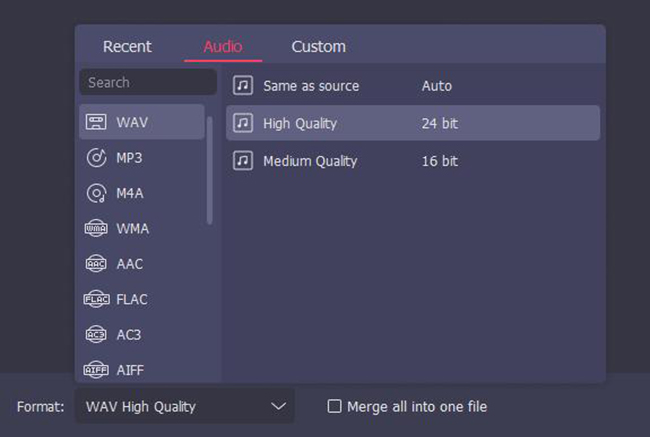 The customizable output options need to be adjusted before you start recording. Tap the trumpet-shaped icon at the right bottom, and the format window will pop up, showing recording formats, codec, channel, sample rate and bit rate for you to change according to your demands. For users who are not familiar with all these buzz words, the Preset option allows you to simply choose from High-quality and Small-size, and all the other options will be adjusted accordingly.
Step 3

Start the Napster downloading and recording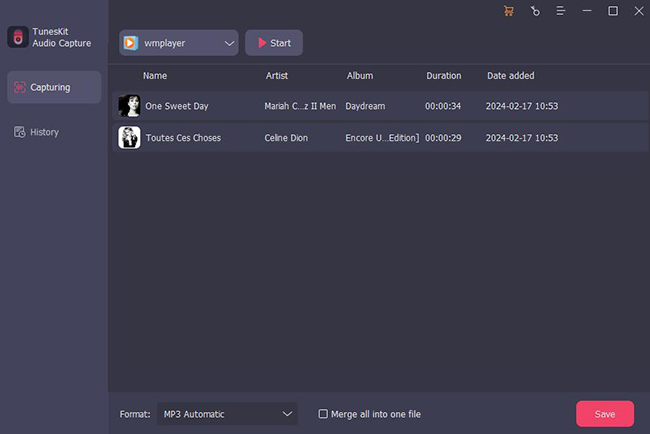 Back to the main interface and choose Napster, and TunesKit Audio Capture will launch it for you. Next, play target music in the newly launched Napster and the recording program will start in a few seconds. If you want to record multiple tracks, TunesKit Audio Capture can detect the silence interval between songs and split them automatically into different tracks. Now You should be able to see the tracks are being recorded into the previously designated formats, for instance, the user record music from Napster to mp3 in the image above.
When you get all the songs you want, press the Stop button to end the recording process.
Step 4

Edit recorded Napster tracks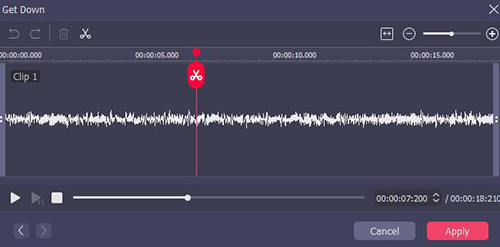 After you have finished recording, you can click the Edit button at the rear of each track to trim the audio track. You can cut a track into several different segments or merge all recordings into one file. Besides, you can edit the ID3 tags of the tracks, including title, artist, album, etc., or rename the tracks.
After all is done, press the Save button to store the tracks in the local folder.
Part 4. Bottom Line
As a conclusion, there are two methods of Napster download. For the premier subscriber, you can download the music from the Napster app. And with the support of TunesKit Audio Capture, Napster music download free is possible.