Top Best Chrome Audio Capture to Record Audio from Chrome
Updated by Adam Gorden on Oct 21, 2022 3:00 PM • Category:
Record Audio
6 mins read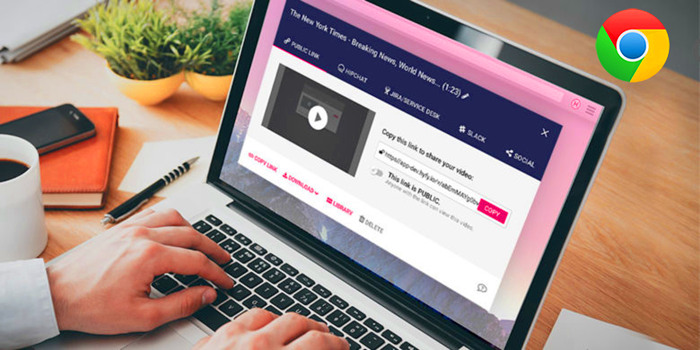 Many users may encounter situations where they inadvertently hear extremely attractive songs or audio while surfing the Internet on Chrome. If you happen to wonder how to keep those songs on your computer, then you've come to the right place. In fact, all you need is only an audio recorder that can capture sound from Chrome. We'll show you how to record audio from Chrome via Chrome audio captures without too much effort.
Part 1. Record Audio from Chrome via TunesKit Chrome Audio Capture
TunesKit Audio Capture (or Mac version) is an all-purpose sound recorder that is designed to grab any sound from computer sound card output through a browser or web player (such as Chrome), including streaming music, in-game sound, and so on. In addition, it can also record sounds reproduced by media players and other software like iTunes, RealPlayer, Windows Media Player, and so forth.
TunesKit Chrome Audio Capture enables you to record audio from several Chrome tabs independently in the meantime with high quality. What's more, it fully supports all commonly used output audio formats, such as MP3, M4B, M4A, FLAC, AAC, and WAV, so you can listen to any audio on all popular devices as you wish.
Now just download the right free trial version and learn how to record audio from Chrome following the steps below.

TunesKit Audio Capture - - Chrome Audio Recorder
Record and download streaming audio from Chrome and other websites
6 plain formats including MP3, AAC, FLAC, WAV, M4A, and M4B available
Preserve recorded audio tracks from Chrome with the original audio quality and ID3 tags
Support many customization functions and groove the songs even offline
Try It Free
600,000+ Downloads
Try It Free
600,000+ Downloads
How to Record Audio from Chrome
Step 1

Open TunesKit Chrome Audio Recorder

Launch TunesKit Audio Capture on your computer, and then click the Chrome icon listing on the opening window to open it. If you can find the target program, just click the "+" button to add the program you want to capture the audio from.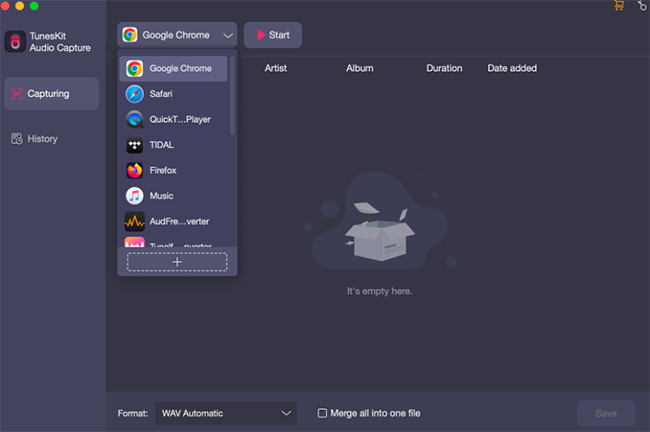 Step 2

Set capture parameters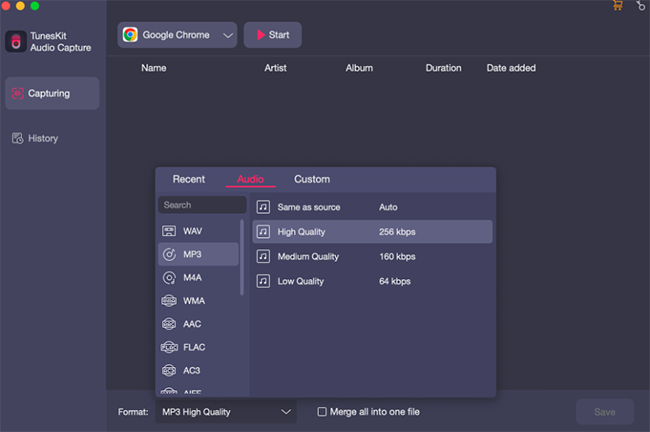 Tap on the Format button at the lower right corner, and then set the output preferences in the window popping up. This software currently supports common output formats including MP3, WAV, AAC, M4A, M4B and FLAC. You are allowed to personalize the output audio by setting the audio quality, such as codec, sample rate and others. Tap on the top menu > Preferences to set output folder.
Step 3

Capture Chrome audio tracks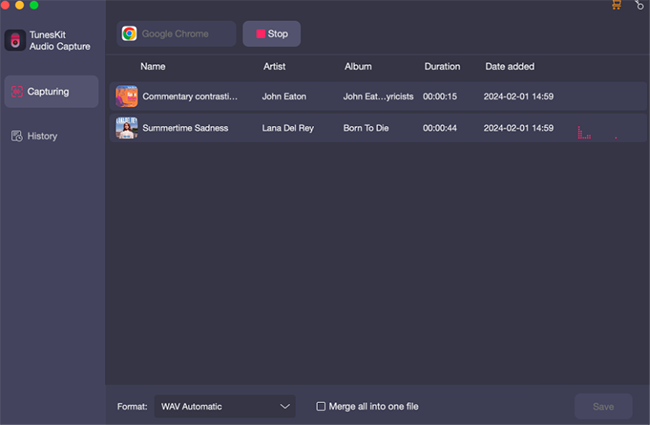 Now go back to the Chrome browser and find the audio you want to capture, start to play the tracks then. You will then see the new recording task created in the capture list of TunesKit Audio Capture. When you play the sound, it will start capturing the audio in real time. Click on the Stop button and close the media program when you finish the recording.
Step 4

Edit the recorded Chrome audio tracks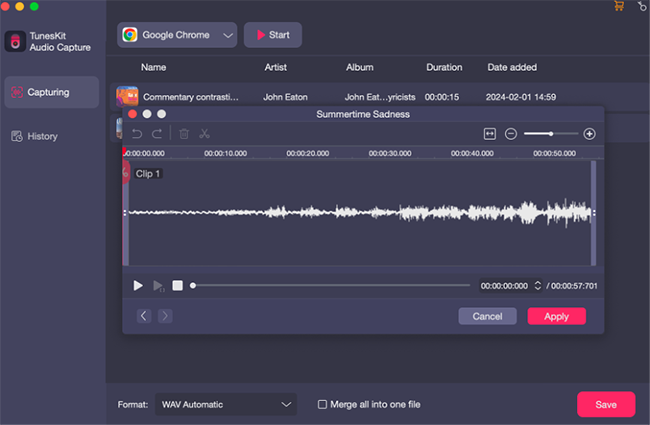 Tap the Edit icon for each track to trim the audio tracks by length of time. You can click the time slider or manually entering a value to set up segmentation. You are also able to manage the ID3 tags of the Chrome audio, including artists, year, music titles, cover images and more in the specific window. Plus, you can select to combine different Chrome audio tracks into one through the Merge button. After that, click on the Save button.
Part 2. Record Chrome Audio with Chrome Audio Capture Extension
There's another way to record audio from Chrome tab, which is to take advantage of the Chrome audio record extension. These are the three audio recorders on Chrome extension that you can't miss.
#1 Chrome Audio Capture
Chrome Audio Capture is a Chrome extension to record audio playing on the current Chrome tab. You can save those sound captures as MP3 formats according to your computer. Additionally, you are allowed to capture multiple tabs at one time and choose to mute the tab being recorded at present.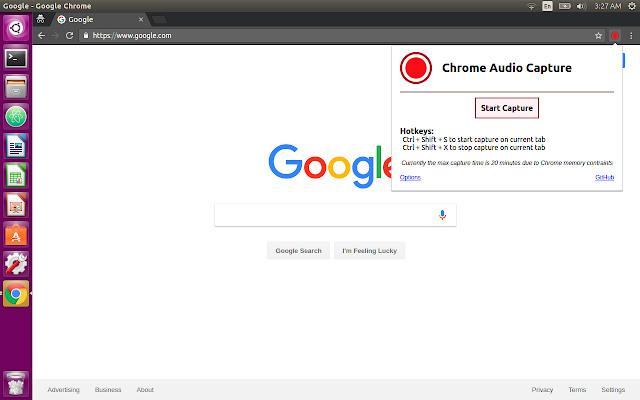 #2 WQRI Recorder
WQRI Recorder is also an audio capture addon on the Chrome extension. Like Chrome Audio Capture, it has the ability to record audio from a specified Chrome tab, without recording sounds from other sources. The most noting is that it allows up to 120 minutes of audio recording so you're possible to record a playlist of songs without further merging. Also, you'll hear nothing when WQRI Recording is on the recording, thus you can listen to other audio without overlap.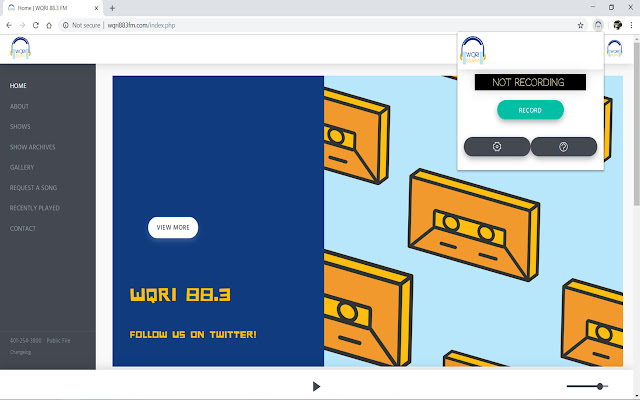 #3 Screencastify
As a 2-in-1 recording addon of Chrome extension, Screencastify will help you record audio and video from a Chrome tab or desktop. As the audio-only recording is not supported, you will end up with an audio recording with video. So it's a good choice for those who want audio and video recording on Chrome simultaneously. Moreover, it only exports recordings to WEBM format for free users, but it is possible to get MP4 recordings by simply importing the video into its editing platform.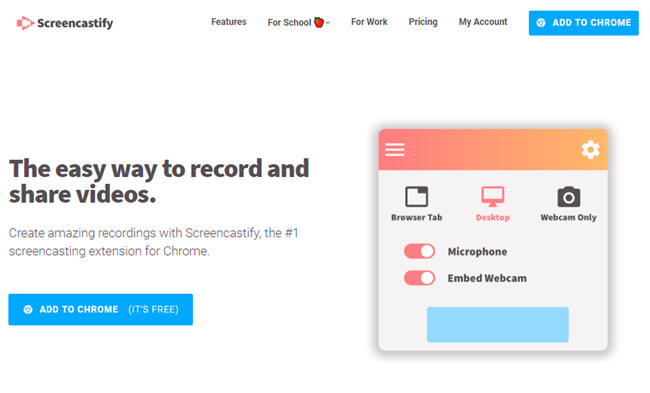 How to Record Audio from Chrome Tab via Chrome Extension Sound Recorder
Step 1. Launch Chrome browser on your computer and visit Chrome Web Store: https://chrome.google.com/webstore/.
Step 2. Select one of the three Chrome audio recorder extensions we mentioned above, and add it to Chrome.
Step 3. You will see the audio recorder addon list in the Extension list in the top right corner. Click on the recorder and tap the Record button. Then the Chrome audio will be recorded immediately.
Step 4. Tap the Stop button when you finish. And then click on the Save button to download the Chrome sound recording to your computer.
Part 3. Record Sound from Chrome via Chrome Audio Recorder Online
In addition to the audio capture extensions from Chrome, online Chrome sound recorders are available. There are plenty of audio recorders on Chrome, which allow recording audio, and voice from Chrome and desktop. Here are the three online Chrome audio recorders for your reference.
#1 Online Voice Recorder
Online Voice Recorder by 123Apps is another easy-to-operate tool that can be used to record audio from Chrome directly in the browser. It enables you to record audio on Chrome and then store it as a file in MP3 format on your computer. But you can only record audio within 7 minutes. In addition, the sounds that you don't actually want to record like noise will be captured as well.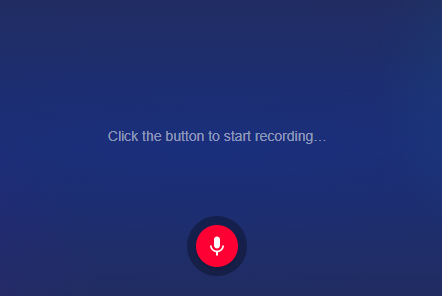 #2 Apowersoft Free Online Audio Recorder
Apowersoft Free Online Audio Recorder is also an easy Chrome audio capture online that supports recording microphone and system audio simultaneously or separately. Also, you are able to select record the current Chrome audio or other sources. And it will show the audio recording for previewing and downloading. The downside is that it lacks an audio editor, so any further editing like cutting, trimming, or splitting is not available.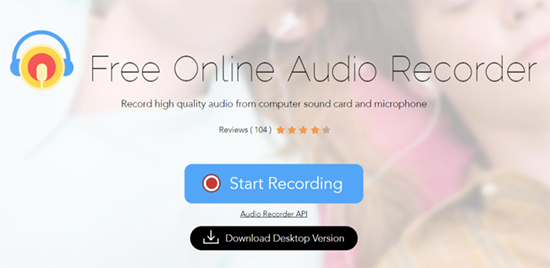 #3 Rev Online Voice Recorder
Rev Online Voice Recorder can be used on Chrome and Safari. It's also a free Chrome audio recording tool for recording any sound from Chrome and the desktop. It allows trimming to the recorded audio and will save them in MP3 format. But the recorded audio may be of average quality with noise as it can not capture audio from a single Chrome tab or program.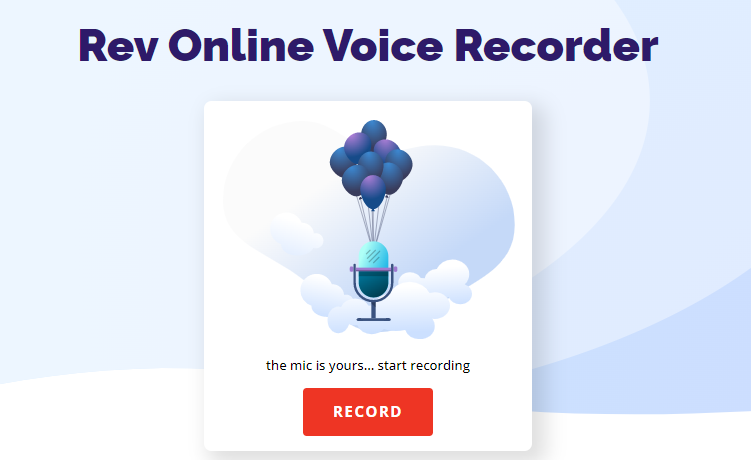 How to Record Sound from Chrome with Chrome Sound Recorder Online
Step 1. Select your preferred online Chrome recorder and visit its homepage.
Step 2. Click on the Record button to start the recording on Chrome. And tap the Stop button when the audio is finished.
Step 3. After your preview, tap the Save/Download button to keep the audio recording file on your computer.
Part 4. FAQs about Chrome Record Audio
Q1: How do I record audio on Chrome?
It's easy to record audio on Chrome. Choose one of the 7 Chrome audio recorders we've provided above, and you'll be able to capture sound from Chrome with ease.
Q2: Do Chrome have an audio recorder?
Chrome does not provide an audio recorder. But you can try a third-party audio recorder like TunesKit Audio Capture or find other Chrome audio captures online to record audio from Chrome.
Q3: How do I record audio and video on Chrome?
To record audio and video on Chrome, you can try Screencastify from the Chrome extension, which supports video and audio recording. But if you prefer desktop software, TunesKit Screen Recorder is worth considering.
Part 5. Conclusion
You can definitely record audio on Chrome referring to the 6 methods mentioned in this post, but what we want to remind you is, what makes TunesKit Audio Capture superior to the latter is that it has no limitations at all. That's also why more users prefer to use our product to complete the Chrome audio capture. More importantly, it supports 6 audio formats and has an editing feature for you to experience.