Effective Ways to Download Audioboom Podcast
Posted by Adam Gorden on Aug 31, 2022 12:00 AM. • Category:
Record Audio
5 mins read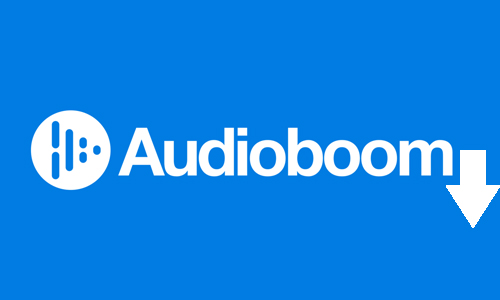 Audioboom is the leading podcasting, hosting, and distribution platform, offering listeners a large amount of interesting, attractive, and connotative podcast audio. Here you can enjoy many kinds of podcast audio online for free and upload your podcast on it.
If you're a listener, we're sure you have listened to your favorite podcast on Audioboom many times, but have you wondered about downloading them for offline listening? If yes, you are in the right place. In this article, we'll cover three effective methods to download Audioboom podcast audio to your computer via some viable tools. Let's get started!
Part 1. How to Download Audioboom Podcast on Official Website
As the Audioboom mobile app is no longer available as of 2019, access to the official website is the only way to listen to Audioboom podcasts. It has an embedded web player, giving high degree of freedom to whether you are a visitor or a registered user, you can play your favorite podcasts and download them for free. It's easy to get your favorite Audioboom download on this site by following the steps below.
How to Download Podcasts from Audioboom Officially
Step 1. Open a browser and access audioboom.com. First, you can log into your Audioboom account. It's optional. Or you can go to search for the Audioboom podcast you want to download.
Step 2. Click on the target Audioboom podcast and turn to the detail page. Here you can learn more about the Audioboom podcast you need, listen to it online, and download it for free.
Step 3. Scroll down until you see the Download audio button. It will jump to the playback page after you click the button. Click on the three dots icon and select Download. Your favorite Audioboom podcast will be downloaded to your computer in a few seconds.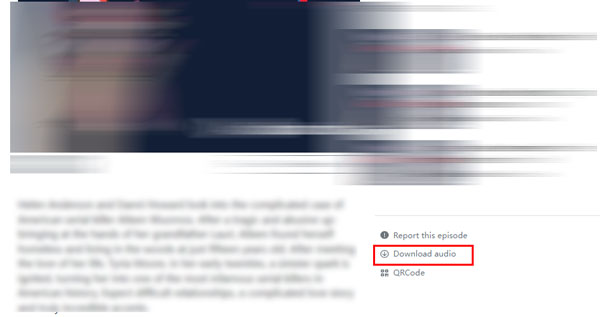 Part 2. How to Get Audioboom Download to Other Devices
TIn general, Audioboom MP3 downloads can be transferred to any device that supports the MP3 format for offline playback. However, they will be unplayable if you put them on some devices which is not compatible with MP3. In this case, you'll need a powerful tool that can achieve many output formats, called TunesKit Audio Capture.
TunesKit Audio Capture is a professional audio grabber that has the ability to grab Audioboom podcasts and other audio with ID3 tags in high quality without limit. It supports six audio output formats, including MP3, M4A, M4B, AAC, FLAC, and WAV, which gives you the possibility to transfer your Audioboom podcast downloads to most devices.
In addition, the built-in audio editor allows users to trim and cut the downloaded Audioboom podcast to the desired length and edit the ID3 tags, such as altering the title, author, album art, etc. Now please read the tutorial on how to download the Audioboom podcast.

TunesKit Audio Capture
Record and download Audioboom podcast with ID3 tags in high quality
Download Audioboom podcast to MP3, M4A, M4B, AAC, FLAC, and MAV
Support multi-track recording Audioboom podcast tracks
Support mergeing, cutting, and editing the Audioboom podcast downloads
Try It Free
600,000+ Downloads
Try It Free
600,000+ Downloads
How to Download Audioboom Podcast via TunesKit Audio Capture
Step 1: Download and install TunesKit Audio Capture to your computer. Launch the program, and you can see there are some icons, such as Chrome, listed in the main interface.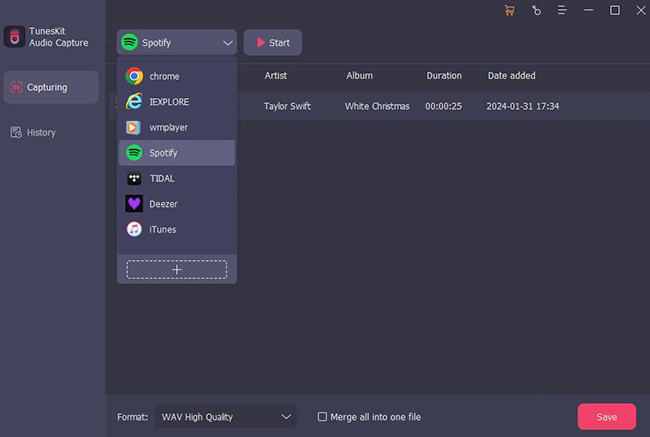 Step 2: Tap the Format button in the bottom right. Here you can change the Audioboom download parameters, such as MP3, AAC, FLAC, etc., and other options like channel, codec, bit rate, and sample rate.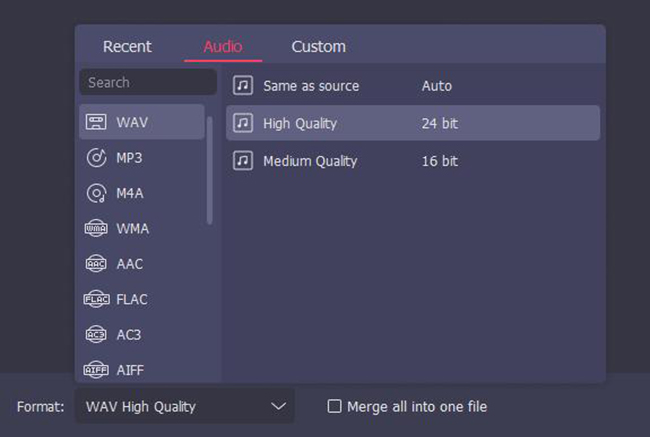 Step 3: Next, go back to TunesKit Audio Capture's main interface, tap the Chrome icon, and access the Audioboom website. Find out and play the podcast you want to download, and TunesKit Audio Capture will start downloading it in seconds. When it ends, click on the Stop button.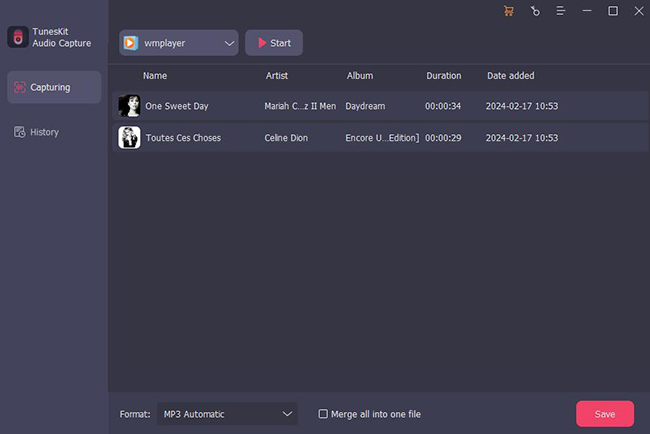 Step 4: The Audioboom downloads will be shown in the History list. You can edit them by clicking on the Edit icon. Or, just hit the Save button to store the Audioboom podcast downloading audio to your computer, and you can locate the file by tapping the Folder icon.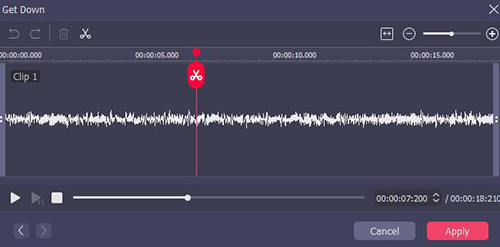 Part 3. How to Get Audioboom MP3 Download Online
In this part, we'll present an online audio downloading tool for people who don't want to install additional software on their computers. Tubeninja is what we recommend. It has a simple main page, and visitors know how to use it without elaboration. This tool can not only help you get Audiooom download podcasts but also download videos from YouTube, Tumblr, Vimeo, and other online streaming websites. You can follow the steps to download your favorite Audioboom podcast.
How to Download and Save Auidoboom Podcast
Step 1. Copy the URL of the target Audioboom podcast. Open a new tab on Chrome and access tubeninja.com.
Step 2. Paste the link into the search bar and hit Download. It will show you the results in seconds. You can choose the desired one, and it will turn to a playback page.
Step 3. You can listen to the audio to check if it's the one you want to download. If yes, tap the three dots button and choose Download. The downloading will be finished in a few seconds.

Part 4. FAQs about Audioboom Podcast
Q1: What is Audioboom?
Audioboom is designed for podcast hosting and distribution. You can enjoy various podcasts as well as publish your podcast on it.
Q2: Is Audioboom free?
Yes. All the content on Audiboom is available for free and download. There is just a small ad that plays before each podcast on the free account. You can unlock the premium version to remove the ads.
Q3: Does Audioboom have an app?
Since 2019, Audioboom mobile app is no longer available. And Audioboom has not released desktop software either so far. You can only listen to your favorite podcasts on the Audioboom official website.
Part 5. Conclusion & Suggestion
Now you have three methods to download Audioboom podcasts to your computer via the official way, TunesKit Audio Capture, and an online tool. You can transfer them to any device you want and play them offline whenever you're on the go or commuting. Incidentally, TunesKit Audio Capture is not only capable of downloading podcasts but also of recording any audio, including streaming music services to desktop software. Hope this post will be helpful for you.