We usually set such a passcode in the iPhone that can't be memorized easily by another person. But sometimes our own play turns out to be a trouble for ourselves. It means that when we forget our passcode and ultimately we can't get into our own iPhone. There are many people who are experiencing the same situation and might have to visit the Apple Store to get it fixed. But here we can provide you with some simple solutions that you can try to reset iPhone without password in case that you forget it entirely.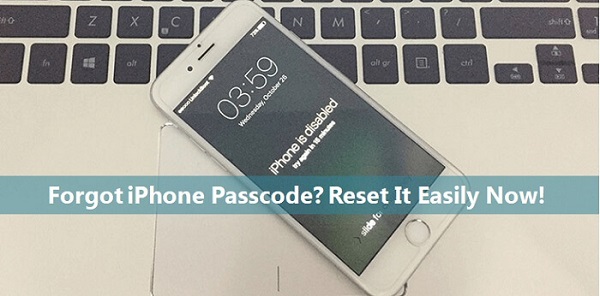 Method 1. Reset iPhone via TunesKit iOS System Recovery
TunesKit iOS System Recovery is a professional repair tool, supporting both Windows and Mac. In total, it can fix more than 50 iOS-related issues. If you forget the iPhone password, and hope to reset or factory reset iPhone, the software can be your first choice. With a few clicks, it can help you factory reset iPhone without password. Apart from the reset issue, it can also fix touch ID not working, iPhone not charging, and more issues.
Next, there are some general features of this software below.

TunesKit iOS System Recovery Key Features
Covers 50+ iOS issues, including reset iPhone without passcode
User-friendly interface
Easy steps to finish the whole operation
No data loss in the Standard Mode
Lowest price among similar products
Now, there are detailed steps on how to use TunesKit to reset iPhone without password.
Step 1: Open TunesKit on your computer. Then, connect your iPhone to the computer with a USB cable. After the software detects your device, you can click the Start button.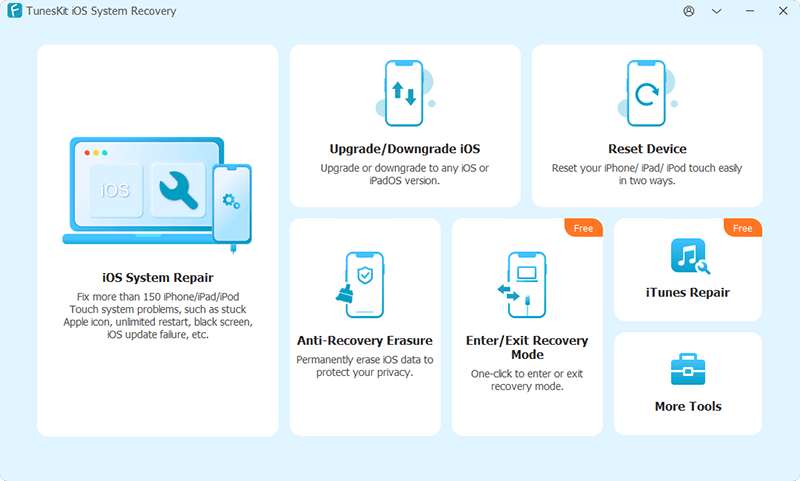 Step 2: Now, you need to select a repair mode. Here, you can choose the Standard Mode and Advanced Mode. The difference between the two modes is that the one will not erase data, but the second will do the opposite. So choose one mode based on your needs.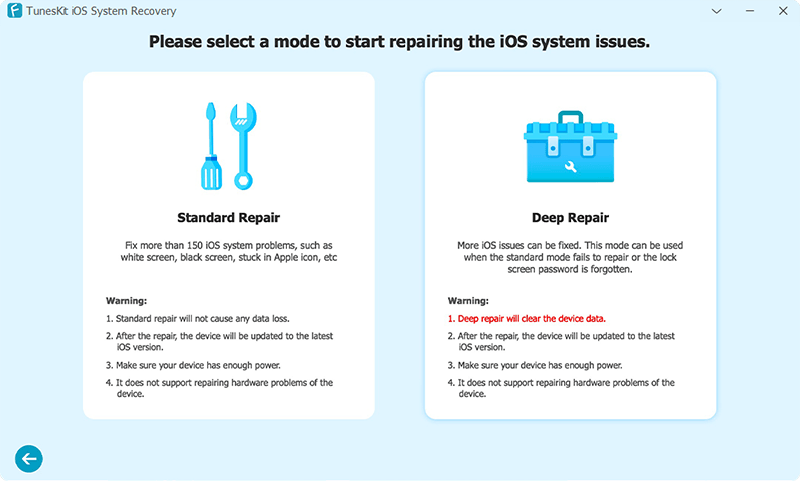 Step 3: In this step, you need to download firmware package. Before downloading the firmware, you can check the device info. After this, click the Download button.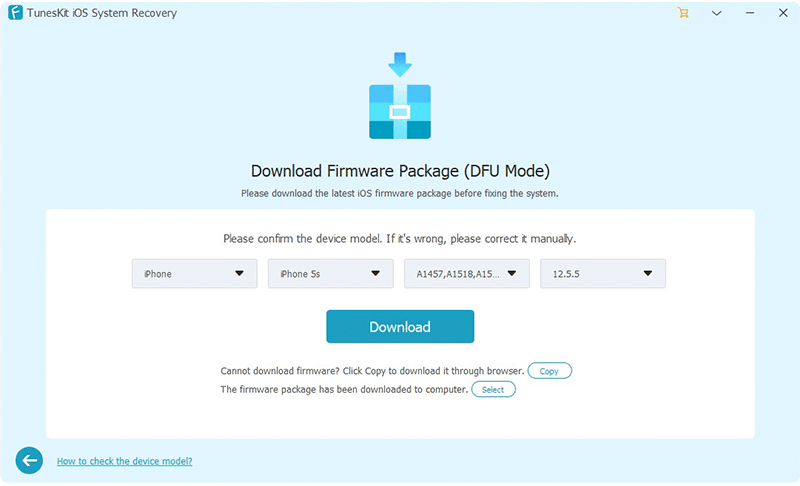 Step 4: Last, click the Repair button to reset iPhone without password. Ensure stable connection during this process or your phone might get bricked.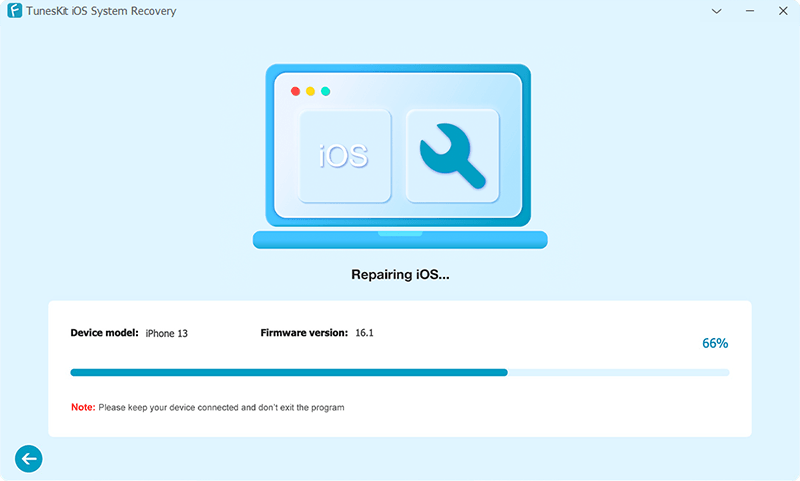 Method 2. Reset iPhone Password with iTunes
If you locked your iPhone and now it needs to be reset then your iPhone will automatically instruct you to connect to iTunes for passcode override. To reset iPhone without password using the iTunes, follow the steps below:
Step 1. Connect your iPhone to the computer and launch iTunes on the computer.
Note: The syncing option is for those who haven't disabled their iPhone and decided to use the iTunes for recovery of their iPhone. It usually happens after 6 failed attempts that the iPhone gets disabled. So, until it is disabled it won't show the Connect to iTunes option.
Step 2. When the iTunes is synced up, you first make a backup of your iPhone and wait for it to complete.
Step 3. Now, it is time that you click on the Restore iPhone option to reset the iPhone completely. You will be navigated to the setup screen on your iPhone, and from the Apps and Data screen, choose the Restore from iTunes backup to restore the files of your iPhone from the iTunes backup.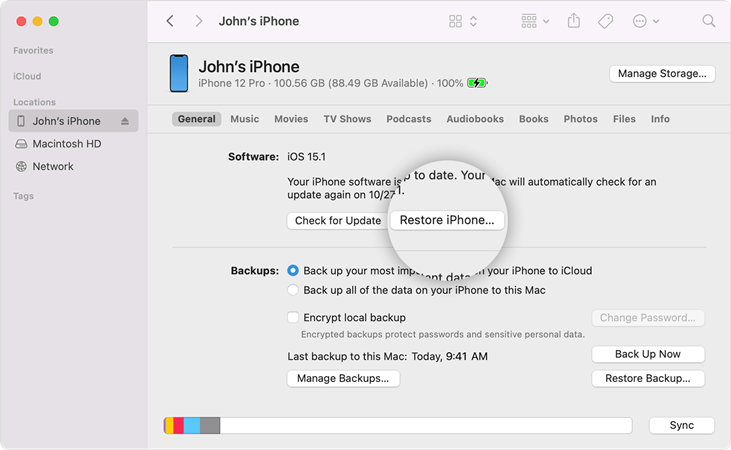 Keep your iPhone connected to the computer as you have to choose the backup from the computer. When you will restore the iPhone with iTunes, you will also reset the iPhone passcode and get into your iPhone without entering it.
Method 3. Reset iPhone Passcode with iCloud
The iCloud method can also be used to reset iPhone without password. Ensure that you have enabled the Find my iPhone option and then follow the below-mentioned steps:
Step 1. On a computer, visit the iCloud website and then use your Apple ID to login to the website.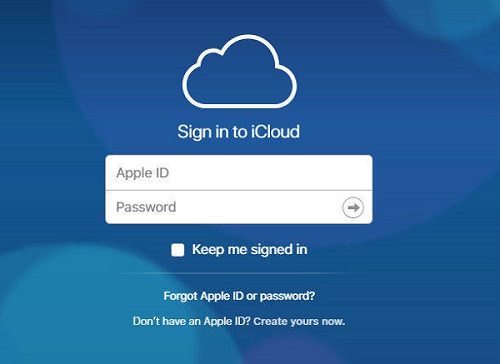 Step 2. Click on Find My iPhone option and then you will be redirected to another page. There click on "All devices" option on the top of the window and select the device whose data you want to erase.
Step 3. As you tap on the Erase option, all the settings and the password on your iPhone will be erased and you will be able to enter your iPhone without any passcode.
If you don't have the Find My iPhone settings enabled, then you can also opt out for the third solution we are going to provide.
Method 4. Reset iPhone Password via Recovery Mode
The 4th method to reset iPhone without password is the recovery mode of the iPhone. This method is used if you haven't synced the iTunes with your iPhone. The steps will guide you how can you reset the iPhone passcode entirely:
Step 1. Connect your iPhone to your computer and then launch iTunes.
Step 2. When the device is connected, "force restart" your iPhone. You can reset your iPhone X, 8 and 8 Plus by pressing and quickly releasing the Volume Up and then do the same with volume down button. Finally, press and hold the Side button until you will be able to see the Recovery mode screen.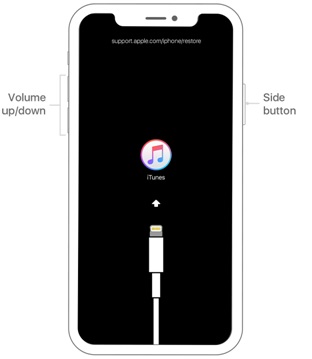 Note: The steps is only suitable for iPhone 8 or later models. For iPhone 7 or 7 plus, press and hold the Side and Volume Down buttons before you see Apple logo. Then, keeps holding the Side button while releasing the Volume button until the Recovery Mode screen appears. For other models, press and hold the Side and Home buttons until the Recovery Mode screen appears.
Step 3. Now, you will see the option to Restore or Update your iPhone. Choose the Restore option and iTunes will download software for your iPhone.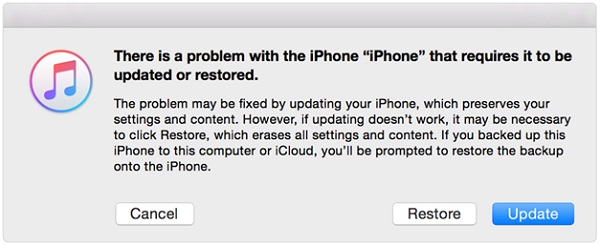 Note: If your iPhone takes more than 15 minutes for the reset, then your device will exit from the recovery mode and you will have to perform the steps 2 and 3 again.
Step 4. When the process completes, you are free to set up your device again.
Unless you already had a backup, you won't be able to retrieve your data with after resetting your iPhone as all the methods will erase all the data from your iPhone.
Conclusion
The above 4 methods are full guides on how to reset iPhone without password. If you have accidentally locked your iPhone and can't get in, then hurry and try these solutions.

Brian Davis has covered tech and entertainment for over 10 years. He loves technology in all its forms.