5 Solutions to Solve iTunes Error 9
Posted by Brian Davis on Aug 13, 2019 5:48:11 PM • Category:
Restore iPhone
5 mins read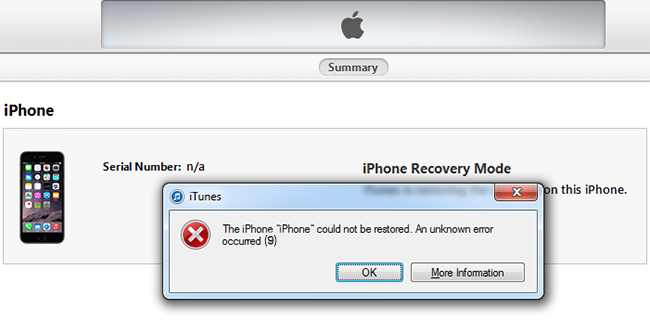 "I was trying to restore iPhone when a notification of iTunes error 9 appeared on the screen and the restoring process stops. How do I fix it? "
Have you ever run into this trouble before? You are restoring or updating your iPhone but suddenly the iTunes error code 9 warning interrupts and what you are trying to do fails. It is naturally frustrating to run into such issue, because it makes you unable to either use the latest iOS or solve certain problems that you restore your iPhone to eliminate in the first place.
To help with users in trouble, I did some researches and tests and conclude 5 solutions. For some users who encounter the same issue on iPad and iPod, these solutions proved to be helpful too.
1. Fix iTunes Error 9 by Ensuring the Perfect Connection
iPhone error 9 has many causes, and the most easy-to-detect one is connection problem. Only Made for iPhone / iPod / iPad USB cables and adaptors (also known as original cables and adaptors) can maintain the perfect connection. If you are using your computer to update or restore your iPhone when encountering iPhone could not be restored error 9, then the cable or adaptor is possibly the cause.
To check whether you are using the proper type of cable and adaptor, follow these steps using the current cables and adaptors:
Step 1
Connect other Apple devices with your PC / Mac and see if the error notification pops up. If it shows up again, then these two accessories might not be designed for Apple devices.
Step 2
Connect other Apple devices with other PC / Mac. If the iPhone restore error 9 warning still appears then it is possible that the accessories are not Made for Apple ones.
Step 3
Switch to a set of Made for Apple devices USB cable and adaptor and see if the notification pops up again.
If the error warning shows up in any one of the 3 steps above, you need to a set of Made for iPhone / iPod / iPad cable and adaptor.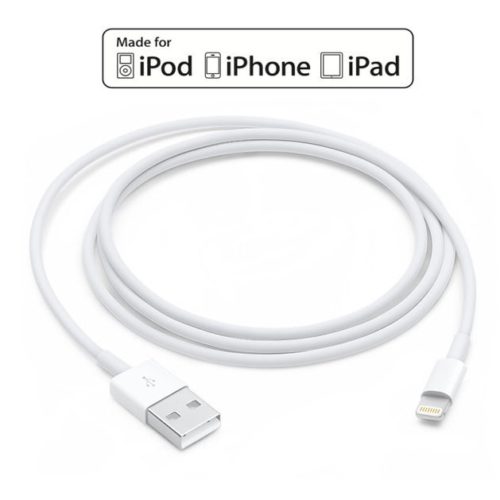 Also, the port is an easily-omitted part of the iPhone, while actually its cleaning directly links to the connection. Clean the port so that it is not covered with dust, and the connection may resume to normal.
2. Fix iTunes Error 9 by Updating iTunes to the Latest Version
In many cases, the outdated versions of iTunes can cause iPhone error 9. Update iTunes on both your phone and computer to the latest version will solve the problem.
To update iTunes on your computer:
Step 1Open the iTunes and unfold the "Help" menu, where you can see the "Check for Updates" button.
Step 2Click on it, and iTunes will automatically check for the latest version. If there is a newer version, update it.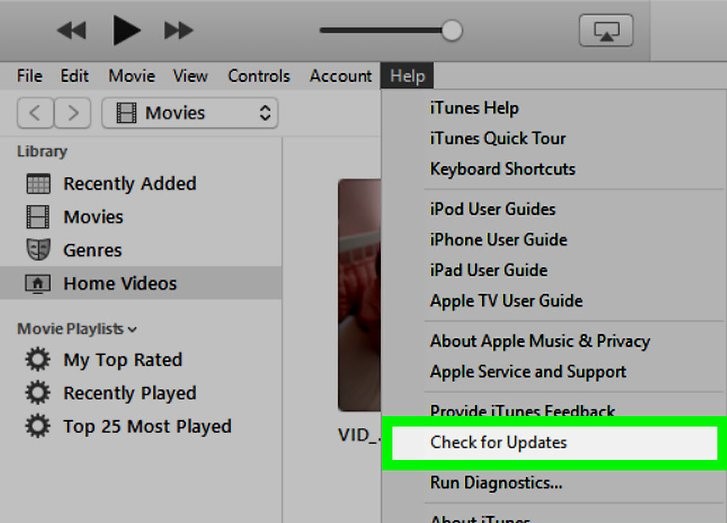 Now with the latest iTunes, updating or restoring iPhone can be operated normally.
3. The Most Efficient Solution to iTunes Error 9 - TunesKit iOS System Recovery
If the previous two solutions fail, then the cause could be that your iPhone has iOS system issues. This is a complex situation because to identify and resolve the iOS system issues are difficult and inconvenient. The official method for users is to restore with iTunes, but this is somewhat ridiculous since restoring your iPhone is impossible because of error 9. Even if you manage to restore the iPhone, all your precious personal data will be erased.
Therefore it is recommended to choose another option - TunesKit iOS System Recovery, an iOS system recovery program. Though it costs some money, the software is bound to make your iPhone back to normal without costing too much efforts and time.
TunesKit iOS System Recovery is one of the best iOS system recovery tools. It is guaranteed to fix 30+ iOS problems, iTunes error 9 included. The significant feature of this software is that not even a scrap of your personal data will be damaged after the recovery, and the problem you initially restore your phone to resolve might get fixed in the process.
The rest main advantages of TunesKit iOS System Recovery and its free trial download links are listed below.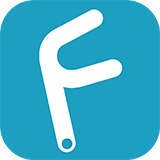 TunesKit iOS System Recovery Key Features
Resolve 30+ iOS issues and iTunes glitches
User-friendly interface
3 quick steps to finish the whole operation
No data loss in the Standard Mode
Lowest price among similar products
Try It Free
600,000+ Downloads
Try It Free
600,000+ Downloads
Tutorial of using TunesKit iOS System Recovery
This tutorial tells you how to use TunesKit iOS System Recovery to recover iOS without data loss exactly, and the best way to make use of it is to download the free trial above and experience it according to the tutorial.
Step 1
Open TunesKit iOS System Recovery and connect your iPhone to the computer with the proper cable. Press the Enter Recovery button to let your phone enter the recovery mode, in which the tool repairs the iOS system.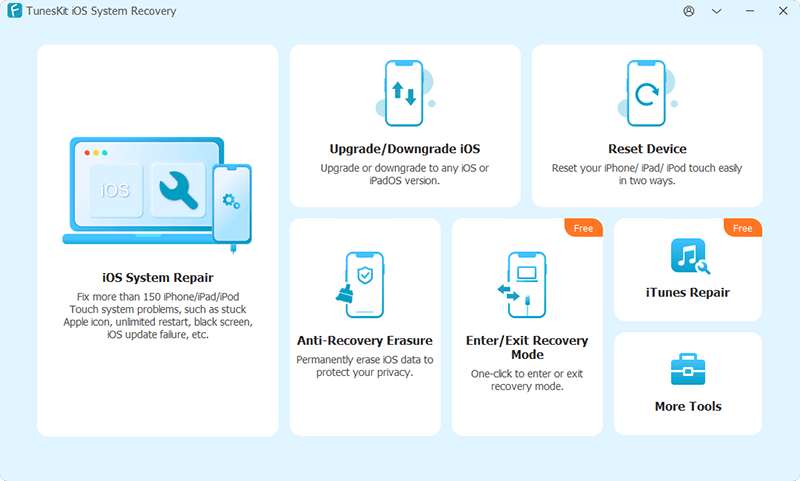 If the auto detection fails to identify your iPhone, you have to manually enter the recovery or DFU mode. A simple guide to entering to enter these modes is displayed in a window appears afterward.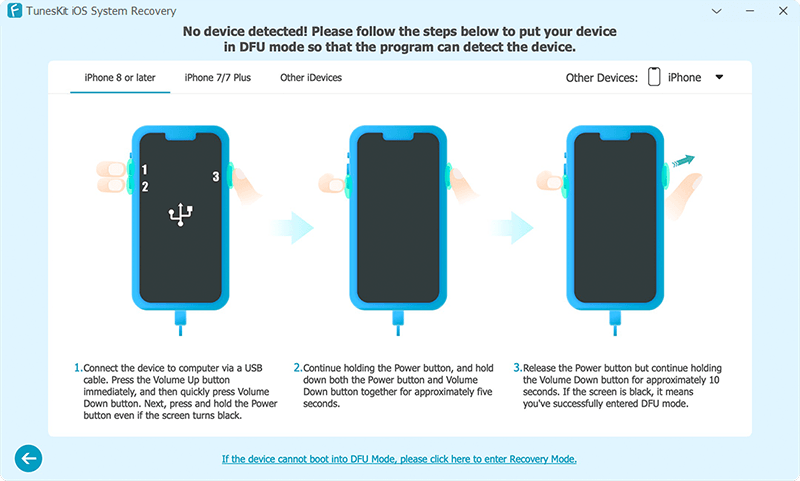 Step 2
In the next window, choose the Standard Mode, in which the iOS recovery will not delete data. Be aware not to select the Advanced Mode because it will sweep all your data away.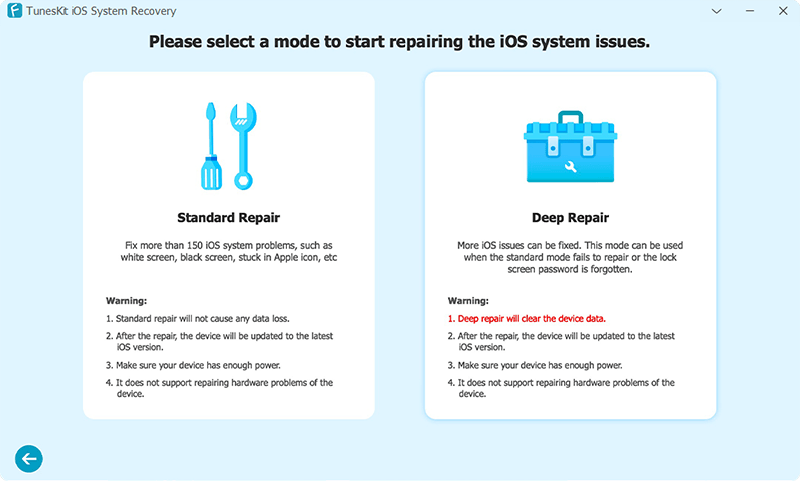 Step 3
In the Download Firmware Package interface, some brief info of your iPhone will display on the screen, and you need to check if it is correct. Then click the Download button to download the firmware that matches your phone.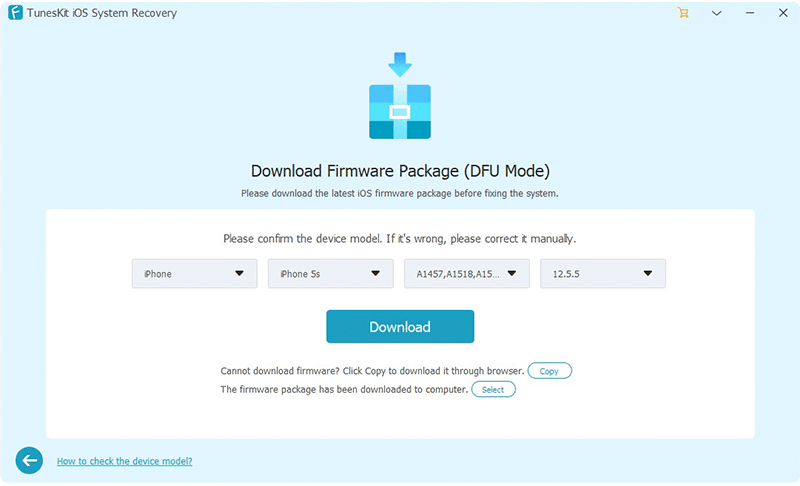 Step 4Press the Repair button to start repairing the iOS system. Be aware that the connection between your phone and computer should remain stable or your phone might brick.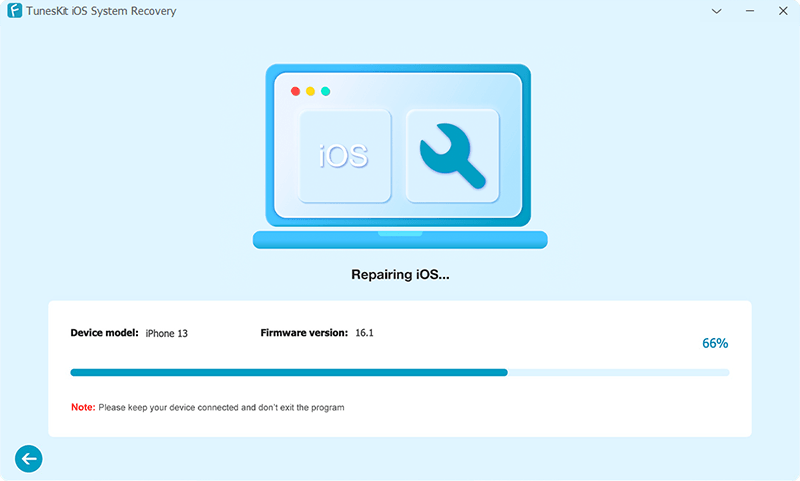 4. Fix iTunes Error 9 by Managing Your Firewall Settings
The iPhone restore error 9 can result from Internet connection problem, which means that the exchange between your computer and Apple server might be blocked by firewall or security program. To eliminate the cause, check the firewall and security program on your computer to ensure iTunes is in the white list or not on the blacklist.
5. Resort to Apple Official Support to Resolve iTunes Error 9
I have seen similar articles telling people to factory reset or iTunes restore their iPhones to solve iTunes error 9, but I strongly object such action because, as mentioned before, all your data will be gone if you do so. If the previous solutions do not work, then the problem is serious enough for you to go to nearby Apple support center, because the professional staff knows how to handle the error without causing you unnecessary loss.
Conclusion
Through with all these practical methods, fixing iTunes error 9 is still energy-consuming and time-consuming. That is why in the third solution I recommend TunesKit iOS System Recovery to improve efficiency and to solve the initial problem on your iPhone. At last, I sincerely hope that this article can help you resume your iPhone back to normal.