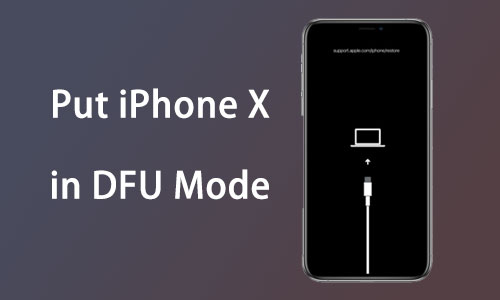 The DFU Mode is, in general, the last resort when it comes to restoring your iPhone X, as well as other iPhone generations, without the need for additional repair software to achieve the desired results. A DFU Mode, also known as a Device Firmware Upgrade, is somewhat tricky to access on an iPhone X, and lots of newbies have no idea how to enter the DFU Mode on their iPhone X.
In case you are experiencing the same issue, this post is for you. With the simple yet detailed steps presented in this post, we will show you how to put iPhone X in DFU Mode. Here we go.
Part 1: What is DFU Mode
DFU mode, also known as Device Firmware Update, is used for advanced tasks, such as troubleshooting, changing, or upgrading the firmware and iOS system on the devices. It is possible to restore all devices from any state when they are in DFU mode.
In most cases, people use DFU Mode to unbrick an iPhone, restore an iOS update or a failed downgrade, as well as for jailbreaking or SIM card unlocking, etc.
Anyway, only by mastering how to enter DFU mode on the iPhone X can you fix the problems that need to be solved by DFU mode, which will be explained in the following part.
Part 2: How to Put iPhone X in DFU Mode
For iPhone X, XR, XS, XS Max, and newer iPhone models, the process for entering your iPhone into DFU Mode is a bit different from that for iPhone 6 and 7. It is now time to take a closer look at how to put iPhone X in DFU mode in this part of the guide. In the event that you encounter an iPhone problem that requires the use of DFU mode to fix, please follow the steps below to take care of it.
Note: DFU Mode will erase all data on your iPhone device. Make sure you have a backup of your iPhone before entering the DFU Mode.
2.1 How to Enter DFU Mode on iPhone X
Step 1. Connect your iPhone X to a PC or a Mac via a lighting cable.
Step 2. When your iPhone X has connected to the computer, press and release the Volume Up button, press and release the Volume Down button, and then press and hold the Side button for ten seconds. Then you will see the iPhone screen goes black.
Step 3. Don't release the Side button and then press and hold the Volume Down button. After five seconds, release the Side button but hold the Volume Down button.
Step 4. After 10 seconds, release the Volume Down button, and your iPhone X remains black screen, which means it has entered DFU Mode.

Step 5. Turn to iTunes, and it has detected and prompted your iPhone to be in DFU Mode. And now you are able to fix your iPhone X issue via iTunes.

2.2 How to Quit DFU Mode on iPhone X
Step 1. To exit the DFU Mode on your iPhone, press and release the Volume Up button, then press and release the Volume Down button.
Step 2. Press and hold the Side button till the Apple logo appears on the screen, which means your iPhone X has exited DFU Mode and is booting up.
Part 3: Extra Tips: Fix iPhone X Issues without Data Loss
The DFU Mode can be used to successfully fix the vast majority of serious iOS issues. However, as mentioned above, DFU Mode will wipe all data after getting them fixed and restoring your iPhone X, which means you have to back up your device in advance, otherwise, you will suffer all your data completely erased.
In order to get rid of this dilemma, we now recommend another professional iOS repair software to help you troubleshoot the iOS problem without data loss, even if you forgot to back up your iPhone X. TunesKit iOS System Recovery is an effective repair tool that is specialized in fixing system issues on iOS devices without data loss, including iPhones, iPods, iPad, and Apple TVs. Besides, it mainly includes four sections, which are capable of solving more than 150 issues on your iOS device, such as iPhone firmware not being compatible, iPhone unable to be active, iPhone screen frozen, etc.

Why Choose TunesKit iOS System Recovery?
Clear UI and easy to use
Features four sections to solve iOS issues
Repair over 150 iOS system issues without data loss
Fix iOS issues on iPhone, iPad, iPod, and Apple TV
Compatible with all iOS models and versions like iOS 16
Part 4. Conclusion
That's all we wanted to share with you. Putting iPhone X in DFU Mode is not as complicated as you might think. It's just a bit cumbersome. This powerful mode has the ability to fix most problems and restore your iPhone at no extra cost. The steps we've given above work with iPhone X and higher, including iPhone 14. In addition to that, we would like to recommend you a third-party iOS repair tool, TunesKit iOS System Recovery, whose purpose is to troubleshoot iOS issues without the loss of data.

Brian Davis has covered tech and entertainment for over 10 years. He loves technology in all its forms.