Top 3 Solutions on How to Undisable an iPhone
4 mins read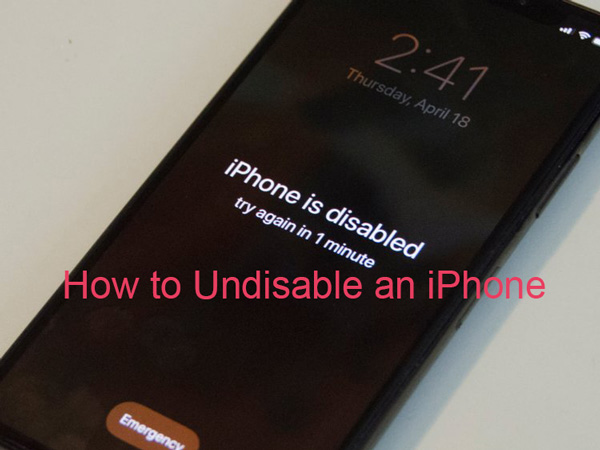 From time to time, many of us may forget iPhone passcode. The weirdest thing about this situation is that instead of retrieving or resting the passcode, we are likely to try different wrong passcodes again and again, because we somehow assume that we are close to the correct one. The result is that the iPhone will be disabled for as long as thousands of hours.
So how to undisable an iPhone? Here we have provided the 3 most effective solutions to this problem that can help those in need.
1. How to Undisable iPhone with iTunes
We might panic and feel greatly annoyed that we have forgotten a helpful tool is already at our hands. Although iTunes is most often used as a media store where we purchase music and videos, it can also fix many iPhone issues. Yes, it can also undisable iPhone, but the steps may be complicated, which hinders our will to use it to repair our iPhone. However, this guide provided below can makes the process a little easier for you.
Notice: Make sure your personal data is backed up before committing these steps.
Step 1. Connect your iPhone to the computer, and the phone should be detected by iTunes.
Step 2. Click on the icon of your iPhone on the top left side of the window.
Step 3. Enter the DFU mode and select the Restore option when iTunes asks.
Step 4. Remember not to set up your iPhone at this point. Close iTunes and unplug the USB cable, then connect it with your computer again and open iTunes. Tap on your device and press Restore Backup in the Summary tab. Finally, click on the Restore button to confirm the restoring process.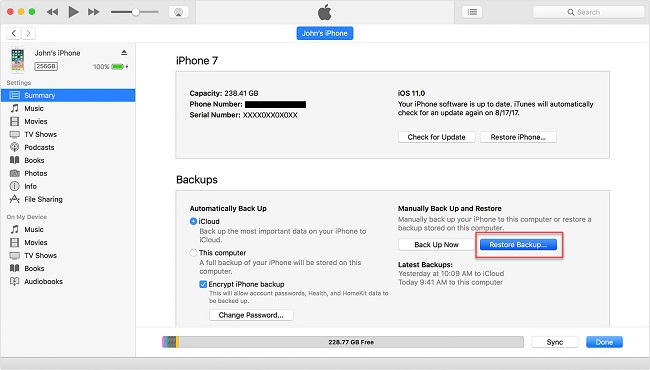 2. How to Undisable an iPhone without iTunes
When our iPhones is disabled and we are stuck in the screen with the caption "try again in X minutes", and especially when our iPhones are not reacting to any commands or iTunes is not an option, what are we supposed to do? The best solution is an excellent iOS repair tool called TunesKit iOS System Recovery. With this program, you are able to quickly fix any common iOS issue even without accessing iTunes or iPhone.
TunesKit iOS System Recovery is a professional iOS recovery program that can fix more than 30 iOS related problems on iPhone, iPod and iPad. It is compatible with the latest versions of iDevices and iOS, and can be used on both PC and Mac. The most important features of this tool are its convenience and the data retaining ability: the former means this tool is super easy to use, and the latter means it can fix most problems without harming even a fraction of your personal data. You'll be wondering whether you have restored your device after using it, until you find the problem is gone.
The rest major features of this program are listed in the box below, and there is also a free trial download link for you to test it.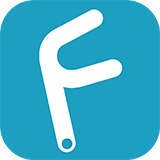 TunesKit iOS System Recovery
Repair up to 30+ iOS issues, including iPhone being disabled
Automatic steps of operation
Support almost all iOS devices and Apple TVs
Try It Free
600,000+ Downloads
Try It Free
600,000+ Downloads
User Guide of TunesKit iOS System Recovery
Step 1Connect your iPhone to the computer
Launch TunesKit iOS System Recovery first and use a USB cord to connect your iPhone to the computer. Your iPhone should be identified by the program, and if so, click the Enter the Recovery Mode button to let the program usher your device into the recovery mode. After your phone has entered the recovery mode, press the Start button to proceed.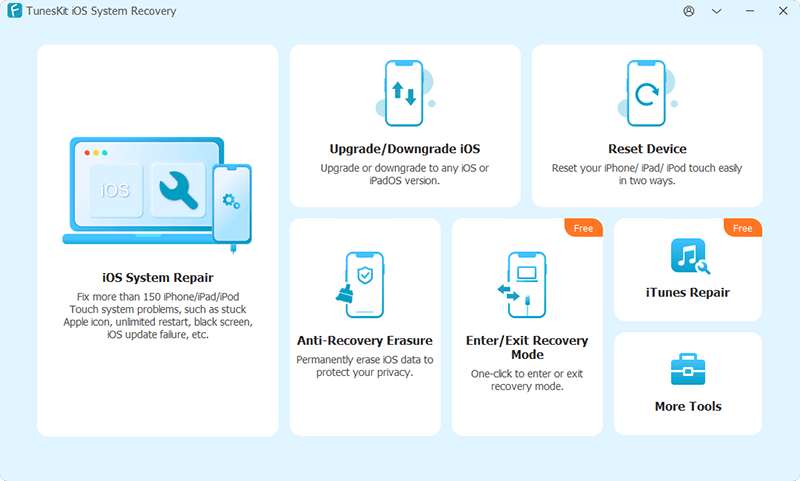 Step 2Choose the correct mode to undisable iPhone
You now should be seeing a window with two boxes showing two different modes for you to select. One is the Standard Mode, which will repair your iPhone and retain all the personal data, and the other is the Advanced Mode, which will repair your phone at the cost of all your data. To undisable iPhone, we are supposed to select the Advanced Mode. But before that, you can also give the Standard Mode a try, and maybe you can undisable your phone without losing any data.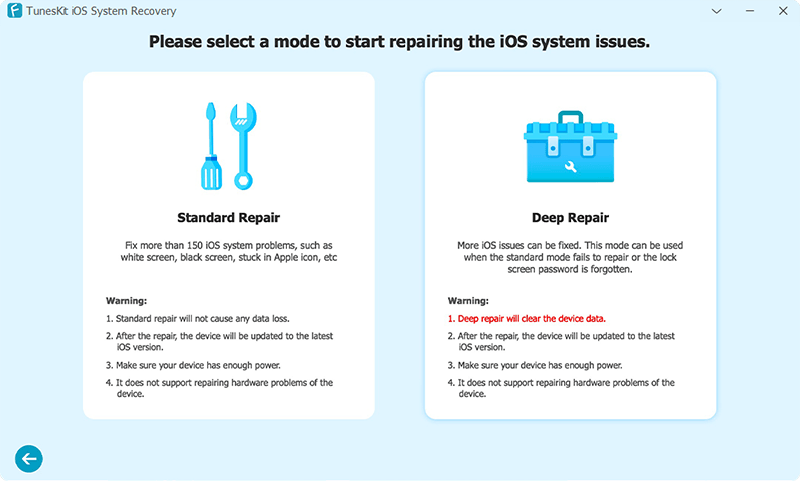 Step 3Download firmware package
The program will show some basic info about your iPhone. What you need to do is to confirm all is correct and otherwise correct it. After that, press the Download button and TunesKit iOS System Recovery will start downloading the matching firmware package. When the firmware is downloaded, click on the Repair button to start the actual undisabling process. Several minutes later, your phone should be back to normal.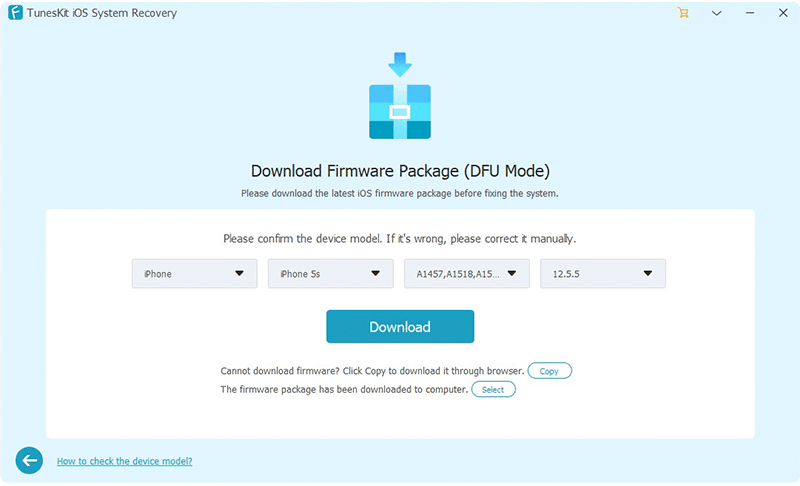 3. Use iCloud to Remotely Erase Disabled iPhone
The last method to undisable iPhone is to make use of iCloud to erase your iPhone remotely. Of course, the prerequisite of this approach is that you have turned on the Find My iPhone Feature before your iPhone is disabled. Then you can follow the following steps to undisable your iPhone.
Step 1. Head over to the official site of iCloud and log into your iCloud account.
Step 2. Click on the All Devices option at the top. Then choose the device you would like to erase.
Step 3. Tap the Erase iPhone button to remove reset your iPhone completely.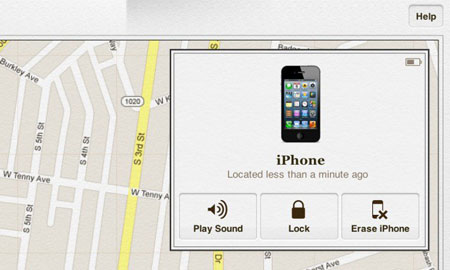 Conclusion
We hope that you now know how to undisable iPhone with or without iTunes. All these three methods are meant to be used in different situations, and you can choose each one of them according to your needs. However, one thing is for sure - the personal data on your iPhone will be wiped inevitably. Therefore, it is necessary to frequently keep a backup of your personal data or try not to forget the password.