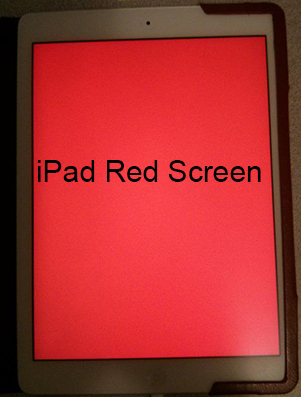 iPad screen, also known as iPad red screen of death, is a common issue of iPad, though it may look a lot scarier and sever then other similar problems, for example, iPad blue screen. However, by saying it is common does not mean it occurs often. Besides, due to the red warning color, people may become too eager to find the solutions, and their haste might harm the iPads ultimately.
Therefore, to provide assistance and convenience to users who are bothered by red screen on iPad, I conclude 3 most effective ways of resolving the issue based on my searches on the Internet and experiment on real red screen iPads.
1. Fixing iPad Red Screen by Resetting or Hard Resetting
If your iPad with red screen can be turned off, though this is not very likely, you should do so. And if not, a hard rest will do. Hard reset, also called hard reboot, may and may not eliminate the ultimate origin of what cause the iPad red screen, but it can definitely serve as an expedient solution, which at least allows your iPad to function for a certain period of time.
To force an iPad to restart, hold the Home button and Power button, which are pointed out in the picture below, at the time until the Apple logo appears on the screen.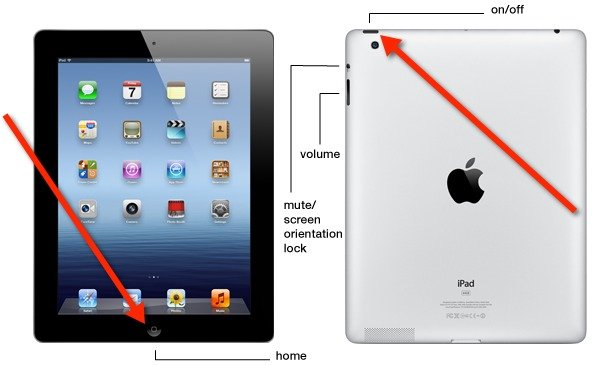 2. The Most Efficient Way of Fixing iPad Red Screen
When the red screen is probably caused by software glitches or corrupted software according to your deduction, your first reaction might be spending time and efforts on finding the problematic software. However, there is an efficient tool to save you from all the errands, including trying various methods provided on the Internet. The tool is TunesKit iOS System Recovery.
It is an iOS system recovery tool that covers more than 30 iOS problems, iPad red seen included. The most outstanding feature of this software is that its recovery will not damage your precious personal data. Don't worry even if you are not confident with your ability to use computer, because it only takes three simple steps to repair your iPad. The other advantages of TunesKit iOS System Recovery are listed below.

TunesKit iOS System Recovery Key Features
Resolve 30+ iOS issues and iTunes glitches
User-friendly interface
3 quick steps to finish the whole operation
No data loss in the Standard Mode
Lowest price among similar products
Below is a tutorial of TunesKit iOS System Recovery. If you are interested in the software, you might as well download or purchase it from the links above and repair your iPad according to the tutorial.
Step 1

Connect your iPad to the computer

Launch TunesKit iOS System Recovery and connect your iPad to the computer with Apple USB cable (to ensure stable connection). Click the Start button after your iPad has entered the Recovery Mode. Then in the mode selection window, choose the Standard Mode, because the Standard Mode can perfectly solve your problem without erasing the personal data.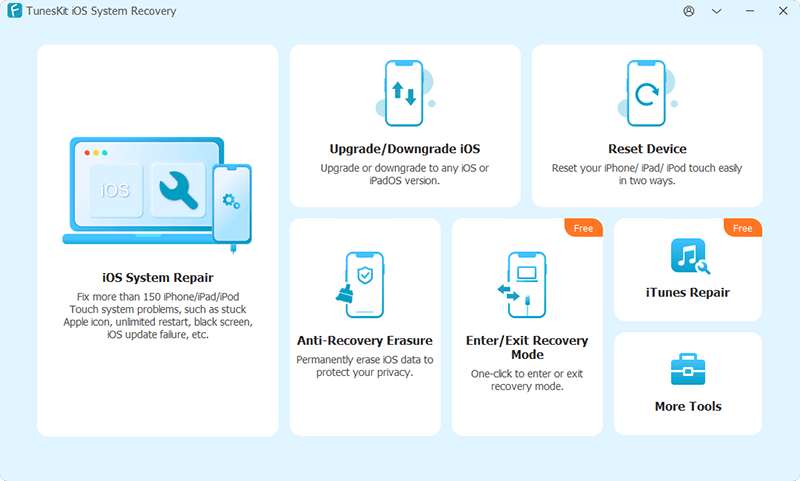 Step 2

Download and verify firmware package

In the window shown below, you need to confirm the displaying device info and correct it if anything is wrong. Then press the Download button at the lower right corner to download the repairing firmware matching your device. It is necessary to make sure there is enough space in the target download folder, otherwise the firmware download will naturally fail.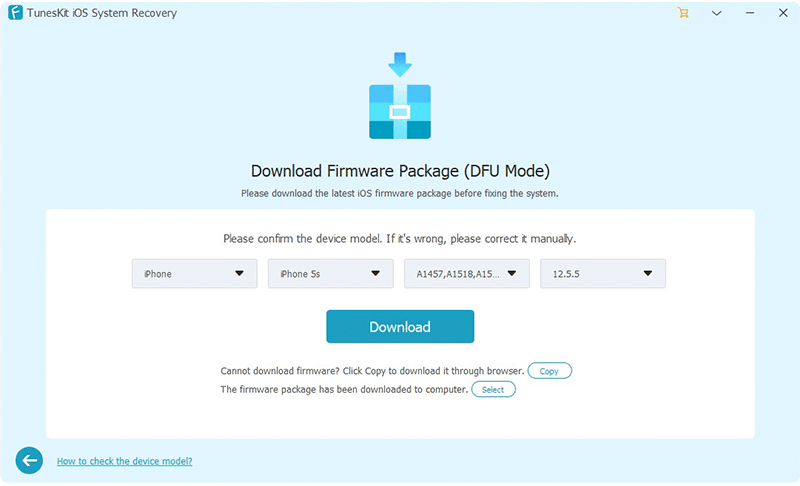 Step 3

Repair iPad red screen

Once the firmware is downloaded, click on the Repair button and wait until the repairing process finishes. Note that a stable connection must be maintain during the process in case your iPad get bricked.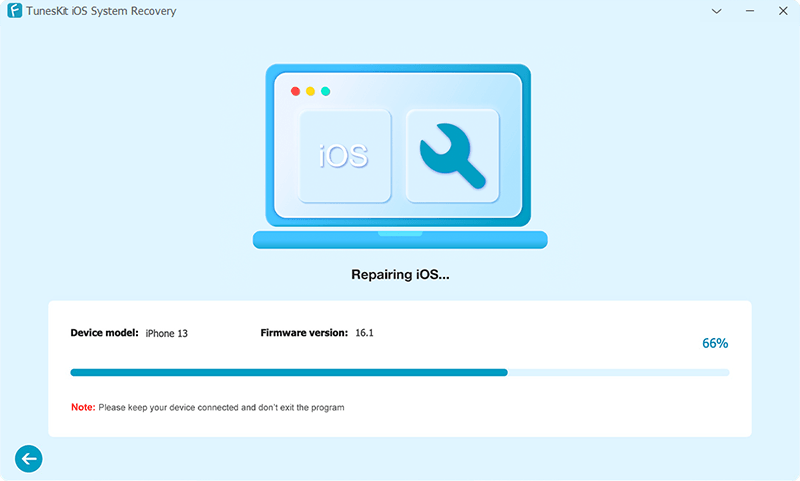 3. Ask Apple Official Support to Resolve Red Screen on iPad
This is solution suits those red screen error caused by hardware issues. For example, if you see red screen on iPad after it was dropped on the floor, then the hardware damage is very likely the culprit. Sometimes, hardware damages may not result from obvious physical damages, and bad using habits, such as using iPad while it is being charged, will lead to hardware damages.
All in all, for hardware issues, the best solution is to go to the nearby Apple outlets to have the damaged parts repaired or replaced. It's even better if you have a warranty, which can reduce your repairing fee.
In addition, for those who have software or iOS issues and the previous 2 solutions fail to work, Apple official assistance is recommended as the final method. It is not recommended to iTunes restore the iPad on your own, because that will make you lose all the data. Leaving the decision to the professional technician is a safer choice.
Summary
Apart from hardware issues, it is true that the software issue that lead to iPad red screen can be solved by ourselves. However, it is worth noticing that the best and most efficient way to solve software problems is using TunesKit iOS System Recovery.

Brian Davis has covered tech and entertainment for over 10 years. He loves technology in all its forms.