11 Efficient Fixes for iPhone CarPlay Not Working [2022]
6 mins read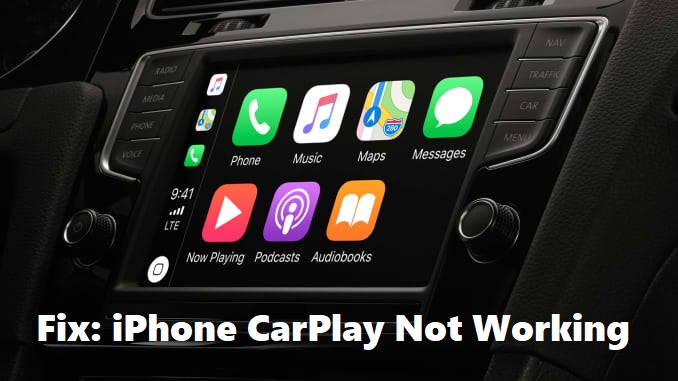 Playing smartphones during driving causes traffic accidents easily. But sometimes drivers need to receive a call or use the navigation apps to find the right route. To meet the need of drivers, Apple releases a feature – the CarPlay. This function empowers users to use some important features like listening to music, making or receiving calls, and others. To run this function, users need to connect iPhone with the car. And recently some iPhone 11/12/13 users report the Apple CarPlay stops working. Do you have the same problem? If you do, do not miss this tutorial. Here are 11 solutions for you to fix Apple CarPlay not working.
Part 1: Why Is My Apple CarPlay Not Working
In our daily use, iPhone CarPlay not working issue can be caused by various kinds of reasons. Here we list some of the most common causes of this issue:
1. You have not enabled CarPlay on your iPhone, or the CarPlay function is restricted.
2. There is something wrong with the connection between your iPhone and the car.
3. Siri is disabled on your iPhone.
4. Your iPhone hasn't updated to the latest version or meet some system glitches.
5. Your car or iPhone is not compatible.
Part 2: How to Fix iPhone CarPlay Not Working
Solution 1: Make Sure Everything Is CarPlay-Compatible
If this is your first time to use Apple CarPlay, you have to make sure that the iPhone, stereo, and your car all support CarPlay. Basically, iPhone 5 as well as later models and famous aftermarket stereos like Sony, Kenwood all support CarPlay. The number of CarPlay-compatible vehicles reaches 600. You can go to the Apple website for detailed information.
Are you in a foreign country or region? This feature is only supported in limited places. When you go to a new country or region, check whether this feature in available is this region.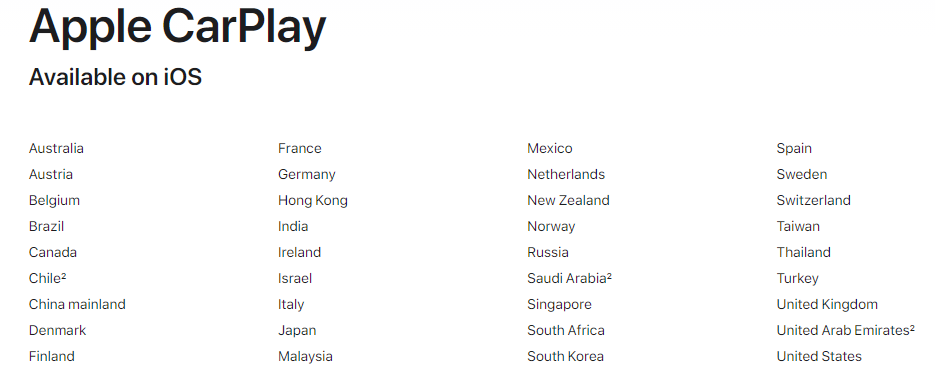 Solution 2: Restart Your iPhone
One straightforward way to fix Apple CarPlay not connecting is restarting your iPhone. It can stop other activities which might be interrupting the connection and refresh your iPhone. To restart your iPhone, you can go to Settings > General, and hit on the Shut Down option. After it's turned off completely, turn it on by holding the Power button until the Apple logo is seen on the screen. After the restarting, you can try to connect to your car again, and check if CarPlay can work properly now.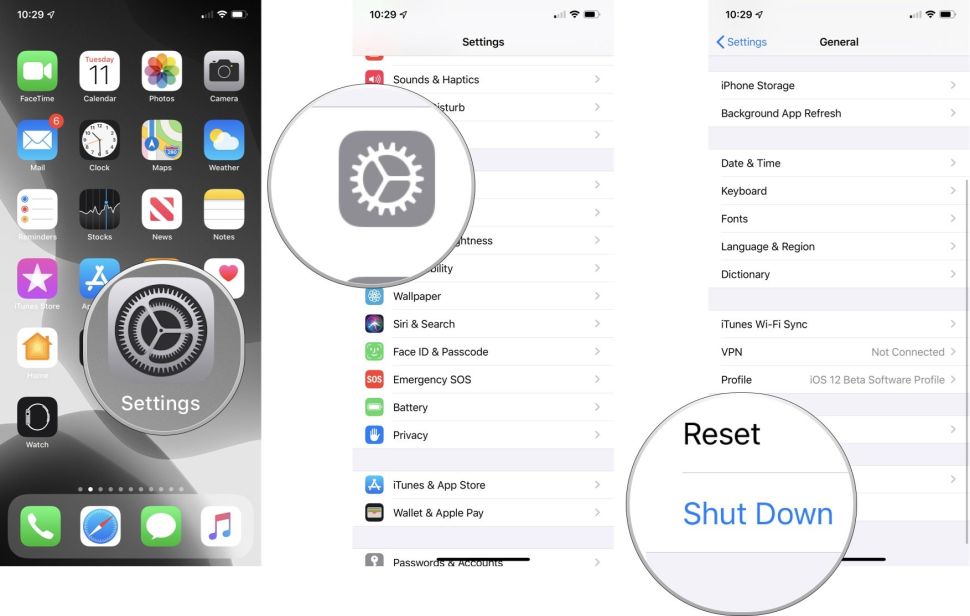 Solution 3: Double-Check Your USB Cable
If you are using a wired connection and having trouble with Apple CarPlay. You need to check whether the USB cable is malfunctioning or incompatible. You can check it by using another USB cable for the connection. If it doesn't work, you can also try to plug the cable into another USB port, because not all USB ports in the car support CarPlay connection.
Solution 4: Turn Off USB Restricted Mode
Apple has a feature to switch off the USB accessory if your iPhone has been locked for over an hour. This is a useful feature to prevent potential security issues when you use USB connections. However, it may also affect CarPlay connection. To turn off this mode, you can go to Settings > Face/Touch ID & Passcode, and enter your passcode to verify. Then in the Allow Access When Locked section, toggle off the switch next to USB Accessories.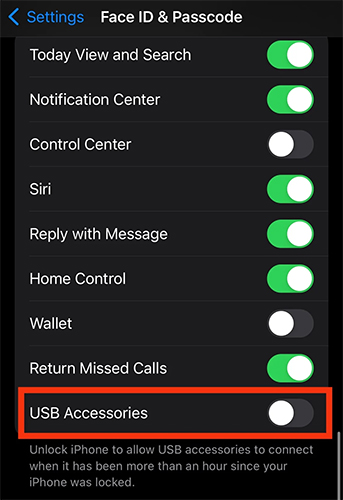 Solution 5: Make Sure Your Bluetooth Is Connected
If you are using a wireless connection, this issue is likely led by Bluetooth-related issues. You need to go to Settings > Bluetooth to check whether your Bluetooth is connected to the car. You can also try to fix Bluetooth connection by disabling Bluetooth and enable it again. Just click on the switch next to Bluetooth to turn it off, and click it again. Then choose the device name of your car to make your iPhone connect to it. When you finish the connection, you can check whether Apple CarPlay can work now.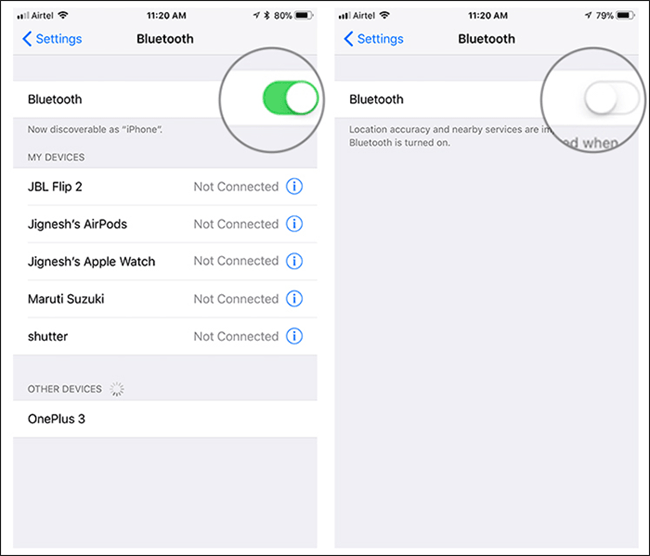 Solution 6: Verify Siri
To use CarPlay, you have to rely on Siri on your iPhone. You can hold the steering wheel while giving a command to Siri and letting it play a song for you. Siri is an indispensable part of CarPlay. To fix Apple CarPlay not connecting, make sure the Siri is turned on. You can find the Siri & Search option easily in the Settings app. You'd better enable all the options of Siri. After that, you can turn Siri off and on. Then, try to use CarPlay again.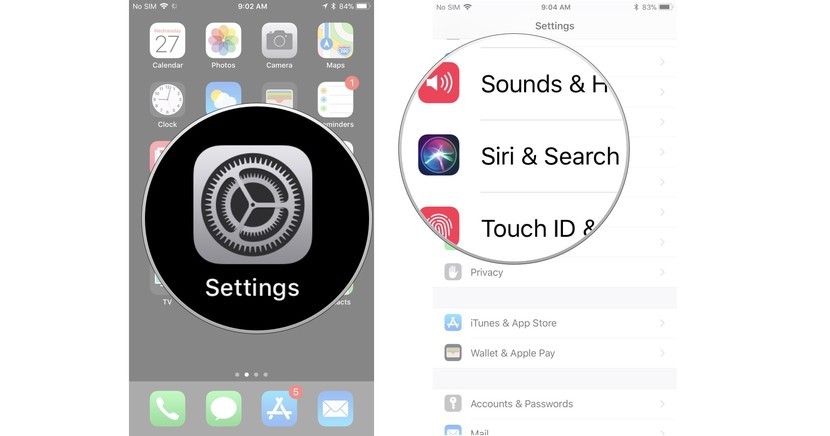 Solution 7: Make Sure CarPlay Is Not Restricted
Do not put any restraint on CarPlay. Some people find their CarPlay is not allowed while the iPhone is locked and cause the Apple CarPlay not working. You must check two settings. First, go to Settings > General > CarPlay, and choose your car. Then, tap on Allow CarPlay While Locked to turn on this feature. Second, go to Settings > Screen Time > Content & Privacy Restrictions > Allowed Apps. And enable CarPlay.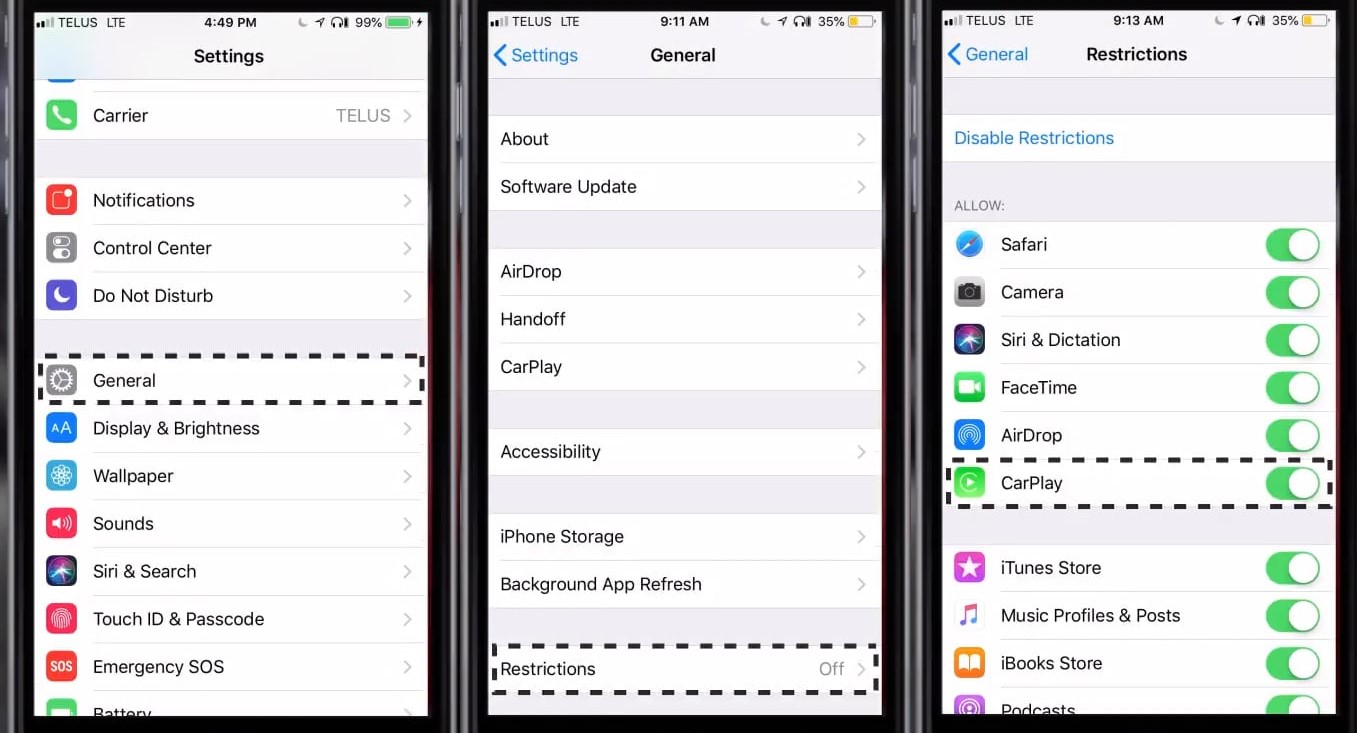 Solution 8: Update Your iPhone
An outdated version can also lead to Apple CarPlay not working error. You had better update your system regularly to avoid system glitches. Go to Settings > General > Software Update, and you can check the system version which is available on your screen. Choose the latest version and click on Download and Install followed by Install Now to upgrade your iPhone.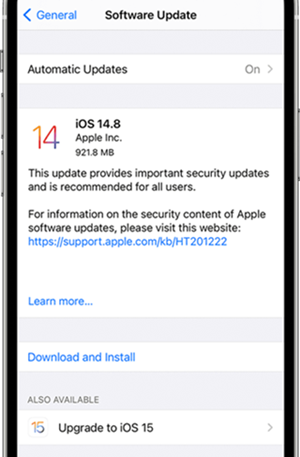 Solution 9: Restart and Update Infotainment System
There is the chance that your car's infotainment system gets a glitch and makes Apple CarPlay not connecting. You can just turn it off and wait for a while. Then you need to turn it on. Besides, it is necessary for you to check the website of your car's manufacturer to find out whether there is an update.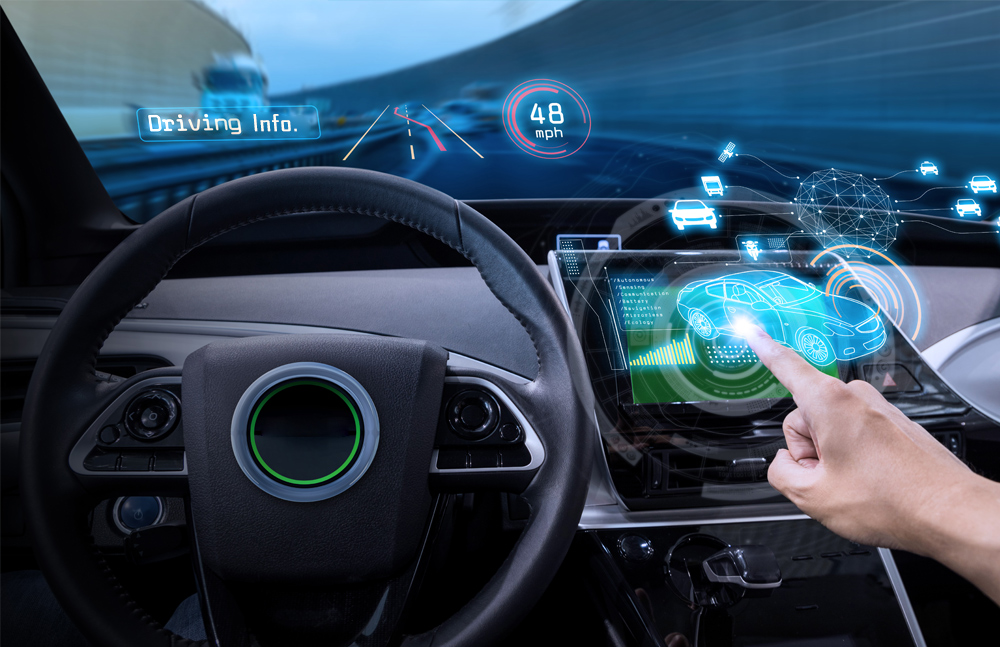 Solution 10: Forget This Car and Set Up Again
To fix Apple CarPlay not connecting and working, you can also try this method. Firstly, forget this car. You need head to Settings > General > CarPlay > your car > Forget This Car. Secondly, set it up again. You can use a cable to connect or use the wireless method. Follow this: Settings > General > CarPlay > Available Cars.

Solution 11: Fix Apple CarPlay Not Working Without Data Loss
I know there must be some people who try all of the methods above but fail. Probably, an iOS system error causes the CarPlay problem. If so, what you need is not checks or resetting. Instead, you need an iOS system repair program.
A program suitable for this problem is TunesKit iOS System Recovery. This software can fix 150+ iOS system issues, including iPhone CarPlay not working, AirPlay not working on iPhone,iPhone Maps not working, iPhone stuck on black screen or disabled screen, iOS update failure, restore error, etc. Once you get it, you do not need to worry about any iOS problems on iPhone, iPod touch, iPad, and Apple TV. You can choose from two modes: Standard mode and Advanced mode. The first mode can fix common issues and will not cause any data loss. You can use Advanced mode to fix other serious problems.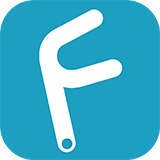 Key Functions of TunesKit iOS System Recovery
Fix iPhone CarPlay not working efficiently
Repair 150+ different tvOS/iOS issues quickly and safely
Fully compatible with most iOS device models
Available on the latest iOS version including 16
Provide Standard Mode and Advanced Mode
Try It Free
600,000+ Downloads
Try It Free
600,000+ Downloads
3 steps are listed below about how to use TunesKit to fix iPhone CarPlay not working. Let's start it by downloading and installing this program for free.
Step 1. Turn on TunesKit iOS System Recovery and choose the Standard Mode
To begin with, connect the iPhone with your PC with an original USB cable. Now you should start TunesKit iOS System Recovery. Click the Start button.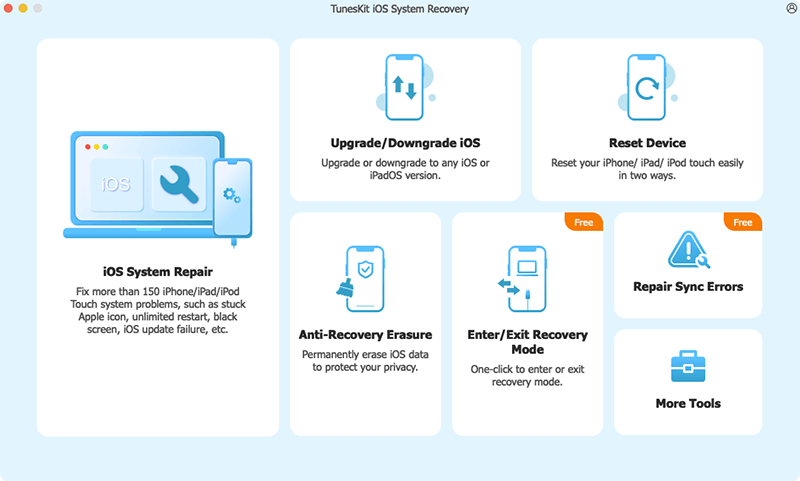 To fix this problem, which is common and not difficult, you can choose the Standard Mode. Tap the Next button.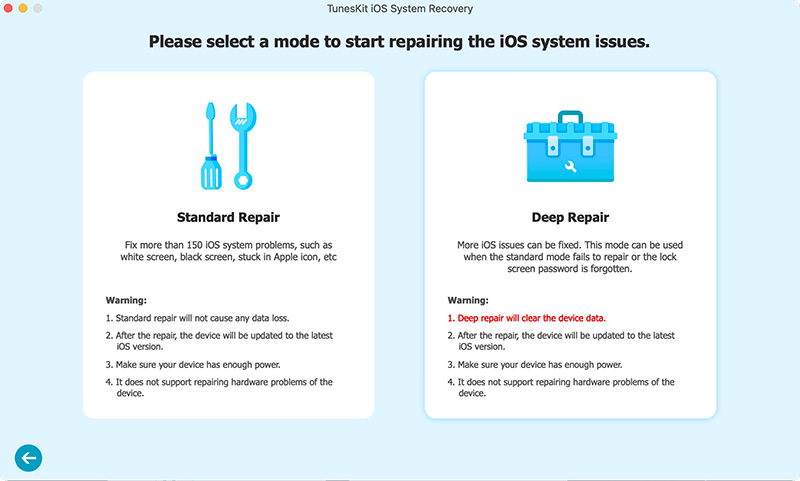 Step 2. Download firmware package
Look through the device information of your iOS device. When you ensure that all of them matched with your iPhone, click the Download button.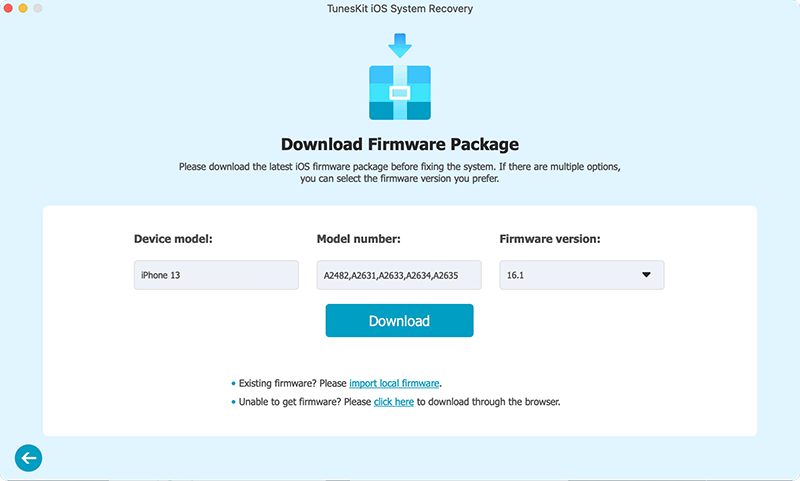 Step 3. Fix Apple CarPlay not working
Click the Repair button on this page and wait until it shows repair completed. Then, you don't need to worry about the Apple CarPlay not connecting issue.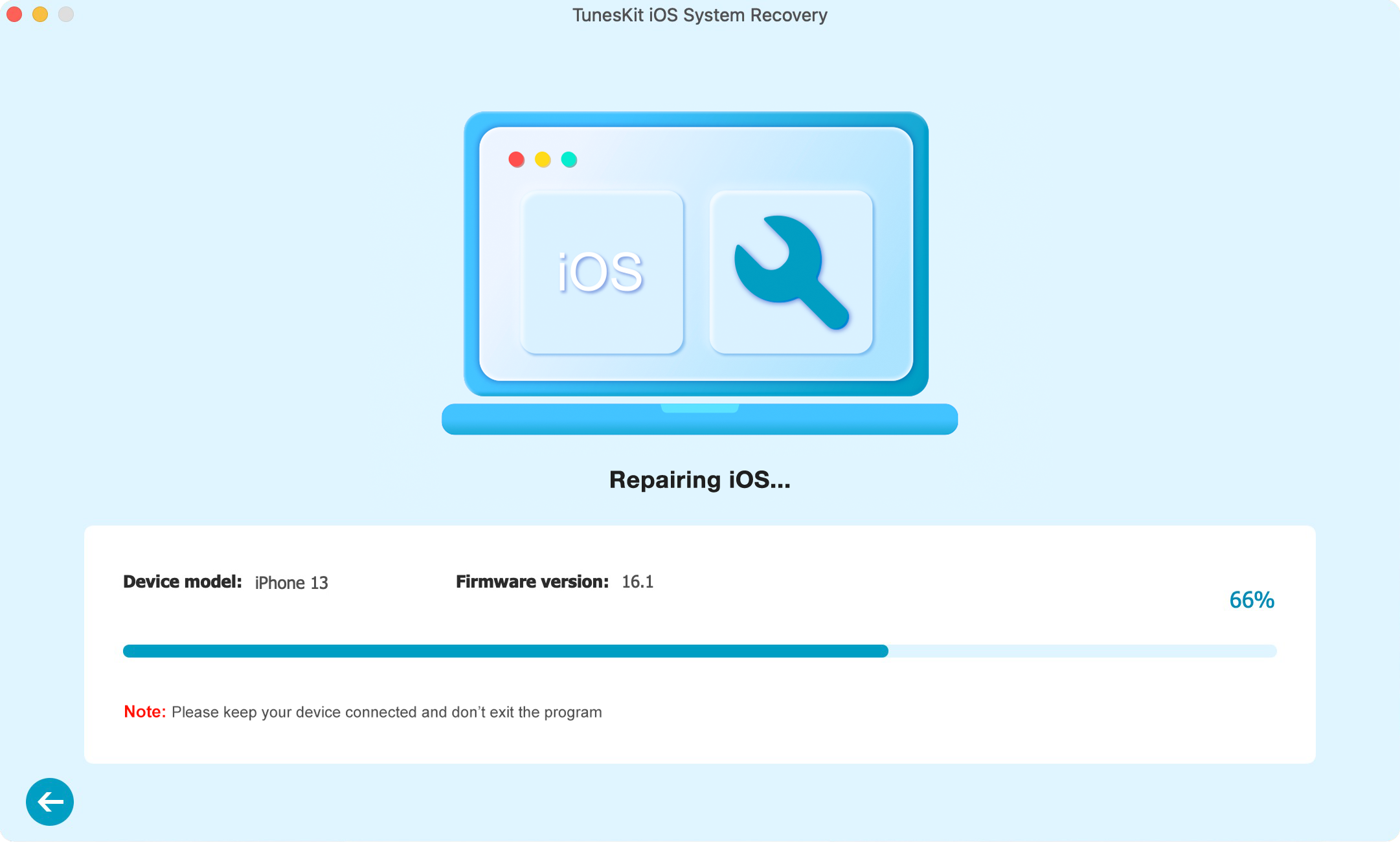 Part 3: Conclusion and Advice
All of the 11 methods are worth trying, especially the TunesKit iOS System Recovery, which has helped many people to fix such iOS system problems as iPhone CarPlay not working. At last, if you think the problem is from your stereo, just contact its manufacturer and seek help from them.