Fix "com. apple. mobilephone error 1035": [Best Solutions]
5 mins read
iPhone is a great device, which has many features you can enjoy. Voicemail greetings are one of these features. It allows you to personalize your voicemails, as the caller can hear your voice before being offered the opportunity to leave a message. When you receive a Voicemail, you can also view it on your iPhone using the Visual Voicemail function.
However, some users have stated that they have encountered the "com. apple. mobilephone 1035 error" on their iPhone. Prevents them from using or opening Voicemails. Here's why iPhone error 1035 occurs and the fix.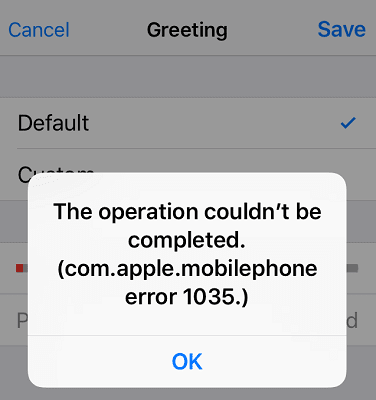 Part 1. What Does Mobile Error 1035 Mean on iPhone?
"com. apple. mobilephone error1035" is displayed on iPhone mainly due to Voicemail setting problem. Error 1035 indicates that the Voicemail has not been configured or has been reset after a recent update. The complete error message is "The operation could not be completed (com. apple. mobilephone error 1035)". Since this is a mobile network-related issue, the solution will vary from mobile carrier to another.
Part 2. Why Does My iPhone Say "The Operation Couldn't Be Completed Error 1035"?
We were able to uncover some of the most common causes of this particular problem. The following is a list of common scenarios that can trigger this particular error message.
Incorrect network settings — In some cases, this issue is caused by the network settings of the phone and Voicemail does not work properly. Some users facing similar situations have reported that resetting their network settings resolved the issue.
Using Wi-Fi over cellular data — In some cases, Wi-Fi connection could be the culprit here. Using cellular data instead of Wi-Fi can resolve this scenario.
Voicemail not configured — If you did not set up Voicemail using the carrier method can be the potential reason why error 1035 occurs. This is also true if you can't set up Voicemail in your phone settings.
Cellular service interruption — Connections to cellular providers may be interrupted for a variety of reasons.
This error can occur from time to time, but it's not that serious. However, you may be able to fix it by following the basic troubleshooting steps. Read on to know what you should do:
Part 3. How Do I Fix Error 1035 on iPhone?
Method 1: Get Started with Basic Tricks
The first method is a collection of things you can try to get your iPhone back to normal. But it's undeniably a bit complicated and you have to try one method at a time.
Enable Airplane Mode for a Few Seconds
Most often, this error is triggered by the connectivity of your iPhone's cellular network or WI-FI connection. The simplest way to solve this problem is to turn on Airplane mode. Airplane mode disables all iPhone wireless services. Aside from that, it can also reload all network services once it's disabled. Therefore, try toggling on and off to give a refresh to your mobile connection.
Step 1. To do it, on the main screen of your iPhone, you can swipe down from the top-right corner to pull the control center.
Step 2. Tap the Airplane mode icon to enable it.
Step 3. Wait around 1 minute.
Step 4. Turn it back OFF with the same method.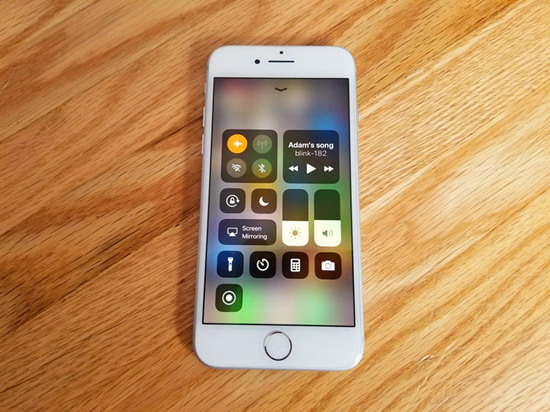 Turn off Wi-Fi Calling on Your iPhone
If you start having this issue after turning on Wi-Fi calling, try disabling Wi-Fi calling and then using Voicemail again to see if the issue is resolved. Here are how: Launch Settings → Cellular → Wi-Fi calling → tap the Switch to turn it off. After doing this procedure, try to see if the problem is fixed.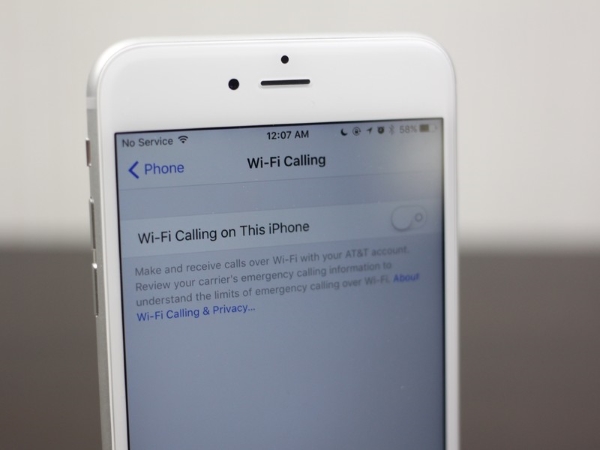 Set Up Voicemail on Your iPhone
If the first two solutions fail, you'll need to set up your Voicemail. Many users who encountered this issue said they used this procedure to resolve the issue. If you can't set up your Voicemail through phone settings, ask the carrier for help. Follow the steps to easily apply this method:
Step 1. First and foremost, turn Wi-Fi off.
Step 2. On your Home screen, open the Phone app.
Step 3. Dial and hold 1 on your keypad to enter your Voicemail settings.
Step 4. Enter your current Voicemail password and follow the instructions to set up your Voicemail.
Step 5. Go to your Voicemail and check if you still see an error.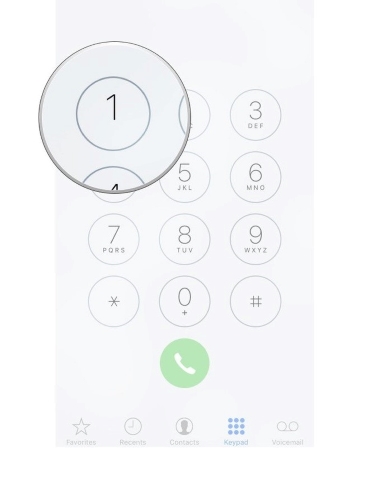 Reset Network Settings
The 1035 error is mainly due to issues related to Voicemail. However, if the setup is complete and it is still occurring, resetting the network settings will remove all saved networks and it may resolve the issue. That's how it's done:
Step 1. Open the Settings app → General →Reset → tap on the Reset Network Settings option
Step 2. If prompted, enter your security lock.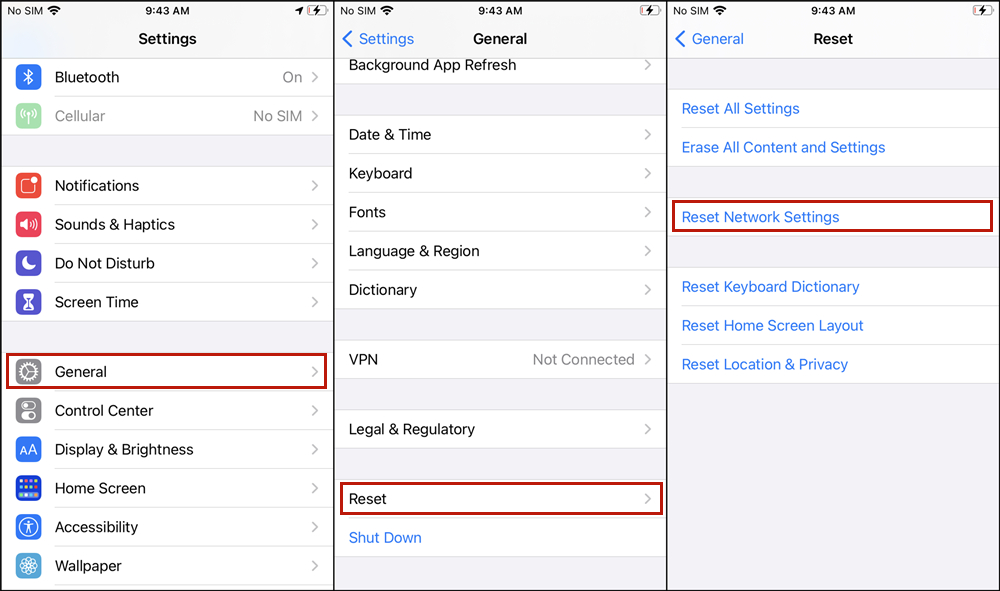 If you find the solution too difficult and tedious or the error still shows up even after you've properly applied all of the above methods, don't be too frustrated, the next solution will fix it.
Method 2: By Using TunesKit iOS System Recovery Software
A great repairing software called TunesKit iOS System Recovery will be discussed in this part. TunesKit iOS System Recovery got a ton of stuff for iOS and there is no risk of data loss. Apart from repairing iPhone error 1035, the toolkit can fix all kinds of iPhone errors. If your iPhone is stuck on the Apple logo, loading screen, etc, this is the software to fall back on. It can rectify nearly any iDevice issue with several taps.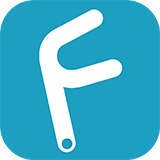 Why Choose TunesKit iOS System Recovery?
Fix the "iPhone error 1035" problem quickly
Repair over 150 iOS system issues successfully
Trusted by numerous customers and famous media
Work well on all iOS models and versions like iOS 15
The program is simple to operate
Try It Free
600,000+ Downloads
Try It Free
600,000+ Downloads
Use it correctly by following the underneath steps to successfully fix the "iPhone error 1035" problem.
Step 1
Install TunesKit iOS System Recovery
Make sure you download it from the official page, which you can click here. Then install it on your PC or Mac. Launch the program and click Start.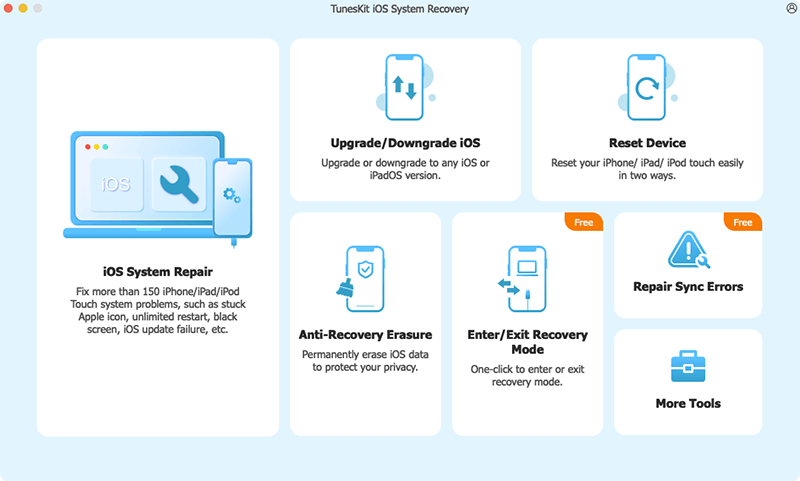 Step 2
Choose Standard Mode and Download Firmware Package
Within this interface, you will see a page with two modes. Click on Standard Mode and go to the next page, which will show your iPhone information and display a Download button. Click on it to download the correct firmware package.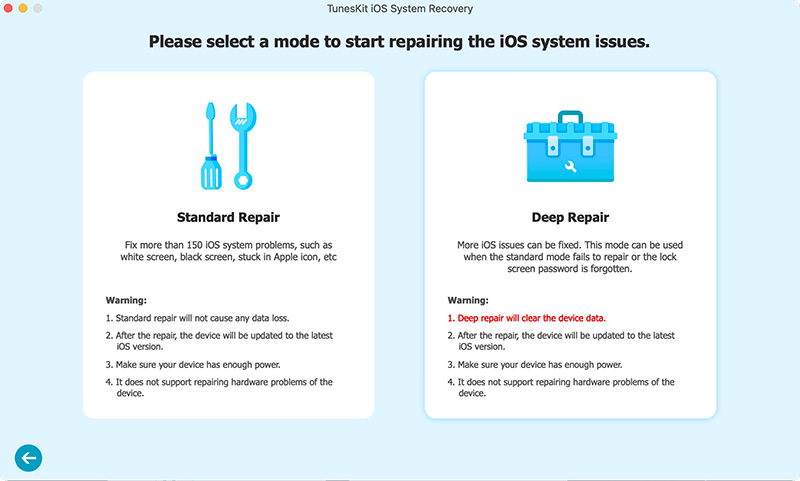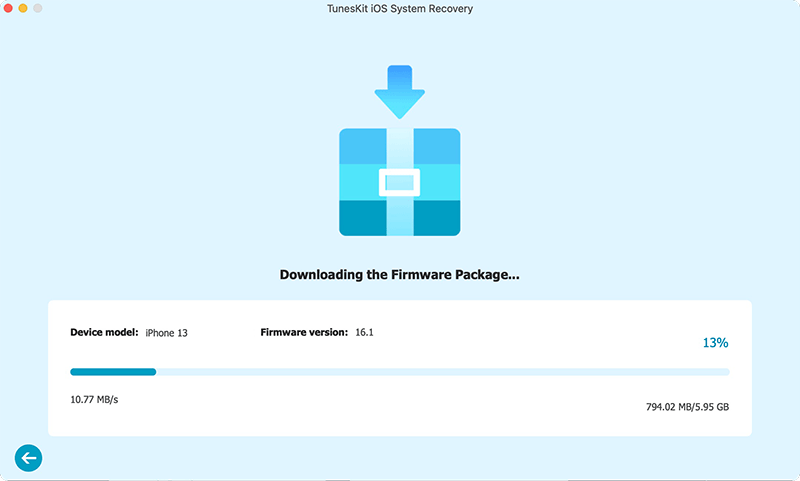 Step 3
Fix Error 1035 on iPhone
Once the firmware is downloaded, you'll see a button to Repair. Hit it to initiate the repair process. When it's done, you can unplug your device and the error will be fixed. If that doesn't happen, you can try it again to re-run the repair process.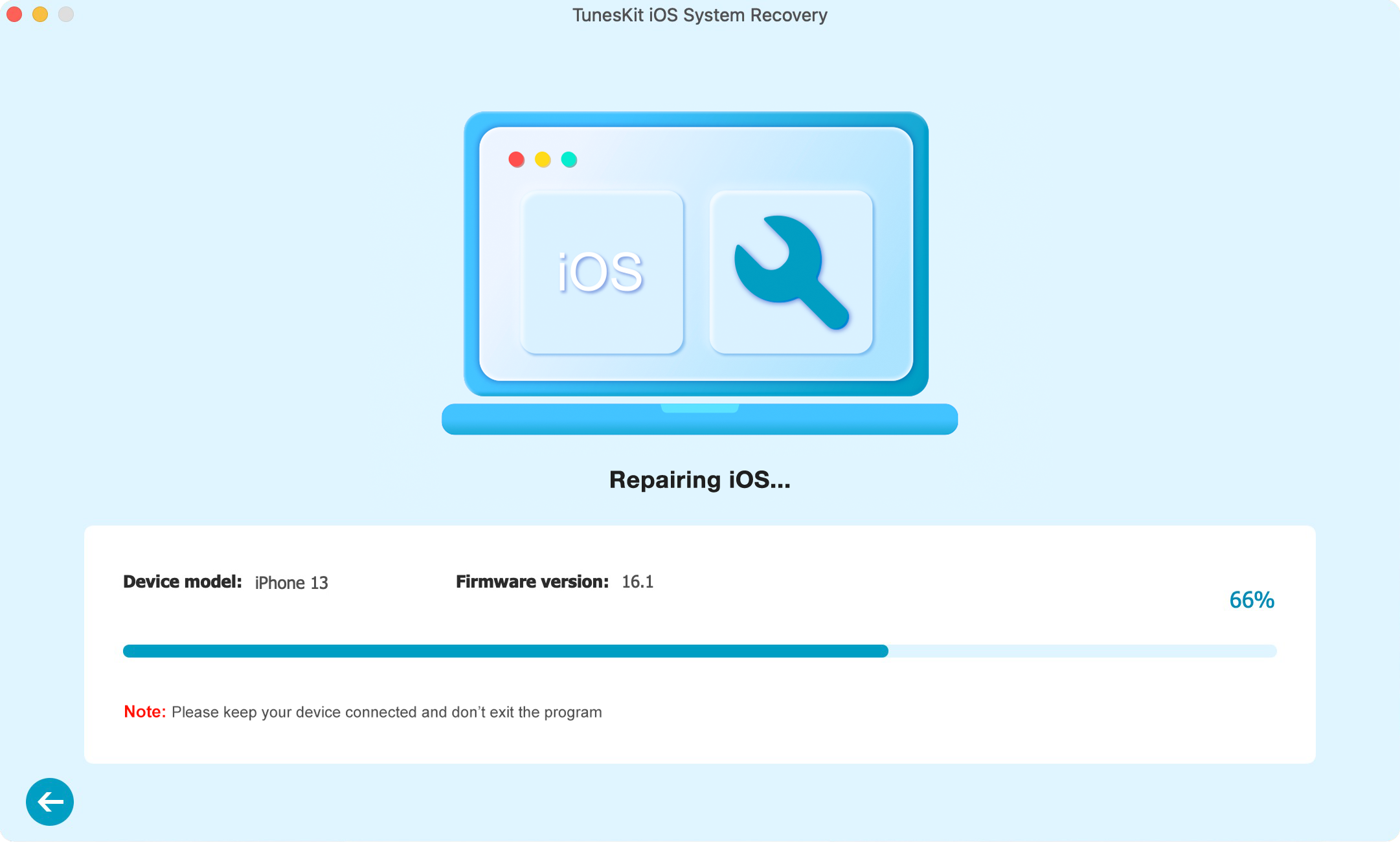 Part 4. The Bottom Line
Today we've covered the reasons and several fixes to address error 1035 on iPhone issue. The older method emerged based on users trying various things to get the iPhone back to normal. If you're struggling with the complex method, why not believe in a more professional and effective repairing tool — TunesKit iOS System Recovery to get this solved. It is always using a trusted utility to do the job for you. We hope that we've been able to help you one way or the other.