How to Fix Apple Watch Not Vibrating for Texts
7 mins read
Your Apple Watch comes with a slew of useful functions that will make your life simpler. This Watch links to your iPhone, allowing you to get alerts and texts directly on your wrist. When a text message comes in on your iPhone, for example, your Watch vibrates to alert you. However, your Watch may not vibrate at all times, causing you to miss the text message.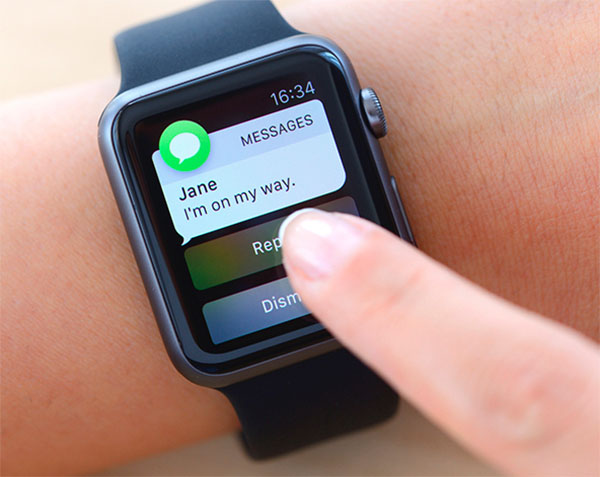 So, is your Apple watch not vibrating for texts? If the haptics on your Apple Watch isn't functioning and your Watch isn't vibrating for any of your alerts, there might be a problem with the device's software. A tiny glitch with the Apple Watch's operating system - watchOS - may often prevent features like vibrations from occurring.
Why is your Apple watch not vibrating for texts
So, your Apple watch not buzzing for texts? Why? One of the essential aspects of an Apple Watch is that it delivers alerts to your wrist, including text and SMS messages. It might seem like you only have half of the Watch you had previously if the feature isn't functioning.
Why my Apple watch doesn't vibrate when I get a text? Here are several reasons why your Apple Watch may not be alerting you when you get a text message.
1. Cover to Mute is enabled. Cover to Mute turns off all incoming alerts and notifications, so your Apple Watch won't vibrate when you get a message.
2. The Do Not Disturb feature is turned on. Your Apple Watch will not vibrate when you get text messages or other alerts if Do Not Disturb is enabled.
3. Your software is no longer supported. The connection may fail if you haven't updated your Apple Watch or iPhone in a while. Keep both devices up to date with the newest software for the greatest compatibility.
4. Airplane Mode is turned on. The WiFi connection is terminated when Airplane Mode is enabled on your iPhone, which means the two devices can't communicate and exchange information.
5. The connection has been lost. Bluetooth and WiFi are used to connect between your iPhone and Apple Watch. You will not receive SMS properly if the connection fails or falters.
6. You've turned off notifications. You may turn off notifications on your Apple Watch, which means the gadget will no longer alert you when you receive a text message.
Top 7 methods to fix Apple Watch not vibrating for texts
What to do when your Apple Watch doesn't vibrate for text? Below are six different methods to fix Apple Watch not vibrating for texts.
Tip 1. Turn off Do Not Disturb
Do Not Disturb disables all alerts, including phone calls, texts, and other communications. Once Do Not Disturb is on, it is possible that the Apple Watch will not vibrate when you get a notice.
Swiping up from the bottom of the Watch face will bring up the Control Center interface. Look for the Do Not Disturb symbol, which has the shape of a moon on it. Don't disturb mode is activated if the icon is lighted. Toggle the icon to the off position and check to see whether your Apple Watch begins to vibrate.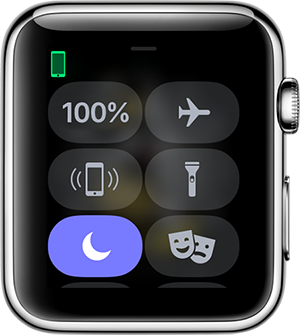 Tip 2. Re-pair with iPhone
Pairing your Apple Watch with iPhone again would be helpful in fixing this problem. Keep your iPhone close to the Apple Watch and open the Apple Watch app. Then unpiar your Apple Watch. Wait for several minutes and then pair it again. After that, check if the problem has been solved. If not, navigate to the next method.
Tip 3. Reboot Apple watch
Not every problem you have with the Apple Watch requires a long remedy. Sometimes all your Watch needs is a simple refresh to get it back to working as it should. It's conceivable that a tiny problem with the system is causing Apple Watch to not vibrate.
Trying thousands of methods to resolve these little challenges is not necessary. All you have to do now is restart the Apple Watch, and the problem causing Apple Watch doesn't vibrate for text will be solved. If this procedure does not work for any reason, there will be no damage done to your device. It's also quite simple to use.
Step 1: Press and hold the Side button on the Apple Watch until a menu appears on the screen.
Step 2: To switch off Apple Watch, move the slider for Power Off.
Step 3: After your Watch has been switched off, wait around five minutes before pressing and holding the Side button to turn it back on.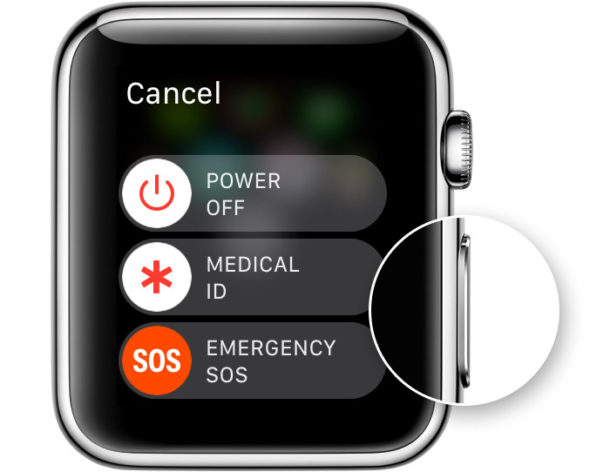 Tip 4. Update Apple Watch to the latest version
Most people remember to update their iPhones and iPods but often forget that their Apple Watch also has to be updated regularly. Your Watch is powered by the watchOS, which gets frequent upgrades like iOS and macOS.
It's possible that the Apple Watch haptics aren't functioning because you're using an old version of watchOS. Regardless of whether this is the case or not, you should upgrade the operating system on your Watch to fix Apple Watch doesn't vibrate for text.
You may connect your Watch to your WiFi Internet connection and then check for and install available updates as long as you have a functional WiFi Internet connection. These instructions will teach you how to do this.
Step 1: Make sure Apple Watch is connected to a reliable WiFi network.
Step 2: Open the Settings app on Apple Watch by pressing the Digital Crown.
Step 3: Tap Software Update after selecting the General option.
Step 4: If a software update is available, hit the Install button to download and install it on Apple Watch.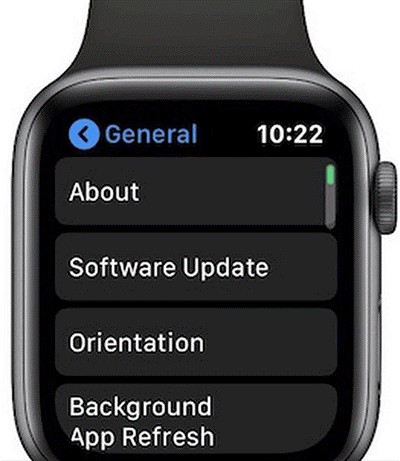 Restart your Watch after the watchOS has been updated. If a previous version of the OS caused the vibrations, they should be gone now.
Tip 5. Turn up the haptic strength
It's possible that your Watch doesn't vibrate because the settings are incorrect. Here's how to double-check your options to fix Apple Watch doesn't vibrate for text:
Step 1: Tap Settings on Apple Watch.
Step 2: Select Sounds & Haptics from the drop-down menu.
Step 3: Also, make sure that Haptic Alerts are turned on. Turn it off, wait a few seconds, and then turn it back on if it's already on.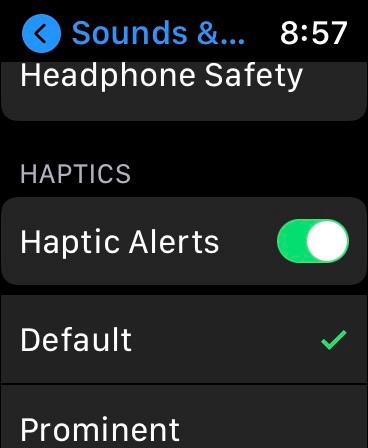 Select Prominent if the vibration is still not functioning. Vibration is stronger in this choice than in the Default option.
Tip 6. Reset all settings on Apple Watch
If none of the above techniques worked to resolve Apple Watch doesn't vibrate for text, the last option is to restore factory settings. This will clear all your previously installed settings, customizations, and applications. As a result, you should create a backup of your Watch before attempting to reset it.
If a system element causes the vibration, resetting should solve the problem. However, this procedure should only be done if you don't have any other choices; resetting is not suggested for everyone.
You have two options for resetting Apple Watch: unpairing it from your iPhone or resetting it straight from the Settings app. The steps below demonstrate how to complete the assignment using the latter.
Step 1: Open Apple Watch's Settings app and go to General.
Step 2: Select Reset from the drop-down menu and select Erase All Content and Settings. Choose this option.
Step 3: Select Erase All on the next page, and Apple Watch will begin to reset. Wait for the procedure to complete.
You may start again with the Apple Watch once it has been reset. You should now notice that the Watch vibrates when you get a text message or a notification.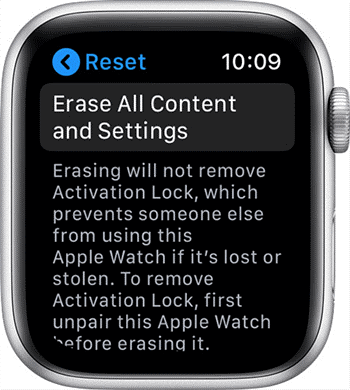 Part 3: Recommended iOS fixing tool - TunesKit iOS System Recovery
TunesKit iOS System Recovery allows you to swiftly resolve any common iOS/tvOS problem without the need for assistance from an Apple technical expert. Whether your iOS device is stuck in Recovery Mode/DFU mode/white Apple logo or has gone black/blue/frozen/disabled, our clever iOS repair tool will effortlessly and quickly get you out of problems and restore your device to normal.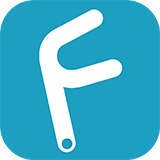 Highlights of TunesKit iOS System Recovery
Repair 150+ iOS problems, such as iPhone stuck on Apple logo
Fix various iOS issues with no data loss
Support all kinds of iOS devices including iPod/iPad/AppleTV(iOS 15 included)
Enter/Exit the recovery mode automatically for free
User-friendly and intuitive interface
Try It Free
600,000+ Downloads
Try It Free
600,000+ Downloads
Let's dive in and find out how to fix Apple Watch that doesn't vibrate for text using Tuneskit.
Step 1

Connect the iPhone with iOS system problem to PC

Download and install Tuneskits on your PC. Then launch TunesKit. After that, connect the device with your PC using a USB cable. TunesKit will detect the device within a few seconds. Now click the Start button.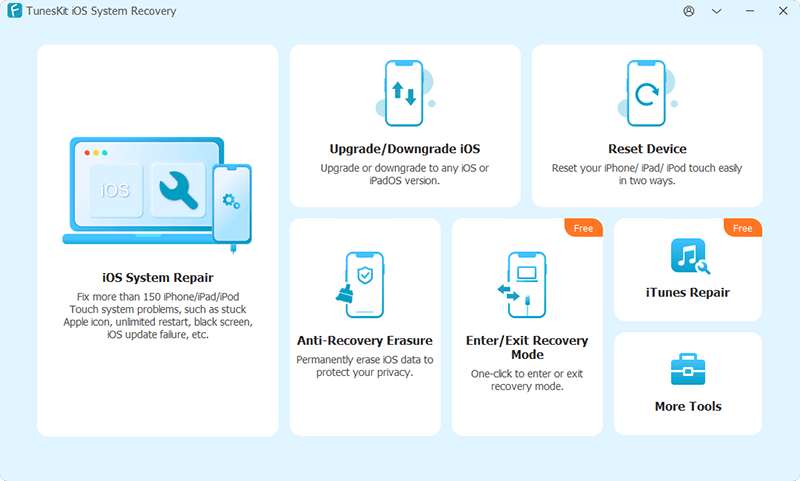 Step 2

Choose a mode

The next step is to select the repair mode, Standard or Advanced Mode. The Standard one is recommended as it keeps your data safe. If you are planning to use advanced mode, backup your data would be better.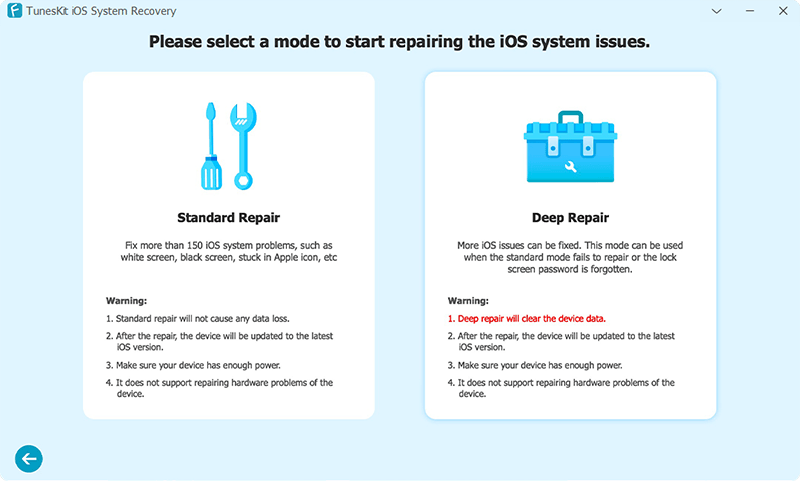 Step 3

Repair iPhone

Finally, click the Download button to download the firmware package. The download will complete in a few minutes. After this, click the Repair button to Fix Apple Watch not vibrating for texts.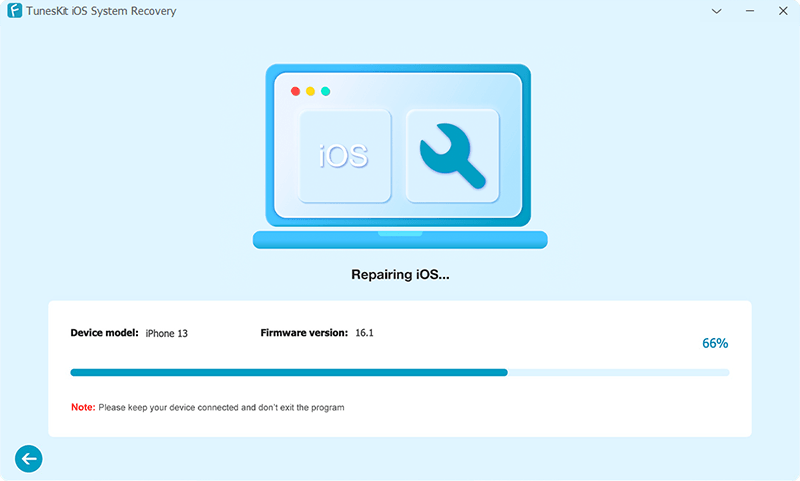 Conclusion
When there is a text message, you expect the Apple Watch to vibrate to alert you. If, on the other hand, it does not, you will want to figure out what is causing the problem and then remedy it. If you follow our instructions above, you should do whatever you want to fix this Apple watch not vibrating for texts problem.