Get 6 Media Cutters for Free/Online/Windows/Mac
Posted by Adam Gorden on May 18, 2022 4:30 PM • Category:
Cut Videos
5 mins read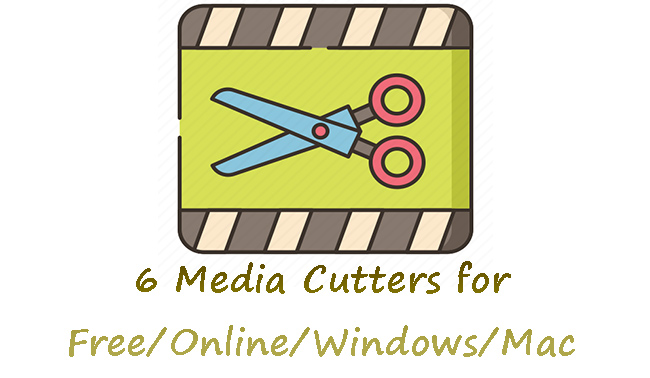 Media cutting refers to the process of editing and/or removing unwanted media from a video. It is an essential part of video production and editing. Many different industries use media cutting software, including film, digital advertising, TV production, and sports broadcasting, to create finished videos.
The digital revolution increased the use or requirement of media cutting software for professional and amateur use. These tools have been developed to help people create high-quality videos that are more efficient than ever before.
A media cutter software is a computer program that allows users to create and edit videos. This type of software allows the user to easily insert, remove, and rearrange digital media within a video, including sounds, text, and images. In this post, you will get 6 practical media cutters to edit videos, now let's get started.
Part 1: TunesKit Video Cutter (Windows & Mac)
TunesKit Video Cutter is an award-winning video cutter that helps you create professional-looking videos in minutes. This software is so popular among professional content creators because it's easy to use and has a lot of features and options that make the process of creating videos simpler. What's more, TunesKit Video Cutter can be used on Windows and Mac that can be used for editing, converting, cutting, and combining videos. This Windows media cutter can also add subtitles to your video files.
TunesKit Video Cutter is great computer software that allows you to cut any video file into smaller sections. The following steps will instruct you on using TunesKit for your video editing needs:
How to Edit Media File in TunesKit Video Cutter
Step 1

Open TunesKit Video Cutter

Download and launch TunesKit Video Cutter. And open a video file you want to edit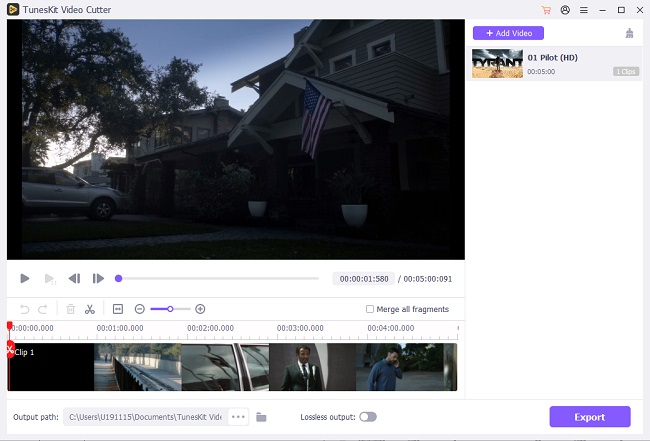 Step 2

Set cutting segments

The video file will play automatically in the preview window. You can split the video using the slider to adjust the required video portion or manually enter the start and end time.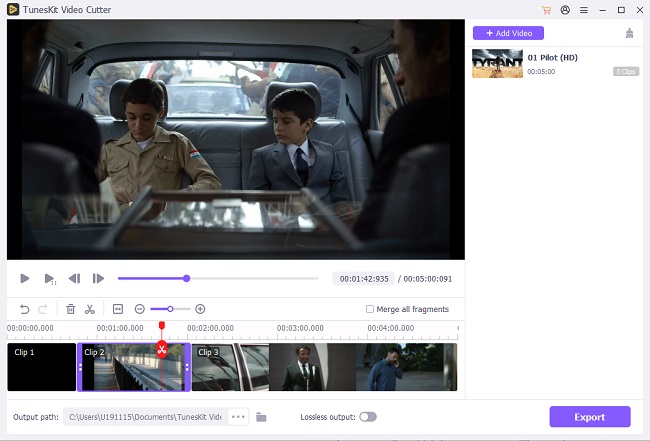 Step 3

Edit the file

Use the built-in video editor to enhance the video or audio clip with different effects. Then, click the "Edit" button and start personalizing the clip.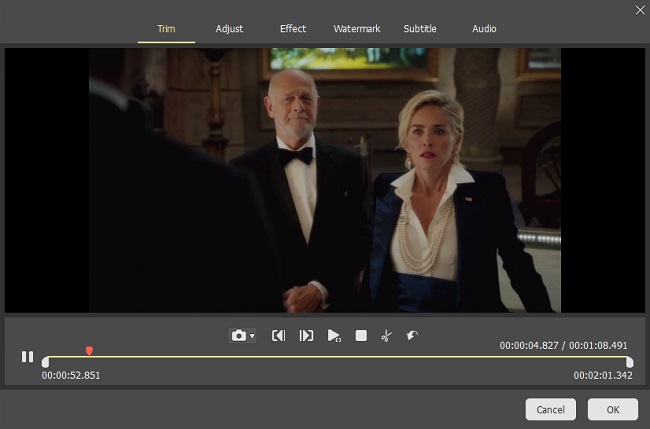 Step 4

Merge the video

As an option, you can merge audio and video segments with ease.

Step 5

Choose the output format

Clicking the "Format" will open the options to choose the preferred file format.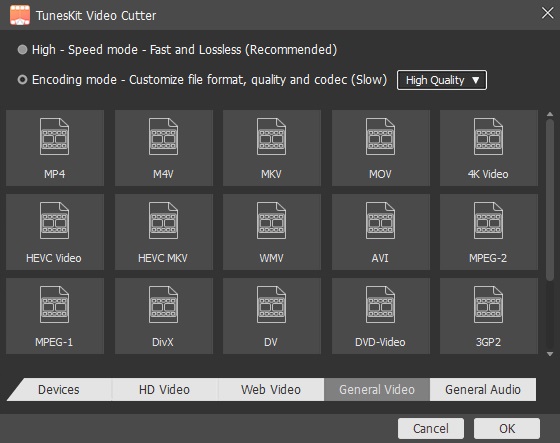 Step 6

Start to trim the video

Click the "Start" button to allow the software to trim and save the file.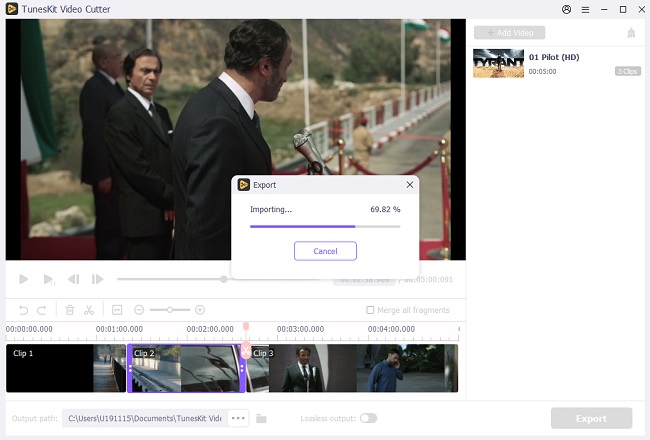 Pros:
• Intuitive interface
• Supports all file formats of audio and video files
• Runs smoothly on any computer
• Lossless merging of audio and video files
• Built-in video editor
Cons:
• The free version converts only smaller video files
Part 2: AceMovi (Windows & Mac)
AceMovi is an easy-to-use video editor with several valuable features. It is available in both Windows and Mac versions. This powerful media cutter and video editing software designed for the professional market allows users to create high-quality videos in a short amount of time. However, it is simple enough for beginners to use.
The software has been recently updated to include some new features, such as the ability to export videos directly from the app and support for 4K resolution and 360-degree videos.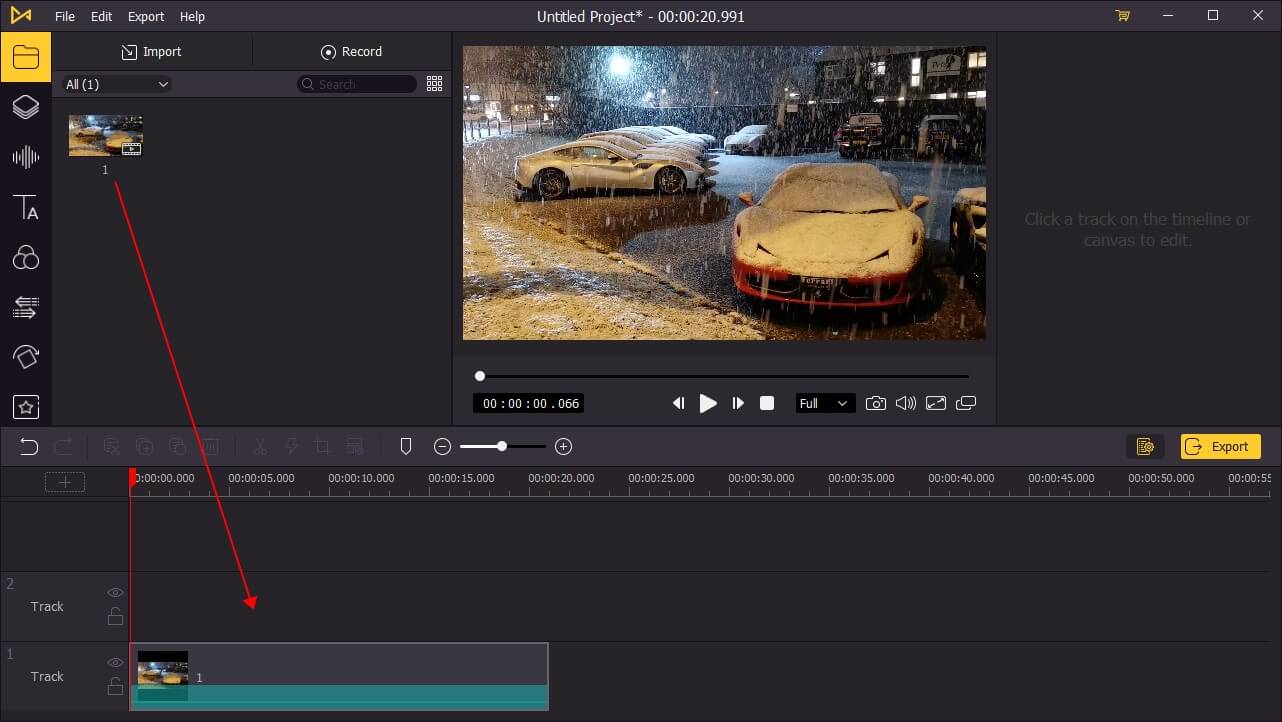 Pros:
• It provides an intuitive and easy-to-use interface.
• It offers various editing options for both beginners and professionals.
• You can quickly share your videos on social media platforms like Instagram, Facebook, YouTube, etc.
• You can create different videos with the same program, as you can save them in different presets.
Cons:
• You cannot export audio-only files.
• The Linux version is absent.
Part 3: Bandicut
Bandicut Windows media cutter is another that you can use to cut and join different segments of different video clips. You can trim the video clip by maintaining the original quality. Likewise, you can extract audio, merge multiple files, and add or remove more parts from the video.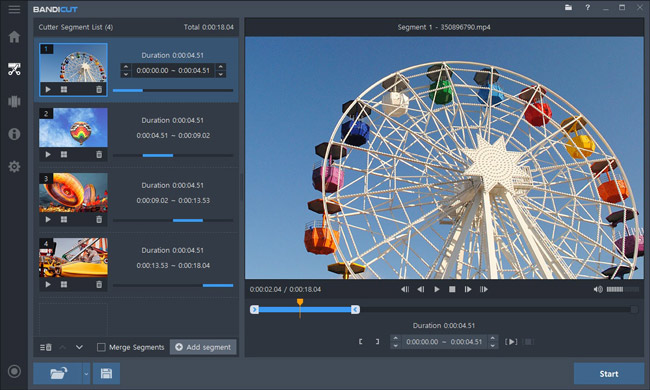 Pros:
• You can cut, split, and join video clips while maintaining their original quality.
• It uses hardware acceleration for promising results.
• You can add or remove various segments of video clips without converting or re-encoding.
Cons:
• The free version will add the software watermark to the resulting output file.
Part 4: iMovie – Free Media Cutter
iMovie is a free media cutter for media creators who often require video cutting and joining requirements. The powerful tools, editing features, support, and slick interface make it the perfect software for beginners. It is the right bridge to the pro video editor.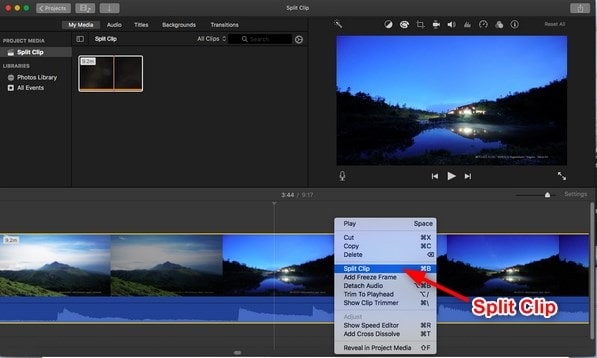 Pros:
• Wonderful interface
• Color matching tool for consistent appearances
• Classical themes
• Chroma-key editing
• Movie templates
Cons:
• A few valuable controls are missing
• No support for tagging
• No 360-degree editing
Part 5: Online Video Cutter
Have you ever wanted a tool to trim out portions of your video without the hassle of downloading software? The Online Video Cutter is a media cutter online tool that is free and available as a SaaS. Therefore, you can upload your video and begin cropping, rotating, trimming, and editing online. The online tool supports all the video file formats.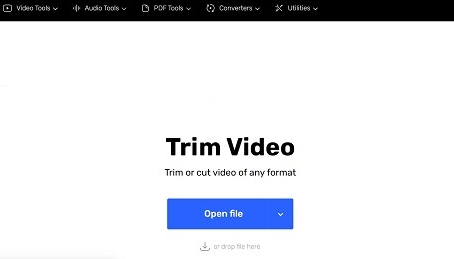 Pros:
• Trim video files and save the file without a watermark
• Add files from computer, cloud, or URL
• Straightforward operations
• Preview edited video online
Cons:
• The maximum filesize for upload is 700MB
• Disturbance of advertisements
Part 6: Kapwing
Kapwing media cutter is a free tool that helps trim and cut different segments from a video file. The browser-based tool is helpful for beginners who often require a free tool that is handy and does the work well. With the help of the features, users can splice or combine video clips to create a new video. One can further add transitions, overlay text, add images, add subtitles, and upload music.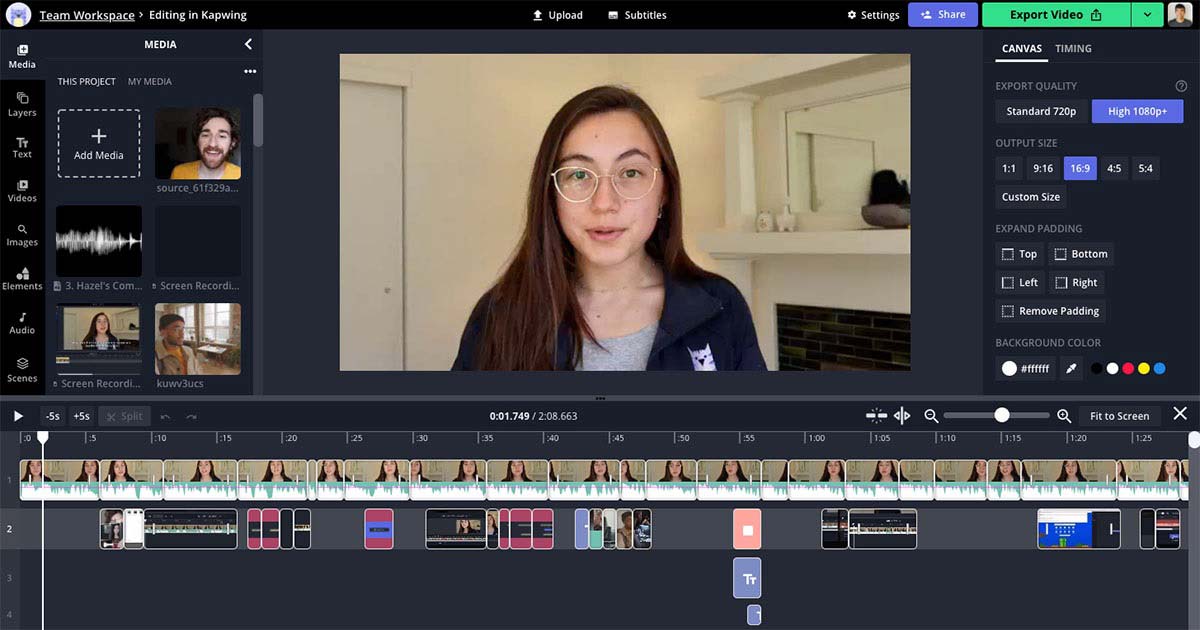 Pros:
• Multi-language support
• Online browser-based video editor • Simple to use
• It has lots of editing features
• Add images, captions, and music
Cons:
• Generates low-quality video in the free version
• Problem with rendering at times
Conclusion
Media cutting requires the appropriate tool that provides the needed tools to the user to create beautiful videos from different clips. The tools discussed in this article are outstanding in their respective areas and allow users to explore their capabilities to the fullest through their free versions.
With a suitable media cutter in hand, any person without previous knowledge of video editing can come out with industry-standing results for their video clips. It all takes choosing the correct software, which can be downloaded to the computer such as TunesKit Video Cutter, AceMovi, Bandcut, iMove, or accessed online without the downloading like Online Video Cutter and Kapwing.