With more than 1.9 billion users, YouTube is the second most popular social media platform. Did you know that around 500 hours of video are uploaded to YouTube every minute? Well, with the immense collection of video content, there is no doubt users turn to YouTube every now and then. YouTube users often come across the need to download, edit or cut YouTube videos for different purposes. As a channel, YouTube does not provide the functionality of video editing and cutting. This is where 3rd party YouTube video cutter online comes into picture. These are basically online tools that allow users to trim or cut YouTube videos as per their requirements.
There is a variety of free and paid online tools for YouTube video editing. If you are looking for basic features like video trimming and cutting, a free online tool will be helpful for you. Have a look at the top 10 free YouTube video cutter online and find the best tool to suit your need.
#1. YT Cutter

Ranked among the best YouTube video downloader and trimmer, YT Cutter is quite simple to use. User simply needs to enter the URL of YouTube video to be trimmed to start the process. Once the video is loaded, user can set the range using the start and end buttons.
Pros
Video can be downloaded in 4 formats - video file, GIF animation, audio file and screenshot
Easy-to-use interface
Cons
Conversions are low resolution so their quality is not good
Users often come across rate limit errors while downloading
#2. YouTube Cutter

A smart tool designed to cut and edit YouTube videos, YouTube Cutter helps you edit videos like a pro. It follows a smooth process for video editing.
Pros
Simple-to-use software
Perfect tool for users from all walks of life
Advanced technology gives better quality videos
Cons
Compared to browser, YouTube Cutter app is easier to use
#3. FlexClip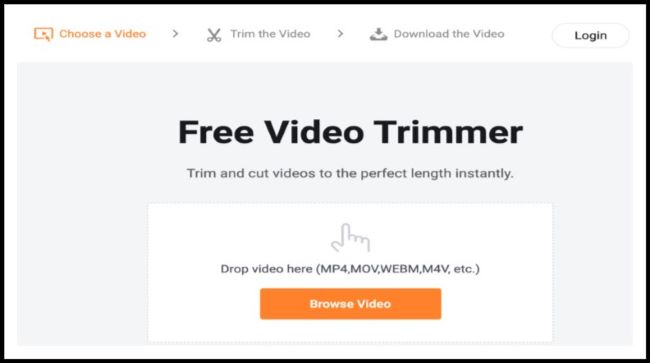 FlexClip is a YouTube video cutter online and offers free download of the trimmed video. User needs to upload the video that needs to be edited or cut. The range can be set by adjusting the timeline.
Pros
Tool offers several advanced editing features like removing background noise
It can instantly trim MP4, MOV, WEBM, M4V and other formats of videos
Cons
Video that needs to be cut has to be downloaded first. Users cannot trim or cut a video directly by accessing the video URL
#4. Kapwing Video Trimmer

One of the favorites your YouTube video cutter online, it is for users looking for a simple video cutting tool, Kapwing Video Trimmer allows us to create short video clips. Users can either use the YouTube video URL or upload their downloaded to make the edit.
Pros
Simple tool for basic video cutting functionality
Can be easily used by anyone without any technical background
Cons
Downloaded videos contain the Kapwing watermark. Users need to pay to remove the watermark
Processing time is higher compared to other tools
#5. YouTube's Online Video Editor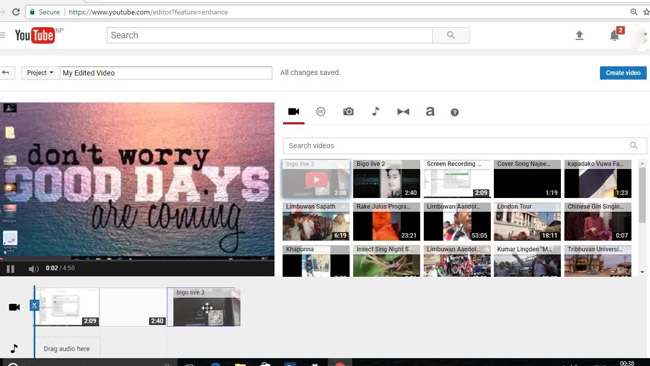 When you are looking for simple edits or trims of a YouTube video, why not do it on YouTube's own online video editor. The tool allows users to create versions of a YouTube video without leaving the website.
Pros
User-friendly tool and it is free
Allows to add effects and transitions
Allows combining different trims into a single video
Cons
Does not allow to add graphics or text in overlay
#6. ytCropper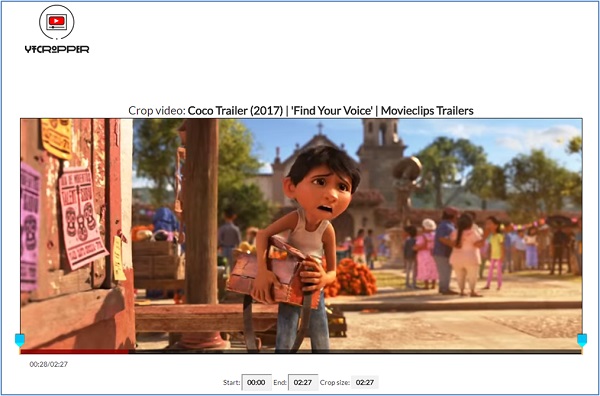 ytCropper allows users to cut and trim custom length shots from YouTube videos. It is a tool that helps share YouTube videos online via Facebook, Twitter, email or text message.
Pros
It produces a professional-looking video
It has been featured on several sites giving it a good recognition
Cons
It uses a marker system for marking start and end points of the video
System does not support fraction of seconds, so the clip may be less precise
#7. Clideo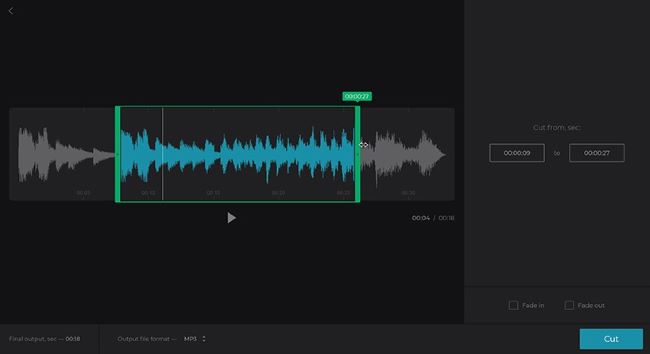 Clideo is known for its fast speed of video cutting and trimming. It takes just few seconds to cut a clip once its start and end points have been marked.
Pros
Supports a large format of videos like MP4, AVI, MPG, VOB and more
It offers a high level of security
No special video editing skills required
Cons
Size limitation for video files
#8. Video Toolbox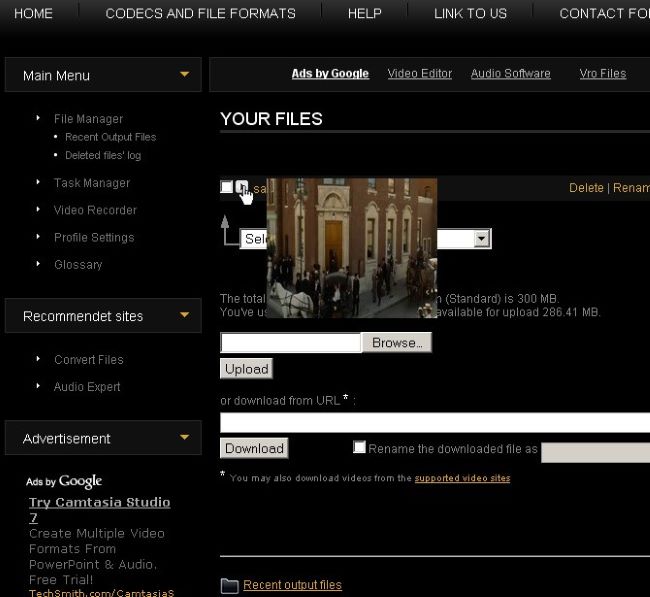 An excellent online YouTube cutter, Video Toolbox stays true to its name – a toolbox for video editing. It has a collection of features that perform several tasks in video editing.
Pros
Converts a range of video formats including MP4, MKV, AMV and more
Users can export videos to social networking sites as well as YouTube
Maintains the quality of video files
Cons
Size limitation in free version of the tool
#9. Fastreel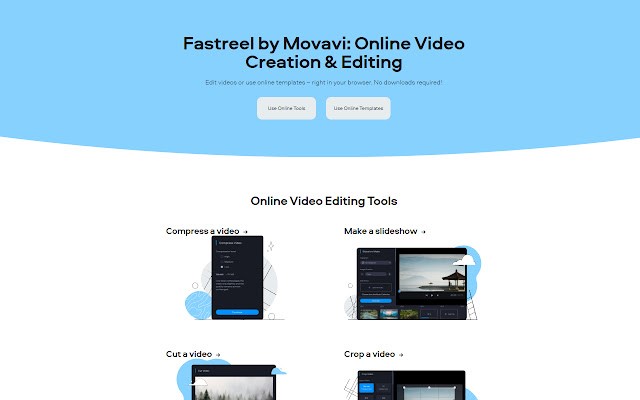 This is an online video editor that offers a lot of tools including video cutter. With its user-friendly interface, video trimming with this tool is quite easy. To cut a video, it needs to be added to the tool and then selected start and end points.
Pros
Quick process for video trimming
Intuitive interface makes the tool easy to use
Cons
Edited videos contain the Fastreel watermark in free version of tool
#10. Weavly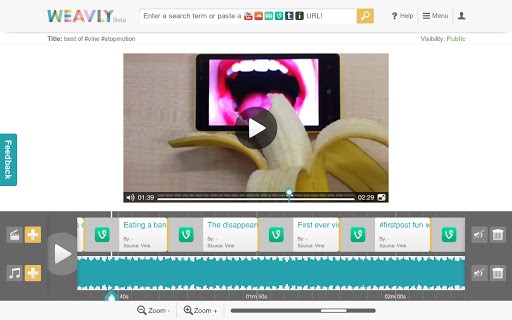 With its splendid capabilities, Weavly does not fail to impress any user looking for video cutter for YouTube video. It is possible to source videos directly from YouTube.
Pros
Free version of the tool has number of functionalities for basic video editing
Process of video trimming is quite fast
Cons
Numbers of features available in free version are limited
TunesKit Video Cutter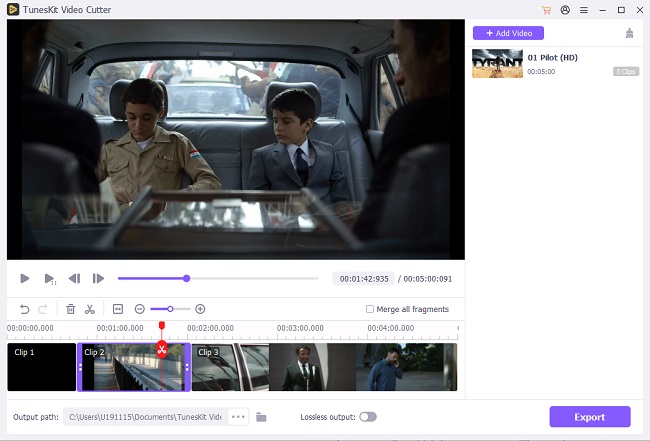 Before choosing an online tool for YouTube video trimming, there is one option you need to consider – the offline TunesKit Video Cutter. With its lossless video cutting, its output is better than any of the above online tools.
A desktop lossless video cutter, TunesKit Video Cutter is the perfect audio and video trimmer. This video cutter comes with a built-in video editor and it enables users to crop, merge, add effects and more to their video.
Key Features
It is an all-round video cutting solution; it allows trimming video and also merging videos to create small segments
This tool ensures lossless video cutting, so the quality of the video is maintained
Out of all the YouTube video cutters reviewed above, Tuneskit Video Cutter stands out mainly due to its advanced features. It is one of the few tools that offer lossless video cutting, thus ensuring a high-quality video after trimming or cutting. It is not just another YouTube video cutter in the market. It can also be used as a smart video joiner that can merge multiple footages cutting from the same source into a new file with 100% original quality preserved.
To cut YouTube videos with TunesKit, you can download the free trial version as below.
Conclusion
Basic knowledge of the popular online YouTube video cutter tools will help you understand various features provided by each of the tools. Some tools provide comprehensive features in their free version, while some come with basic functionality. Depending on your need, you can choose the best tool for youtube video cutter online and download.

Nick Orin is a review writer, software geek and Mac OS enthusiast. He spends all his free time in searching useful software and gadgets to share with others.