Top 10 Free YouTube Video Cutter Online Tools in 2022
Updated by Nick Orin on Jul 12, 2022 6:00 PM • Category:
Cut Videos
5 mins read
Did you know that around 500 hours of video are uploaded to YouTube every minute? Well, with the immense collection of video content, there is no doubt users turn to YouTube every now and then. YouTube users often come across the need to download, edit or cut YouTube videos for different purposes. However, as a channel, YouTube does not provide the functionality of video cutting and editing. In this case, the third-party YouTube video cutter online comes in handy.
There is a variety of free and paid online tools for YouTube video editing we listed in the article. Have a look at the top 10 free YouTube video cutters online and find the best tool to suit your need.
TunesKit Video Cutter - Best YouTube Cutter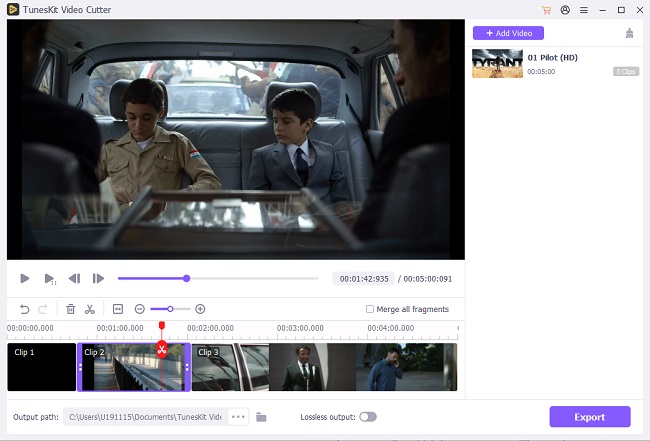 Before choosing an YouTube video cutter online for video cutting, there is one option you need to consider – the offline TunesKit Video Cutter. With its lossless video cutting, its output quality is better than any of the following YouTube video cutter online tools.
As a desktop lossless video cutter function, TunesKit Video Cutter is the perfect YouTube trimmer and editor to import most video and audio formats and edit their videos such as cutting, merging videos, adding effects, and more.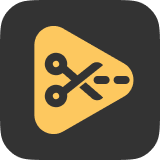 Why Choose TunesKit Video Cutter?
Cut YouTube videos and audios on Mac and Windows easily
Trim YouTube video files with zero quality loss
Support lots of output formats and devices
Support trimming, merging and editing any type of videos
Try It Free
600,000+ Downloads
Try It Free
600,000+ Downloads
Now, you may start checking the top 10 YouTube video cutters online at the following passage.
1. YT Cutter - YouTube Cutter Online

Ranked among the best YouTube cutter and downloader tools, YT Cutter is quite simple to use. Users simply need to enter the URL of the YouTube video to be trimmed to start the process. Once the YouTube video is loaded, they can set the range using the start and end button. and save the trimmed YouTube to video, GIF, audio file, or screenshot.
2. Media.io - YouTube Video Cutter Online

Media.io is a smart YouTube video cutter online tool which allows users to add the YouTube video to its workspace by pasting the URL of the YouTube video, or uploading the downloaded YouTube video, and then cut the YouTube videos online for free. Also, you can edit the YouTube video here like adding templates, text, subtitles, element, transition, and music. Then export the YouTube video to MP4 or MP3.
3. FlexClip - YouTube Trimmer and Editor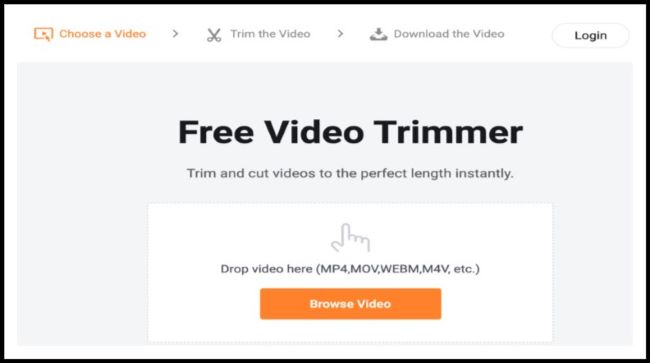 FlexClip is an online YouTube trimmer and offers free download of the trimmed video. Users can upload or record YouTube videos that need to be cut or edited, and set the trimming range by adjusting the timeline.
4. Kapwing Video Trimmer

Kapwing is one of the most effective YouTube video cutters online, for users looking for a simple YouTube video cutting and editing tool. By using Kapwing, you can either upload a downloaded YouTube video or add one from Google Drive, then start cutting and editing YouTube online.
5. YouTube's Online Video Editor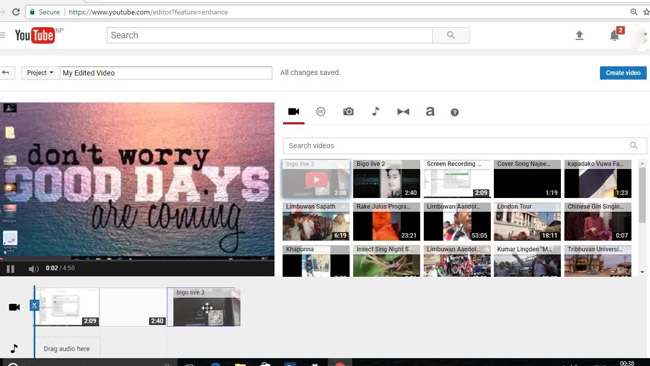 If you're a YouTuber and find your uploaded video has some disjointed segments, don't forget that you also can cut the YouTube video on YouTube's own online video editor. The tool allows users to cut the released YouTube video online without leaving the website.
6. ytCropper - Crop YouTube Video Online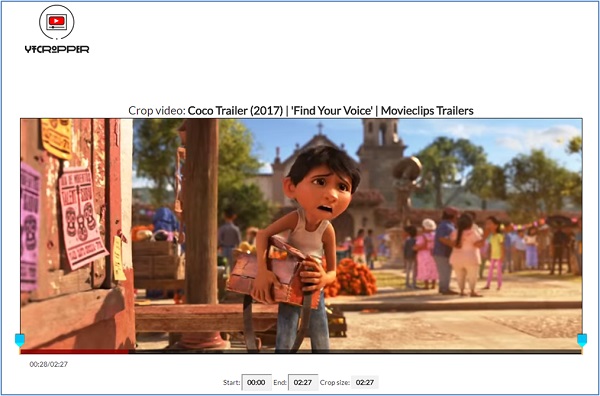 ytCropper, a YouTube video cropper, allows users to cut and crop custom-length shots from YouTube videos. It is a tool that helps share YouTube videos online via Facebook, Twitter, email, or text message. Just copy and paste the URL of the YouTube video and click on Crop, set the new duration of the YouTube video, and it will generate an embed code and direct link for you to add to your preferred website.
7. Clideo - YouTube to MP4 Cutter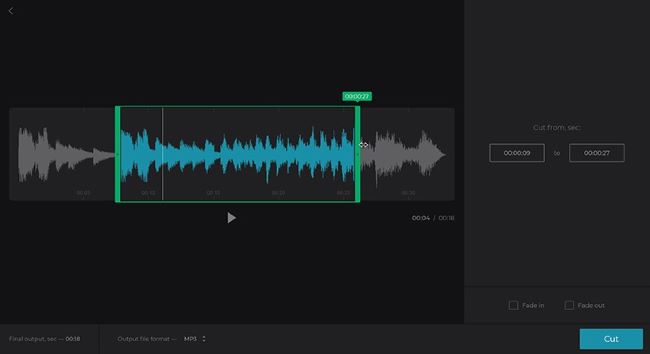 Clideo is known for its fast speed of YouTube video cutting and trimming and various editing features as well. The video can be added from your local storage, Google Drive, or Dropbox to this Youtube to MP4 cutter. And it takes just a few seconds to cut and split the target one once its start and end points have been marked.
8. VEED.IO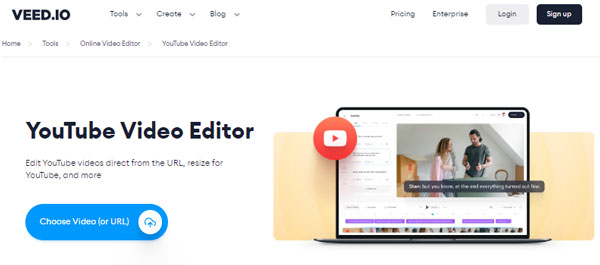 VEED.IO is an excellent YouTube video cutter for free. Same as Media.io, it also has the ability to add the YouTube Video by entering the link. After that, you can easily cut the YouTube to any length, and alter it by using some additional features. Then download the YouTube video to MP4, MP3 or GIF, or share it to Facebook, Twitter, and Email.
9. Fastreel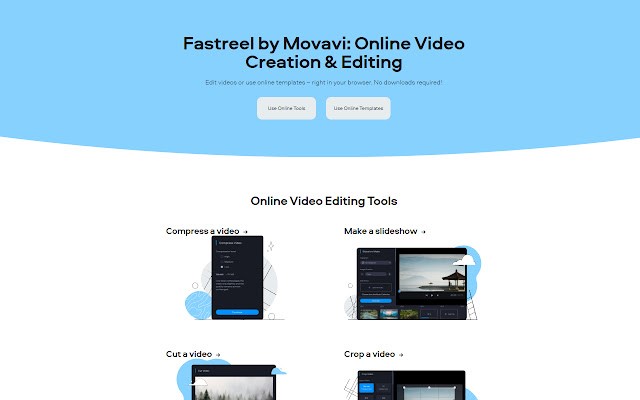 The next YouTube video cutter online is Fasreel. With its user-friendly interface, YouTube video cutting with this tool is quite easy. To cut a YouTube video, it needs to be added to this tool and then selected start and end points.
10. Flixier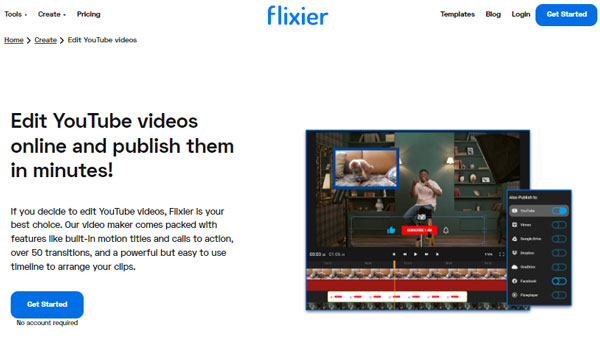 No account acquired, Flixier YouTube cutter helps you cut and edit the YouTube video with ease. With its splendid capabilities, Flixier does not fail to impress any user looking for YouTube video cutter. It is possible to source videos directly from YouTube as long as you paste the link on it. And, it can do more than just cutting, almost any editing feature you can think of can be found here.
Extra Tip: TunesKit AceMovi - Create Video befor Uploading to YouTube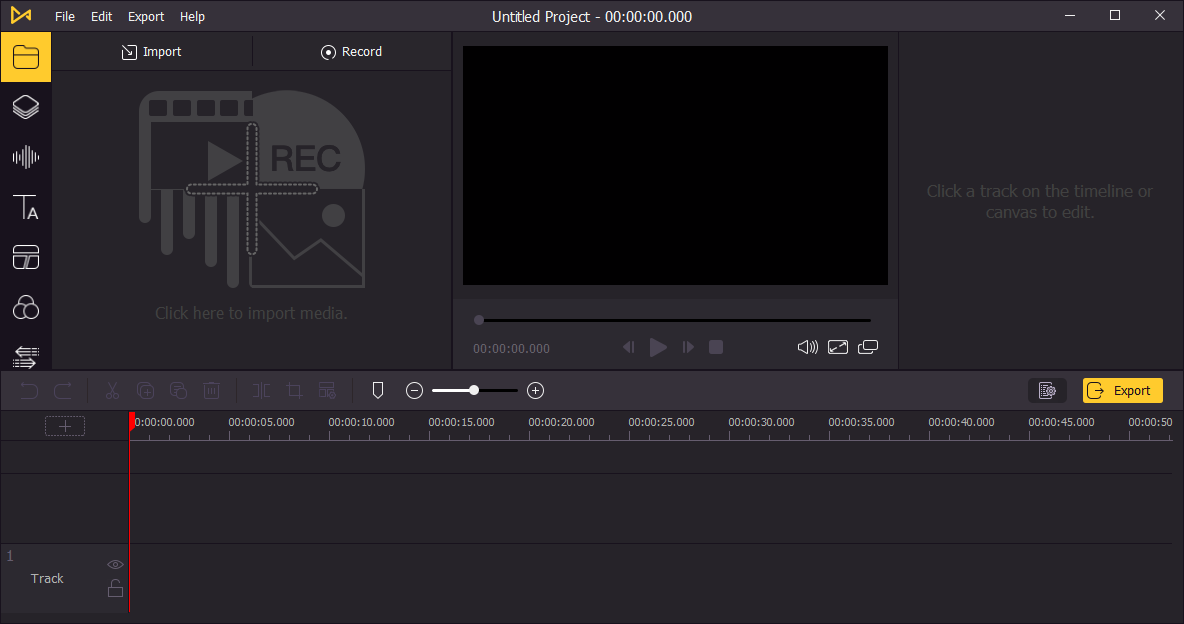 Before uploading the video to YouTube, an indispensable part is to create a video. If you look for a professional video creator and editor, TunesKit AceMovi is worth considering.
TunesKit AceMovi is a simple but powerful video creator and editor for everyone who wants to visualize their ideas. No need for professional skills, it offers you a clear and user-friendly UI for your convenient operations. Moreover, it features the most basic editing functions as well as stunning options. For example, you're allowed to make a video including animation effects, filters, text, images, screen split, and more. Then export your video to many kinds of media formats.
Conclusion
Basic reviews of the popular YouTube video cutter online tools will help you understand various features provided by each of the tools. You can choose the best tool for a YouTube video cutter online and download it depending on your need.
One last addition, out of all the YouTube video cutters reviewed above, Tuneskit Video Cutter stands out mainly due to its advanced features. It is one of the few tools that offer lossless video cutting, thus ensuring a high-quality video after trimming or cutting. We believe it will be helpful to accomplish any cutting tasks of yours.