How to Fix Your Must Change Your iPhone Unlock Password At This Time
Posted by Brian Davis on Feb 28, 2023 2:00 PM • Category:
Unlock iOS
5 mins read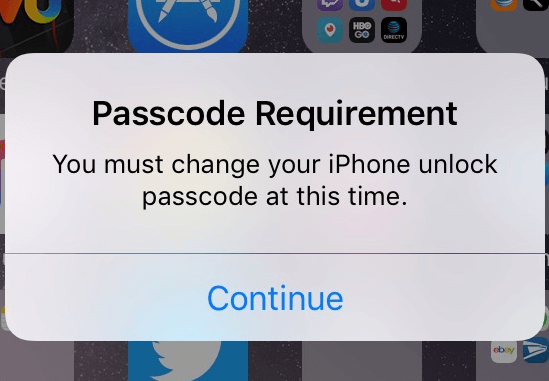 Like any other smartphone, the iPhone also sometimes gives you useless bugs and issues which can be annoying and disturbing. As an iPhone user, you must have come across such bugs. Have you ever seen a message appear on your iPhone screen that says "you must change your iPhone unlock passcode at this time" or "you must change your iPhone unlock passcode within 60 minutes"? This message forces you to change your passcode at that moment for no reason. You have no option but to obey. If you ignore this message it will again pop up after some time. You must wonder why this message pops up and how to eliminate it. Here in this article, you can find a solution to your problem. Dig below!
Part 1: Why is Your iPhone Forcing You to Change Passcode
The "Must change your passcode" error can be a result of numerous reasons. To disappear this message it is important to first discover the reasons behind it. Here are some of the most possible reasons.
1. Safari security issue
Sometimes your safari browsing history can be the reason for this problem. At any point in time, you might have opened some link that has caused trouble to your iPhone. It forced the iPhone to think that the current passcode is not secured properly. This is not a sensible cause but still, to deal with it, it is suggested to delete all safari history.
2. Your current passcode is not secure
Apple is highly popular for having high-security standards to maintain the privacy of its users. Thereby it suggests the user keep passcodes that contain 6 digits. An iPhone with a 4-digit passcode may face such errors more frequently. Having super easy passcodes that increase the chances for others to get into another phone easily can face this error often. For this reason, the iPhone might advise you to change your passcode.
3. Configuration Profile
Another reason could be the configuration profile. Having a configuration profile on your device could be the reason for the "must change your passcode" message pop-up. Removing such a profile can resolve the issue.
4. MDM Enrollment
Mobile Device Management systems are often part of business iPhones. Such iPhones should be relatively more secure. So business iPhones often face this issue more than other iPhone users as they should be extra protected to avoid hacking or data leakage.
5. iOS 10 Feature (Bug?)
If you have a set 6-digit passcode and are not even part of MDM still your iPhone requires you to change the passcode then it could probably be the result of an iOS 10 feature or bug. Though the reason is quite vague, it is not wrong to say that the new iOS 10 feature requires the user to change unlock passcode from time to time.
Part 2: How to Fix "you Must Change Your iPhone Passcode"
Method 1. Clear Safari Browsing History
Until now the most possible reason is the safari browsing history. Clearing up the history has 90% time to resolve the issue. Clearing up the safari history by far has been the easiest successful solution to tackle the problem. To clear history, you can do the following.
Step 1: On your iPhone, launch the Settings app.
Step 2: Head to Safari.
Step 3: in the safari head to where you can find the "Clear History and Website Data" option Tap over it. This will delete all the piled-up cache and cookies from your iPhone, disappearing the Passcode changing requirement pop-up.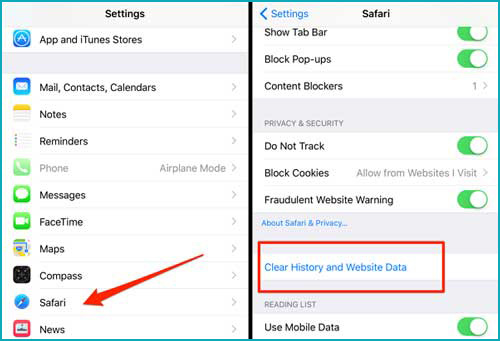 Method 2. Contact Your Device Security Service
To manage multiple devices often iPhone users seek help from third parties too. Such services ensure extra security and this could be more likely the reason behind the passcode changing prompt. So you can contact the service company and discuss the matter with them. They will come up with the best solution for you.
Method 3. Listen to it and change the Passcode
Sometimes changing from 4 digits to 6 digits can solve the problem for you. Sit back and think changing the passcode to a Safer one is beneficial for you itself. There is no harm in securing your iPhone in a way better way. To change the passcode of your device, tap the Continue button. A setting panel will appear on your screen. If not you can manually go to the settings panel as mentioned below.
1. Open Settings.
2. Tap Passcode.
3. Tap Change Passcode.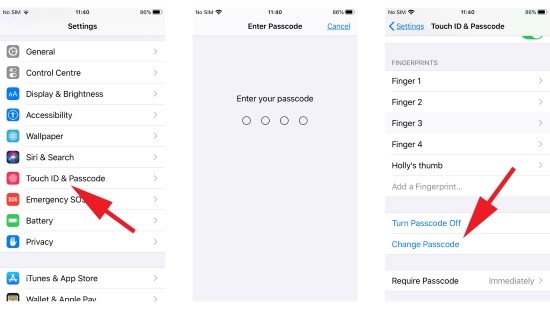 Part 3: Best Solution For Removing Passcode From iPhone Without Entering Passcode Using TunesKit iPhone Unlocker
In scenarios where you have forgotten your passcode, have entered the wrong passwords multiple times, your iPhone screen is broken or your Face ID is not working, TunesKit iPhone Unlocker comes to the rescue. It is a professional unlocking tool that helps users to unlock their iPhones without a password. This fast and smooth tool can help you recover your iPhone in a few clicks. To your advantage, it supports all iPhone, iPad, and iPod touch models.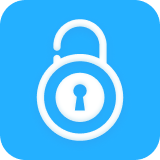 Key Features of TunesKit iPhone Unlocker
Fully compatible with most iOS device models
Available on the latest iOS version including 16
Fix you must change passcode without password
Unlock iPhone/iPad/iPod touch with ease
Easy-to-use feature and user-friendly interface
Try It Free
600,000+ Downloads
Try It Free
600,000+ Downloads
Here is how you can do it. Follow these steps:
Step 1

Connect iPhone to the Computer

Start your computer and connect your iPhone to it. Once your connection is completed the iPhone will be detected by the TunesKit iPhone unlocker.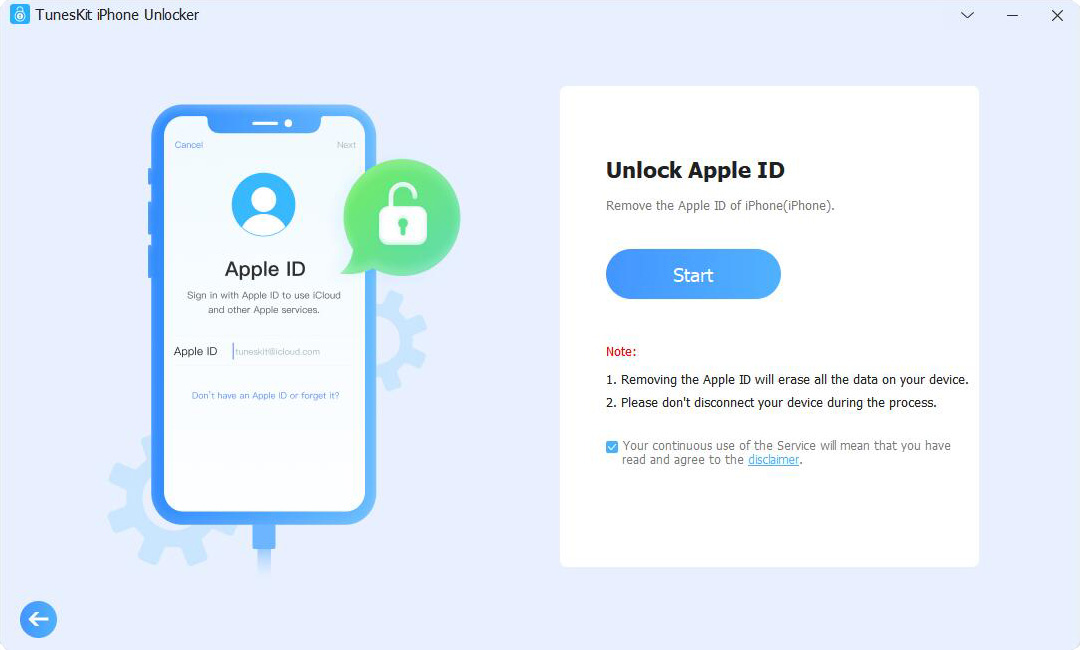 Step 2

Put iPhone into DFU Mode

Now you need to put your iPhone into DFU mode or Recovery mode. Once you have done it, tap the "next" button.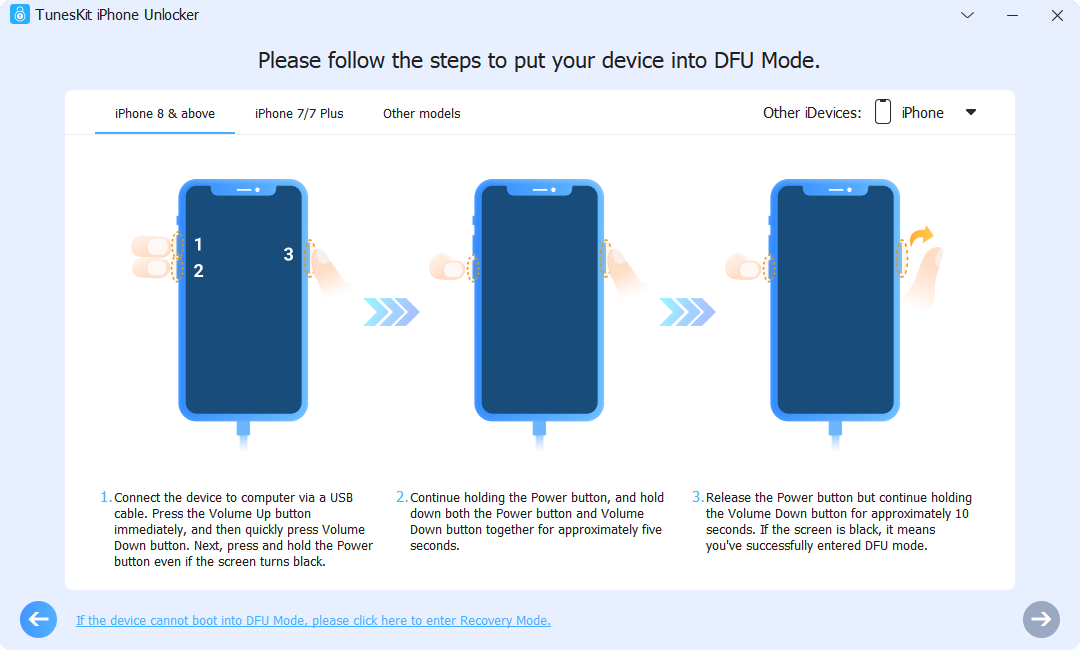 Step 3

Download Firmware Package

Now you need to download the firmware package. You can view a lot of information regarding your iPhone. Check it properly that all the information available is correct keeping in mind your iPhone. If you find something wrong, correct it manually. Click the Download button to download the firmware package if all the information is right.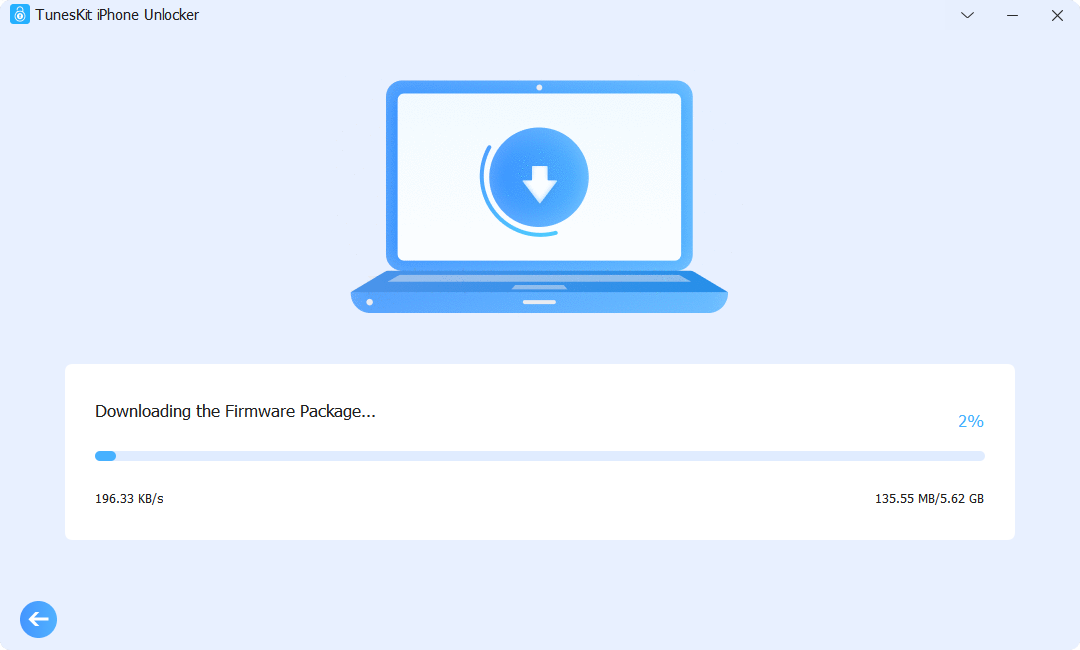 Step 4

Unlock iPhone Without Password

Here at this stage, TunesKit plays an important part in unlocking your iPhone. Once it is completely downloaded click the Unlock button. Enjoy gaining back your iPhone.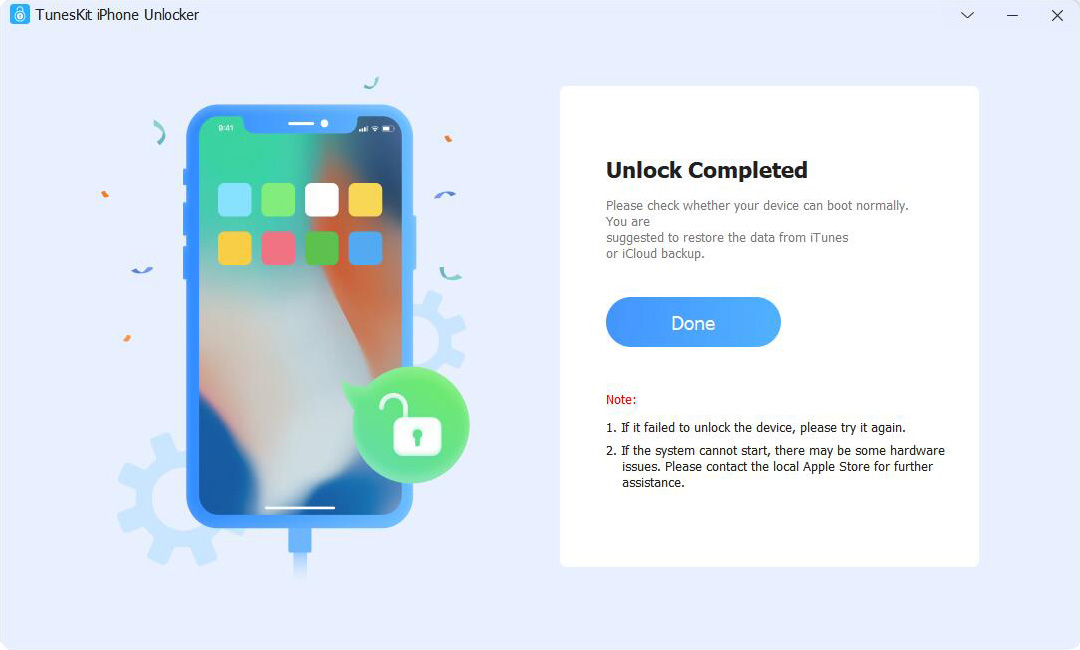 Part 4: The Bottom Line
Unlocking an iPhone is a very common practice as the iPhone is locked frequently due to many reasons. Seeking help from a third-party tool might erase all your precious data but at least your iPhone is saved from being brick. Moreover, you should always back up your data so that you can access it later on. Well, with the help of TunesKit iPhone Unlocker, unlocking the iPhone has not been a difficult task. You can easily keep an ajar jar with several clicks. So if your iPhone is locked try TunesKit, an effective and reliable unlocking tool.