How to Unlock a Disabled iPod without iTunes? 4 Solutions Here
Posted by Brian Davis on Apr 2, 2022 4:00 PM • Category:
Unlock iOS
4 mins read
"My iPod is disabled now and I don't know the passcode as a naughty toddler changed it. Now I can't unlock my iPod to watch YouTube or even reply to a message. Do you have any ideas that can help me access my iPod again? All the suggestions will be greatly appreciated."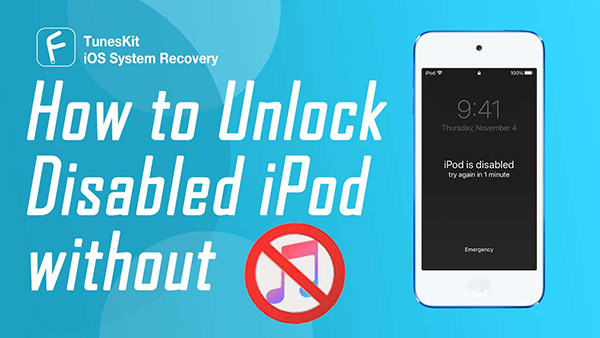 When you see a notification on your iPod that says iPod is Disabled Connect to iTunes, what would you do? Most users will choose to connect their iPod to iTunes and restore it. Except for iTunes, can users unlock their iPods with the help of other tools? In today's post, I will show you some efficient ways to unlock your iPod when your iPod is disabled without using iTunes. Here we go.
Method 1. How to unlock disabled iPod touch without iTunes using iCloud
Using iCloud can not only backup or locate your lost iPod, but also ables users to unlock their iOS devices. The advantage of using iCloud is that you won't need to use a computer or download any other extra applications. Before using iCloud, please check that you have enabled the Find My iPhone feature on your iPod. Now, let's see how to unlock your disabled iPod using iCloud.
Step 1: Launch the Find My iPhone app on another iOS device. Then, log in to the same Apple ID as the disabled iPod.
Step 2: Find the disabled iPod on the devices list and select it.
Step 3: Click on the Erase iPod option and then follow the instruction to unlock your iPod.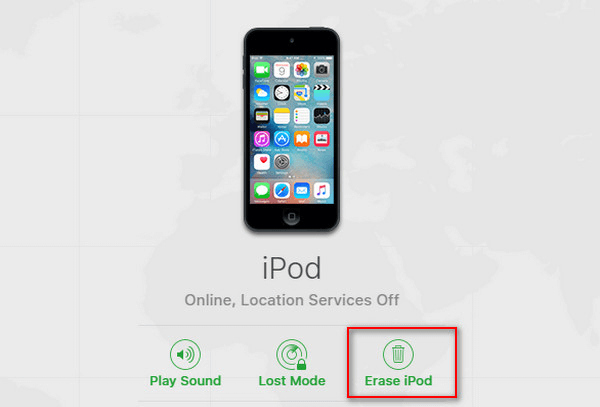 Note: All your iPod data and content would be erased after unlocking. Please backup your iPod if you want to keep your data.
Method 2. How to unlock a disabled iPod touch without iTunes using TunesKit iPhone Unlocker
For those who don't remember the Apple ID passcode, a third-party unlocking tool seems like the only method for them to choose from. And I would like to recommend you to use TunesKit iPhone Unlocker. It is a one-stop unlocker that supports users to unlock their iPhone when they forgot the passcode, the iPhone screen is black, iPhone is disabled, etc. The latest iOS version is now compatible and users can download and install this mighty program on Mac and Windows.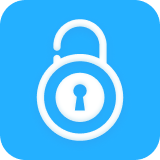 Why Choose TunesKit iPhone Unlocker?
Fully compatible with most iOS device models
Unlock iPhone/iPad/iPod without passwords
Allow users to factory reset iDevices without Apple ID
Easy-to-use feature and user-friendly interface
Supports the lateset iOS version including iOS 15
Try It Free
600,000+ Downloads
Try It Free
600,000+ Downloads
Let's see the detailed steps of using the TunesKit iPhone Unlocker.
Step 1

Connect iPod to a computer

Use a workable USB cable to connect your iPod to a computer. Then, Launch TunesKit iPhone Unlocker.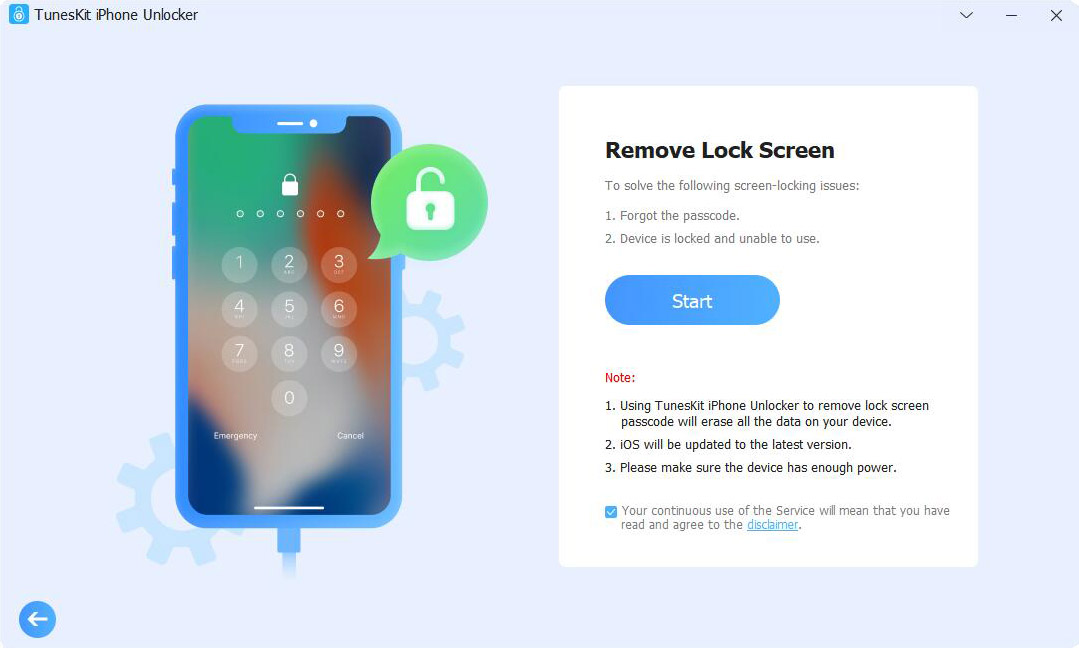 Step 2

Put your iPod into Recovery mode

Hit on the Start button. And you will see a detailed guide on how to put your iPod into Recovery mode. Please follow the instructions to make it. Then, click on the Next button.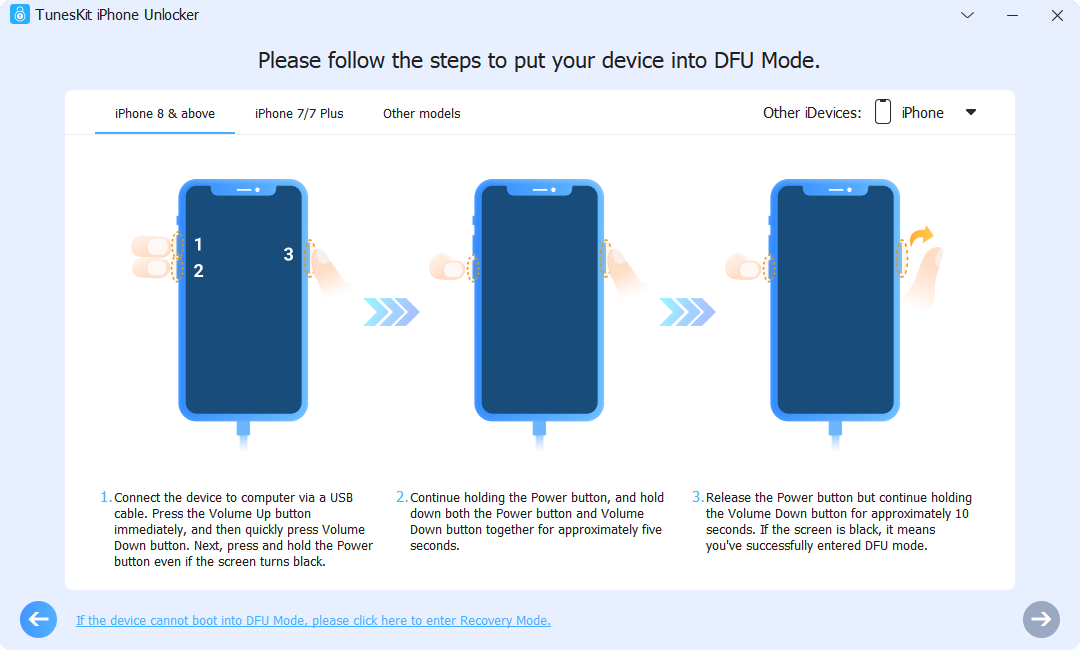 Step 3

Download firmware package

Click the Download button to download the firmware package. Check that all the information is according to your iPod.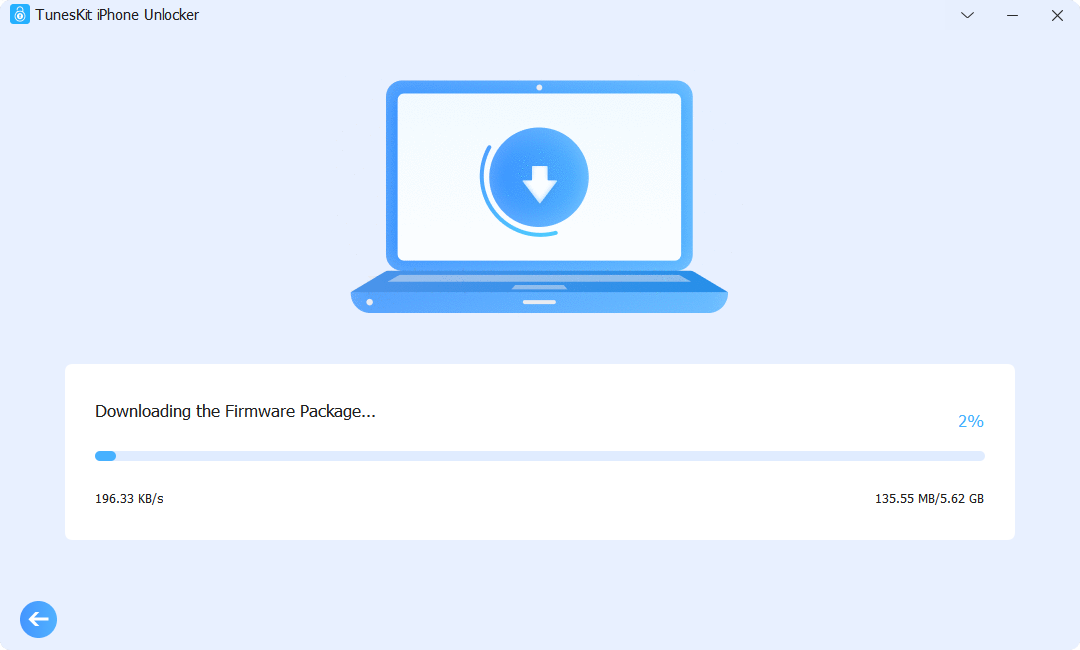 Step 4

Unlock iPod without iTunes

You will be able to access your iPod again when TunesKit iPhone Unlocker finishes the unlocking. This process will take several minutes.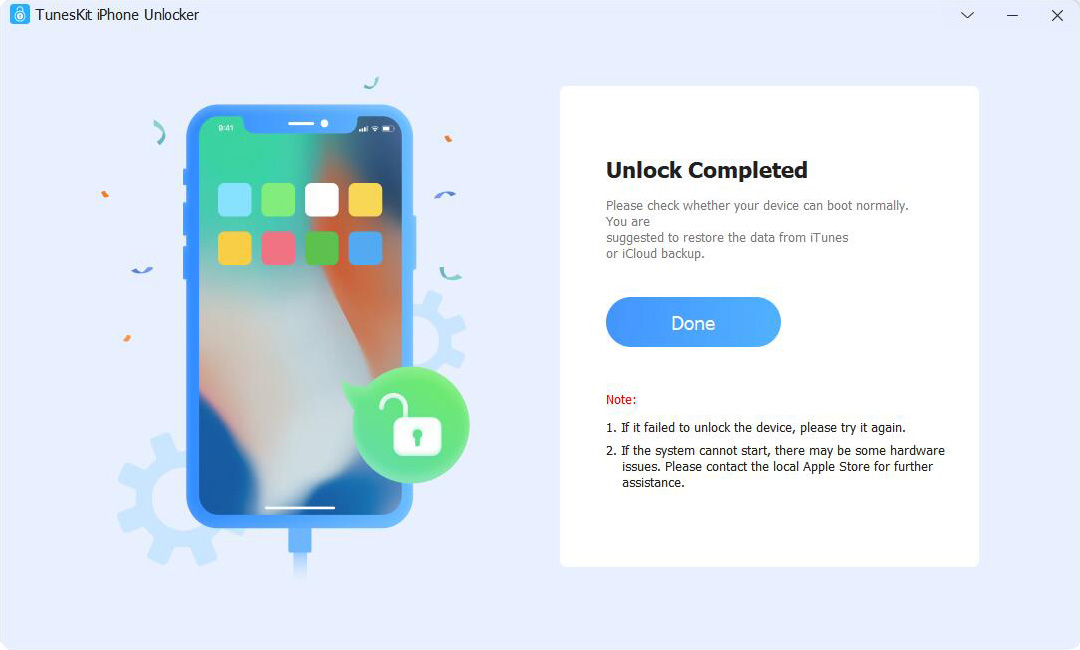 Method 3: How to unlock a disabled iPod without using iTunes via Siri
Siri is usually used to control iOS devices by voice command. However, when your iPod is disabled, you can also use iPod to bypass the screen lock, and will not cause any data loss. It is worth noting that using Siri is not a 100% successful method, and your iPod should run on iOS 10.3.2 or iOS 10.3.3. Let's see the step-by-step guide.
Step 1: Activate Siri on your iPod by keeping holding the Home button. Ask "What is the time".
Step 2: Click on the clock icon and the your iPod will turn to the Clock function.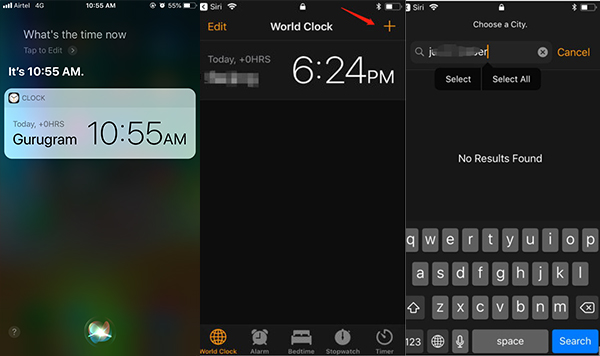 Step 3: Select World Clock and hit on the plus icon in the top-right corner. Type any word to the search bar. Then, click on Select All and hit on the Share button.
Step 4: Select the Message function and type any words in the "To:" bar. Finally, click on the Return button on your keyboard, and you will be able to get back to your Home page.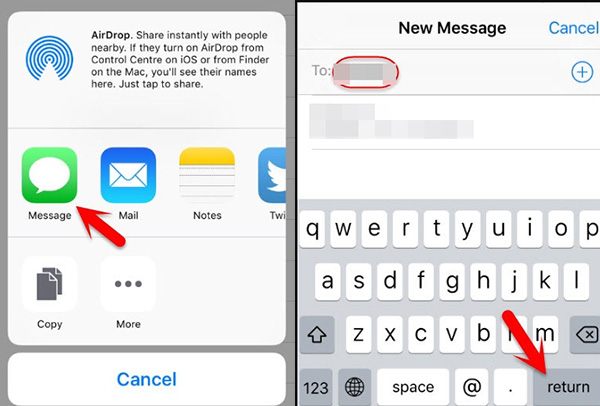 Note: This method only helps you bypass the passcode but not wipe it. And you still need to enter the passcode if you want to change the passcode or erase the iPod.
Method 4: How to unlock a disabled iPod without iTunes via iOS feature
If you have updated your iOS version to iOS 15.2 or later, here is a bonus tip that you can use. A new feature of the iOS system is that users can unlock their iPods though iPod is disabled. Let's see how to do it.
Step 1. Keep entering screen passcodes until iPod is disabled.
Step 2. In this phase, you will see an Erase iPhone option on the bottom-right corner. Click on it and enter your Apple ID passcode to unlock your iPod.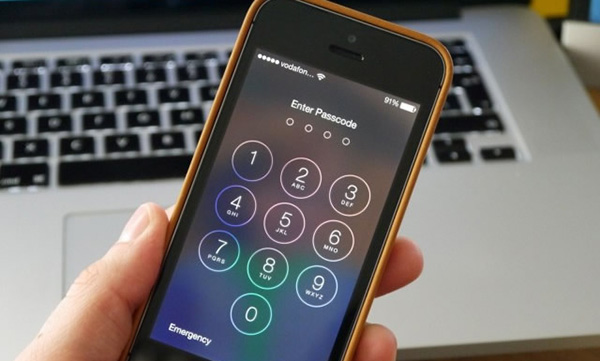 Conclusion about how to unlock disabled iPod without iTunes
Forgetting iPod passcodes is not a rare situation for iPod users. The above four methods are effective enough for iPod users to unlock disabled iPods without iTunes. Try to use TunesKit iPhone Unlocker to unlock your iPod if you don't know the Apple ID passcode or screen passcode. The most important is to backup your iPod in case your iPod gets disabled again.