4 Methods for How to Turn off Passcode on iPhone
Posted by Brian Davis on May 26, 2022 4:00 PM • Category:
Unlock iOS
5 mins read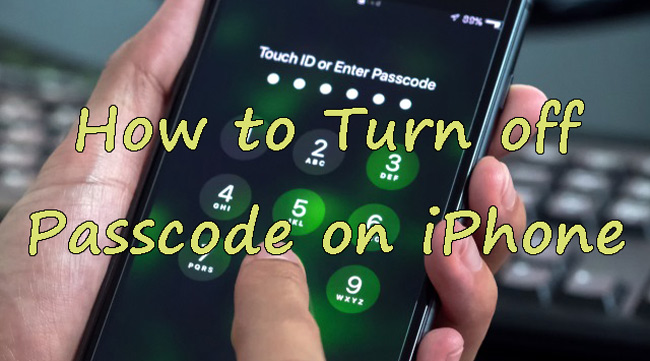 iPhone, like other phones, has invested a lot in the security of your data by enhancing privacy through passcodes and passwords. But unfortunately, at times, these passcodes prove to be annoying, especially if you are following a step-by-step guide. They make it even more challenging if you need a friend to read you the instruction as you go on with the handy skills.
For this reason, you may be craving a way to disable the passcode on your iPhone, either temporarily or permanently? Turning off your passcode is relatively easy, especially if you can recall the codes, but if you forgot about them, there is no need to worry. Although deactivating the passcode has certain drawbacks, you must admit that there are many occasions where turning off the passcode is beneficial. Regardless of why you want to disable the passcode on your device, you may use this guide to learn how to turn off the passcode on your iPhone with ease.
Part 1: 4 Methods for How to Turn of Passcode on iPhone
You can use various methods to turn off the passcodes on your iPhone, the most basic being through your iPhone setting options, using the Tuneskit iPhone Unlocker, restoring iPhone via iTunes, and restoring iPhone via iCloud.
Method 1. How to Turn Passcode Off on iPhone via Settings
This is the most basic way to turn off the passcode in your iPhone and is a simple firster. To turn it off, proceed as follows:
Step 1: Press the Home key and open your Settings app.
Step 2: Once the app is open, Scroll down until you see the passcode menu item. This will be branded Touch ID & Passcode on iPhones with a physical home button. The recently released iPhones are labeled as Face ID & Passcode. Tap this choice, regardless of how it's labeled.
Step 3: To gain access to the main menu, key in your current passcode.
Step 4: Once the code is confirmed and collected, and you have your main menu displayed, scroll down to find the turn passcode off, which you must tap on.
Step 5: A notification box will display. If you want to disable your passcode security, press Turn Off to confirm your decision.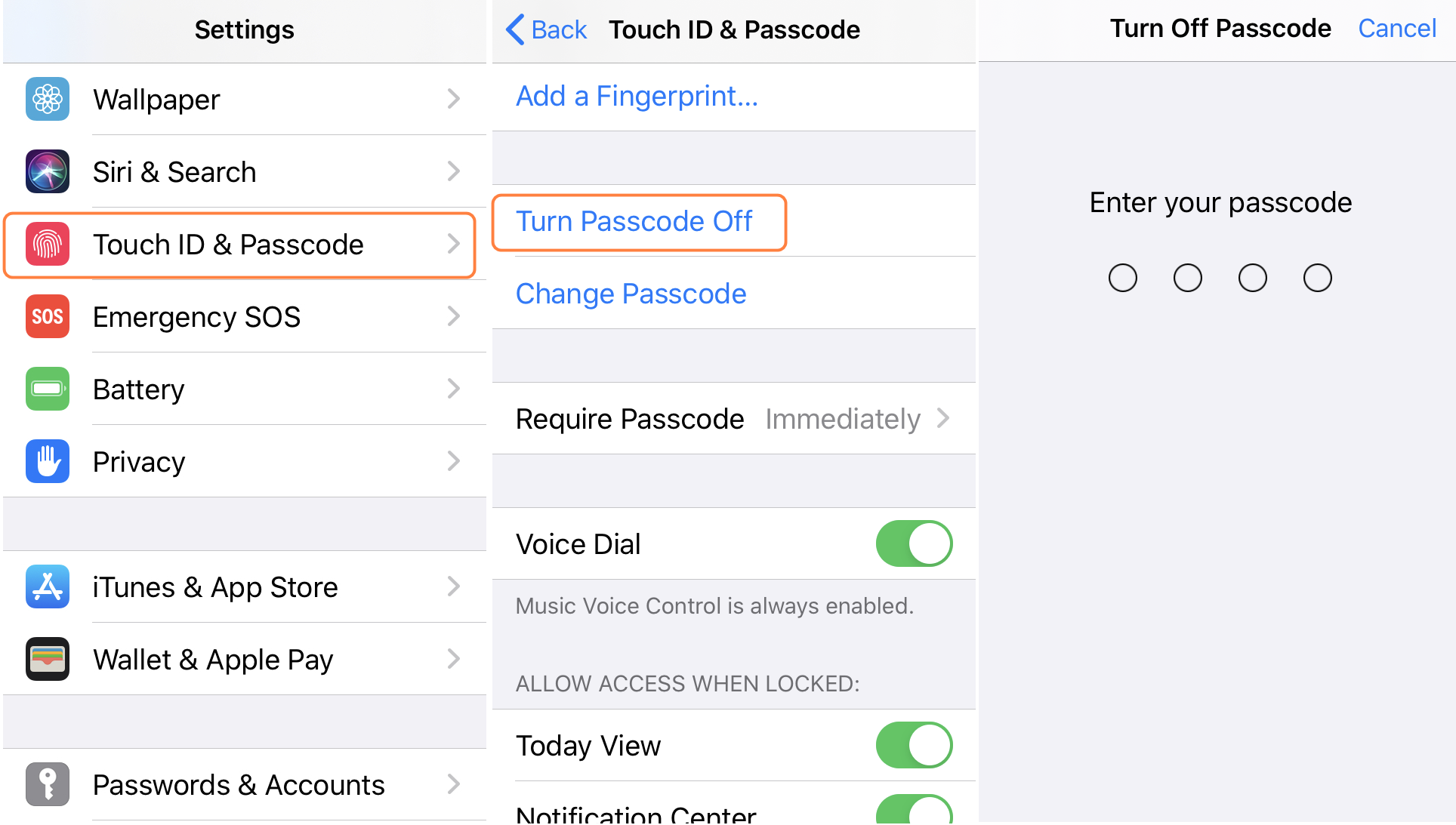 Method 2. How to Turn Off Touch ID and Passcode on iPhone via TunesKit iPhone Unlocker
TunesKit iPhone Unlocker is a professional unlocking tool that allows users to unlock their iPhones without entering a password. TunesKit, for example, might be useful if you frequently input incorrect passwords. It can unambiguously serve you with just a few clicks. As a professional and remarkable iOS unlocking tool, TunesKit iPhone Unlocker allows users to remove the passcode from their iPhones within steps. What's more, if you need to factory reset your iPhone or unlock it with a broken home button, TunesKit iPhone Unlocker will also be the best choice for you.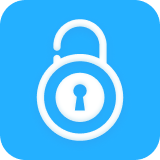 Why Choose TunesKit iPhone Unlocker?
Available on the most recent iOS version, which includes 15.
We can factory reset iPhones and iPads without a password.
Turning off passcodes on iPhone/iPod/iPad touch is simple.
It makes it simple to remove fingerprint recognition and face ID.
Without passwords, it can unlock iPhone devices in minutes.
Try It Free
600,000+ Downloads
Try It Free
600,000+ Downloads
To use the TunesKit iPhone Unlocker, proceed as follows:
Step 1

Plug the iPhone into your computer

To begin, make sure your iPhone is connected to your computer. TunesKit iPhone Unlocker will automatically detect your iPhone when the connection is complete.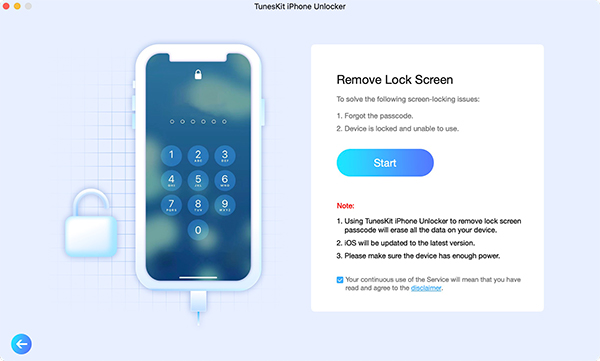 Step 2

Put your iPhone in Recovery mode

In this phase, you will need to put your iPhone into Recovery mode. You can follow the on-screen instruction to get it done. Then, in the bottom right corner, click the Next button.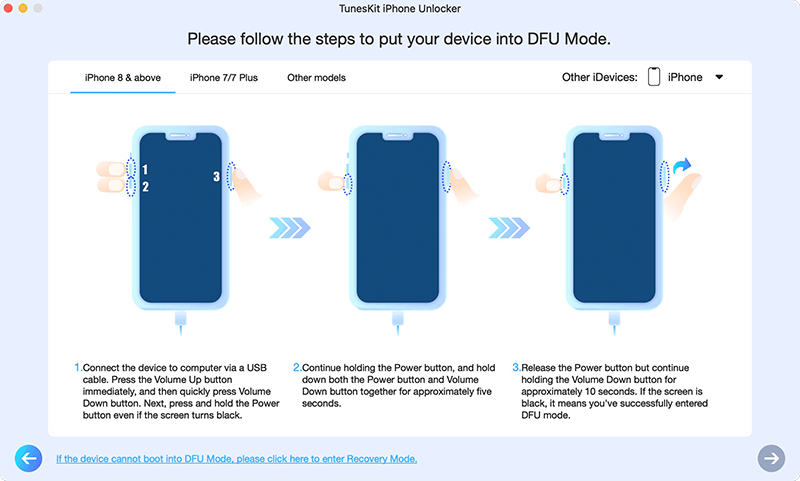 Step 3

Download firmware package and turn off passcode on iPhone

To download the latest software, you must verify the model number and the iOS version of your device. Once the firmware download is complete, TunesKit iPhone Unlocker will start to turn off the passcode on iPhone.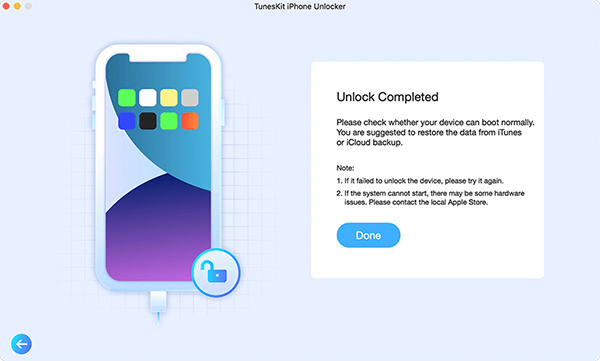 Method 3. How to Turn Off Passcode on iPhone via iTunes
Another way to turn off your passcode in case you can't remember the password is through iTunes. It is always recommendable that you sync the data on your device with an iTunes account if you have an iPhone, iPad, or iPod. If you utilize the service, you can sync your photo albums, videos, playlists, music, movies, podcasts, calendar data, contacts, and other private information that you may want to keep secure. You can restore the device whose passcode you have forgotten if your device is appropriately synchronized and you are able to connect using your iTunes password. Following that, you can restore information from an iTunes backup.
The following are the steps to using iTunes:
Step 1. Plug your iPhone into your PC. After that, open iTunes, recognize your iPhone and display a small symbol alongside the toolbar.
Step 2. Select the iPhone symbol, then select the Summary option.
Step 3. Finally, select Restore iPhone. The iPhone will be restored with the lock removed by iTunes.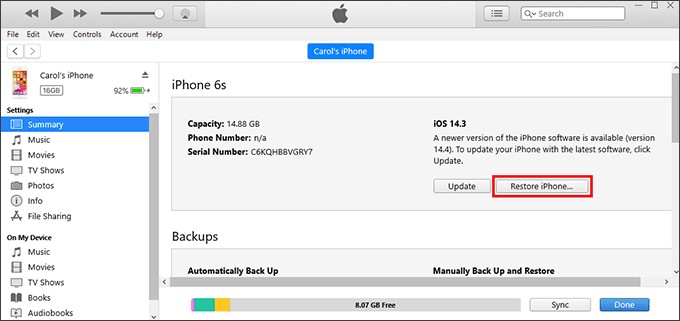 Method 4. How to Turn Off Passcode on iPhone via iCloud
Another excellent way to get rid of your iPhone passcode in case you cannot remember it is the use of iCloud. The use of iCloud is an excellent way to solve the passcode problem, and if you make sure that the Find My iPhone option is turned on and you recall the Apple ID associated with your iPhone, then it will be even more exciting. To do it, follow the instructions below.
Step 1: Go to the iCloud official website and sign in with your Apple ID using a computer or other compatible iOS device.
Step 2: Next, look for Find My iPhone and select All Devices;
Step 3: You can see all of the devices associated with this Apple ID on the screen. You must tap the iPhone that has been locked or disabled.
Step 4: When a popup appears, select Erase iPhone from the menu. Your iPhone passcode will be removed at the same time.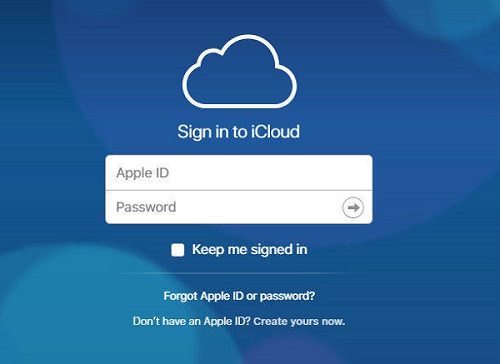 Conclusion
That's all for how to turn off passcode on iPhone. Removing passcodes to your phone has never been easier, and through iPhone settings, use of iTunes, iCloud, and use the TunesKit iPhone Unlocker, it can be done with just a few steps at the comfort of your bed.