How to Unlock iPhone With Voice
Posted by Brian Davis on Jun 29, 2023 9:00 AM • Category:
Unlock iOS
4 mins read
Have you ever become weary of frequently entering your iPhone's passcode? It wouldn't be just you. Even though Face ID and Touch ID have made iPhones more accessible and safe, there are still certain circumstances when you need to input your password to unlock your smartphone, including while wearing gloves or sunglasses. Although this might be annoying, there is a workaround.
How to unlock iPhone with Voice? You may unlock your phone with a secret phrase utilizing the Voice Operate feature on your iPhone, which enables you to operate your device using voice commands. This is a useful hack for when you know you won't be able to use Face ID or Touch ID since it only operates when those features are deactivated.
Apple adds an accessibility feature that enables voice-only iPhone unlocking with iOS 14.6 and later. Keep reading to find out how it works and how to set it up on your iPhone.
Voice control has been a feature of Apple's iOS mobile operating system for several years, allowing users to operate several system settings on their iPhone using their Voice as the trigger.
Until recently, Voice Control had the drawback of not functioning if your iPhone was locked. However, Apple has improved the capability in iOS 14.6 and later such that you may now use your Voice to input the passcode and unlock iPhone even if it is on the lock screen.
How to Unlock iPhone With Voice
Voice control was introduced to the iPhone in 2019 with the introduction of iOS 13, enabling users to communicate with their phones using their Voice instead of their hands. You may unlock your iPhone without Face ID or typing in your password with voice commands. This is useful when you're playing a game and can't focus on the phone or don't want to key in your passcode because your hands are filthy. Here's how to unlock iPhone with Voice. It's important to remember that using voice commands constantly may cause your device's battery to deplete faster than usual, albeit the difference isn't very big. You must set up Voice Control before you can set it up to unlock your iPhone. After that, you may provide a voice command to simulate tapping the screen. Here is how to unlock iPhone with your Voice.
Step 1: Accessibility may be found under Settings.
Step 2: Tap Voice Control to continue. To activate it if you have never used it before, tap Setup Voice Control. If so, check sure the voice control toggle is turned on.
Step 3: Next, choose Create New Command > Customize Commands.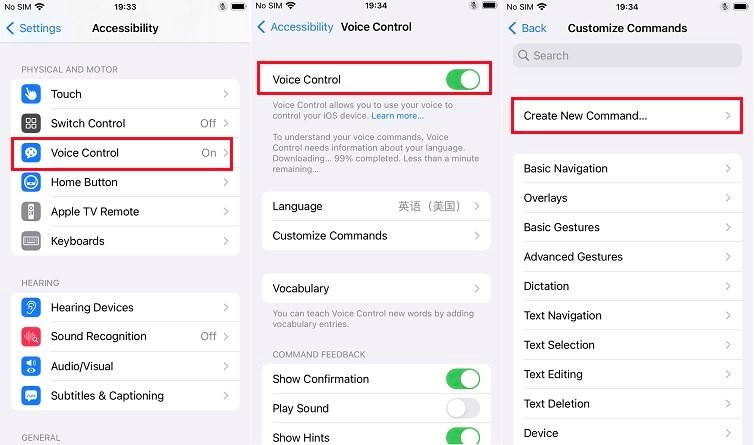 Step 4: Enter the phrase you'll recite afterward to unlock your iPhone. Click Action > Run Custom Gesture after that.
Step 5: The critical Action. You must imitate how you input the screen passcode to develop a new function. When finished, choose Save.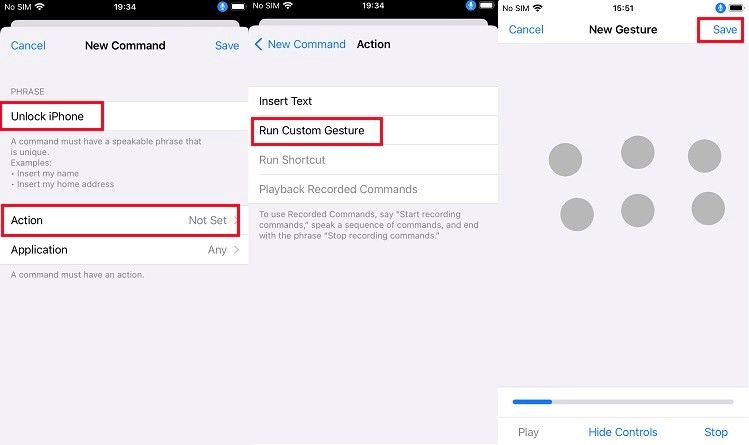 Step 6: Return to the New Command page and touch Save again. Done. You have now set up a voice command that will unlock your iPhone.
Step 7: Lock your iPhone, then turn on the display. Say the voice control phrase after entering the screen passcode page on an iPhone with a home button by tapping on it. Simply activate the screen on an iPhone without a home button by saying the word.
Step 8: As you input your password and unlock your iPhone, you will observe that the instruction resembles an automatic motion.
How to Unlock iPhone Without Voice or Passcode
Your best option for assistance would be to use an iPhone unlocking service. You may quickly access your iPhone with the use of iPhone unlocking tools. I'd like to suggest TunesKit iPhone Unlocker to you right now.
The expert unlocking tool TunesKit iPhone Unlocker enables customers to unlock their iPhones without a password. TunesKit iPhone Unlocker will always assist you in a matter of clicks when you run into situations like typing incorrect passwords too often, Face ID malfunctioning, being unable to enter a password due to a damaged screen, etc. Most iPhone, iPad, and iPod touch devices are now completely interoperable.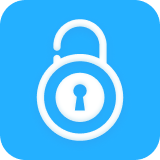 Main Features of TunesKit iPhone Unlocker
Factory reset iPhone 11 without password
It is work on both Windows and macOS system
Allows users to unlock iPhone, iPad, and iPod touch
Work efficiently with almost all iOS versions
Helps remove screen lock including fingerprint and Face ID
Try It Free
600,000+ Downloads
Try It Free
600,000+ Downloads
Let's now examine how to use TunesKit iPhone Unlocker to unlock an iPhone without a password.
Step 1

Connect iPhone to Computer

Please first connect your iPhone to a computer. When the connection is complete, TunesKit iPhone Unlocker will identify your iPhone.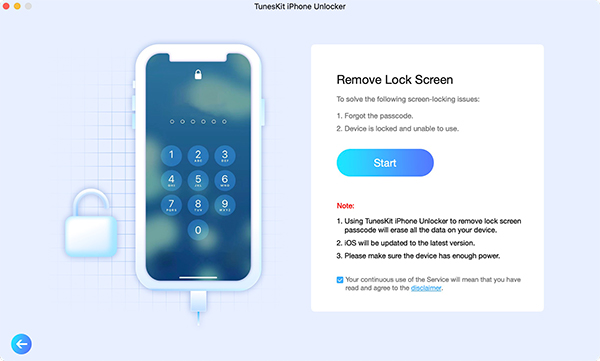 Step 2

Put iPhone into Recovery Mode

In this stage, please follow the instructions to put your iPhone into DFU mode or Recovery mode. Whenever you succeed, press the Next button.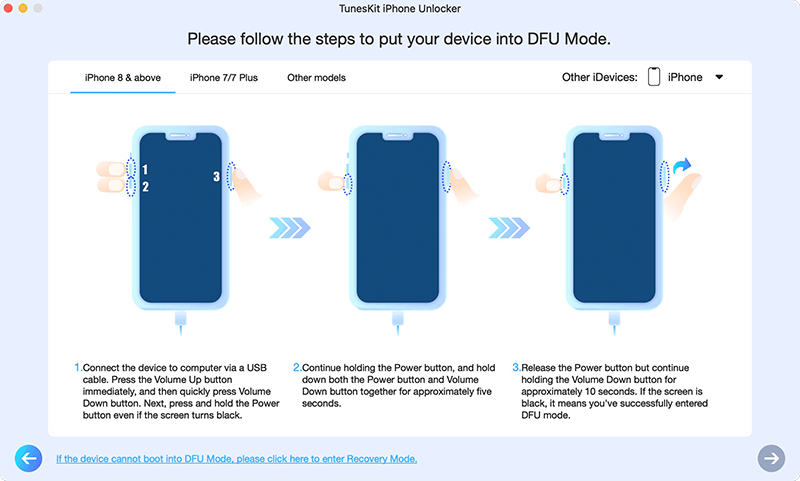 Step 3

Download Firmware Package

You will notice several device details in this stage. Make sure that your iPhone matches every piece of information provided. When anything is off, fix it manually. If all the information is accurate, click the Download button to download the firmware file.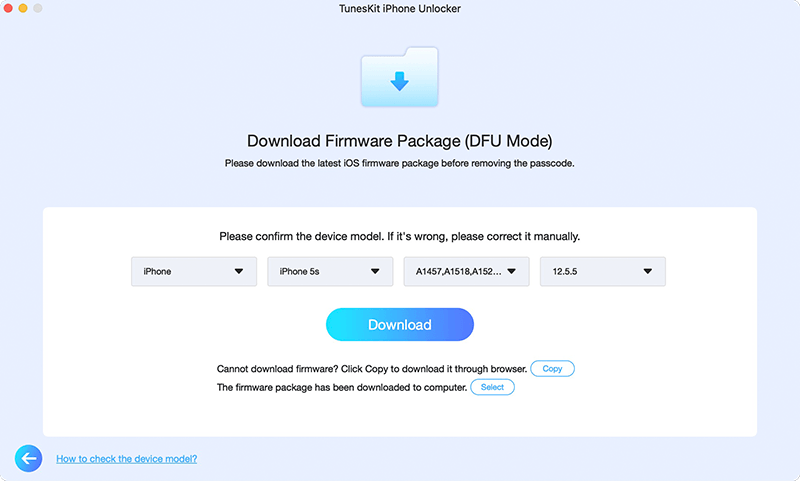 Step 4

Unlock iPhone Without Voice and Passcode

When the TunesKit iPhone Unlocker has completed downloading, click the Unlock button. Once the unlocking procedure is complete, you may access your iPhone.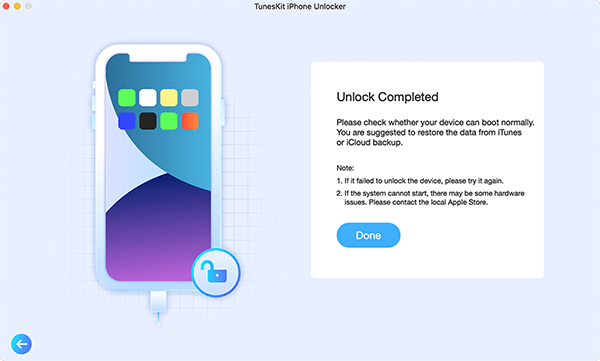 Conclusion
When you lock an iPhone when the Voice Control is enabled in some specific versions of iOS, you may get a notification displaying Voice Control is not listening now. That's not the case, but as you can see from the images above, the voice instructions function perfectly.
Voice control may also be utilized on your iPhone for various fun tasks. As some other services provide speech as a kind of biometric identification, maybe one day you can use a spoken phrase to authenticate and unlock your iPhone or iPad. Still, for now, this is what iOS and iPadOS are capable of.