Foneazy Unlockit Review 2023: Is It Worth?
Posted by Brian Davis on May 30, 2023 10:00 AM • Category:
Unlock iOS
5 mins read
Do you frequently forget your passwords? If so, do you desire an unlocker that can solve the problem with only one click? You don't need to search the web because we have the best answer. Bringing you a well-known application that Android users may utilize without any technological expertise. When you have read the Foneazy Unlockit review, you will not worry.
A good iPhone screen unlocking tool that aids in removing different kinds of device screen passwords and locks is called Foneazy Unlockit. You are reading the right page if you have already used the tool and are looking for a better substitute. In this article, we'll tell you all there is to know about Foneazy Unlockit and the finest Foneazy Unlockit alternative.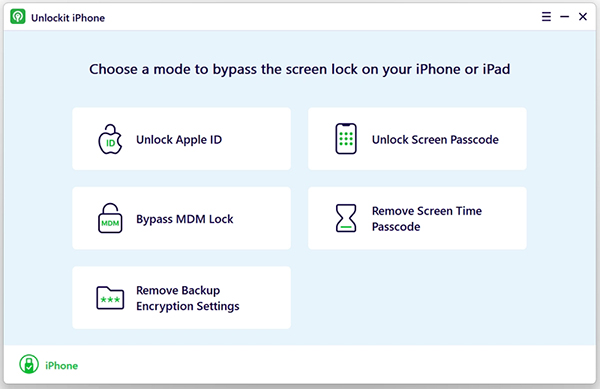 Foneazy Unlockit Review
What Is Foneazy Unlockit?
A desktop program called Foneazy Unlockit aids in removing and getting around various passcodes and locks on your iPhone and other iOS devices. You may deactivate MDM, screen time passcode screen lock, and other security locks with the software. This software is compatible with Windows 7/8/10/11 and offers monthly, annual, and lifetime subscriptions. The software is easy to download, and it runs quickly and smoothly.
Foneazy protects your privacy while making sure that your device and data are secure. You don't need to be concerned about data leakage or improper use of your personal information because the downloading and installation are quite straightforward and entirely safe.
1. Bypass MDM Lock without Losing Data
If you're looking for a hassle-free way to remove Mobile Device Management (MDM) from your iPhone or iPad without compromising your data, Unlockit is the answer. Our software provides a simple three-click process, ensuring a smooth MDM lock bypass. Rest assured that your valuable data will remain intact throughout the unlocking process.
2. Compatible with All iOS and iPad OS Versions
No matter which iOS or iPadOS version you're using, including the latest iOS 16 and iPadOS 16, Unlockit supports them all. You can rely on Unlockit to effectively remove MDM from your device, regardless of your software version.
3. Remove Screen Time Passcode Effortlessly
If you've set a Screen Time passcode on your iPhone or iPad and have forgotten it, don't panic! Unlockit can assist you in removing the Screen Time passcode without any data loss. The user-friendly interface guides you through easy steps to unlock your device swiftly. Additionally, Unlockit is compatible with all iOS and iPadOS versions, so you can trust it even if you've updated to the latest software.
4. Disable Backup Encryption Settings with Ease
If you've forgotten your backup encryption settings password, Unlockit comes to the rescue. With just a few clicks, you can remove the encryption settings using our user-friendly program. Once the encryption settings are removed, you can confidently back up your data without fearing losing any of it. Unlockit provides the essential functionality you need to maintain the safety and security of your data.
How to Use Foneazy Unlockit
Below are the steps for removing the iPhone screen time passcode using Foneazy Unlockit.
Step 1. First, you need to download the Foneazy Unlockit software and install it. After downloading and installing the software, launch the software on your system.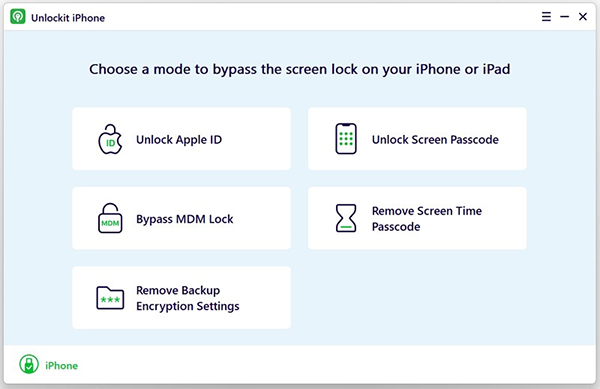 Step 2. Next, select the Remove Screen Time Passcode option from the main interface. Connect your phone to your computer using a USB cord next, and check that the software can recognize the device.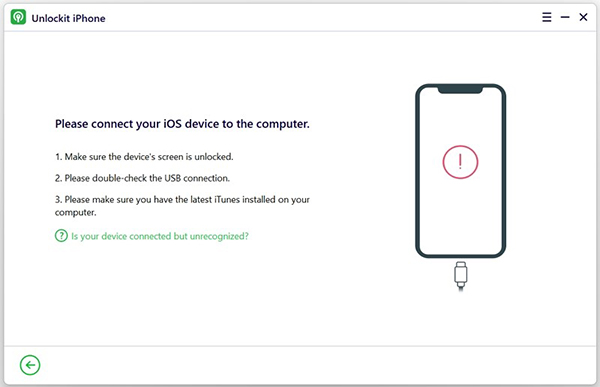 Step 3. If you have enabled the Find My iPhone function, you will need to disable it. To do this, follow the on-screen guide or instructions provided.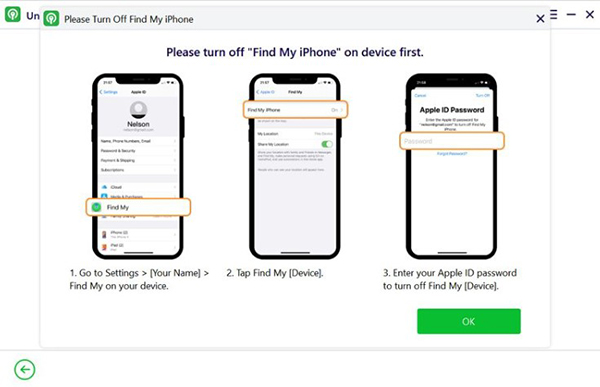 Step 4. Tap the Start button once Find My iPhone has been turned off, and the program will begin erasing the passcode. The smartphone will restart after the passcode is removed.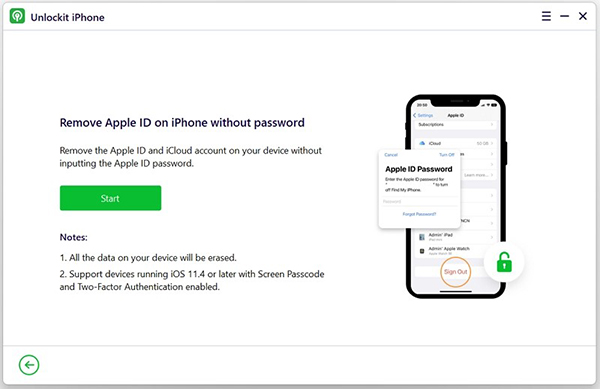 Step 5. It will take some time to remove the lock, so sit tight.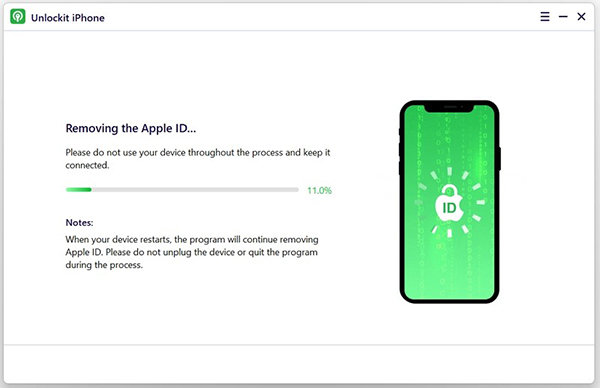 Pros and Cons of Foneazy Unlockit
Pros:
Compatible with all iOS devices, including iOS 16.
Simple and user-friendly interface.
Available in multiple plan options.
30-Days money-back guarantee.
Cons:
Windows only support.
It does not support removing face ID and screen passcode.
No support for bypassing Apple ID.
Customer support is not very efficient.
Best Alternative to Foneazy Unlockit
Despite being a good tool, Foneazy Unlockit only enables screen unlocking in a few situations. Furthermore, it cannot unlock Apple ID. So, TunesKit Unlocker is the ideal choice for a Foneazy Unlockit substitute.
This flexible software handles practically all scenarios and conditions, including forgetting the passcode, the device is disabled, a second-hand device with a shattered screen, and more. It is accessible for download on Windows and Mac computers. The software's user-friendly interface enables you to complete tasks fast and without difficulty.
What Is TunesKit iPhone Unlocker
The best iPhone unlocking program, TunesKit iPhone Unlocker, enables users to unlock their devices without entering a passcode, including the screen passcode and Apple ID passcode, on their iPhone, iPad, or iPod touch. With this program, you can unlock the iOS screen lock, remove the Screen Time restriction, unlock your Apple ID, and get around the MDM restriction.
Users may easily unlock 4-digit passcodes, 6-digit passcodes, Face ID, and Touch ID with the help of TunesKit iPhone Unlocker's powerful unlocking tools. TunesKit iPhone Unlocker will always be the finest helper to aid you whenever you forget or misplace your iPhone/iPad/iPod passcode.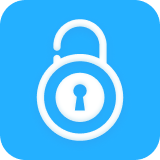 TunesKit iPhone Unlocker
Fully compatible with most iOS device models
Open iPod/iPhone/iPad without passwords
Allow users to factory reset iDevices without Apple ID
Easy-to-use feature and user-friendly interface
Supports the latest iOS version including iOS 16
Try It Free
600,000+ Downloads
Try It Free
600,000+ Downloads
How to Use TunesKit iPhone Unlocker
Let's look at how to use TunesKit iPhone Unlocker to unlock your iPhone, iPad, or iPod touch.
Step 1

Install and Start TunesKit iPhone Unlocker

First, let's get the TunesKit iPhone Unlocker program on your PC. Once it's installed, connect your iPhone to the computer using a USB cable. You're almost there!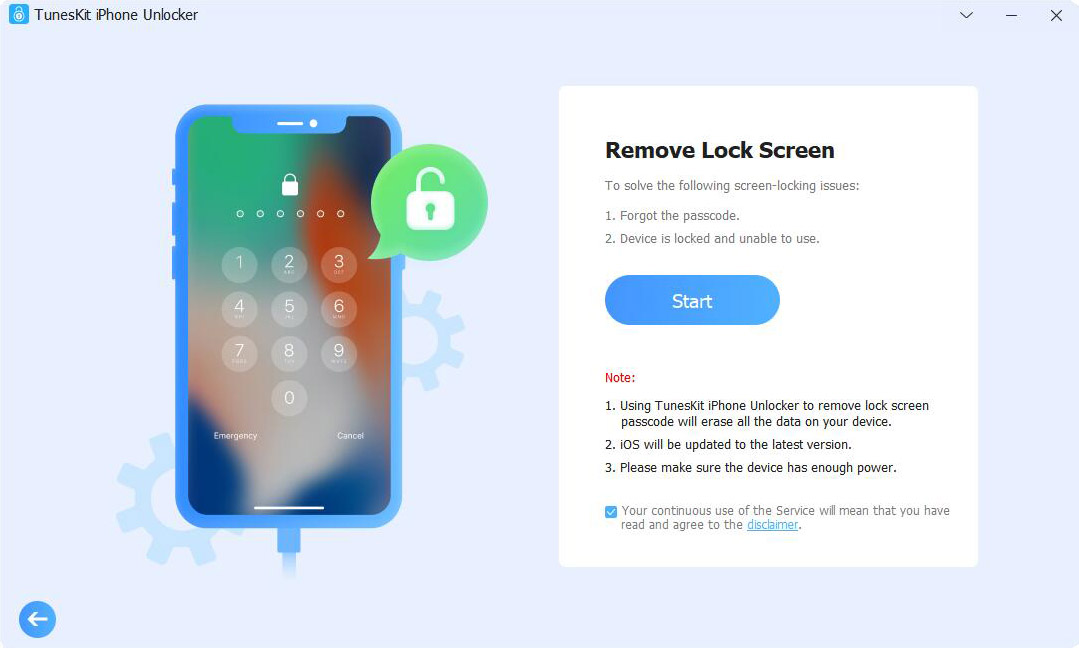 Step 2

Prepare Your iPhone

With TunesKit open and your iPhone connected, you're ready to proceed. If your device isn't detected, don't worry. You may need to enter either DFU mode or Recovery mode manually. TunesKit will guide you through the process with clear instructions on the interface. Just follow along, and you'll get it right!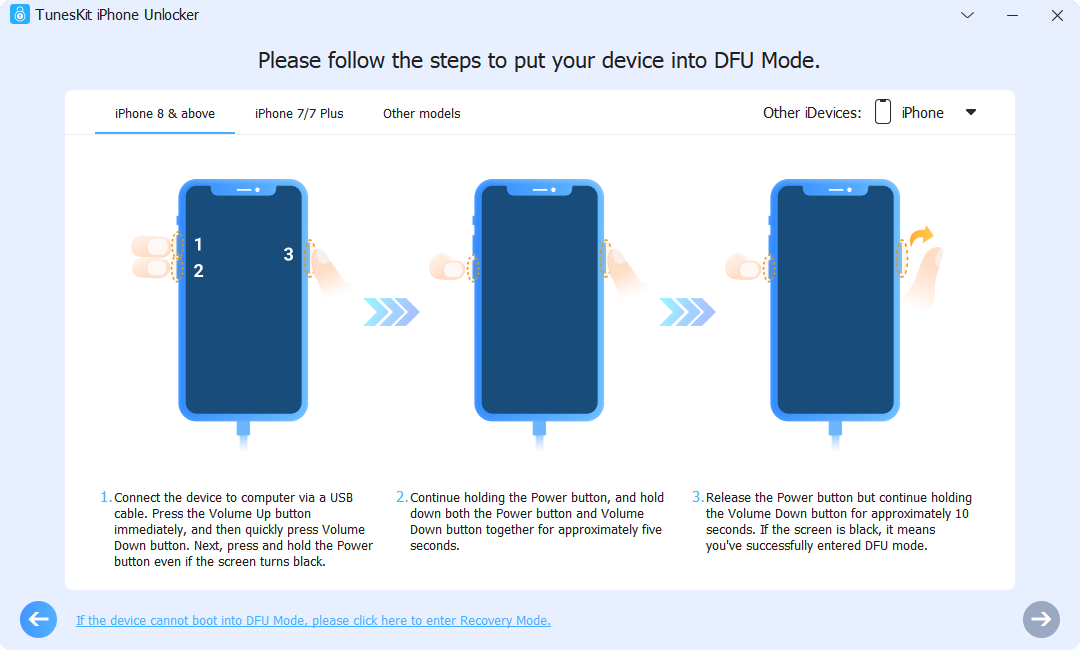 Step 3

Download and Install Firmware

Now, the next step is to download and install the firmware package if needed. Depending on your internet connection, this might take a little while. Stay patient, and let TunesKit work its magic.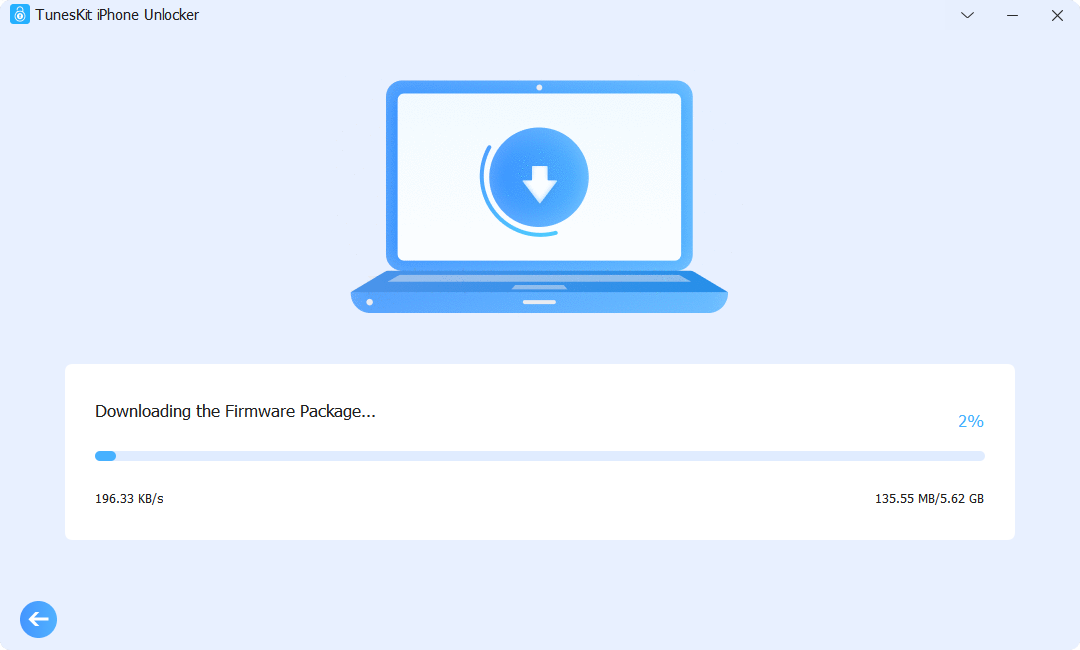 Step 4

Unlock Your iPhone

Finally, the moment you've been waiting for! Click the "Unlock" button, and TunesKit will begin unlocking your smartphone. Your iOS device will be free from screen locks in just a few minutes. It's that simple and secure!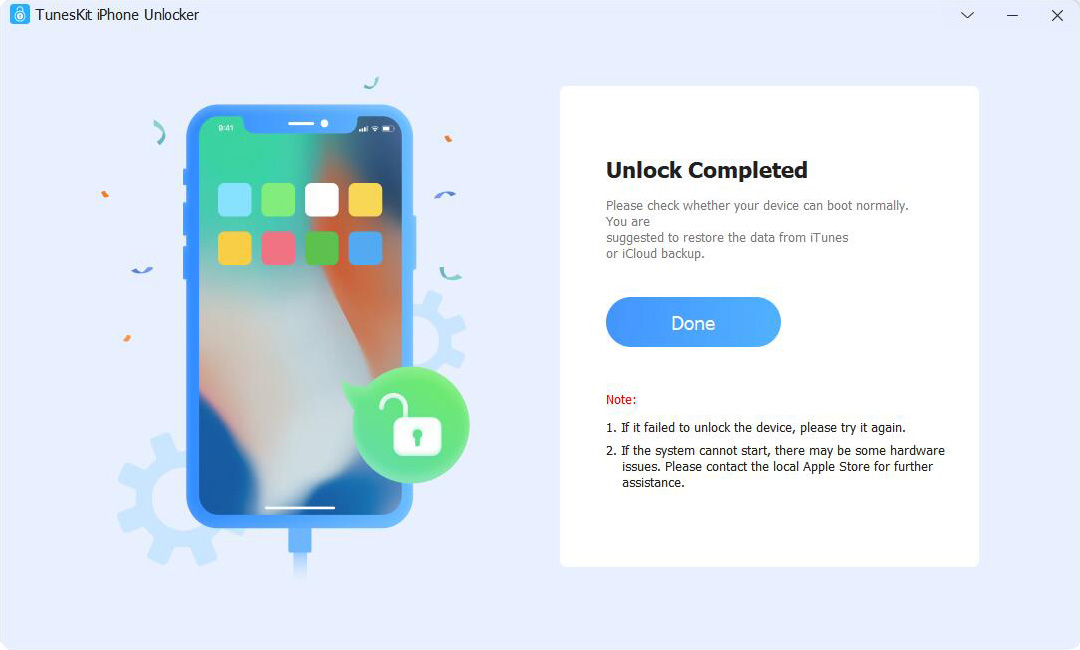 Now you're all set to unlock your iPhone using TunesKit. Follow these steps, and you'll enjoy a hassle-free experience in no time!
Advantages of TunesKit iPhone Unlocker
✔ TunesKit iPhone Unlocker includes strong unlocking functions that assist in unlocking Apple ID, removing MDM restrictions, and bypassing screen time limitations.
✔ Disable the screen lock on your iOS device without the need for technical expertise.
✔ Supports the most recent iPhone 14 series and iOS 16.
✔ Has the ability to quickly and easily remove Face ID, Touch ID, 4-digit, 6-digit, numeric, and alphanumeric passcodes.
✔ It supports unlocking iPod touches, iPhones, and iPads.
Comparison between Foneazy Unlockit and TunesKit iPhone Unlocker
| | | |
| --- | --- | --- |
| | Foneazy Unlockit | TunesKit iPhone Unlocker |
| Supported OS | Only Windows supported | Works on every format |
| Face ID Support | No support for deleting Face ID | Supports deleting Face ID |
| Customer Support | Average customer service | Excellent customer service |
Conclusion
Anyone who needs to unlock their iPhone or iPad should use the Foneazy Unlockit iPhone Screen Unlocker. You can remove the lock with just three clicks and no risk to your data. Additionally, you can utilize the service even if you're running the latest software update because it supports all iOS and iPadOS versions (from 10 to 16). Foneazy Unlockit can let you get rid of a Screen Time passcode, whether it's for you or someone else.