"Hello! I am here to ask about factory resetting the iPhone 12. I have bought iPhone 12 from someone, but their data is still present in the phone. I have deleted many things, but the issue of how to factory reset the iPhone 12 is still a massive thing for me. I used it to do many tasks, but the data previously presented disturbed and irritated me a lot. Please suggest to me some ways to reset my iPhone to factory settings. All suggestions will be appreciated."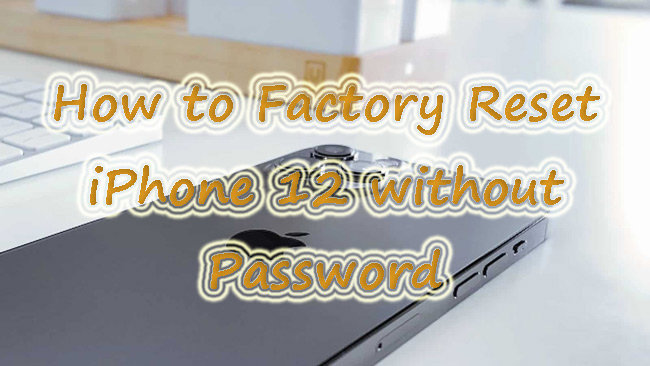 Are you having issues regarding your iPhone settings or resetting? If yes, we are here to answer your queries and provide you with solutions for factory resetting your iPhone. We'll bring you the best four resolutions, including factory reset with TunesKit iPhone Unlocker and iTunes. Go through the article, try all available solutions and solve your iPhone issues.
Part 1: 4 Methods to Factory Reset iPhone 12 without Password
Factory reset of any device enables it to work brighter and smoother. iPhone factory reset will help your phone reboot; its software look will enhance. The looks matter a lot if you want to sell your iPhone. Besides, in selling, you have to ensure that all your data is erased so that no one can access your personal information, including your social media profiles, private photos, or financial information.
Remember: Do a backup of your data before selling your iPhone.
Factory resetting your iPhone 12 will erase all the data present in your device storage, and your device will turn to its original settings. For factory resetting the iPhone 12, we are here with the four best methods. You can quickly try all solutions for factory resetting your iPhone 12. Follow these solutions for a successful factory reset.
Solution 1: How to factory reset iPhone 12 without password via TunesKit iPhone Unlocker
There is much software you can use to reset iPhone 12 to factory settings. This software helps you solve problems quickly, efficiently, and on time. Among many software, TunesKit iPhone Unlocker is distinguished from others because of its easy-to-use interface, safe use, a fantastic capability to factory reset an iPhone, iPad, or iPod touch.
TunesKit iPhone Unlocker not only resets your iPhone but is a professional iOS repair tool that helps fix more than 30 iOS system problems. The problems include stocking iPhone in recovery mode, iPhone black screen, greenline on iPhone, etc.

Main Features of TunesKit iPhone Unlocker
Factory reset iPhone 12 without password
It is work on both Windows and macOS system
Allows users to unlock iPhone, iPad, and iPod touch
Work efficiently with almost all iOS versions
Helps remove screen lock including fingerprint and Face ID
The quick steps for resetting iPhone to factory settings without a password are as follows. Before starting the process, please ensure that you have installed the TunesKit program on your PC or Mac.
Step 1

Connect your iPhone to the computer

Open TunesKit iPhone Unlocker and connect your iPhone to the computer. Click on the Start button on the main interface. Then choose Advanced Mode and run your device into the DFU mode or put it in recovery mode.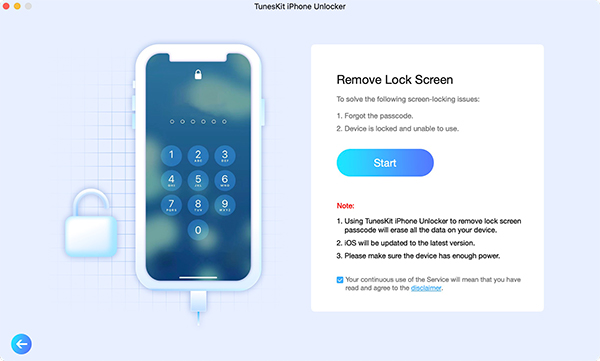 Step 2

Download the iOS firmware package

A window with all your device information will appear. Confirm your model information and correct it if some information is wrong. Then click the Download button to start the download process. Wait patiently for the process to complete.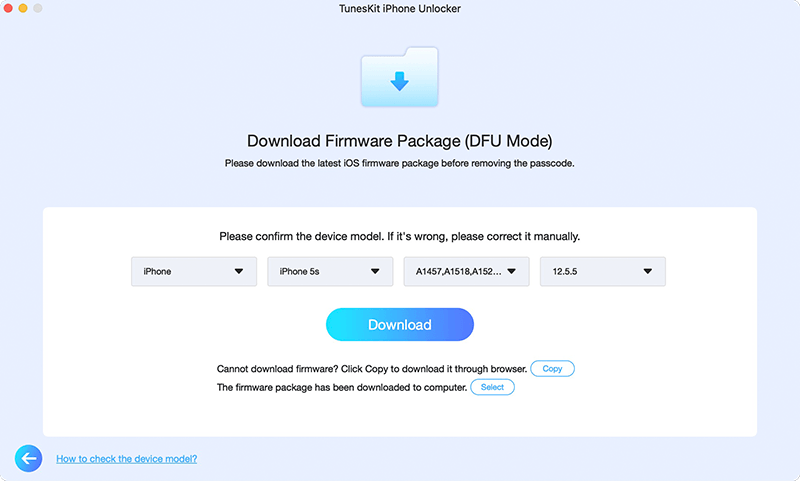 Step 3

Factory reset iPhone 12

Once the downloading process is complete, click on the Repair button to start the resetting process.

Remember: Do not unplug your device during the process.

When the process completes, your iPhone will be under factory settings. You can now set it and use it as a new iPhone.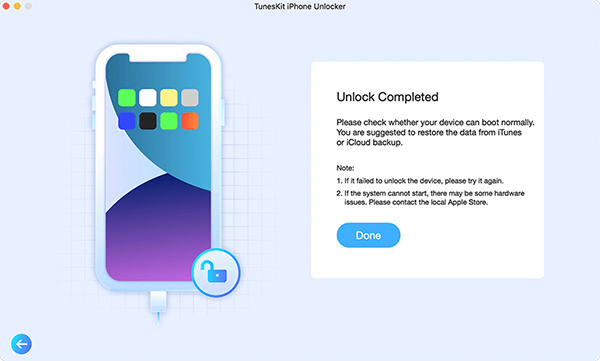 Solution 2: How to reset iPhone 12 without password via iTunes
Restoring via iTunes is another method for resetting your iPhone to factory settings. It would help if you had a computer to use this method to factory reset your iPhone 12. Before starting the process, ensure that you have synced your device with iTunes.
Remember: Resetting via iTunes will erase all your data & other profiles.
The process for factory resetting the iPhone 12 is as follows:
Step 1: Start the process by connecting your iPhone 12 to your computer using a USB cable or with a Wi-Fi connection.
Step 2: Launch iTunes and click on the iPhone button.
Step 3: Go to the Summary tab and click on the Restore iPhone button.
Step 4: Here, you can back up your data to recover it afterwards.
Step 5: Click on Restore to restore your phone to its original setup.
Step 6: The process will complete in a short time. Once the process is complete, your iPhone will restart automatically. Set up and enjoy your new iPhone 12.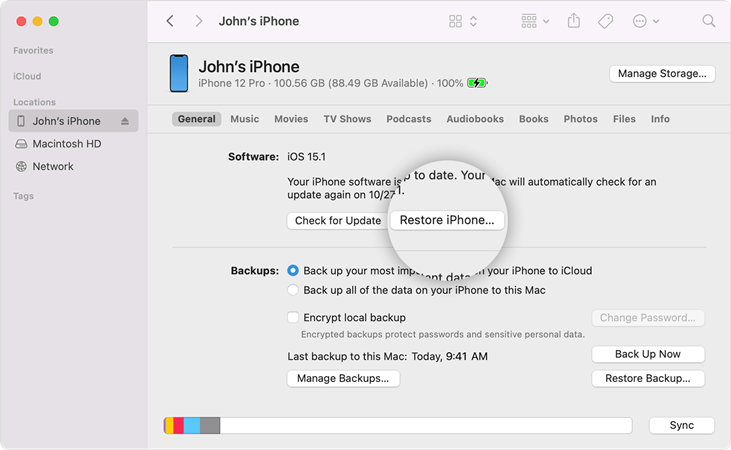 Solution 3: Factory reset iPhone 12 without passcode or iTunes via iCloud
The latest iPhone versions automatically run iCloud backups. But there are some iPhone versions, including iPhone 12, that needs you to run the available updates. For a better experience of resetting your iPhone 12 via iCloud, you should install the Find my iPhone app on your iPhone so that Apple will identify you as an ideal user.
But before starting the process, you have to disable the Find My iPhone. You can disable this by signing out from your Apple ID Account.
The process for factory resetting your iPhone is as follows:
Step 1: Start the process by clicking on Settings on your phone's screen.
Step 2: Click on General and then go to Reset from the list of options.
Step 3: After that, tap on "Erase All Content and Settings". The new Hello screen will appear on your iPhone once the factory reset process is complete.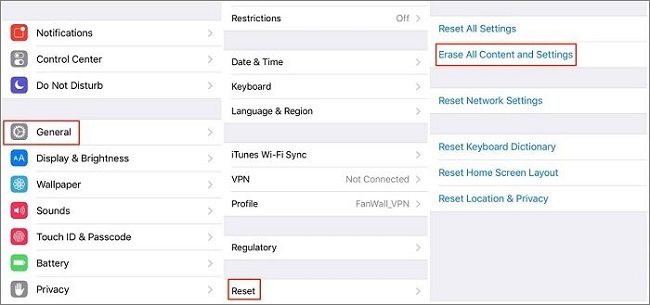 Solution 4: How to factory reset iPhone 12 without password via iOS 15.2 Feature
A new security feature of iOS 15.2 enables users to reset a locked iPhone, iPod, or iPad without connecting it to a computer. Previously, you could only erase a locked iPhone by clicking it on a computer. If you enter your iPhone passcode incorrectly many times, a new Erase option will appear in the bottom right-hand corner of the screen.
Opening this option will enable you to enter your device's Apple ID and Password. When you enter the details correctly, you'll be able to erase all the data and settings on the device and then restore it after a backup.
The process for resetting iPhone 12 with iOS 15.2 feature is as follows:
Step 1: Enter your iPhone passcode repeatedly until your device asks you to try again later. Repeat the process until you see the Erase option in the bottom corner of the screen.
Step 2: Tap on Erase, then tap on Erase again for confirmation.
Step 3: Enter your Apple ID password to sign out of your Apple ID on your device.
Step 4: Tap on Erase to permanently delete your data and settings.
After this, your device will restart. Follow all the instructions on the screen to set up your device again. Restore your data and settings from a backup, and set a new passcode.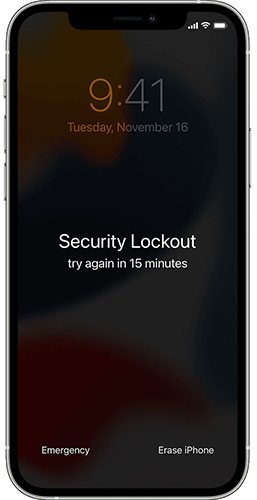 Conclusion
Various times force you to factory reset your iPhone. You can have software issues: forgetting password, or you might need to sell your iPhone. So for all these reasons and many more, you have to put your device into factory reset mode. To provide you ease, we have provided you best solutions for erasing all your iPhone data by factory reset.
The above methods will ease and comfort you because we have provided easy and helpful fixes for you to solve your problems. Remember to backup your device before applying any resetting process. Moreover, all the given processes are for resetting the device when you don't have a passcode. Try all fixes according to your need and choice, and enjoy your new iPhone after resetting.

Brian Davis has covered tech and entertainment for over 10 years. He loves technology in all its forms.