The process of unlocking the iPhone or iPad is familiar to iPhone and iPad users. Touch ID and Face ID are most commonly used, or if these fail, you must enter a passcode. The security system of the iPhone is quite thorough, but there are times you simply cannot access it.
If you recently changed your code and forgot the code, you can probably unlock it and set up a new one by using Touch ID or Face ID. It could be a problem if you forget the password because iOS needs it to be entered after booting or if it hasn't been entered for a long time. Doubly so if you have disabled Touch ID and Face ID to rely exclusively on the passcode. More often than not, you'll encounter a family member who has forgotten their password or entered it wrong too many times. Plus, your passcode could also not be entered if the screen has broken.
But there's no need to worry. In this post, you'll read about how to bypass iPhone lock screen easily.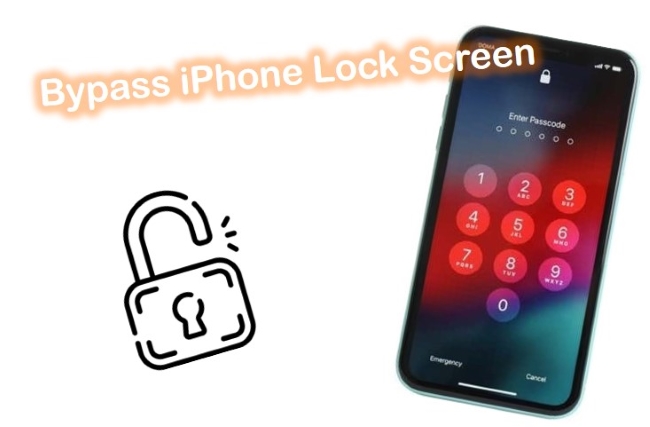 Method 1. Bypass Screen Lock on iPhone with TunesKit iPhone Unlocker
With TunesKit iPhone Unlocker, you will be able to bypass the passcode on your iPhone fairly easily and effectively. This program uses an easy-to-follow on-screen interface, which doesn't require any complicated instructions. Aside from that, the unlocking process itself is a fairly quick process, with the longest part being the waiting for the downloads to finish and the unlocking process itself to complete. It is compatible with both Macs and Windows PCs doesn't require iTunes and works without an Apple ID. In short, the program is user-friendly and reliable, allowing you to remove your iPhone's password completely without using any password at all.

Key Features of TunesKit iPhone Unlocker
Bypass iPhone or iPad lock screen within several minutes
Available on the latest iOS version including 15
Enable to factory reset iDevices without passwords
Unlock iPhone/iPad/iPod touch with ease
Help to remove Face ID and fingerprint recognition at ease
Let's see how to bypass iPhone lock screen via TunesKit iPhone Unlocker.
Step 1

Download, and Install the Program on a Computer

The initial step is to download it on an accessible PC, not the locked one. You do not need much of a computer skills to use this program. Now, open the tool on your computer and connect the locked iPhone to the computer using a USB cable.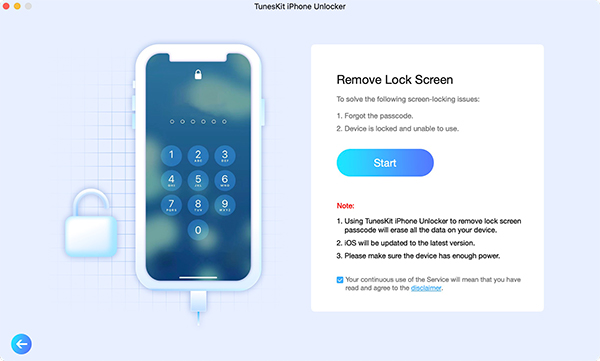 Step 2

Activate DFU Mode

After the program has detected the phone, you will be advised to activate the DFU mode by turning off the phone and connecting it to the computer.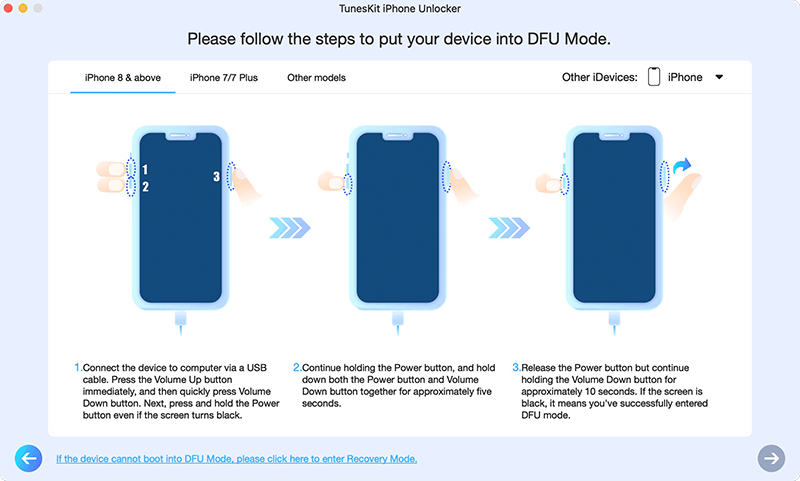 Step 3

Confirmation and Firmware Package Downloading

In this step, the program will ask for basic information regarding your device and version. Then "Download" the firmware update for your phone. It will take some time as the firmware update for your phone is being downloaded.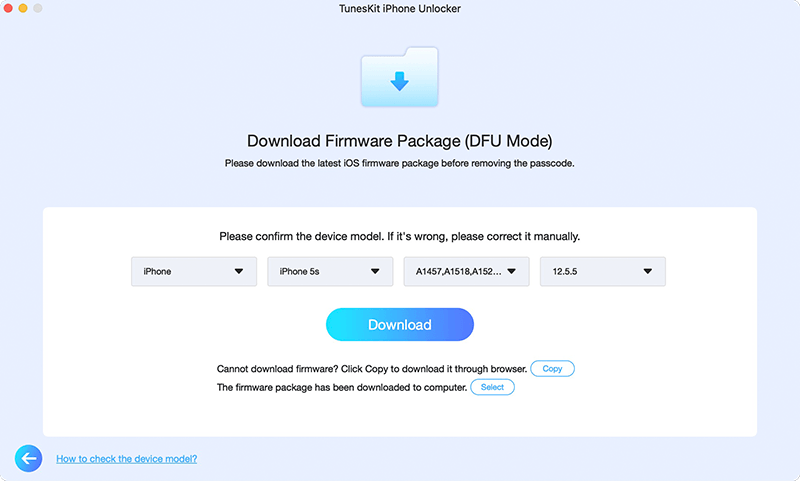 Step 4

Start to Bypass iPhone Lock Screen

After the firmware package is downloaded successfully, click on the "Unlock" button to unlock iPhone passcode. A few minutes later, your iPhone screen will be successfully unlocked.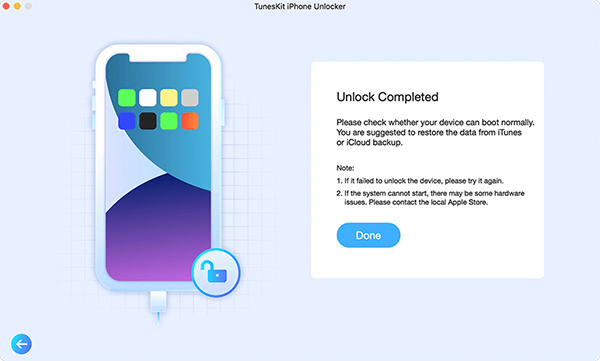 Method 2. Bypass iPhone Lock Screen Using iTunes or MacOS Finder
With the help of either iTunes in Windows or the macOS Finder can also bypass the iPhone passcode. Both allow iPhone management from a computer, as well as synchronizing files and back-ups of files. Using iTunes or Finder to do this is technically possible in a few subsections, depending on the device's current state.
It is technically possible to do this using iTunes or Finder, depending on the device in question. In both cases, your iPhone will be erased, and all the data on it will be lost, but you can always restore data from a backup later if there is one.
Step 1: Connect your iPhone with the computer, and open up iTunes or access the iPhone in the Finder. Click on "Restore iPhone", which is near the top right of the window after it has been detected.
Step 2: It may be necessary to go for a more extreme method (Recovery Mode) of bypassing iPhone passcode if you have never connected an iPhone to a computer before and have not allowed the devices to trust each other.
Step 3: The method of this step varies depending on the phone model you are using.
For iPhone X, iPhone 8, second-generation iPhone SE, or later, press and hold the Side button and a Volume button, then move the power slider to turn off your device. Connect the iPhone to your computer then press and hold the Side button until you are notified it is in Recovery mode.
For the iPhone 7 and iPhone 7 Plus, turn off the iPhone by keeping holding the Side button, followed by dragging the slider. Connect the iPhone to the computer, and holds the Volume Down button, until you are told it is in Recovery mode.
For the earlier models, hold the Side or Top button, then use the Power slider. Connect the iPhone and press and hold down the Home button until you are in Recovery mode.
When a notification advising "There is a problem with the iPhone that requires it to be updated or restored." shows on your iTunes or Finder. Select Restore.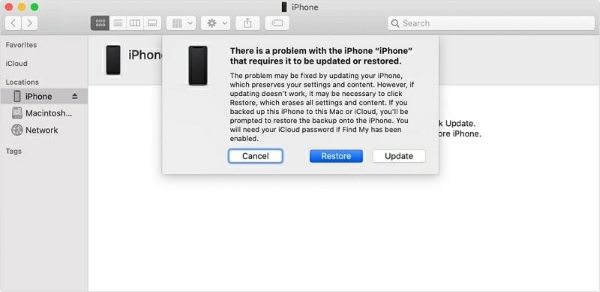 Method 3. Bypass iPhone Lock Screen via iCloud
Apple ID's account credentials are known when "Find My" was previously set up on the iPhone. Therefore, here's a third route, using the Find My service.
Step 1: Go to iCloud.com with a browser and sign in. In the bottom-right corner, click on Find iPhone.
Step 2: At the top, you should see Click All Devices, then select the iPhone.
Step 3: Choose Erase iPhone then click Erase in the pop-up warning. The account will then need to be re-authenticated before it can be wiped.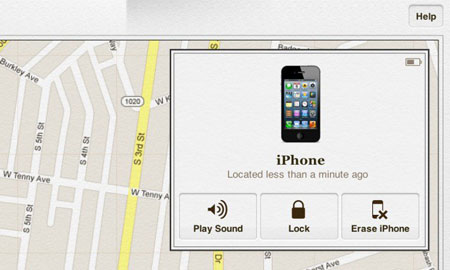 The Bottom Line
Read out this post, we believe bypass the iPhone lock screen problem will no longer bother you. There are several ways to bypass the passcode on iPhone, and you can help others gain access to their locked devices, and there are a few ways you can do it. It's probably best to use TunesKit iPhone Unlocker if your family members tend to forget their iPhone passcode frequently or if you need frequent iPhone passcode bypasses.
Hopefully, you will also get relief from this issue after implementing a few of the methods we listed above. However, there's no need to feel blue if you can't. Just connect with our expert email support services to get effective fixes and continue using your iPhone like before.

Brian Davis has covered tech and entertainment for over 10 years. He loves technology in all its forms.