[2023] Best 3 Solutions for iPod Touch 6 iCloud Bypass
Posted by Leonard White on Aug 29, 2023 11:35 AM • Category:
Unlock iCloud
6 mins read
Activation Lock has been released to prevent others accessing devices since the iOS 7 was published. An Apple ID and password is required to unlock the device once the Activation Lock page appears. Recently, many users have bought a used iPod Touch 6 with Activation Lock, or some just forget the Apple ID and password to bypass it.
Do you know how Activation Lock works? This post is gonna give you the answer and provide you with 3 solutions for iPod Touch 6 iCloud bypass.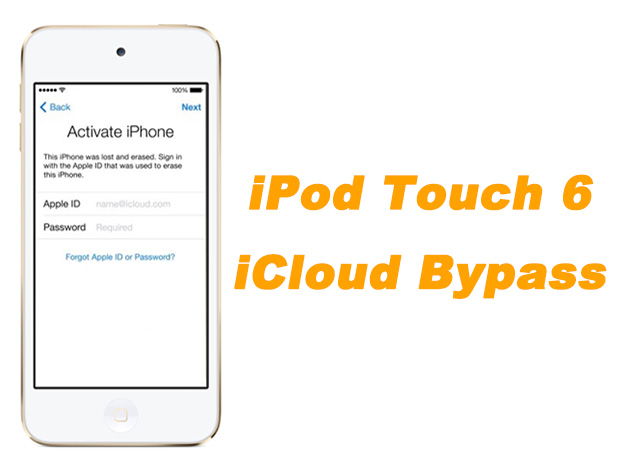 Part 1: How does Activation Lock work?
Activation Lock works based on the connection between the iOS system and Apple Server. The Apple ID and password set to unlock the Activation Lock which is set by the first owner, was stored on the Apple Server. When the system recognizes that the iPod Touch may be operated by someone else, or is marked as Lost Mode, it will send a command to the Apple Server. And Activation Lock shows up. iPod Touch 6 iCloud bypass can be completed only if you enter correct the Apple ID and password. It can be turned off by disabling the Find My feature on your iPod Touch.
Part 2: How to bypass iCloud lock on iPod Touch 6?
Solution 1: Remove via iCloud
Remove via iCloud means removing the iPod Touch from the iCloud account so that you can bypass the Activation Lock. If you can contact the previous owner, this solution is the best option for you. If not, go to try another solution below. What is listed here shows you how to remove the iPod Touch 6 from the iCloud account.
Step 1: Go to iCloud.com
Step 2: Sign into your account. Navigate to Find My app.
Step 3: Click on All Devices. Select iPod Touch 6, and click on Remove from Account. Or you can remove it by clicking the x icon beside your device.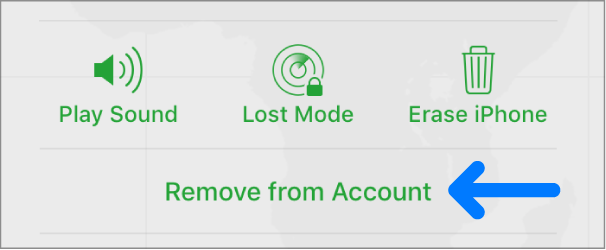 Solution 2: Bypass via TunesKit Activation Unlocker [No Apple ID & Password]
No Apple ID and password? TunesKit Activation Unlocker is highly recommended to you, as it comes with a high success rate and can finish the iPod Touch 6 iCloud bypass without Apple ID and password. No matter what scenarios you're in, like buying a used iPod Touch with iCloud lock, cannot turn off Find My, the device is locked by the previous owner, etc, TunesKit Activation Unlocker can help you deal with it at home.
Its intuitive interface and easy steps are appreciated by many users. And it supports Windows and Mac.
What you can see in the next part is the guide on how to use TunesKit Activation Unlocker to bypass the Activation Lock on your iPod Touch 6.
Step 1:

Connect iPod Touch

The essential part of the whole process is that you should use a USB cable to connect your iPod Touch to the computer, and make sure its connection while you bypass the Activation Lock. Next, click Start. Here comes a term of use. Read it and click on Agree to move on.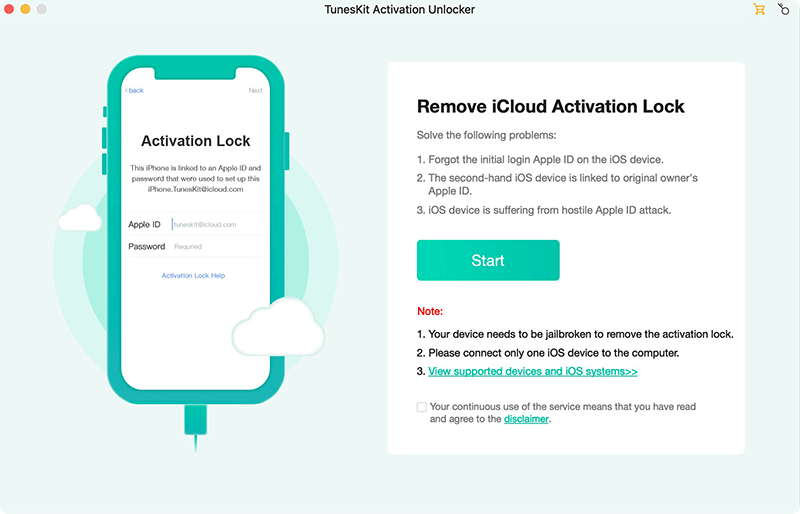 Step 2:

Jailbreak iPod Touch

Follow the on-screen jailbreak tutorial or the tutorial links below to jailbreak your iPod Touch. When the jailbreak process is finished, click on the restart button to reboot your computer.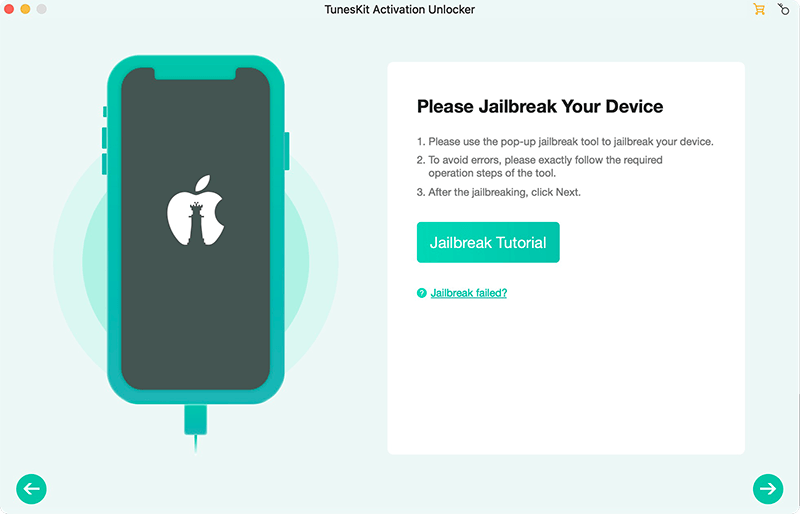 Step 3:

Start to bypass

Launch the tool again. Check your info. Click on Start to Remove. Then, it will start to bypass the iCloud lock on your iPod Touch 6.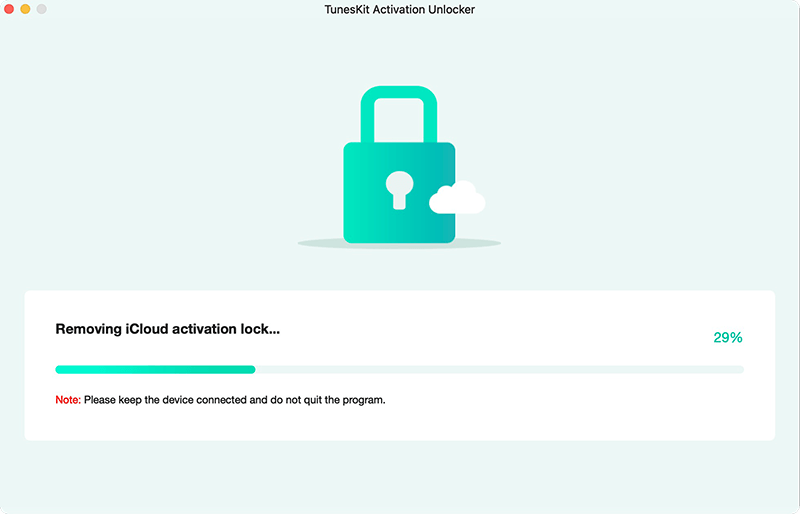 Solution 3: Bypass via DNS
This solution comes with a lower success rate than other solutions because the supported iPhone models and iOS version are unknown. By changing the DNS address on your iPod Touch 6, the correct IP address cannot be translated and sent so that you can avoid the iCloud lock. You can give this solution a go with these steps below if you've tried many solutions showing you how to bypass iCloud lock on iPod Touch 6 and still fail on it.
Step 1: Tap on the Home Button. Select Start Over.
Step 2: Finish the former settings, and go to the WiFi Settings section.
Step 3: Tap on the icon in blue. Select Forgot this Network.
Step 4: Tap on the icon again. And go to Configure DNS. Select Manual. Choose one of the addresses below to create a new DNS address for your iPod Touch. Save edits.
North America: 104.154.51.7
South America: 35.199.88.219
Europe: 104.155.28.90
Asia: 104.155.220.58
Global: 78.100.17.60
Step 5: Connect to the WiFi again. Next, you can see a pop-up. Continue to tap on the Back option. Finally, select Activation help.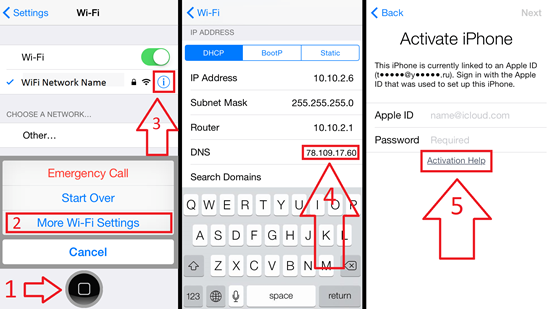 Part 3: Conclusion
In this post, you've learned the working principle of the iCloud lock and the best 3 solutions for iPod Touch 6 iCloud bypass. Using the TunesKit Activation Unlocker is the most effective way to get around the iCloud lock if you have no Apple ID and password. If you need any information about TunesKit Activation Unlocker, you can contact us at any time!