How and Where to Find Free Background Music for YouTube Video
Posted by Nick Orin on June 28, 2019 3:16 PM • Category:
Reviews
4 mins read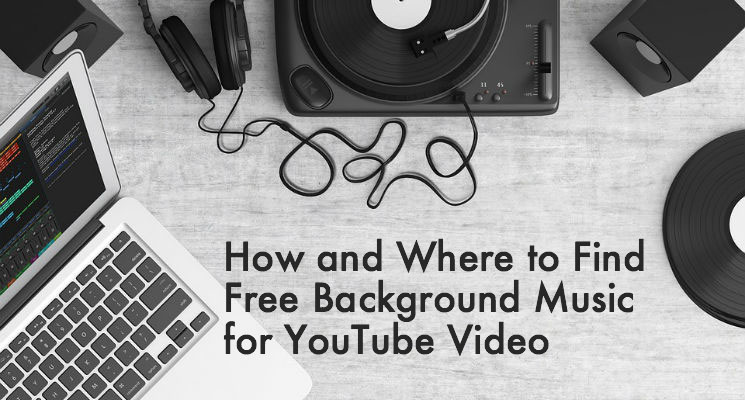 As an online content creator, you may know that if you used copyrighted music in your YouTube videos, your video will be muted or removed. Worse still, your account will get penalized because of that.
So, this will be a passage on how to find free and euphoria background music for your YouTube video. We will explain the definitions of different types of "free background music" and show you where to find free background music for your YouTube video.
Different Types of "Free" Music
Royalty Free Music
There are differences between "free music" and "royalty free music". Royalty free, often gets mistaken for "free" by many people, is that users can use copyrighted music without paying "royalties" for recurring use of the content. Which means that you only have to pay once for the license of the music and you can use the music as long as you want.
Music in Public Domain
"Music in Public Domain", refers to the music that is not protected by copyright and allow users to use it for free and with no permission needed. Music in public domain can be copied, distributed, interpreted, and displayed in public for at free as if they belong to everyone.
Creative Commons Music
As for "Creative Commons", short for CC, it is an NGO dedicated to expanding the range of creative works available for others build upon legally and to share. CC has released the Creative Commons License that grants you the right to free use the tracks as long as you follow the guidelines established by the artist.
Now you have a grip on the different types of "free music", let's see the 5 recommended websites for free background music.
5 Best Sites to Get Free Background Music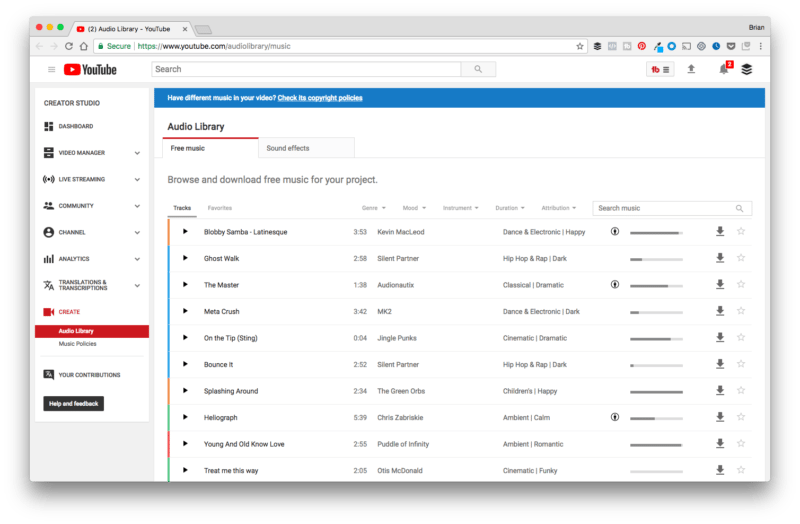 Licensing: Public Domain & Creative Commons
YouTube offers tons of free songs sorted by genre, instrument, duration, attribution and even mood. It's just so convenient because they are right there for you to pick. You can use the search functionality to find the suitable background music quickly and easily.
Unlike some free music sites only offers limited songs and charges for premium privileges, YouTube Audio Library is literally and totally free. And the best part is that you don't have to worry about if the music is meet the requirements and regulations of YouTube. To access YouTube free audio library, you should go to "Creator Studio" > "Create" > "Audio Library".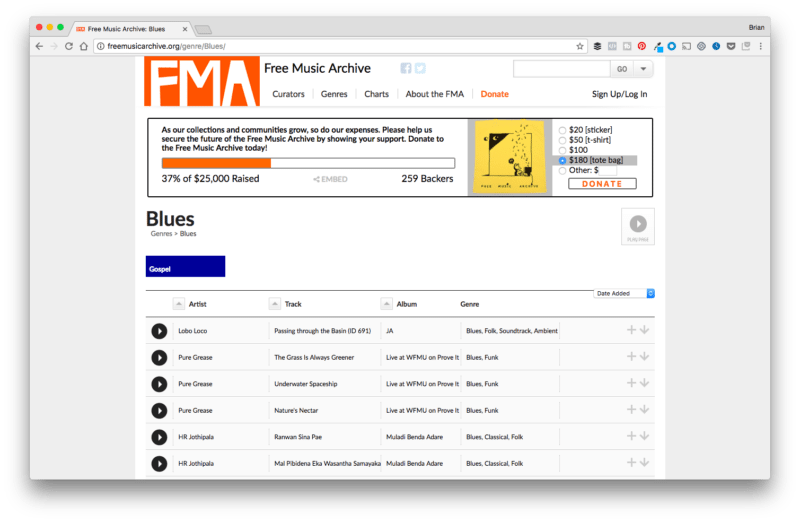 Licensing: Public Domain & Creative Commons
Free Music Archive is another Library for public domain music collections of over 1,500 tracks. You are able to filter out only music in the public domain since there are also thousands more tracks under Creative Commons on this site, too.
FMA (Free Music Archive) is one of the most prolific websites online for discovering a range of curated background music and sounds for all types of content. They even offer a "Spoken Word" genre! All MP3 tracks on FMA are pre-cleared and legal to use in a variety of situations that would otherwise be restricted by copyright laws.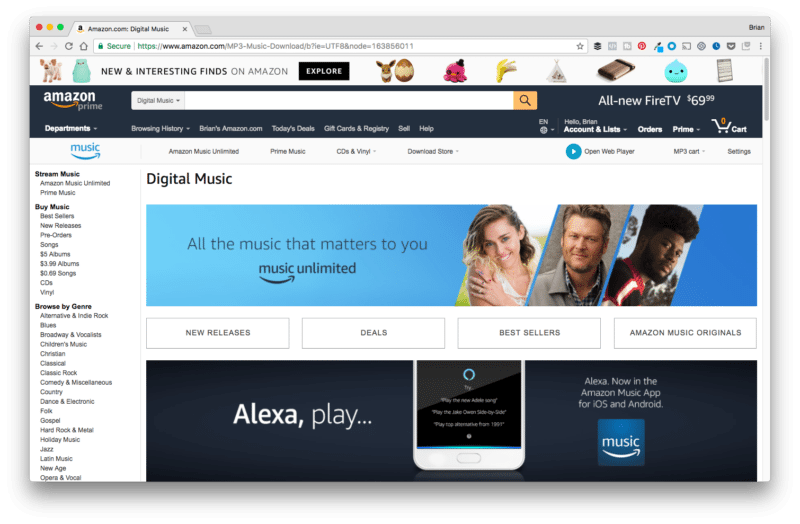 Licensing: Royalty Free
To many people's surprise, Amazon also provides free music and there even more than 56,000 of them. Please note that according to Amazon Music Term of Use, these free tunes and soundtracks can only be used for personal, non-business purposes. The starting price of the premium plan is $0.99.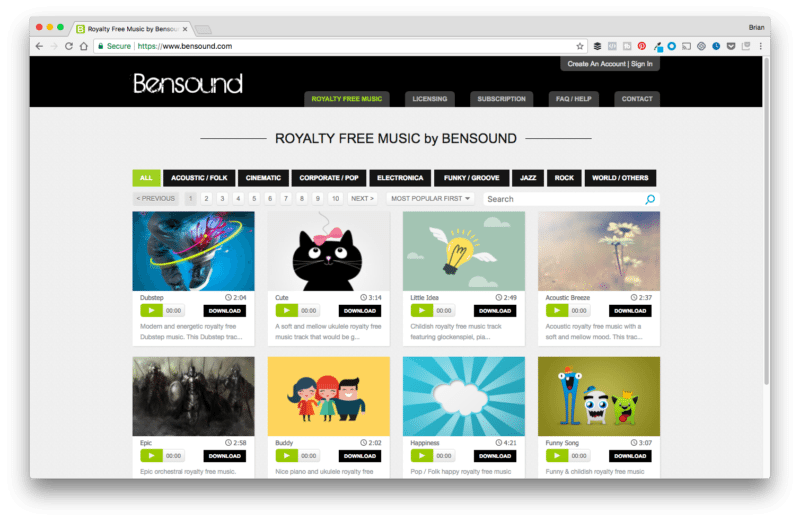 Licensing: Royalty Free
Another artist-based website, Bensound is home to hundreds of fantastic tracks created and uploaded by artist Benjamin Tissot. Ben's work has been featured all over the web in projects from animations, corporate videos, commercials to short films and documentaries. We love Bensound for its super easy-to-use search functionality and music that goes perfectly with your traditional business-style videos.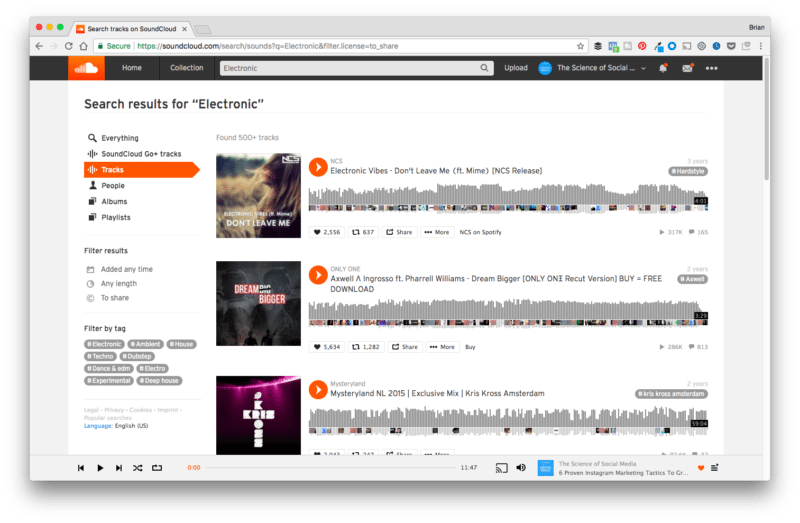 Licensing: Creative Commons
If you're looking for an awesome selection of background music for the video that sounds more like real music, then SoundCloud is a perfect option for you. Most if not all of the music on SoundCloud is licensed under Creative Commons. It does take a bit of savviness and work upfront to utilize the search feature, but once you get the hang of it, you'll find that there is a myriad of great music from artists all over the world.
Bonus Tip to Edit Your YouTube Video
In addition to background music, if you are also looking for a YouTube video editing tool, here I have a recommendation: TunesKit Video Cutter. Check this tutorial for beginner on how to cut YouTube videos.