Streamlabs vs OBS: Which One Is Better
Posted by Nick Orin on Oct 18, 2022 12:00 AM • Category:
Record Screen
4 mins read
Streamlabs is a fantastic tool that helps live streamers monetize their broadcast, engage their viewers, and boost their social media and YouTube channels. Similarly, OBS Studio is an amazing platform that helps with streaming and screencasting. Both platforms serve gamers in unique ways!
However, many users wonder which is a leading software: Streamlabs or OBS Studio? Let me tell you - in the OBS vs Streamlabs race - OBS Studio beats Streamlabs in various ways because OBS Studio is an open-source and free platform, but Streamlabs costs $0 - 149/year.
OBS Studio is straightforward, feature-filled software that includes everything required to stream on YouTube, Twitch, and Facebook.
Let's learn more about OBS vs Streamlabs, so you can download the most relevant one on your laptop to enjoy live streaming at its peak.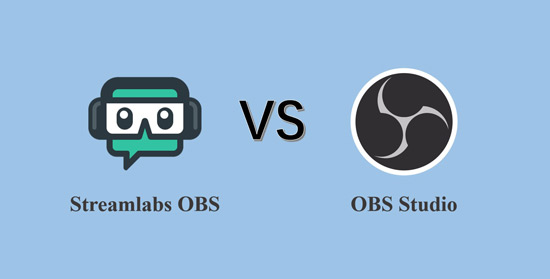 Part 1. Streamlabs: What You Should Know
Streamlabs is an incredible platform for live streaming, which is formerly known as Streamlabs OBS. It is an advanced open-source streaming software people use to go live on Facebook, Twitch, and YouTube Live.
It is the best software for streaming and is loved by gamers, casual users, and professionals. It makes live streaming a fun-filled activity.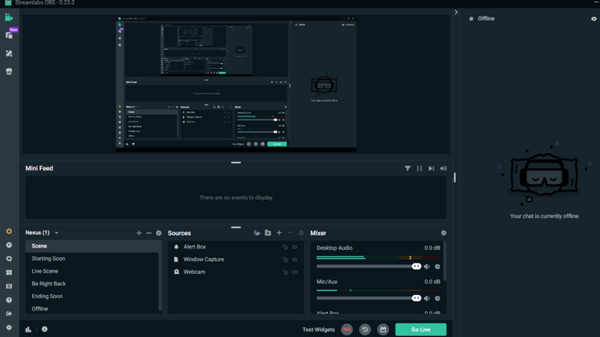 Some Quick Features of Streamlabs
1. With Streamlabs custom page tip, you can earn via streaming, which works with many payment processors. It offers more monetization ways than any other platform. Setting up the tip page is a breeze.
2. You can set up widgets and test them in one window.
3. With Streamlabs, you can market yourself like a pro because you can access countless professional stream overlays from the industry's top designers and more via prime.
4. Smart video encoding is another best feature of Streamlabs through which encoding goes to sky heights.
5. Streamlabs, as mentioned above, is one of the best live-stream platforms through which users can stream to multiple platforms, such as YouTube, Facebook, Twitch, and custom locations at once. It means users can get several streamers in less time.
Part 2. OBS Studio: What You Should Know
OBS Studio is a powerful free editing tool that offers countless luxurious features and premium applications. You can use this feature for recording video, visual mixing, screen capturing, live streaming, and much more. OBS Studio, an open-source program, helps users to create high-definition videos that support various systems, software extensions, native and third-party plugins, and multiple individual applications.
Since it is freeware, users can use this tool without a subscription; Multiple platforms, Windows, Linux, and Mac OS systems support this software.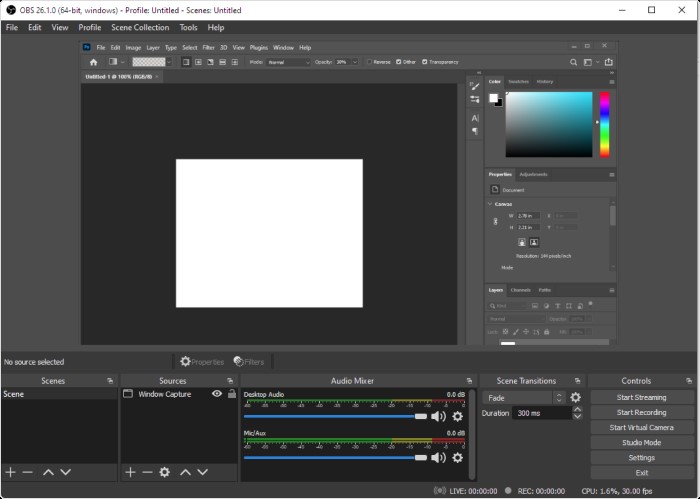 Some Quick Features Of OBS Studio
1. OBS Studio has built-in features that support live streaming on platforms like YouTube and Twitch. The live streaming process is so simple and quick - the users get good interface support from start to finish for hassle-free gameplay streaming.
2. The quick video recording feature saves users time and offers basic editing features, so users may not need to switch platforms.
3. The neat and clean interface helps in a reliable audio mixer so gamers can make quality videos for their YouTube channels.
4. Instead of one screen recording, users can go for multiple recordings simultaneously.
5. One more inspiring feature of Streamlabs OBS is its customized interface that increases customer satisfaction and productivity.
Part 3. Comparison between Streamlabs and OBS
Still not sure what the advantages of each of these two programs are? Take a look at the following comparison chart of Streamlabs vs OBS Studio.
| | | |
| --- | --- | --- |
| | Streamlabs | OBS Studio |
| Audio Quality | Incredible mixing abilities | Audio mixing abilities are missing |
| User Interface | Straightforward | Many times it is unintuitive |
| Performance | Perform best in powerful computers | Equally suitable for high-end and low-end computers |
| Price | $0 - 149/year | Free |
| CPU User | Use more processing power | Uses fewer CPU resources |
| Compatibility | Mac OS X 10.14 or Windows 10 | Windows 8/8.1/10, Mac OS X 10.13, Linux |
If we conclude the discussion, Streamlab is a tool that leads and outperforms in various aspects, such as it is more intensive than OBS. Similarly, OBS Studio also beat Streamlabs in its pricing, performance, and CPU-using abilities.
If we go deeper, OBS Studio wins the race as it helps you smoothly record your screen, capture webcam footage, edit your videos, and broadcast your stream. Multiple tasks become manageable, and you don't need to change the software for every job.
So, as we have discussed in Streamlabs vs OBS Studio, OBS Studio wins the game due to some specific features.
Part 4: Extra Tip: Easest Way to Record Desktop Screen
However, those who fancy the recording function can only choose OBS, and here we also have an alternative that can hold you back in screen recording and go many steps far.
TunesKit Screen Recorder is a powerful screen recording tool that can use for Mac and Windows for great and super-quality video editing. This screen recorder offers plentiful functions, such as webcam overlay, voice recording, trimming, scheduled recording, etc.
Regardless of what activity users want, the TunesKit Screen Recorder is ready to serve users in every aspect - this professional recorder can perfectly and quickly record the web, screen, or both simultaneously.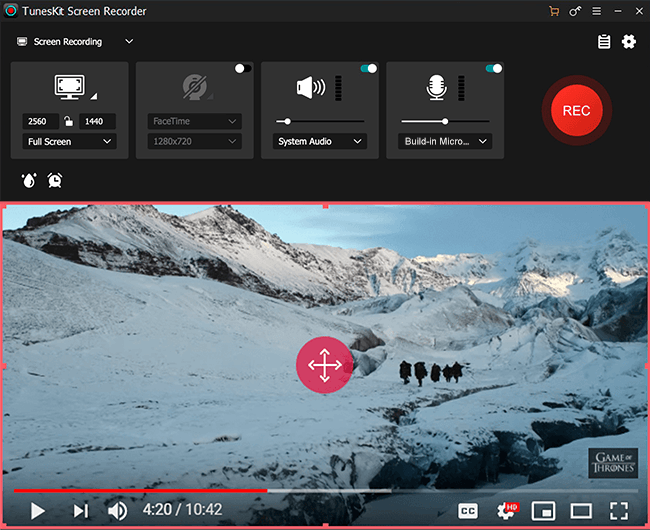 Why TunesKit Screen Recorder Is Exclusive
1. It can record screens on PCs and Macs.
2. It can record video calls, meetings, and webinars.
3. Webcam recorder to record webcam with a screen.
4. Audio recorder to capture computer audio and microphone voice.
5. Video recorder to record video games, streaming videos, and online events.
Part 5. Conclusion & Suggestion
Now, Streamlabs vs OBS Studio, which is preferable? According to the text, you can tell that both of these programs are very suitable for live streaming. And OBS is better than Streamlabs because it is free and supports screen recording. And we also offer an alternative to the screen recording tool, TunesKit Screen Recorder, which is much easier to use than OBS. Under the umbrella of this one software, users can also do video editing, trimming, audio mixing, and performing tons of other tasks.