How to Record Omegle on PC/Mac/Android Phone/iPhone
Updated by Nick Orin on Jun 8, 2022 6:00 PM • Category:
Record Screen
5 mins read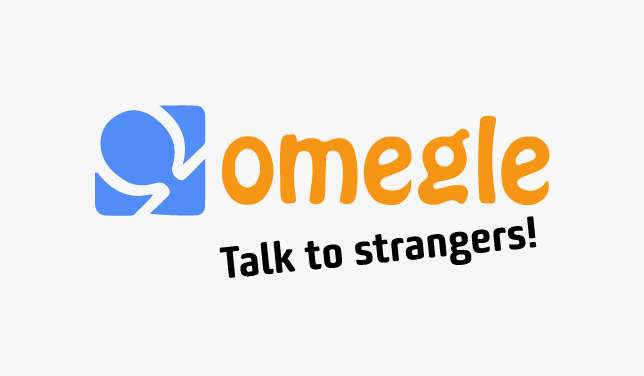 Omegle is one of the most known platforms that provide the service for you to talk to strangers in one-on-one chat sessions. Although Omegle provides a phone app, the most convenient way is still the webpage version. You don't have to download or install anything and you can jump right into a random video chat with strangers from all over the world. It doesn't even require registration, which is good reason to give it a try.
If you want to record Omegle while video chatting with strangers and make it a video, you're in the right place. This article will give you 4 ways so that you can record Omegle on your PC or Mac computers or iPhone and Android phone.
Part 1: How to Record Omegle on PC via Best Omegle Screen Recorder
The first one we are going to recommend is TunesKit Screen Recorder, which could be a great Omegle video recorder for PC and Mac. It can easily record Omegle video chat with audio simultaneously or separately, and save the Omegle video recordings to MP4, M4V, MKV and other formats. In addition, it can be used to record other footages, such as gameplay, courses, videos, and other activites that are taking place on your PC.
Here are the main features of TunesKit Screen Recorder and in next section, we will show you how to record Omegle video on your computer.

TunesKit Screen Recorder for Omegle
Record any screens on your PC and Mac, such as video calls, gameplay, etc.
Output high quality recordings in any format
Record Omegle screen video and audio separately or simultaneously
Work well as a screenshot tool, has built in video cutter
Has time scheduler and no watermark or time limit
Try It Free
600,000+ Downloads
Try It Free
600,000+ Downloads
How to Record Omegle Video on PC
Step 1: Customize Output Settings
When you get into the main interface, click the Options button at the lower right corner to open the setting panel. You can adjust the the output folder, output format or device, personalize keyboard shortcuts, etc.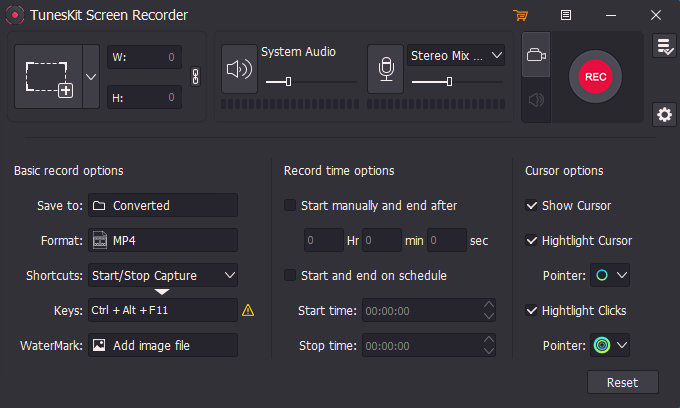 Step 2: Select Recording Mode and Recording Area
To record Omegle video on PC, both video and audio should be included. So, you need to select the Recording video mode, which is the first module next to the REC button.
Go to omegle.com and then, click the + button in TunesKit Screen Recorder. You can choose to record the whole screen including the text window or you can customize the recording area.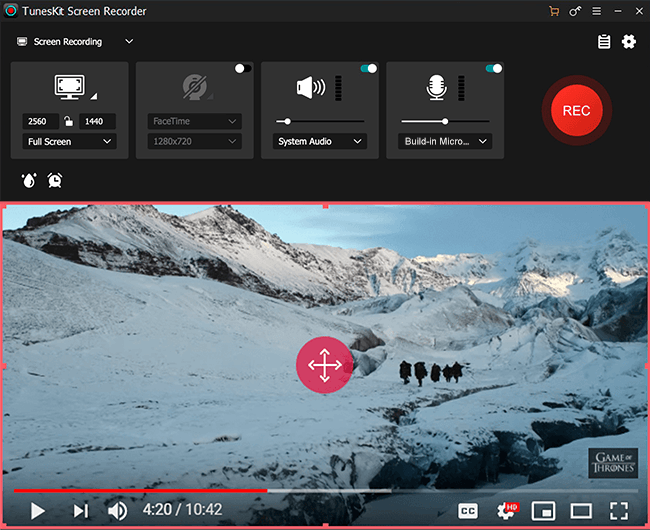 Step 3: Start Recording Omegle Video
Before you start the recording, make sure you have enabled the system sound and microphone sound recording feature. You can run the recording before the formal recording. When you finish all the settings, click the REC button to start recording Omegle video chat after a 3-second countdown.
While in the recording, you can use the toolbar pause, stop, or cut the recording. When you finish, just click the Stop button.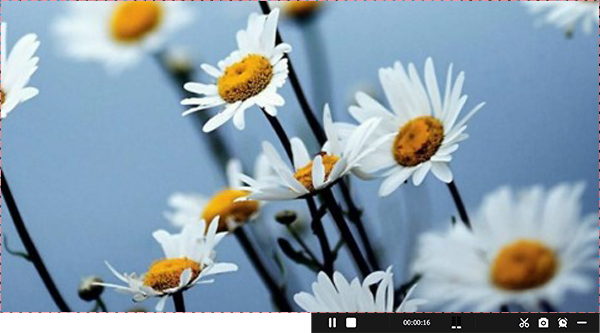 Step 4: Edit the Omegle Recording
The recorded Omegle video will be shown in the History list. You can click the Edit button to cut the Omegle recording. Or clikc the Search button to locate to destination folder.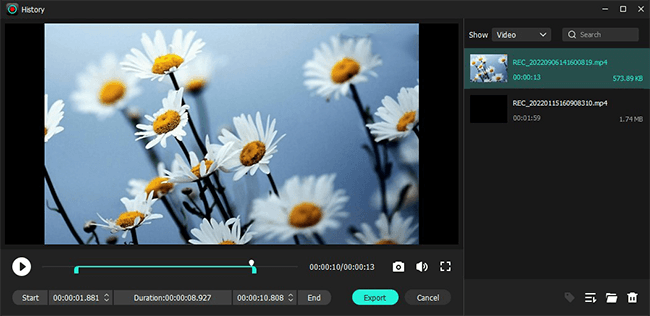 Part 2: How to Record Omegle on Mac
As a built-in application on Mac computer, QuickTime Player is a versatile multimedia player that can be used to watch videos and other files, as well as recording screen. Thus, you are able to use it to record Omegle video and your voice for free, and edit the Omegle recordings with its features, such as rotate, cut and trim the Omegle video recording. You can follow the steps below.
How to Screen Record Omegle on Mac with QuickTime Player
Step 1: Launch QuickTime Player on your Mac computer, and click File > New Screen Recording.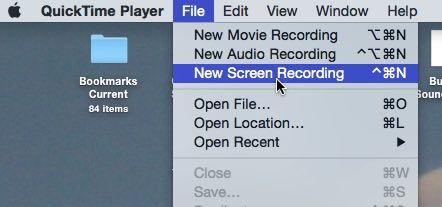 Step 2: It will show a recording window, click the drop-down button next to the Recording icon and select Internel Microphone, then hit the Recoring icon to start recording Omegle.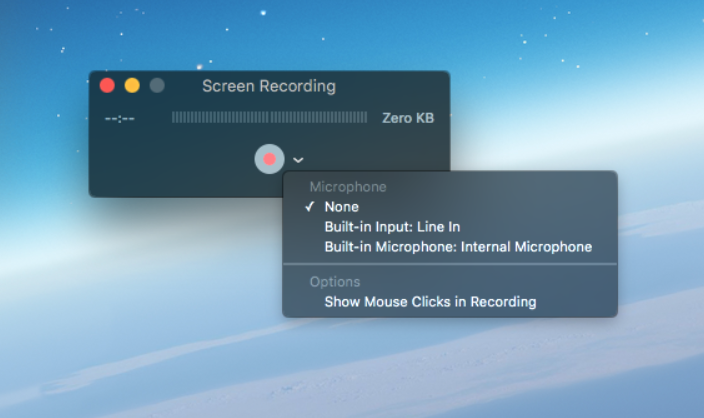 Step 3: Now you can access the Omegle webpage to start a video chatting. When you finish, clcik the Stop icon on the top menu. Then QuickTime will play the Omegle recording for you to preview and you can edit it now.
Step 4: Once done, you need to click File > Save to export the recorded Omegle video to the loacl file.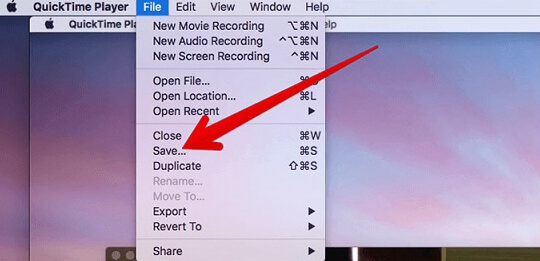 Part 3: How to Record Omegle on Android Phone
Omegle has the phone app version on Android phone, but it does't comes with a built-in recording tool. Therefore, to record Omegle on Android pbone, you can choose XRecorder.
XRecorder is a great app for recording Onmegle video or other screens on your Android phone. It can easily record and edit the Omegel, and offers you some recording options for your various needs.
How to Record Omegle Video Chat on Android Phone
Step 1: Go to Google Store and install XRecorder. When it finished, it will have a translucent quick menu icon on your phone screen.
Step 2: First, you can click it and select the Settings icon to change the recording options, such as resolution, quality, audio, video loaction and more. Make sure you have enabled the Record Audio option and select the correct audio source so that you can capture the Omegel audio and your voice.
Step 3: Now click the menu and choose the Record button, and you can start Omegle video chat. Once you've done, click the menu icon and hit the Stop button. And you are allowed to trim or cut the Omegle recording when the Video Saved prompt shows up.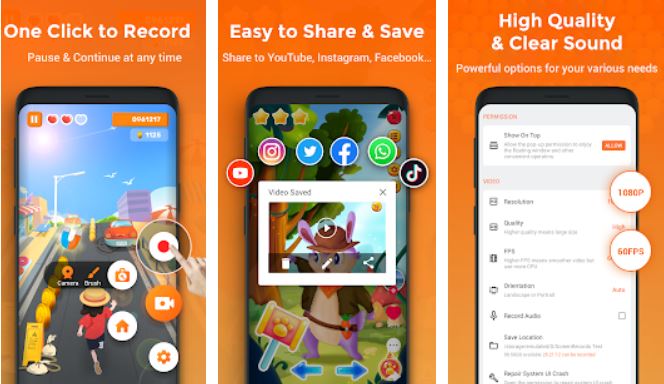 Part 4: How to Screen Record Omegle on iPhone
To record Omegle on iPhone, the most straightforward and easiest way is to use the built-in screen recorder. The built-in screen recorder can record all things on your iPhone and your voice (if you enable audio recording). All you need to do is to enable the screen recorder for Omegel in Control Center, and inisiate it when you want to record Omegle video chat. Here are the easy steps below.
How to Record Omegle on iPhone for Free
Step 1: If you haven't enable the screen recorder on your iPhone. Please go to Settings > Control Center > Customize Controls and add Screen Recorder.
Step 2: Now you can directly slide down the Control Center and hit the Screen Recorder icon. And it will start recording the screen so you can go to you Omegle video chat.
Step 3: When you finish, click the red icon on the top bar to stop the recording. And the Omegele recording will be saved in Photo.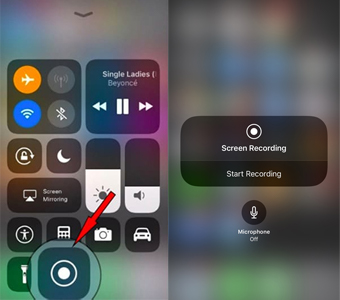 Conclusion
The 4 methods above are all practicable to record Omegle video. TunesKit Screen Recorder and QuickTime Player can be used on your Mac and Windows computers, while XRecorder and built-in screen recorder are available on your Android phone or iPhone. Try them and find the best way to record your unqiue Omegle video!