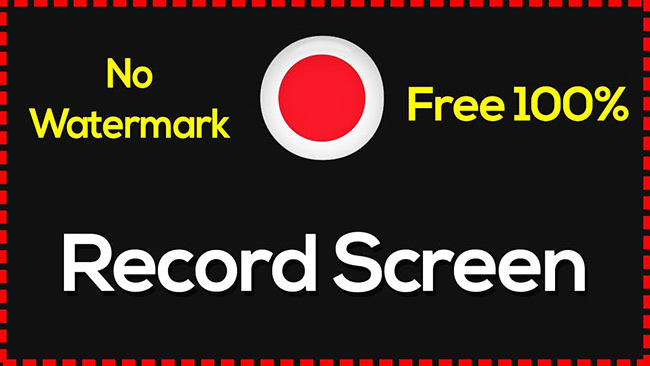 In general, when you use a free screen recorder, the video will have a watermark attached. It may affect the aesthetics of your video or may prevent you from adding your exclusive logo. Or, you just don't want a watermark on your recording. Moreover, it is hard to distinguish the real screen recorder without a watermark on the Internet. Most claim that they are free without watermarks, but this feature is available only if you unlock the premium version.
Therefore, to save your time, we now list the 15 best screen recorders no watermark for Windows and Mac, including free and paid versions.
TunesKit Screen Recorder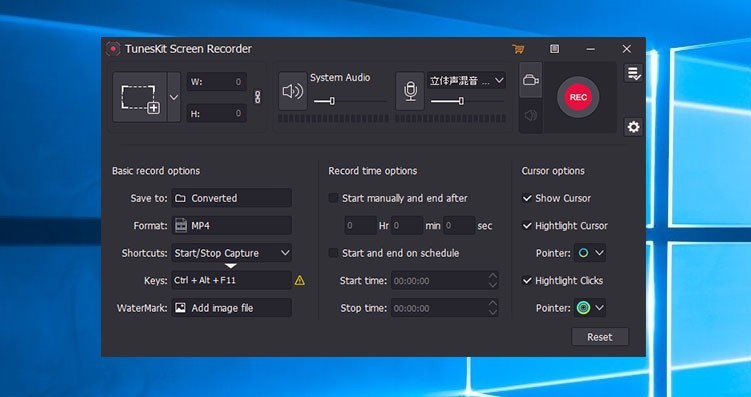 Here's a powerful screen recording software we're going to go over before reviewing the free screen recorder without a watermark.
TunesKit Screen Recorder gives you the free version to record everything you want on your Windows or Mac computer, but you should note that you can't remove the watermark on the trial version. Despite that, it has the ability to capture screen, audio, webcam, windows tab, and game recording, and can set up the schedule, cursor image and hotkeys. What's more, it offers more than 20 video and output formats that can play the screen recording on various devices.
Now let's see other 15 best free screen recorder no watermark .
Part 1. Free Screen Recorder No Watermark
#1 OBS Studio (Windows, Mac & Linux)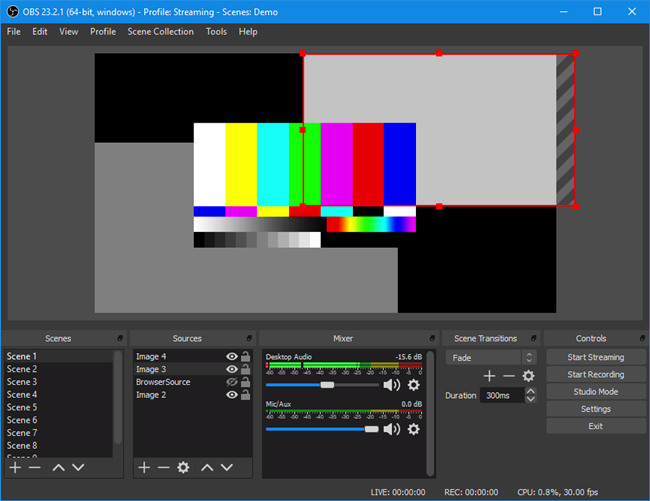 Face it! While screen recorders can record already published videos, not all will do the magic of live recording videos. Perhaps, this is why you need to consider OBS Studio if you are looking for a free screen recorder no watermark. It has live streaming tools that work well in Mac, Windows, and Linux. Further, OBS comprises great features including but not limited to recording time, live streaming, numerous filters, audio mixers, and themes.
Pros:
1. No limitations;
2. Supports Linux, Mac, and Windows;
3. Supports live stream screen recording on live stream platforms.
Cons:
1. Complex interface for newbies.
#2 Xbox Game Bar (Windows 11/10)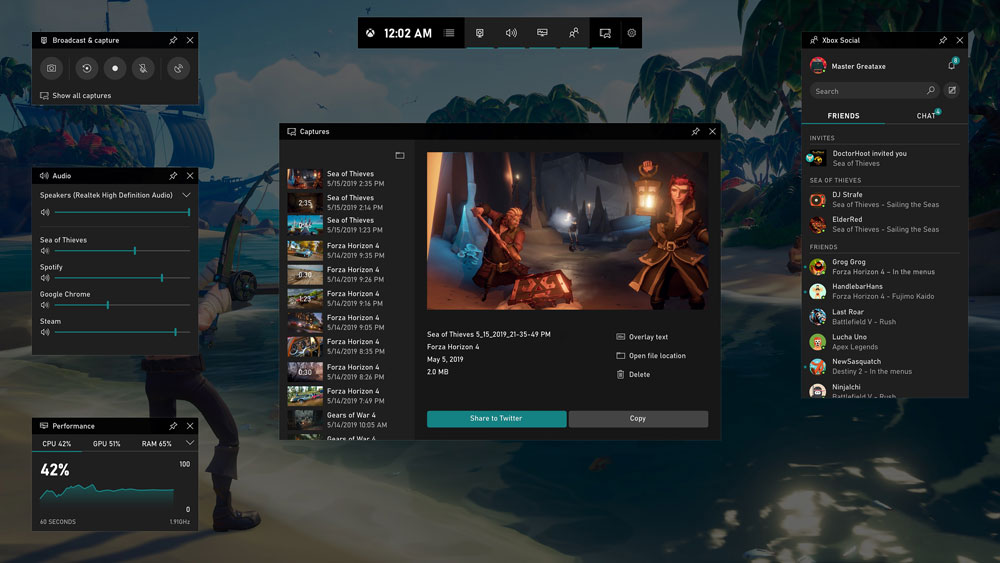 Xbox Game Bar is a built-in free screen recorder without watermark on Windows 10 and 11. This built-in tool can not only use to record desktop games but also videos, live stream, lessons, and other screen activities with audio. The only limit is that it's incapable of recording the main desktop screen of Windows.
Pros:
1. No time limit;
2. Clear UI;
3. Record Steam gameplay, live stream, videos, and other screen content from online and offline.
Cons:
1. Only availabe on Windows 11/10;
2. Incapable of recording desktop screen.
#3 Apple Screen Capture for Mojave (Mac)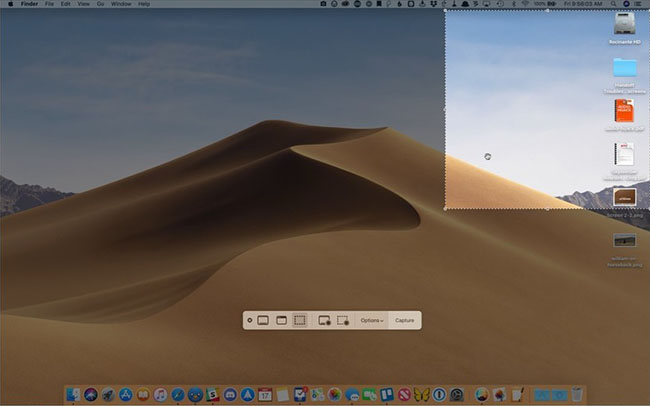 With the invention of Mojave, Apple took it upon itself to develop new screen capture software. Besides taking screenshots, Apple Screen Capture for Mojave allows users to record videos on a Mac screen. This best free screen recorder for Mac operates by pressing a combination of the Command + Shift + 5 buttons. With this free screen recorder with no watermark Mac tool, users get to enjoy great editing features after they have done recording.
Pros:
1. Video editing features;
2. Easy to use;
3. Allows you to record either full screen or slected portion.
Cons:
1. Supports only macOS Mojave;
2. Does not allow recording with webcam or audio.
#4 VLC Player (Windows & Mac)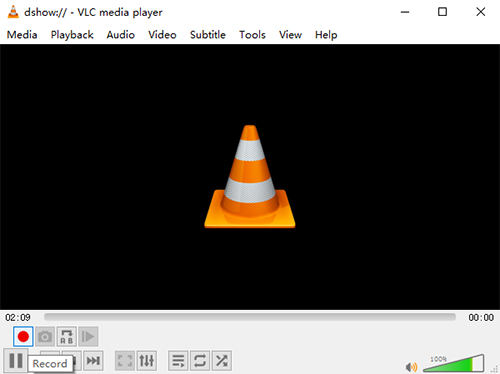 VLC Media Player is not just a media player but a screen recorder which can record screen and audio on Windows and Mac. This free recording software allows you to record the screen from your computer without watermark and time limits. But there is no denying that its recording feature is not as power as other professional screen recorder. For example, it neither supports recording video and audio at the same time, nor has a simple video cut tool.
Pros:
1. Compatiable with Windows and Mac;
2. Record screen or audio;
3. Without time limit and watermark.
Cons:
1. Does not support simultaneous recording of video and audio;
2. Does not come with video editing tool.
#5 QuickTime Player (Mac)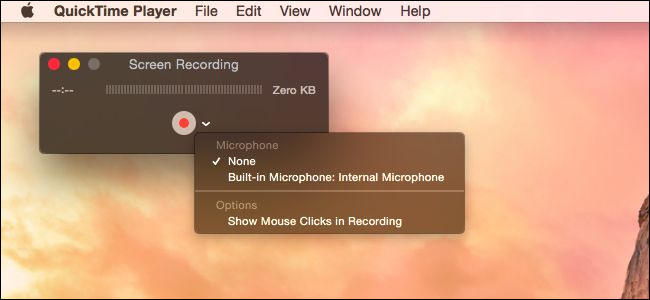 The next free screen recorder for Mac with no watermark we would like to tell is QuickTime Player. The best feature of this tool is that it offers its user with free unlimited screen recording time. And it works by simply clicking the new screen recording option on the application. If you want to record yourself, you will, however, have to enable the new movie recording for activation of the webcam.
Pros:
1. In-built on the macOS;
2. Offers trim, split, flip or rotate options after recording.
Cons:
1. Unable to record system sound;
2. Does not annotate videos.
#6. VSDC Free Screen Recorder (Windows)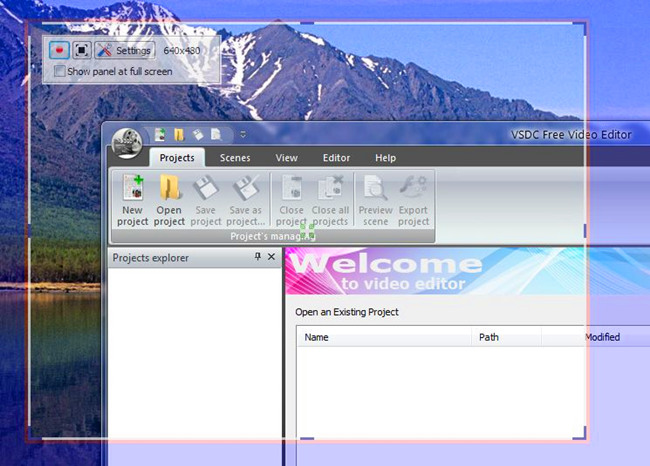 If you have used VSDC before, you understand that it is a free video editor. What you did not know is that this application also serves as one of the free screen recorder for PC without watermark and time limit. Therefore, you can opt for downloading it and using it as a screen recorder as well as a video editor.
Pros:
1. Easy to use;
2. High-quality end results;
3. Supports customization of the recording area.
Cons:
1. Can't record webcam and take screenshots;
2. Editing tools is not power enough;
3. Does not allow direct video uploads.
#7 Free Cam (Windows)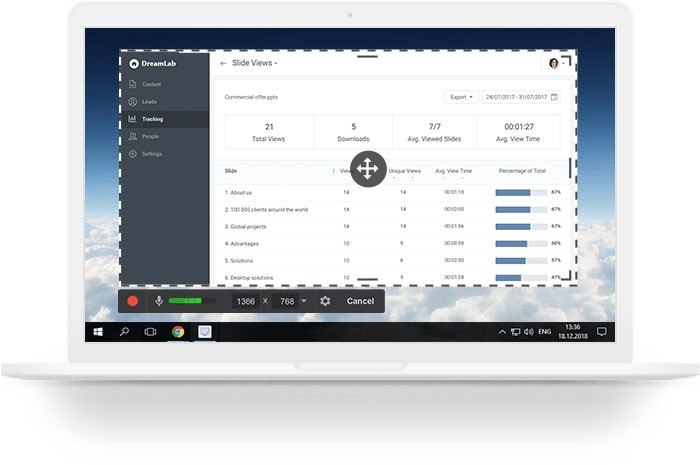 Another easy and free screen recorder without watermark and time limit is Free Cam. This tool has a cleaner interface and it has simpler features than other tools, but that doesn't mean that the recording quality is reduced. It can capture the screen with/without audio, and export the video to MP4 format. But the downside is that the screen recording will be divided into video file and audio file.
Pros:
1. Clear interface and easy to use;
2. The free trial without watermark;
3. Supports unlimited recording time.
Cons:
1. Only for Windows;
2. The recording will be aparted to video and audio files;
3. Without editing tool.
#8 ActivePresenter (Windows & Mac)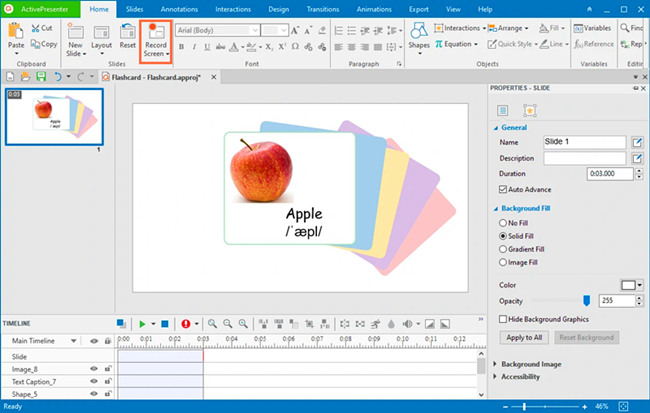 Currently listing among the most powerful and best free screen recorder without watermark, you do not know what you are missing. Apart from allowing recording in HD quality, ActivePresenter supports webcam and audio from either your microphone or system sound. You will even love the fact that it doubles up with a free video editor with features such as cutting, trimming, cropping, splitting, and merging.
Pros:
1. Crystal clear and quality recording;
2. Free video editing features;
3. Supports audio and webcam recording.
#9 Debut Video Capture (Windows & Mac)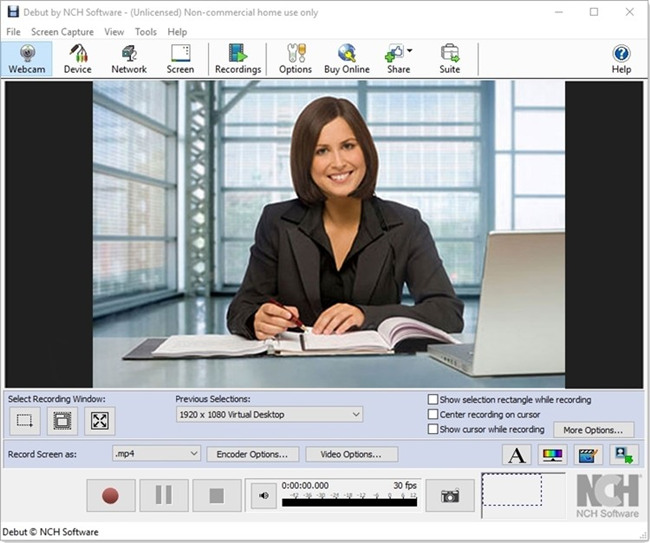 If Debut Video Capture does not marvel you, I don't know what will impress you. Championing this is the fact that this free screen recorder no watermark has a scheduled screen record time. Therefore, you can alter your settings for the screen to record at a specific time in your absence. Further, Debut Video Capture can record the webcam and the screen simultaneously without interfering with quality.
Pros:
1. Simultaneous recording;
2. Scheduled screen recording;
3. Annotations and video recording;
4. Allows webcam and audio recording.
Cons:
1. Lacks post-production editing;
2. Does not have the direct export feature.
Part 2. Screen Recorder Without Watermark [Free and Paid Version]
#1 Screencast-O-Matic (Windows)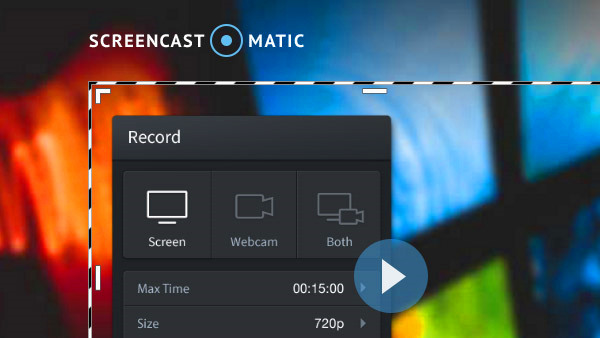 In case you are a Windows user and don't mind the watermark, this is the free screen recorder you need to consider. Since it is web-based, you do not have to download the software but access it on its official online site. And it will install the launcher to your desktop for quick launching next time. The outstanding detail about Screencast-O-Matic is that it allows screen recording of both your computer screen and your webcam, and features drawing tools to highlight or note the things you want. However, the free version of this screen recorder has a limited recording time until you upgrade to the paid version.
Pros:
1. Save recordings in multiple formats;
2. Allows video uploads from YouTube and sharing;
3. Easy to use.
Cons:
1. Only supports Windows PC;
2. Has a time limitation;
3. The free trial will leave the watermark.
#2. SmartPixel (Windows)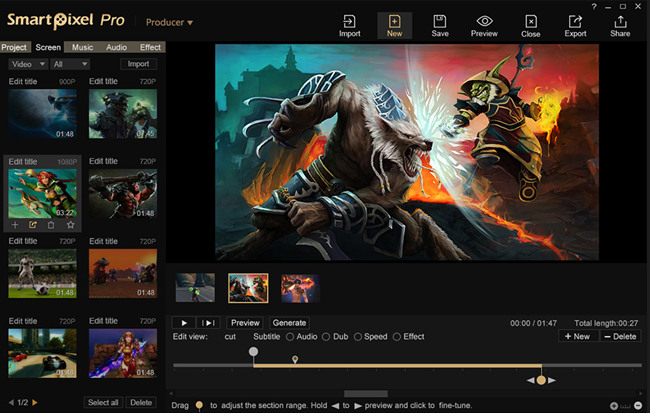 SmartPixel integrates a screen recorder, video editor, and webcam feature for Windows users. This user-friendly free screen recording tool switches recording modes according to what you record and consumes low resources of your system. And you are able to edit the recording with its various editing features, such as trimming, editing, and sharing.
Pros:
1. Quality recording;
2. Webcam and audio recording;
3. Great post-editing option.
Cons:
1. Conducive for gaming recording;
2. A watermark will be on the free version;
3. Only supports windows 7 to 11.
#3 ShowMore (Windows & Mac)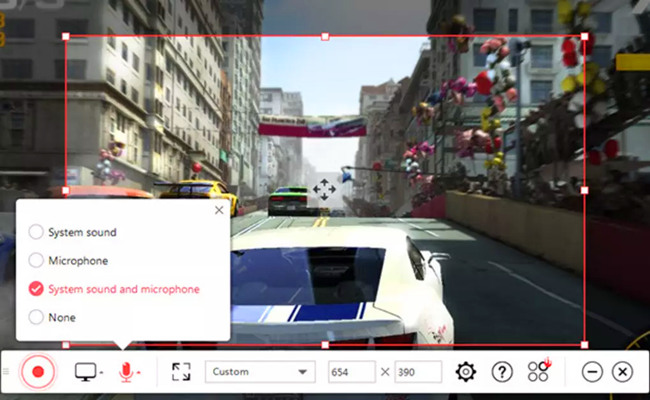 Another free screen recorder that will be mentioned is ShowMore. It supports a variety of activities, including annotating the screen during recording. In addition to this, ShowMore allows its users to download videos to free cloud space instantly. What is unique with this recorder is that it is entirely free with zero time limits. You, however, want to consider signing up for a premium account before recording to avoid the appearance of the watermarks.
Pros:
1. Free download and easy to operate;
2. Supports both Windows and Mac.
Cons:
1. Need to sign up before recording;
2. Lack of editing features;
3. The trial verison will have a watermark.
Part 3. Online Screen Recorder No Watermark
#1 Apowersoft Online Screen Recorder No Watermark (Web-based)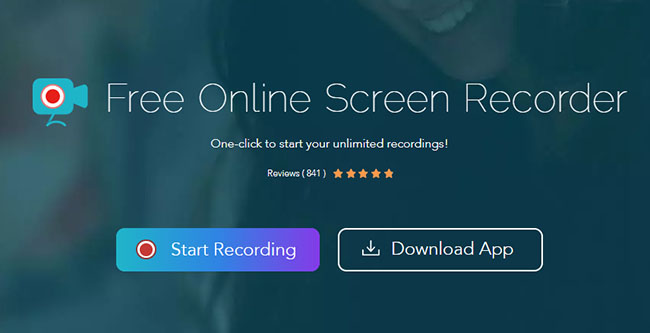 Not once has Apowersoft disappointed and this is not about to happen with its free online screen recorder. For one, it is not suitable for gamers. However, it works well in other areas. What is interesting other than its fantastic video editing and recording features is the fact that it is free and does not have any recording limitations. With this web-based screen recorder without a watermark, you also enjoy easy recording on your computer.
Pros:
1. Easy to use interface;
2. Free and no limitations;
3. Supports webcam and audio recording;
4. Supports a variety of formats.
Cons:
1. Unsuitable for game recording.
#2 iTop Online Screen Recorder without Watermark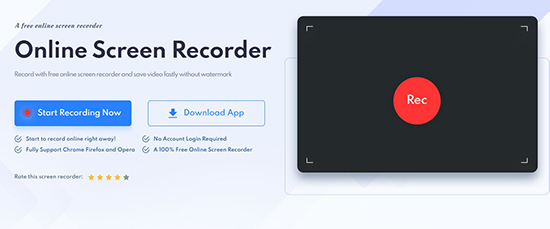 iTop online tool is another web-based online screen recorder without watermark. It does not require downloading a launcher and support capturing the entire screen, Windows tab, or a single Chrome tab. Although it provides free-watermark on its web-based version, you'd better to download the desktop app (free and paid) to unlock the twice per day recording limit.
Pros:
1. Clear webpage;
2. Free and no watermark;
3. Record screen and audio.
Cons:
1. Does not support recording webcam;
2. The online version exports video recording to WebM format only;
3. Have 5-minute and 2-time per day limits.
#3 Media.io Free Online Screen Recorder No Watermark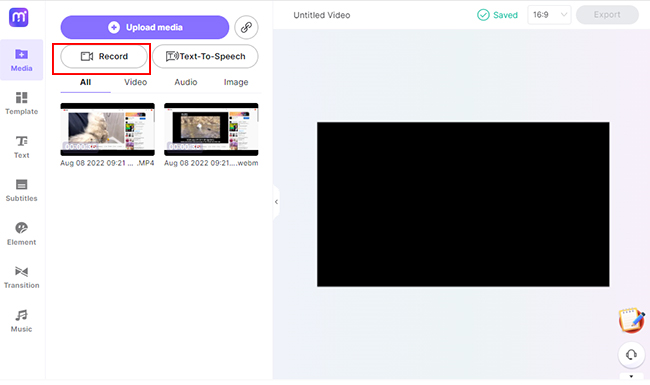 Media.io is a free online screen recorder on watermark tool for recording and editing screens. This versatile free screen recorder records all kinds of the screen without a watermark and edit them on its built-in editing workspace. Unlike Apowersoft and iTop, it not only supports video and audio recording, but also records webcam without any watermark, and you can even add your unique watermark.
Pros:
1. Various recording and editing features;
2. Record and export a video without watermark
Cons:
1. Have time limit.
Conclusion & Extra Tip
If you were keen, you might have noticed that some free screen recorders without a watermark support Windows and Mac. It is important that before you opt for that which you consider you're best free screen recorder, you do a thorough check to ensure that the chosen recorder fits your computer. Of course, it all depends on yours. But we hope that the post will be helpful for your consideration.
However, as we tested and listed above, no one of these free screen recording software has no shortcomings. If you don't care about it, you can just go for it. If you want a high-quality recording at a reasonable price, TunesKit Screen Recorder is highly recommended here. You can get a free download of this easy screen recording solution below and try it by yourself.

Nick Orin is a review writer, software geek and Mac OS enthusiast. He spends all his free time in searching useful software and gadgets to share with others.