[Solved] How to Record Last.fm Music Streams and Radios
Posted by Adam Gorden on March 08, 2018 14:15:30 PM • Category:
Record Audio
4 mins read

Q: When enjoy streaming music and radios with Last.fm, there is a thorny problem that has bothered me – there are no download links on Last.fm music and radio files, meaning that I am not able to assess to Last.fm songs without any Internet connection. As a total Last.fm addict, I would like to use this streaming service to discover thousands of favorite music with its music discovery service and these Last.fm music streams and radio tracks anywhere and anytime as I like. So my question is that is there any solution to download and record music and radio files from Last.fm?
Solution 1. Best Last.fm Music Recorder to Record Last.fm Music and Radios
Just like other online music radio station, Last.fm allows account users to listen to favorite and wonderful songs easily under the condition of Internet connection. Last.fm audio files are not able to be downloaded on your computer and played on portable devices and media players. But with the development of technology, more and more software developers have researched and developed Last.fm music recorders to meet Last.fm users' requirements enjoying Last.fm audio files offline at any device without limitations.
Among excellent Last.fm streaming music recording tools, TunesKit Audio Capture could be the best choice to record and download streaming music and radios from Last.fm with 100% original quality preserved. TunesKit Last.fm Music recording software is capable of capturing not only Last.fm music streams, but also recording other streaming services and audios playing on video sharing websites, including Spotify, Pandora, YouTube, Vimeo, etc. Apart from an extraordinary audio recorder, TunesKit audio recording program is also a professional audio converter, which can record streaming music and videos to MP3, WAV, FLAC and more meeting a 30X faster speed.
How to Record Music Streams from Last.fm with TunesKit
Thanks to the easy and clean interface, the whole recording process is smooth and easy to be done. You can refer to the following detailed introduction to learn how to record and download Last.fm streaming songs and radios using TunesKit.
Step 1

Open TunesKit Last.fm music recording software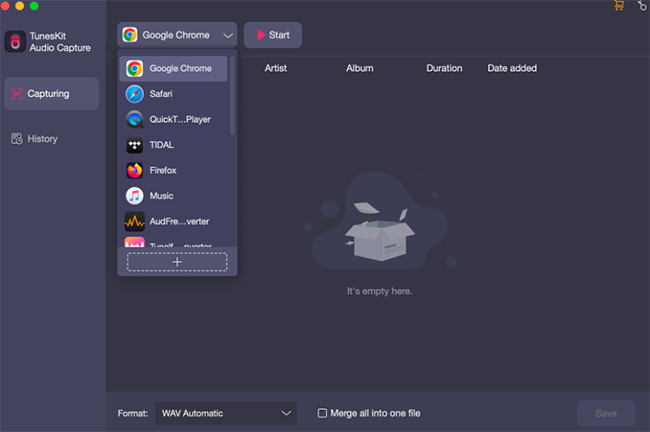 When you enter into the main interface of TunesKit Audio Capture, you can see a list of downloaded programs on your computer, like iTunes, Google Chrome, QuickTime, etc. The thing you should do is to make sure that the program you usually use is included in the download list. If not, please click the "+" button to add more wanted applications. Plus, there is a Format button to define the output format for recorded Last.fm audio files, like MP3 and FLAC.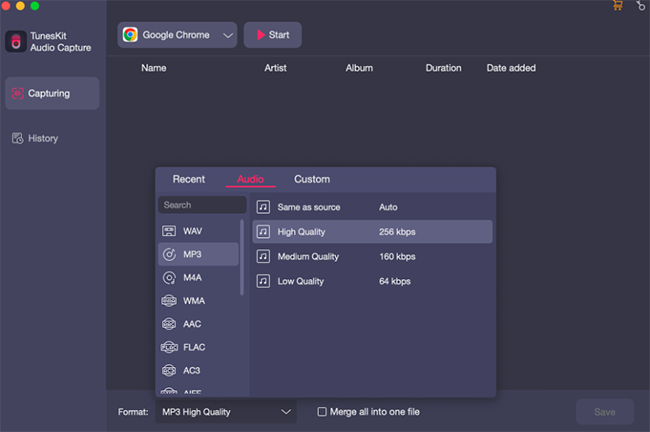 Step 2

Play and recording Last.fm audio files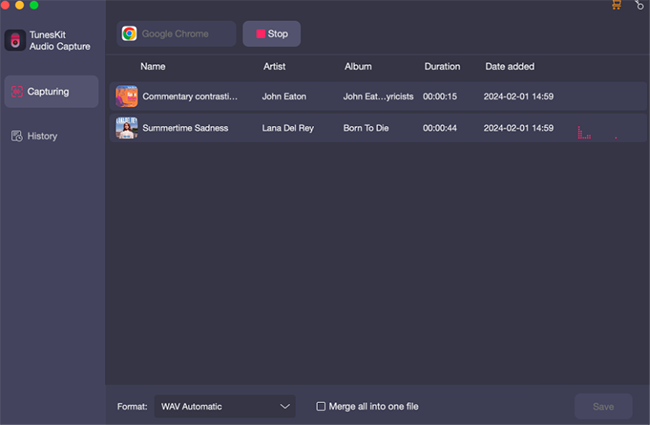 Touch the target web browser, like Google Chrome, Sarafi, Internet Explorer from program list, and sign in to Last.fm online music streaming service with registered Last.fm account. Now, you can discover the Last.fm music and radio files and start to play them. As a result, TunesKit Audio Capture will automatically record playing Last.fm audio files. Since this smart tool supports multi-track audio recording technology, it can record and grab thousands of playing Last.fm audios simultaneously.
Step 3

Make exclusive Last.fm music files by your own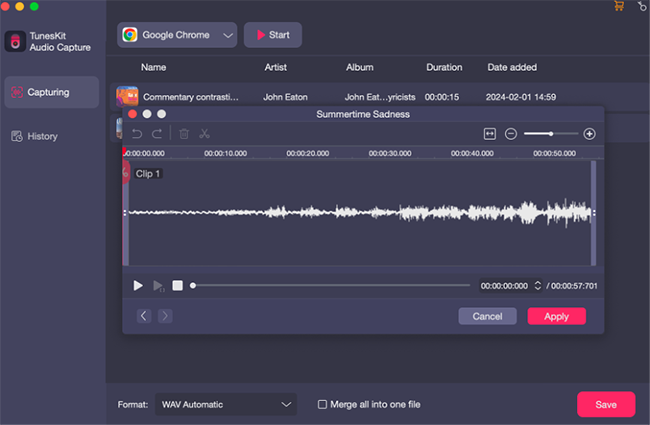 You can tap the Edit icon at each recorded Last.fm file, it will pop up a cutting interface, in which you can cut and trim unwanted Last.fm music, like advertisement and merge recorded Last.fm music clips into one file with one click. Also you can customize the ID3 tags, like year, artwork cover, artist, album, genre, etc.
Step 4

Stop Last.fm audio recording process and save recorded Last.fm music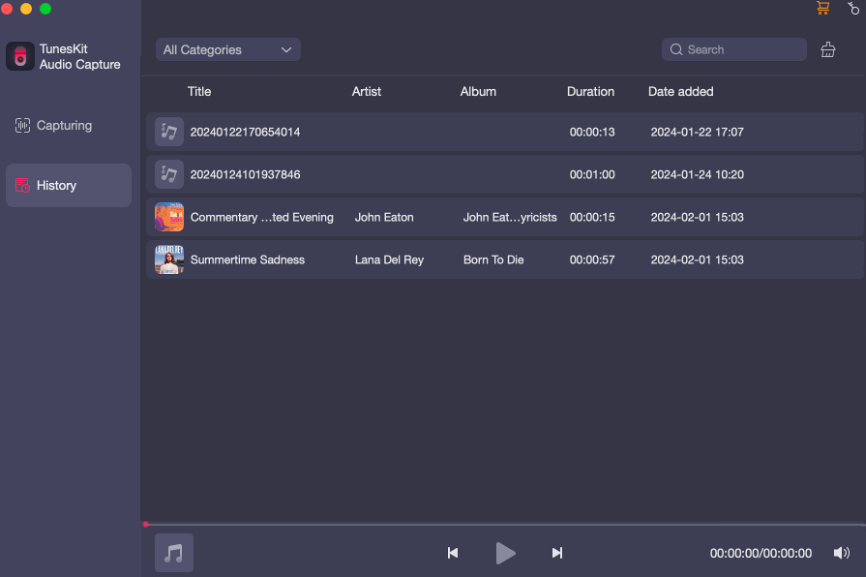 The most intuitive method to stop recording process is quitting the whole web browser. Of course, you can also stop the playing Last.fm music to make the Cancel button become Save button. Click the Save option, all captured audio files are saved into History folder. You can start to convert these Last.fm music streams and radio files to any device for offline listening as you like.
Solution 2. How to Record Last.fm with Free Online Audio Recorder
There is no doubt that TuensKit Audio Capture is best option for you to play Last.fm music and radio files without any restriction if you feel affordable to its price. If you think there is no need to cost money for enjoying Last.fm music files offline and you are looking for some free Last.fm recording recorders, Apowsersoft Online Audio Recorder seems be a great option. As a free and open source audio recording application, it is capable of recording and capturing any sound from computer and microphone and setting the recorded output format, like MP3 according to your needs. For more professional free audio capture, you can visit this source page: Top 5 Best Audio Recorder Freewares. Now, there is a simple yet complete tutorial for recording Last.fm music files with the help of online free audio recorder.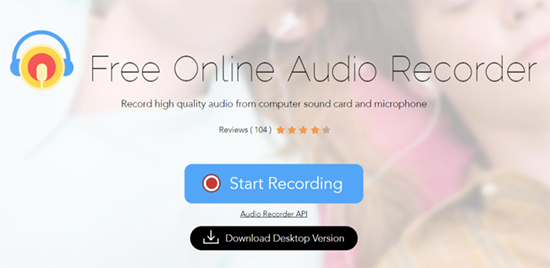 Step 1. Enter to the website page of Apowersoft audio recording software, and choose System Sound option to start enter into the recording interface.
Step 2. Sign in Last.fm with your special Last.fm account, and choose the favorite Last.fm file to play. This software will begin to launch the recording process. Since this software can't support multi-track recording, you need to record Last.fm music files one by one.
Step 3. Simply touch the Stop button, all recorded Last.fm music streams and radios are listed in the recorded destination folder.