How to Record Audio in FL Studio
Posted by Adam Gorden on Mar 7, 2022 12:00 PM • Category:
Record Audio
4 mins read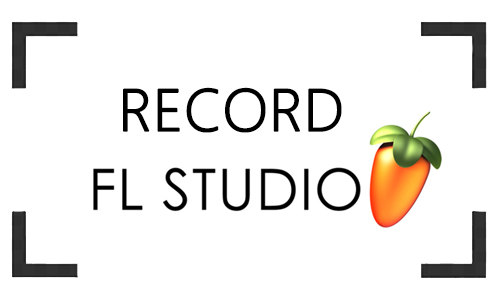 As a professional digital audio workstation and music production software, FL Studio has attracted a large number of music producers. It has stunning music editing functions that allow users to create lots of amazing songs, or make the song samples more distinctive. In addition to being an application for making music, it is also an audio recording tool. You can use it to record all kinds of files with audio like internal sound or microphone voice on Windows and Mac, and then make further modifications.
In this post, you will see the tutorial on how to record audio in FL Studio 20, and come across FL Studio alternative, which can help you easily record audio on Windows 10 and Mac. Now let's dive into it.
Part 1. How to Record Audio on FL Studio
You may be confused by FL Studio complex interface if you are a beginner. Take it easy. No matter you want to use FL Studio to record any online audio or desktop sound or your voice, only a few simple operations can you make it as soon as possible.
How to Record Audio on FL Studio 20
Step 1: Open FL Studio, click the red button on the top menu or the Record icon, then it will show a window to ask you to choose, click the option.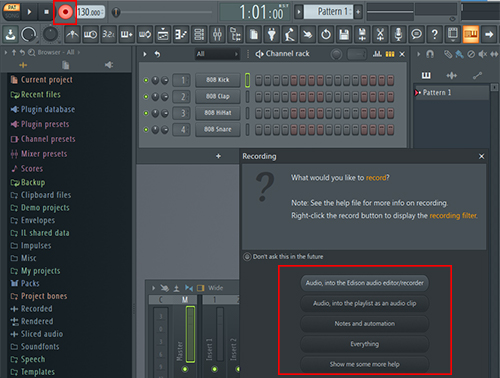 Step 2: After that, it will display a window again to tell you to select an audio input first. Click OK. Then choose the input device.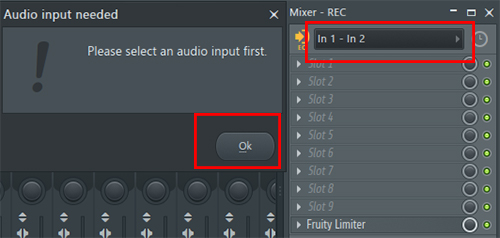 Step 3: Once it is done, you will hear four ticks first, then it begins to auto-record audio on the computer. When you finish, click the Stop button.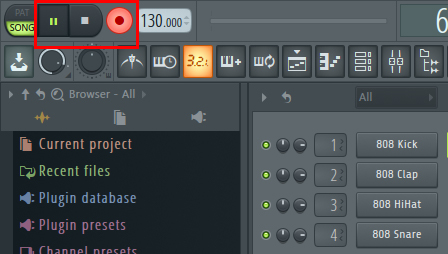 Step 4: If you want to cut the music, click the slice button, and then use it to swipe at the position to be cut, then the complete track will be divided into two parts. You can right-click on unwanted sections to delete them.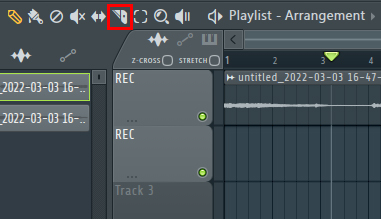 Step 5: To save the recorded audio, click File>Export, and choose the format. After you name the audio file, it will be saved in the setting folder.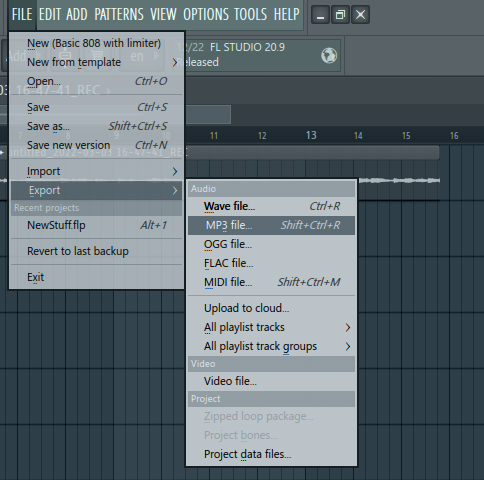 Part 2.Best FL Studio Alternative to Record Audio with Ease
Those who have not downloaded FL Studio may not download this software specifically for the recording function are more inclined to look for a simple and convenient recording software without too many complicated functions. So next we will introduce another tool capable of recording audio effectively, TunesKit Audio Capture.
TunesKit Audio Capture is easy-to-use and powerful audio recording software that can let users record audio on it. It features a professional recording system and a useful editing tool so that you can capture any audio source losslessly, such as browser, desktop audio, gameplay, video files, etc. And you can export the audio recording to different formats, such as MP3, MAV. M4V, FLAC, and more. So now let's see the step-by-step guide of how to use TunesKit Audio Capture to record audio.

Key Features of TunesKit Hulkshare Music Downloader
Available for Winows and Mac
Record audio losslessly with full ID3 tags
Support customizing audio output format
Support multi-track downloading, audio cutting and merging
Try It Free
600,000+ Downloads
Try It Free
600,000+ Downloads
How to Record Audio on TunesKit Audio Capture
Step 1: Download and open TunesKit Audio Capture. If you want to preset the audio format, you need to click the Format button, and click OK.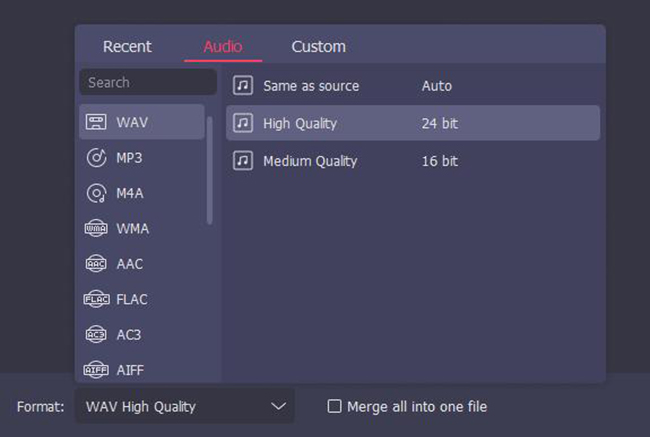 Step 2: In the main interface you can see software icons. Open the audio source in it, then turn to the wanted audio.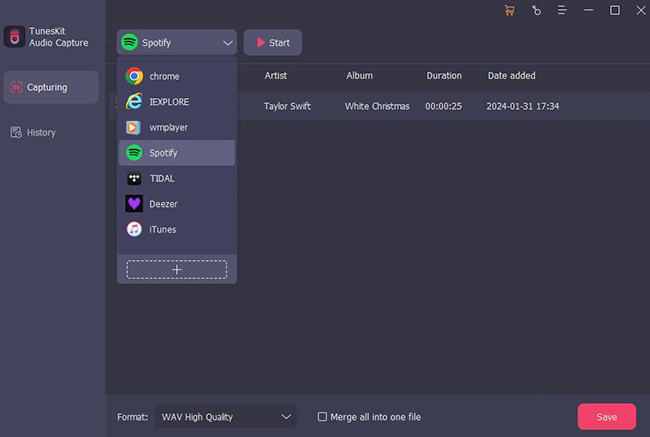 Step 3: At this time TunesKit Audio Capture will enter the recording scene, once you play the sound, it will automatically capture it and start recording.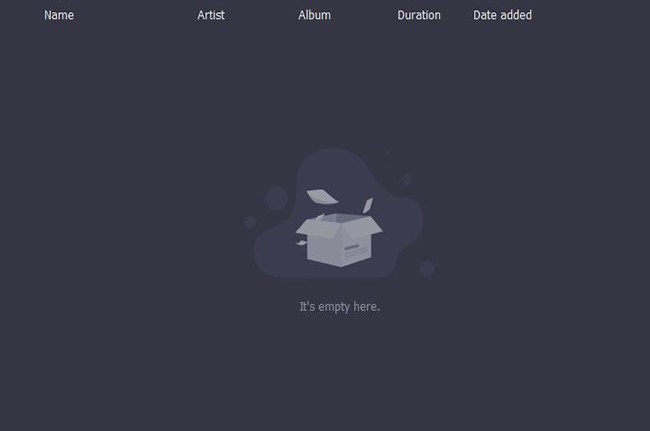 Step 4: When it ends, click the Stop button, then the recorded audio will be in the Capture List. You can double-click to preview it or click the Edit icon to open the editing platform to make the editing.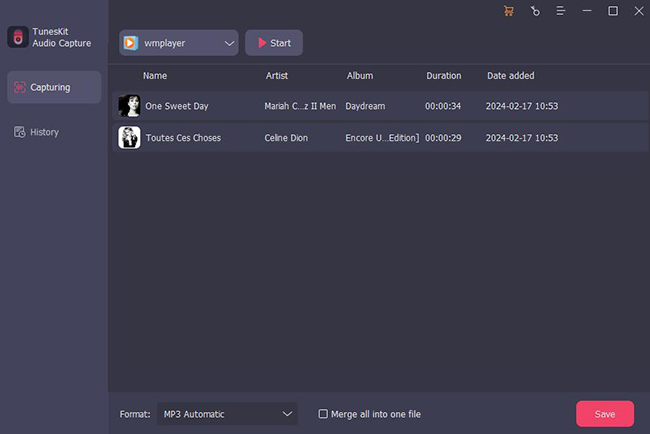 Step 5: In this scene, you can cut the audio to your desired length, and click the Tag side to edit ID3 tags. When you finish, click OK.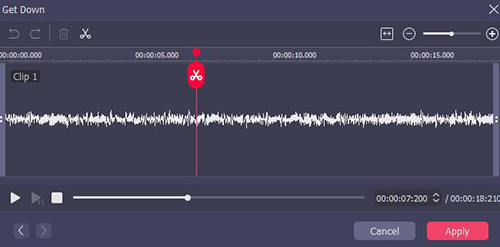 Step 6: The final recorded audio will be saved in the History and the folder you set before. Now you can use the audio recording for offline listening.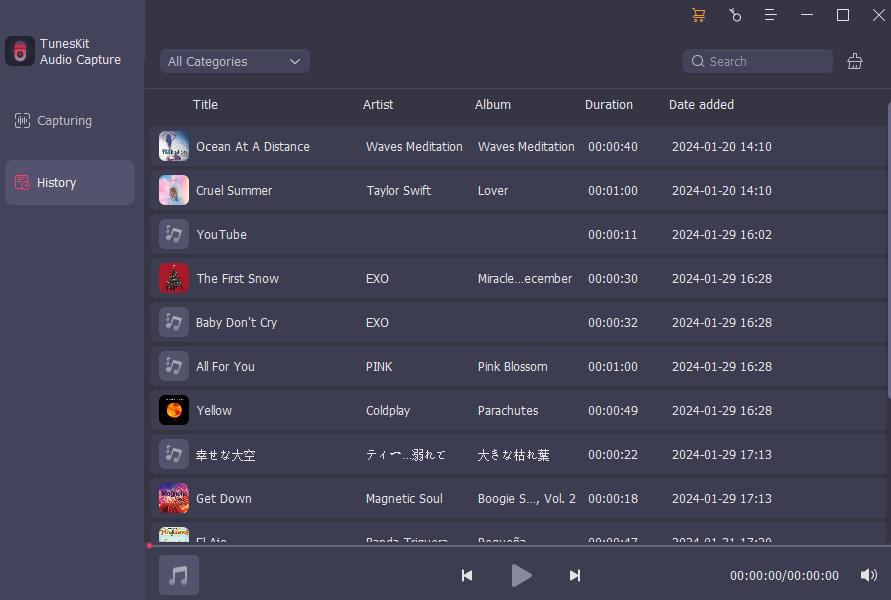 Part 3. Comparison between FL Studio and TunesKit Audio Capture
For easier understanding, we have made a table for you to make a comparison.
| | | |
| --- | --- | --- |
| | FL Studio | TunesKit Audio Capture |
| Record with High-Quality | √ | √ |
| ID3 Tags | √ | √ |
| Editing Tool | √ | √ |
| Select audio Source | × | √ |
| Capture the Specified Audio | × | √ |
| Multiple Output Formats | √ | √ |
| Audio Effects | √ | × |
| Music Production Tool | √ | × |
| Clear Interface | × | √ |
As you can see, FL Studio has more features than TunesKit Audio Capture. After all, FL Studio is specialized in producing music. But TunesKit Audio Capture is useful enough for most people to record audio on their own.
Part 4. Summary
Today we introduce you to a way to record audio in FL Studio and present a powerful alternative, TunesKit Audio Capture. There is no difficulty in recording audio on FL Studio. As long as you've used this software, you'll realize that recording audio is just one of its many amazing features. Of course, not everyone who wants to record audio is a music producer. Therefore, the best alternative to FL Stuido is perfect for you.