Nicovideo Downloader - How to Download Niconico Audio
Posted by Adam Gorden on Mar 10, 2021 4:15 PM • Category:
Record Audio
4 mins read

A Japanese website - Nicovideo is a video-sharing website like YouTube, but many features differentiate it from YouTube such as the importance of anime for Niconico and the comments which are overlaid onto the video so that the communication is more convenient and efficient. If you like anime, video games, and pop music, Niconico can be the best website to watch them. When you are watching videos on Niconico, a song or a piece of music may make a hit with you. Of course, you want to download this song and save it on your phone to play it at any time. Unfortunately, you cannot download the audio within Niconico.
It may be the most regretful thing of this day if you cannot download this song. Is there a method to download Niconico audio and save them in a common format? That's what we will talk about today. And we got 2 methods for you.
1. Record and download Nicovideo audio with TunesKit Audio Capture
TunesKit Audio Capture is one of the best Niconico downloaders, which can download any audio from Niconico easily. It can also record all kinds of audios given out from computer soundcard such as live broadcasts, sounds of the game, streaming music from Tidal, Amazon Music with high quality. TunesKit can download sounds from the web player or media player apps like Windows Media Player and iTunes. TunesKit will save the downloaded audios in different formats such as MP3, FLAC, AAC, and others.
Will it mix the sound of different player? Do not worry about this. You are able to download multiple music tracks at the same time and tracks will not interfere each other. Besides, this tool offers the feature to edit the ID3 tags of your audios downloaded from Nicovideo. In the next part, we will walk you through the detailed steps to download audio from Nicovideo with TunesKit Audio Capture.

What TunesKit Audio Capture Can Do
Download Niconico audio with high quality
Support MP3, AAC, FLAC, WAV, M4A, and M4B
Record any audio from computer including games sound, radio, streaming music
Easy to operate with a clear interface
Try It Free
600,000+ Downloads
Try It Free
600,000+ Downloads
How to record and download audio from Nicovideo
Before you start to download Niconico audio, you have to get all things done. You need to download and install TunesKit on a Windows or Mac computer. After that, you can follow my guide below to record Nicovideo songs with Tuneskit in 3 steps.
Step 1

Open TunesKit Niconico Downloader

Launch this Nicovideo downloader on your computer. You will find some icon programs on the screen of this software such as Chrome. You need a browser to launch Niconico in the third step. If you cannot find a browser you want to use, click the Add Programs button to add it or drag the icon of this browser to this screen directly.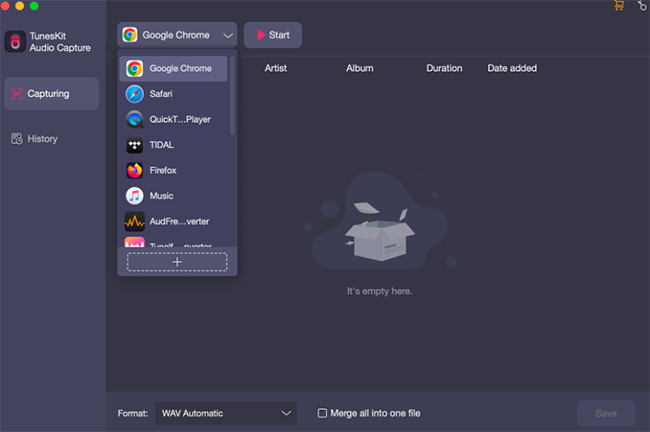 Step 2

Set format for Niconico audios

Click the Format button. You can choose any format from MP3, AAC, WAV, M4A, M4B, FLAC. You can also change the codec, sample rate, and other settings of your Niconico audios.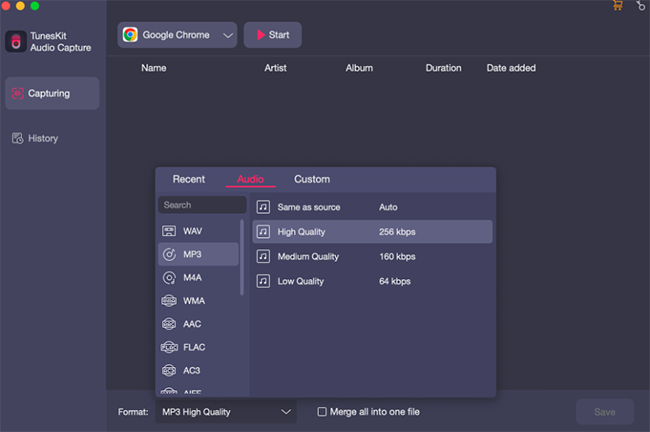 Step 3

Convert Niconico audios

Click the icon of the browser in TunesKit you choose in the first step. Play the video from which you want to extract audio. TunesKit will create a recording track the moment you start to play this video. When you need to stop the recording, click the Stop button. Click the Save button to save and convert Niconico audios. After waiting for a few moments, you will be able to find your downloaded Niconico audio from the Converted button.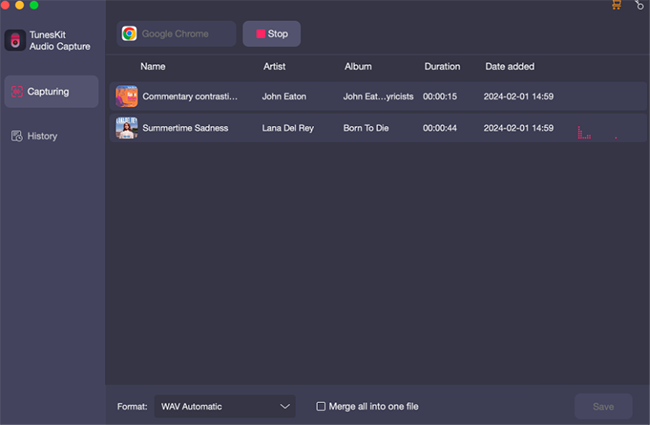 Download Nicovideo audio with Chrome extension
You can also use a Chrome extension to download audio from Nicovideo. Nevertheless, there are some shortcomings for those Chrome extensions for downloading Nicovideo audio. For example, the quality of the downloaded audio is not as good as the original audio on Niconico. And some users report that these Chrome extensions do not work on their devices. Anyway, I will introduce a Chrome extension for you. You can decide which method you should choose after reading this.
Awesome NicoNico Downloader is one of these Chrome extensions. This tool can download anime videos, music, thumbnail images, and manga from nicovideo.jp. You can follow the guide below to use this extension.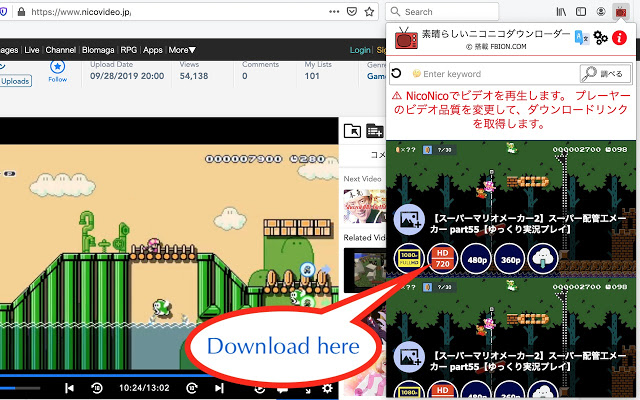 Step 1: Open Chrome on your computer. Search for Awesome NicoNico Downloader.
Step 2: After you find the Niconico downloader, Click the Add to Chrome button next to the name of it.
Step 3: Open NicoNico website. Play a video on NicoNico.
Step 4: Change the video quality on the player to get the download link.
Step 5: Open this extension and wait for a few moments.
Step 6: Click on the quality you want to download. And the audio will automatically download and then save to your device.
Conclusion & suggestion
Most video-sharing websites like Niconico, Metacafe, YouTube do not allow users to download videos or extract audio from the video for offline listening or back up. At this time, TunesKit Audio Capture, your reliable helper, can record and download any audio of videos on these platforms. And you are able to save any song or BGM you like for listening on any device or share with your friends. Just start to use TunesKit to download Niconico audio now!