How to Download Music from AllMusic 2020
Posted by Adam Gorden on Sep 25, 2020 5:45 PM • Category:
Record Audio
5 mins read
AllMusic is a large American online music database company that enables users tofind millions of soundtracks as well as many artists and their information. It started decades ago with the intension to create a platform "with an open-access database to all recordings". With such a database, you can learn about music while listening to music from the streaming sites provided on AllMusic. But how can we download music from AllMusic? After all, that will make it easier for us to listen to music, isn't it? Here in this article, we will introduce 2 best ways to download music from AllMusic.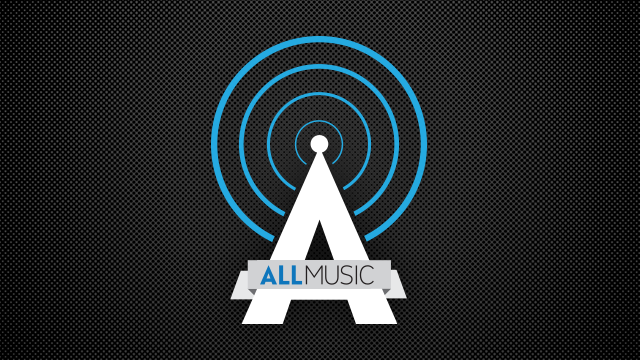 1. What is AllMusic
Started in 1990, AllMusic has grown into Wikipedia for music over the last 3 decades. Its owners changed several times, but what's remain unchanged is its free database access provided to all registered users. It also provides a link to the location where you can stream the music. That begs the question that many people want to ask today: how to download music from AllMusic free? Just consider how convenient it would be to be able to download the music you like right where you find them!
However, AllMusic doesn't provide music audio resources. Therefore, to download music from AllMusic, we certainly need alternative solutions.
2. Record Music from AllMusic without Quality Loss
When it comes to music downloaders, the most important aspects that we need to consider are its download success rate, sound quality, and download efficiency. TunesKit Audio Capture is one of the best audio recording programs. As its name indicates, it will record the sound produced by your system in high quality. So it can record music from AllMusic.
Although recording music sounds inefficient, TunesKit Audio Capture can record and download multiple songs at the same time. The download items will not mix up with each other. What's better, it provides 6 formats for users to choose from freely, including MP3, AAC, FLAC, WAV, M4A, and M4B, so that they can play the downloaded music on different devices and platforms.

Key Features of TunesKit AllMusic Downloader
Record music tracks from AllMusic with high quality
6 popular audio formats supported
Preserve 100% lossless audio quality and ID3 tags
Support the and editing of the recorded audios
Try It Free
600,000+ Downloads
Try It Free
600,000+ Downloads
Steps to Use TunesKit Audio Capture
TunesKit audio grabber allows you to download and install the trail version to test its performance before you purchase it. With the help of TunesKit audio recording software, you can follow the detailed tutorial to record Amazon Music Unlimited or record Amazon Prime Music for listening anywhere.
Step 1

Download and Get to Know TunesKit Audio Capture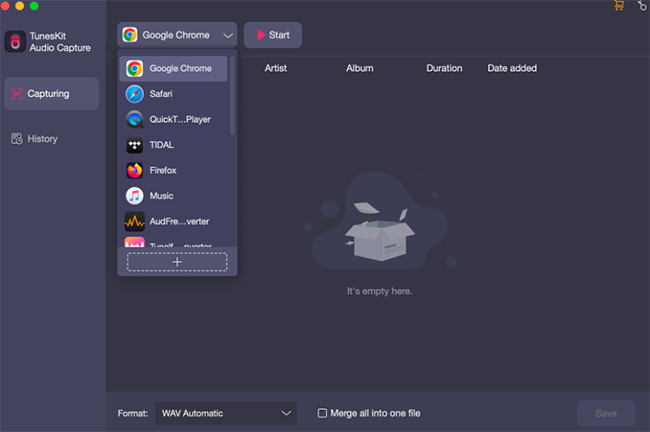 Download and launch TunesKit Audio Capture from the links above. In its major interface, you will see a list of app icons. Those are the default apps that you can download music from, and you can always add new apps by clicking the "+" icon. You can later click on the Chrome icon to open AllMusic and download music, but don't do it until we reach step 3.
Step 2

Configuring Settings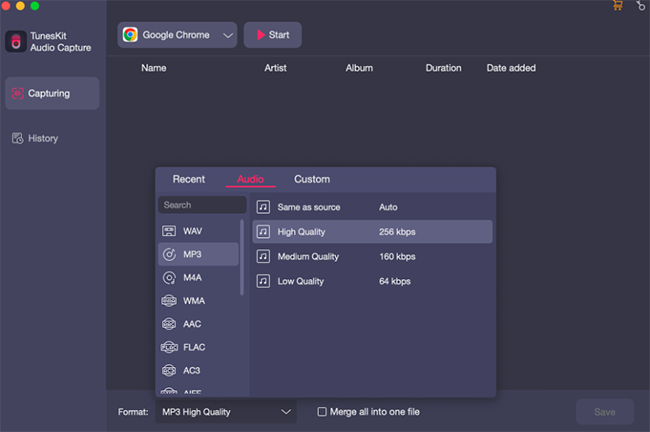 Before we start downloading, let's customize some recording and downloading settings first. Open the "Preferences" menu on the top right, and go to its "Convert" tab to select the folder where the music will be saved. Then go to the "Format" section at the bottom right. A window will pop out, and you can choose the format, codec, channel, sample rate, bit rate for the output music. An easier way to change them all is to choose the "Preset" as "Small Size" or "High Quality". Press the "OK" button to confirm these settings.
Step 3

Record and DownloadAllMusic Albums and Songs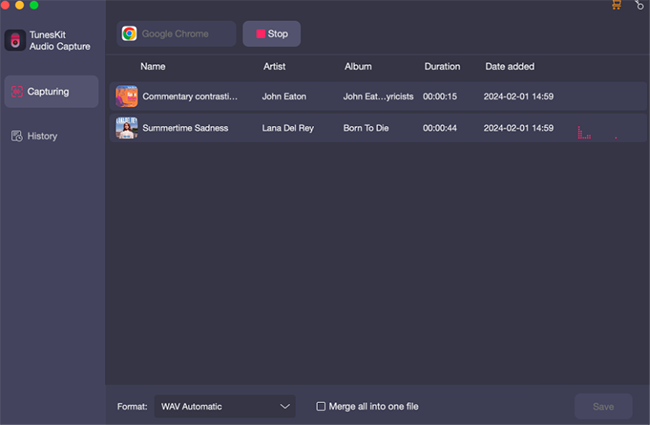 Go back to the main interface and click on the Chrome icon to open Chrome. A music capture window will pop out so that you can monitor the download process directly. Use the newly-opened Chrome, to play the music in the streaming sites provided by AllMusic.The program will begin downloading them as soon as the music starts playing. As mentioned before, you can download as many songs or albums as you like simultaneously, and the program will record them to separate files.
Step 4

Editing Recordings and Save Them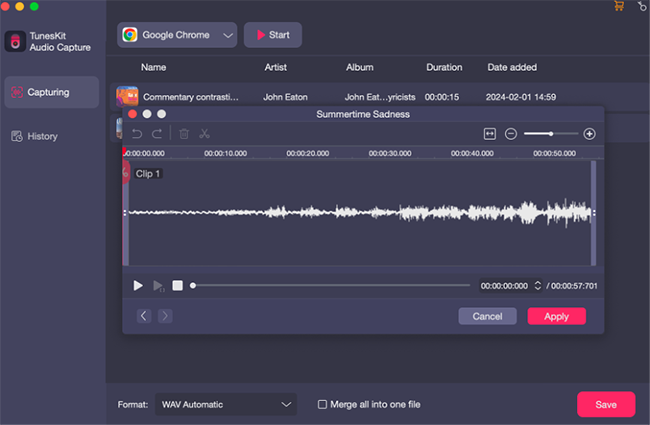 When the downloading process ends, press the "Stop" button at the bottom of the window. Optionally, you can click on the "Edit" button beside each item to enter the built-in editor. With this audio editor, youcan trim the songs and edit their ID3 tags to your heart contents. Finally, press the "Save" button at the window bottom to save the recording files to the computer storage. You can then find them in the folder you chose earlier.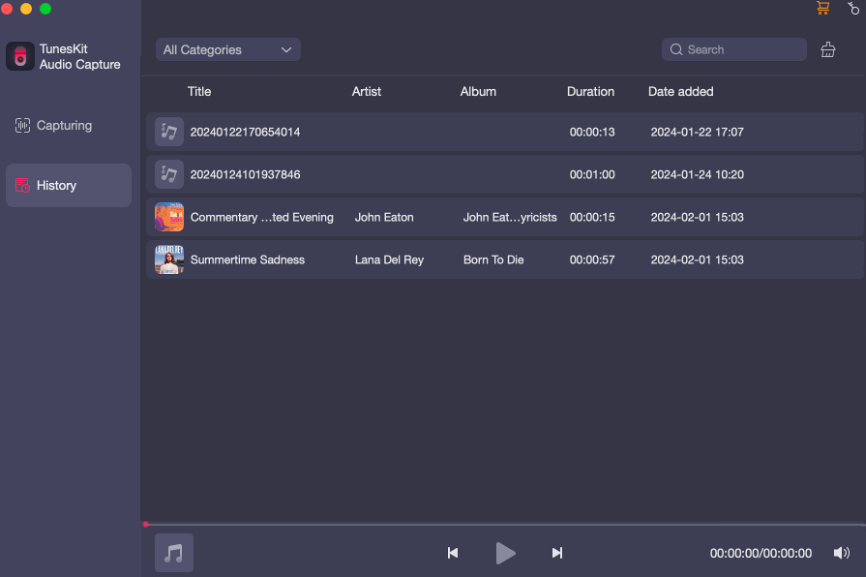 3. Use Audacity to Download AllMusic Songs
Except for the first paid-for option, we still have a famous free alternative to do the job. That is Audacity. Audacity is a free audio recorder and editor program. It can also record audio from your soundcard, which makes it possible for us to use it to download music from AllMusic.
However, it is worth mentioning that using Audacity is more difficult and less convenient compared with the first program. You should record and stop for every song you download.
For Windows:

Step 1: Download and install the software from their official site. Launch the program.
Step 2: In Audacity, select the "Windows WASAPI" audio host, and then select an appropriate loopback device. Normally, it should be "Speakers (loopback)" or "Headphones (loopback)."
Step 3: Press the "Record" button in Audacity, and Start playing AllMusic music. When a song finishes, press the Stop button.
Step 4: Easily trim the song to your demands. For example, it is recommended to cut the silence in the beginning.
For Mac: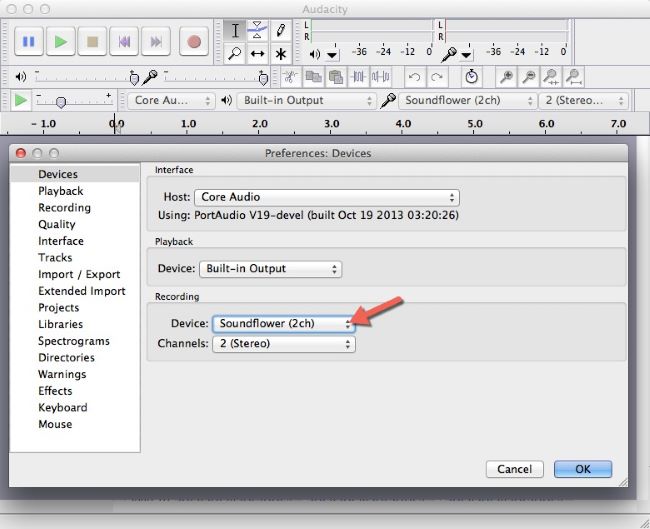 Step 1:Download and Install Audacity and Soundflower on your Mac. Soundflower is needed because it helps you route sounds to any app on Mac instead of the default speakers.
Step 2: Click the Apple menu on the top left to open System Preferences, then select Sounds.Go to the Output tab and set Soundflower (2ch) as the device for sound output. Open the Soundflowerbed app and a Flower item will be added to your menu bar. Click the Flower and set Built-in Output for Soundflower 2ch.
Step 3: Open Audacity Preferences, switch to the Devices tab, and select Soundflower (2ch) as the Recording device. Next switch to the Recording tab and select the Software playthrough. Click OK to save your preferences.
Step 4: Press the record button and play the music in AllMusic. You can see that it is being recorded as it plays. If the music ends, press the Stop button again to stop recording.
4. Summary
Now you've seen the download methods to download music from AllMusic. One of the methods is paid-for one with powerful features, and the other is also a useful option. We hope that you can successfully download the songs and albums.