Top Streaming Music to MP3 Converters
Posted by Nick Orin on Oct 15, 2019 6:55 PM • Category:
Record Audio
4 mins read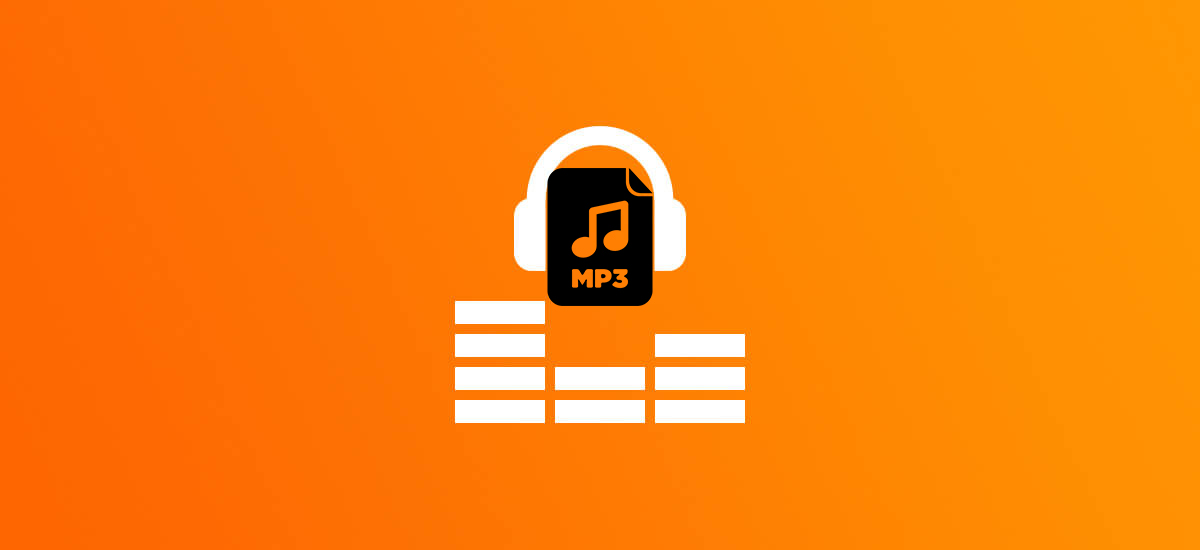 Streaming Music is an astonishing creation in this age when music becomes a lot more portable with the help of the Internet. Nevertheless, we still need streaming music to MP3 converter. For one thing, listening to streaming music costs cellular data, which is not cheap. For another, MP3 is the most accepted format of audio. But there are so many converters in the market, which one to choose?
Don't worry, we have found out the best ones for you. In the following part, you can see the best streaming music to MP3 converter as well as an MP3 converter for some major streaming music services, including Apple Music, Spotify and Audible.
1. Best Streaming Music to MP3 Converter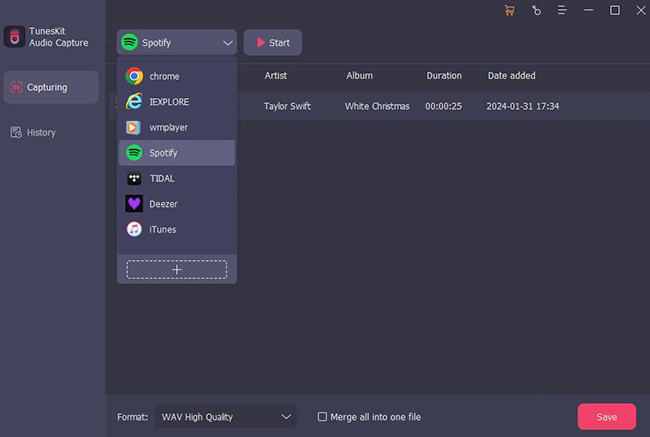 TunesKit Audio Capture is definitely the best streaming music to MP3 converter. It won this honor for the following reasons:
To convert streaming music to MP3, we should download the streaming music first before we convert it. TunesKit Audio Capture is able to capture streaming music played by any programs on your computer.
The conversion is so convenient that it is actually finished during the capturing process. How it is done? Before capturing, you will be able to configure the output formats of the captured tracks. Once you set the output format as MP3, the captured tracks will be saved as MP3 files.
Unlike what people think of audio capture, the capturing process will cause no harm to the sound quality of the music, which means what you get after the conversion is as good as the original tracks.
The price of this tool is also fairly attractive. We have compared its price of a lifetime license with other major competitors, and we are confident to say that TunesKit Audio Capture is one of the cheapest streaming music to MP3 converters in the market. Nevertheless, the low price doesn't affect the quality of this software.
Pros:
1. Converting streaming music without quality loss;
2. Simultaneous capture of multiple audio resource;
3. Low price with all necessary functions;

Cons:
Converting requires some time, since it is carried out along with capturing.
2. Best Apple Music to MP3 Converter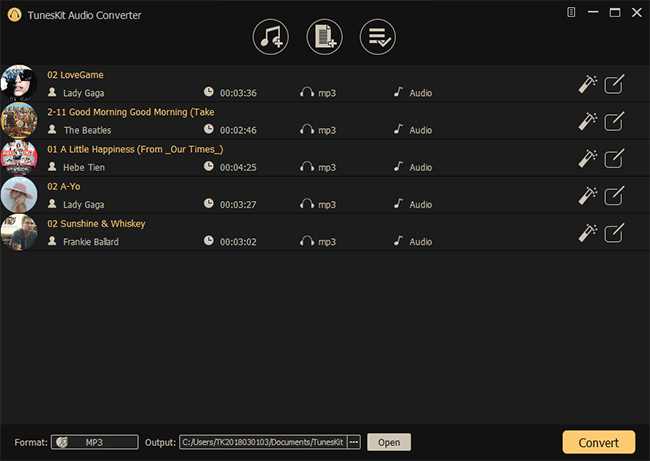 TunesKit Audio Converter is able to conduct the conversion between MP3, WAV, WMA, FLAC, AAC, OGG, M4A, M4R, AC3, AMR, APE, etc. But what special about this that it specializes in converting Apple music to MP3 and other formats, so that you can enjoy the music on whichever device and app. That's right, after the conversion, the restrictions of using the songs will be canceled. Besides, this tool can also retain the sound quality of the original audio.
The most distinctive feature of TunesKit Audio Converter is its efficiency. Simultaneous conversion of multiple tracks at a high speed make sure that you can get the MP3 files in no time at all. Different ways of adding audios into the conversion list enable you to quickly select the songs you want to convert.
As for the disadvantages, this tool needs full payment to enjoy freely, but its performance totally worth the money.
Pros:
1. Multiple extra functions;
2. sufficient opportunities for trials;
Cons:
Require payment for unlimited usage.
3. Best Spotify to MP3 Converter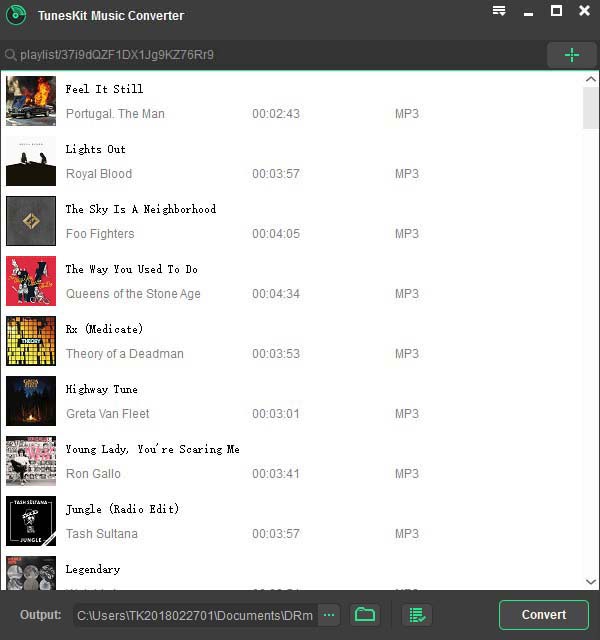 The laureate of the best Spotify to MP3 converter belongs to TunesKit Music Converter for Spotify, one of the major products of TunesKit. This tool can conveniently convert singles, albums and playlists, as all you need to do is to drag whatever you want to convert from Spotify to TunesKit Music Converter to Spotify.
The convenience alone cannot make it the best Spotify to MP3 converter. Like the previous two products, it can convert music without sound quality degradation. As for efficiency, the speed of the conversion is high, and multiple tracks can be converted at the same time. However, if you prefer stability over speed, the tool provides a stable mode, where unexpected errors are not likely to happen.
The main disadvantage is that UI languages only include English, Japanese, German and French.
Pros:
1. Easy operation;
2. High speed of conversion.
3. Stable mode to prevent errors.
Cons:
A limited selection of UI languages.
4. Best Audible to MP3 Converter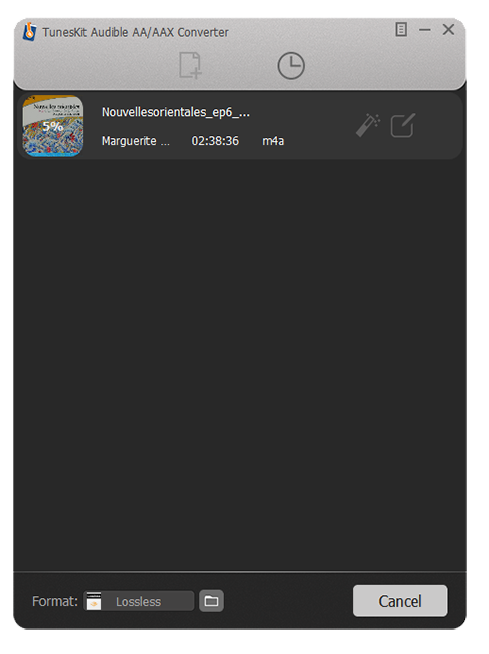 Though AA / AAX audio provided by Audible has quite a few amazing features, its compatibility may not be as good as that of MP3. To convert audios of Audible to MP3, TunesKit Audible Converter is the best choice.
There are two distinctive strengths of TunesKit Audible Converter. Firstly, it does not require the installation of iTunes and authorization of the Audible account to conduct the conversion, which is especially useful when you forget your Audible account. Secondly, the conversion speed is as high as 100X. In addition, the high speed does not cause sound quality loss, which means the converted audios are of lossless quality.
The only drawback is that the tool is not free, but it's reasonable since it has so many astonishing functions.
Pros:
1. iTunes and authorization of Audible account are not necessary;
2. Super high conversion speed.
Cons:
Payment is needed to convert Audible to MP3 fully.
Conclusion
The tools provided above are the best tools in their own spheres. We hope this article has offered you with more insights about streaming music to MP3 converters, and we hope you can find the converter that satisfies you.