Top 10 Free Music Recording Software
Posted by Nick Orin on Nov 16, 2022 10:00 AM • Category:
Record Audio
6 mins read
If you're aware of the media production business, you'd know that audio recording is essential. From every music professional to the music lover, generating top-notch sound recordings is most people's priority.
You'll find various breathtaking paid or free music recorders but not all the tools are reliable. Thus, finding reliable free music recording software isn't easy but guess what? We'll introduce the top 10 music recording tools in this guide.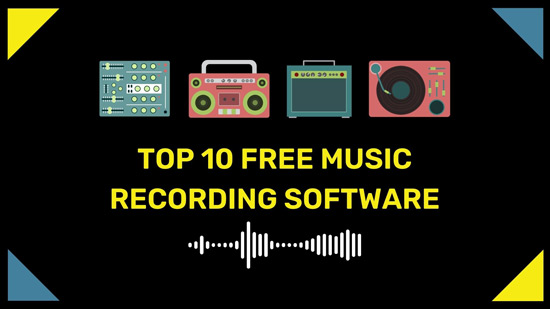 1. TunesKit Audio Capture
When choosing free music recording software, you'd have liked to assess the sound quality the software comes up with.
Getting an appropriate sound quality for your audio is essential, as no one would like to listen to audio with poor sound quality. Luckily, TunesKit Audio Capture has all those ingredients you'd like to see in a music recording software free.
The software offers unbelievable functions, making the audio recording top-notch. Since TunesKit Audio Capture is a multi-track audio recorder, it can capture any audio sound on a PC and Mac, including streaming music on desktop media players, web players, and more.
Features:
● Supports multiple formats, including AAC, M4A, M4B, FLAC, WAC, and MP3
● Repairs and arranges ID3 tags
● Allows you to merge and trim your audio files
● It offers a simple user interface, making it look effortless for you
● Lets you record multiple audio files simultaneously
● Allows you to adjust the quality of your audio
Pros:
● Comes up with the simple user interface
● Free trial version
● Maintains the brilliant sound quality
● Simple installation process
Cons:
● The trial version only record audio in 1 minute
How to Record Audio Using TunesKit Audio Capture
Step 1: Install the TunesKit Audio Capture after getting it downloaded from the official website. In the main interface, you can add other programs, including browsers and media players, after tapping the ''+'' icon.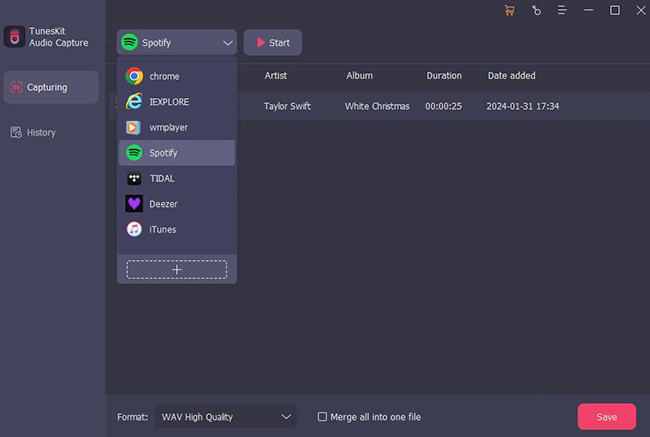 Step 2: Click on the Format button to set the output preferences into which you'd like to record the audio. You can choose the various audio output formats, including the FLAC, M4B, AAC, WAV, and MP3, and also adjust other options like codec, channel, etc.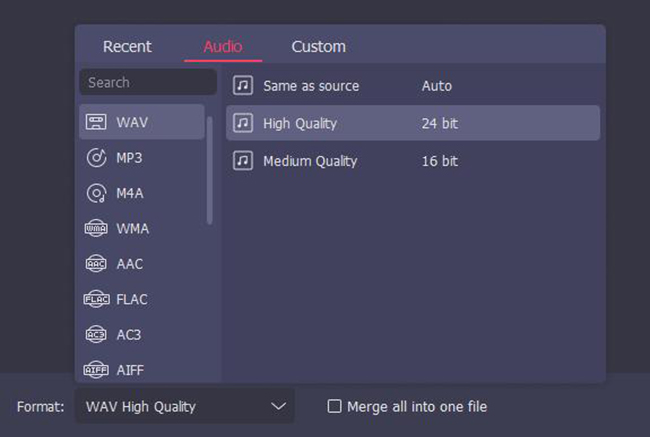 Step 3: Launch the browser or program you've selected from the TunesKit home interface. Next, select the audio or music you'd like to capture. After playing the audio, TunesKit Audio Capture will start recording the audio immediately. Then tap the Stop button.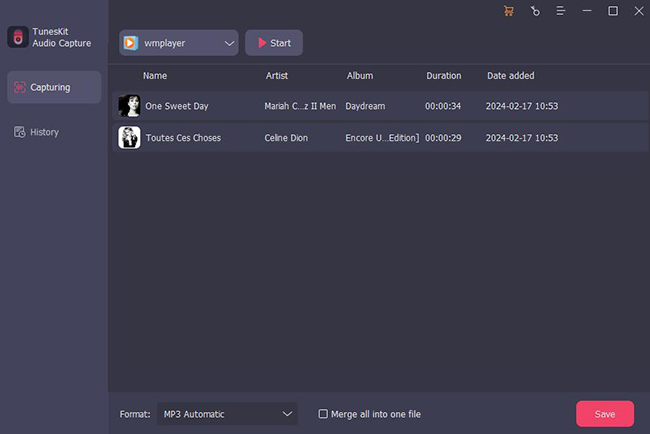 Step 4: Once the audio is recorded, you can perform various audio edits, such as merging or trimming the audio, or editing your audio's ID3 tags, including the artist, picture, year, title, etc. Next, tap the Save icon to export the recorded audio.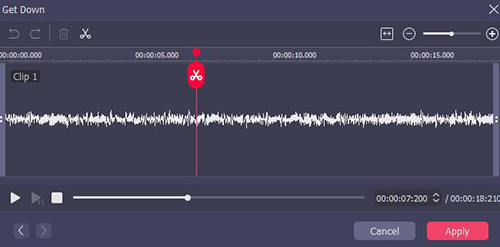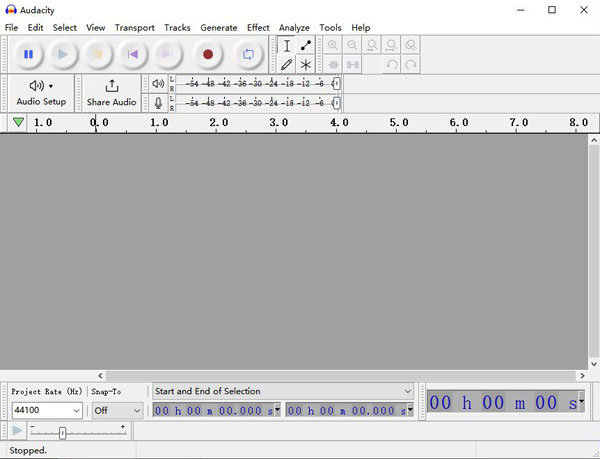 Another free streaming music recorder that can help you record music in breathtaking sound quality is Audacity. Despite offering reasonably professional services, Audacity offers a simple user interface. It has straightforward options that make recording look effortless and also offers a variety of sound effects and plug-ins that let you edit your recorded audio.
Features:
● Free download
● Built-in effects
● Comprehensive audio editing
● Brilliant plugins and spectrogram analysis
Pros:
● Easy to use
● Simple editing features
● Support adding plug-ins
Cons:
● Not suitable for multi-tracking instruments
3. Adobe Audition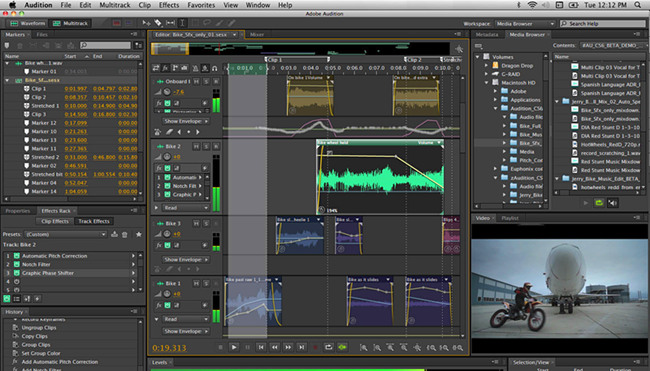 When searching for free music recording software, one shouldn't ignore the value Adobe Audition can add.
It is a brilliant audio editing tool that offers immaculate audio features, helping you to make the sound quality top-notch, which is most sought after by professionals. So, if you intend to work with high-quality audio for composing music or remixes, Adobe Audition might be a reliable software for you.
Features:
● Precise audio cleanup
● Tends to get updated regularly
● Easy to use
● Brilliant for voiceovers and podcasts
Pros:
● Tweak the precise details
● Immaculate editing of sound effects
Cons:
● Little bit expensive
● Not easy to operate for novices
4. Ocenaudio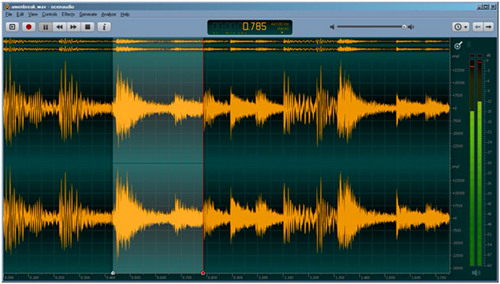 With its support for Linux, Ocenaudio won't be a bad free recording music software. It is quite a simple sound recorder that, though looks complicated, apart from enabling you to record the audio in brilliant sound quality, and allows you to perform various audio operations on your videos. You'll quickly catch on once you start using it.
Features:
● Compatible with Linux, Mac, and Windows
● Full Spectrogram included
● VST support
● Basic effects included
Pros:
● Enhance and expand functionality with VSTs
● Supports various file types
● Free
Cons:
● Workflow can improve a lot
5. Audio Hijack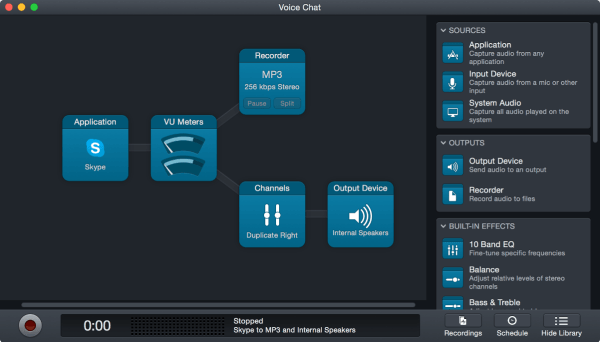 Audio Hijack is yet another commendable free music recording software with a reputation for recording voice-overs and podcasts in terrific quality.
There are several things to look for in this free music recording software free. Still, this tool allows you to record audio files for a long duration with such ease, and high sound quality is undoubtedly a standout aspect of this brilliant music recorder.
Features:
● Automated audio editing techniques
● Record and steam your audio simultaneously
● Maintains the brilliant sound quality
Pros:
● Easy to use
● Modern free recording music software
Cons:
● Hard for novice
● Payment required to unlock premium features
6. Wavosaur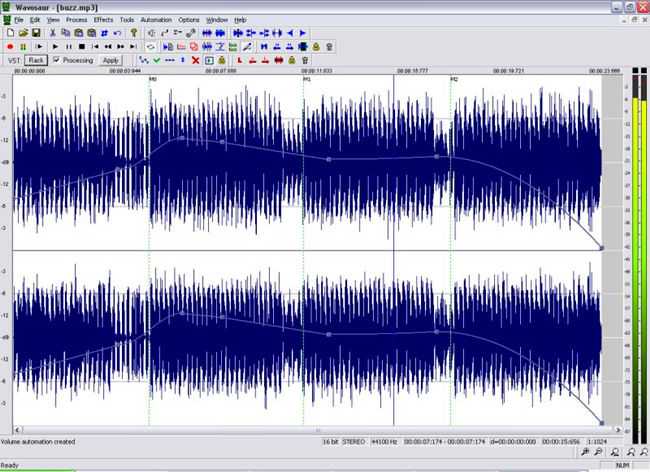 If you're looking for the best free music recording software services, you've always been able to go for Wavosaur. This software has exciting features to produce music loops, edit audio, and analyze and record the audio.
You can export the recorded files in .mp3 and .wav audio format. Moreover, it supports real-time effect processing, VST plugins, ASIO drivers, etc.
Features:
● Audio editing features
● VST effects
● Multiple document interfaces
● Loop creation
Pros:
● Vocal removal
● Bit depth convert
● Easy to use
Cons:
● Doesn't support all the audio formats
● The main interface style seems a bit outdated
7. GarageBand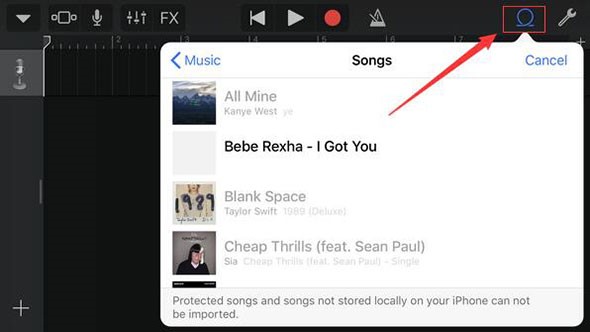 GarageBand has become the focal point of many musicians as this brilliant free music recording software empowers them to generate flawless music effortlessly. It can both record audio from a Mac and voice from a microphone, and even supports plugging in instruments and recording their sounds.
Apart from supporting iOS, it is a reliable free music recording software for Mac that updates regularly.
Features:
● Lots of samples and loops included
● A virtual drummer courtesy of the drummer function
● Brilliant presets for recording
Pros:
● Works on iPad and iPhone
● Easy to use
Cons:
● No Windows version
● Come with various yet complex features
8. FL Studio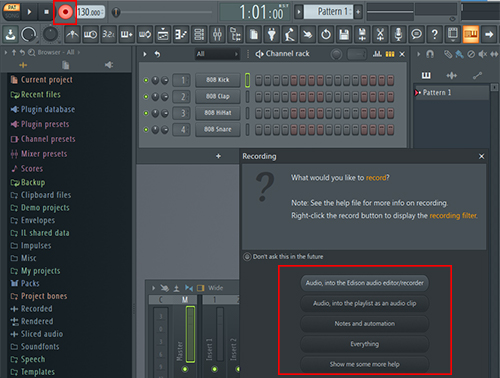 You can figure out the popularity of FL Studio from the fact that this free music recording software has been around for two decades.
With the ability to create great recordings for both mobile and desktop versions, FL Studio is undoubtedly a favorite tool for many people. The software allows you to record internal audio and external audio, load audio, samples, and instruments, and also store audio, notes, and audio automation.
Features:
● The diverse and massive user base
● Supports all the operating systems
● Supports all the VST standards
Pros:
● Brilliant plugins
● Simple user interface
Cons:
9. Apowersoft Free Online Audio Recorder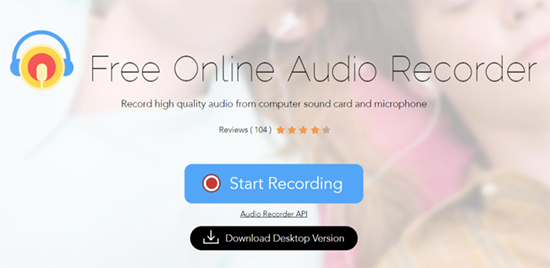 In case you only want to record songs from music programs or services, we present you with an online music recording software, Apowersoft Free Online Audio Recorder to record audio online free.
The great advantage of using this tool is that you can record music without having to install it as it's a free online music recording program and you can find the recording button simply by visiting its official website. Another merit of this tool is that it is web-based that can be used on Windows, Mac, and other operating systems.
Features:
● Compatible with all the operating systems
● Record microphone and system sound for free
● Easy and effective audio tool
● High audio quality
● Support for online listening
● Ensure audio data security
Pros:
● No installation required
● Easy to use
● No extra fee
Cons:
● Might work slowly
● Can only export audio to MP3 format
10. Vocaroo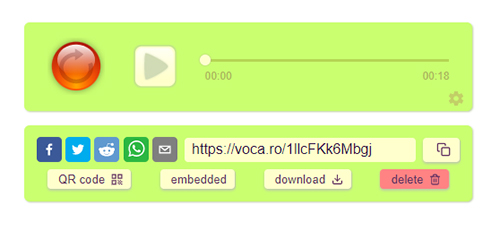 Vocaroo is another superb free online music recording software that generates fast recordings with minimal effort. This online tool assists you to record music from web pages or programs with good audio quality as well as allowing inline links to be generated, shared online, or saved locally.
Features:
● Record the audio in a few steps
● 100% safe
● No ads
● Free
Pros:
● No installation is required
● Brilliant effects
Cons:
● The audio quality might be low
● Can not edit the recorded audio
Final Words
Since accessing reliable free recording music software is daunting, we've revealed the 10 top-notch options for you. All the music tools we've reviewed in this guide are breathtaking and won't let anything behind, making you satisfied. And most of them are a perfect match for the requirements of composers and songwriters.
But if you're presuming for the best music recording software, which can record music from any source on computers, we've recommended TunesKit Audio Capture, which brings better sound quality and various output formats for users.