Free Music Download Apps for Computer/Mobile
Posted by Nick Orin on Sep 23, 2022 11:00 AM • Category:
Record Audio
6 mins read
Music calms our mind, heart, and soul, and no one can deny the power a good piece of music withholds. Having said that, we all want to download songs that we can resonate with or songs that uplift our moods. But often, you will notice that many music downloading apps promise to download high-quality songs for free, only to later realize that these are just false promises. 
So, if you are looking for free music download apps that allow you to download songs in their original quality without any hassle, this guide is for you. Now, you might wonder if you already have music streaming apps; why would you want to download them? The simple answer is that music streaming apps ask for an internet connection to play the songs, but once you download the songs, you no longer need to worry about internet connectivity. Now, let's learn about these free music download apps without any ado.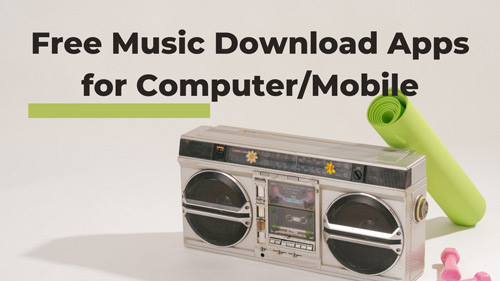 Part 1. Free Music Download App for Windows & Mac
The first tool we recommend is TunesKit Audio Capture for Windows and Mac. This professional tool can be downloaded from the official website and comes with a free trial. The free trial will give you a good enough idea about how this music downloader is and whether you should buy it or not. To talk about it, TunesKit Audio Capture lets you capture all kinds of sounds from your PC. From music to live broadcasts to podcasts, TunesKit Audio Capture enables you to capture everything.
It supports multiple music streaming platforms; it can capture as well as extract audio tracks from your favorite videos, captures numerous tracks at once, lets you edit your captured audios for better sound quality, converts the captured tracks into various audio formats, such as MP3, AAC, M4A, FLAC, and WAV, and keeps the original ID3 tags and lossless sound quality of the captured audio intact. All you need to do is download TunesKit Audio Capture and start using it. To use it, here are the steps you need to follow.
How to Download Music with TunesKit Free Music Downlaod App
1

Start TunesKit Audio Capture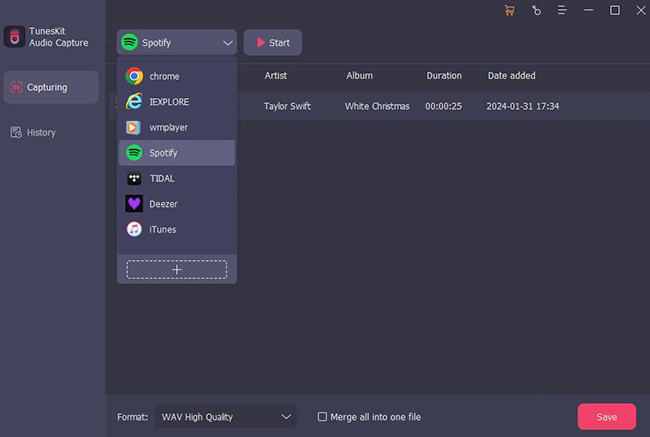 First, launch TunesKit Audio Capture after downloading it. You will see a few programs already installed on the main page, such as Google Chrome, Internet Explorer, etc. But if you use a few music streaming platforms, you can also click on the + icon and add them to capture the melodies conveniently. 
2

Customize Audio Parameters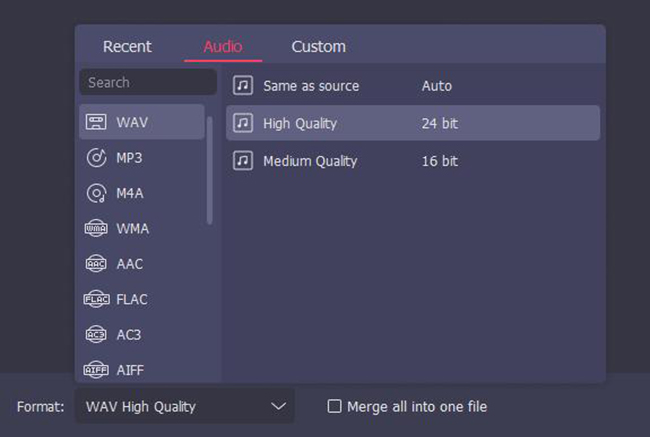 You need to click on the Format in the bottom right. You can set some audio parameters on this page, such as audio format, codec, sample rate, channel, and bit rate. Once you are done with customization, click on the OK tab. 
3

Start Capturing the Songs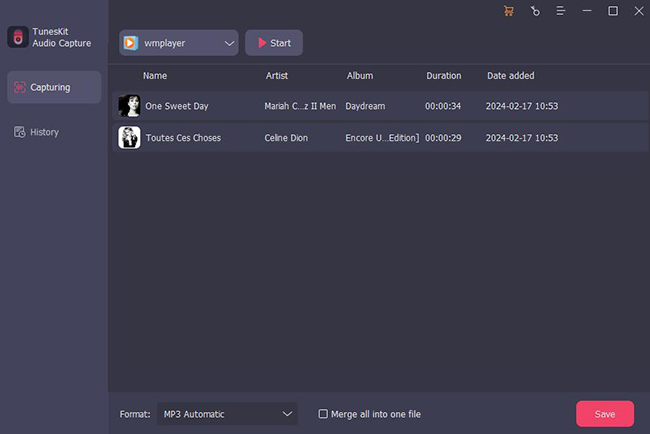 Go to the main page and click on a program to play a song. Start playing the song you wish to download, and the tool will start capturing streaming music. When it finishes, click on Stop. 
4

Edit the Downloaded Song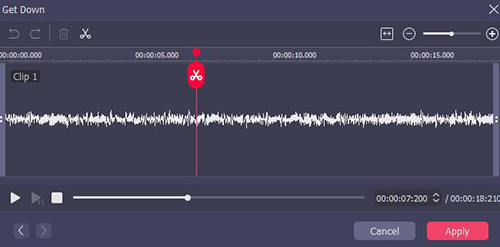 The song will be captured once done, and you can start editing it by clicking on the Edit option. For example, if you wish, you can trim it or edit the ID3 tags. After you are happy with the changes, click on the Save option. The downloaded music will be in the History list, and you can tap the Search icon to locate the target folder.
Part 2. 8 Best Free Music Download Apps for Android & iOS
#1. Fildo
Fildo is a music streaming and downloading app. You won't find it in the Play Store or App Store, though. You will have to download the APK version, and so far, the APK version is available for Android users. This free music download app allows you to download and listen to unlimited songs. It acts like a link between the user who wishes to download songs and services like NetEase that lets you download the songs. The interface needs some work, but the downloading feature is smooth and convenient.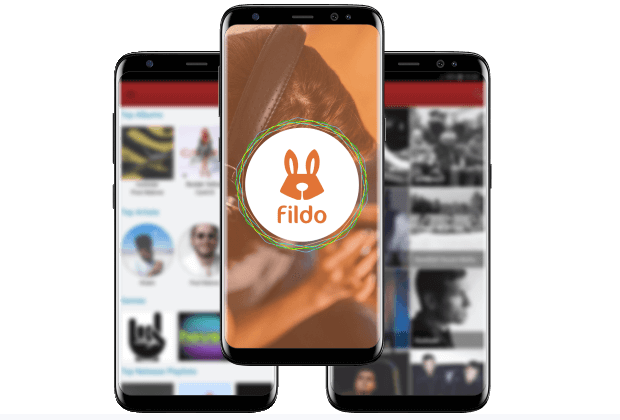 #2. Audius Music
Audius Music is a superb music streaming platform for iOS and Android users. You will find the app on both the Play Store and App Store. This platform is excellent for finding new artists as well. Of course, you will find top artists here, but if you want to listen to new artists, Audius Music is the app you need. You will see a download button in downloadable songs, which you need to click to download the song. Not every song will be downloadable, though.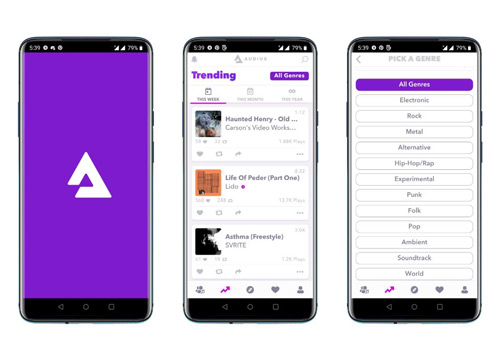 #3. Songza
Next up is Songza. This is another powerful music streaming and free download music app. But to start using it, you will first have to create an account. Only account holders can stream the songs directly. Some songs can be downloaded, but many users have said that they can't download most songs. It lets you choose the artists you like; based on that, it recommends songs similar to your taste so that you can enjoy similar songs non-stop. However, Songza is no longer available on Google Play, and you will have to download Songza APK from third parties.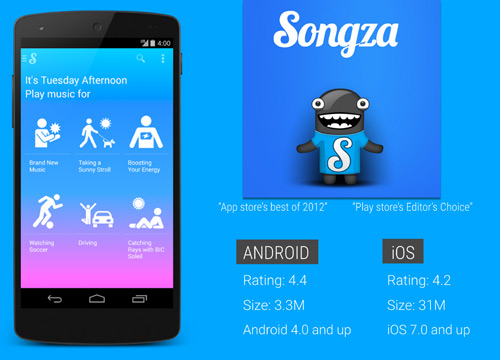 #4. Free MP3Box
Free MP3Box, or MP3Box, is a community platform where you will find many songs. It is a community platform where music lovers from across the globe come and share links to songs that everyone will like. The users share music streaming and downloadable links, which you can follow to save songs. You can use the search bar to find a song and download it. And if you want to share downloadable links, create an account with them and start sharing.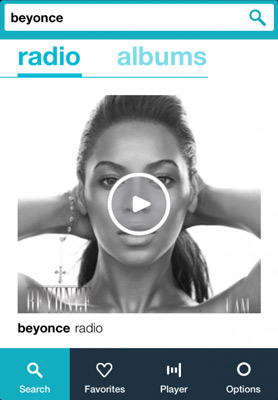 #5. Freegal Music
Freegal Music is a web-based application where you can search for all kinds of music. This is a platform where you will find all sorts of songs, and if you like to listen to new artists, Freegal Music won't disappoint you. To start downloading, all you need to do is create an account and log in. Once done, just search for a song and look for the download option. One issue you will encounter is locating the download option, as it is not easy to find. Also, the interface seems a bit outdated.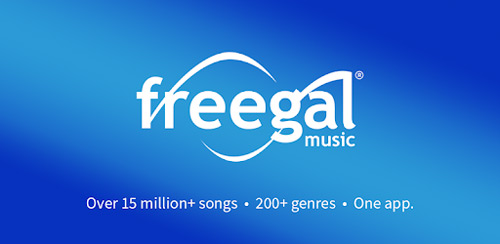 #6. Boomplay
Here's one of the best apps to download music for free. Boomplay is a music streaming and downloading app for iOS and Android users. It has more than 85 million songs, which means that no matter the genre, you are bound to find it here. Be it rock, pop, R&B, or others, Boomplay has it all. The rating of Boomplay is good, and to stream and download songs, all you need to do is play a small ad, and you can have Boomplay music download as many songs as you want within a specific time limit. The downloaded songs can be played offline and as often as you wish.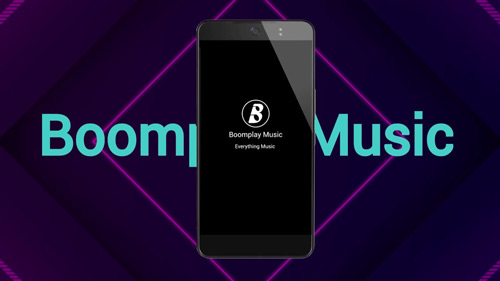 #7. Jamendo
Jamendo or Jamendo Music is a fantastic music app to stream and download songs. This app lets you discover new artists on the go and download their songs without any restrictions. Not just this, royalty-free music files are available for businesses and commercial use. Jamendo has songs from every genre, and downloading songs is relatively easy. Search for a song, and click on the download tab towards the far right of a song to get Jamendo music download. The song can be saved on any device.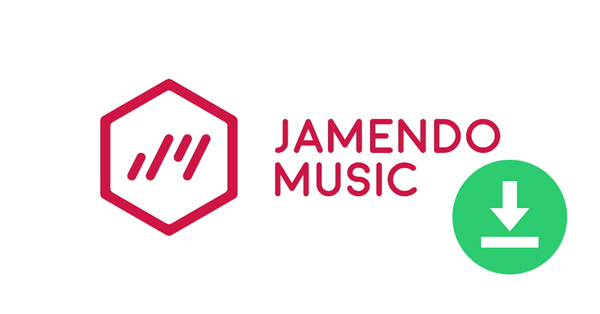 #8. Trebel Music
Trebel Music is a revolutionary music app that lets you stream music at no cost. You will find millions of songs, but one thing that you need to be mindful of is that you might not be allowed to download every song that you find here, and that's because some artists may not give you the download permission. When this happens, you might have to pay a small price to be able to download them. You can search for your favorite album, artist, and even song.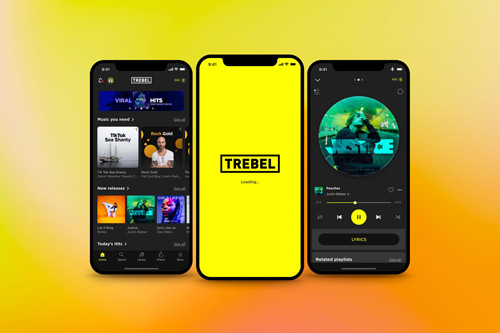 Part 3. Conclusion
Now you know about the top download free music apps for iOS and Android phones. Try all of them and then decide which one to go with. But if you take our recommendation, we would say go for TunesKit Audio Capture as it comes with no restriction; a free trial is there; you can download as many and any song you want, and also transfer the songs to any device as you wish. Since TunesKit Audio Capture removes all the restrictions, we recommend trying it.