Why Can't I Send Emails from My iPhone? Checks and Fixes You Need to Know
5 mins read
The Mail app of Apple is a simple email solution for most iPhone users due to its simple operations and convenient functions. However, it can be an annoyance for you if you can't send an email from your iPhone, especially when you are not near a computer to send emails. This issue may bring some troubles to your daily life and work. If unfortunately, you meet this issue on your iPhone, take it easy. Here we'll show you some checks you can conduct and ways to fix can't send emails from iPhone.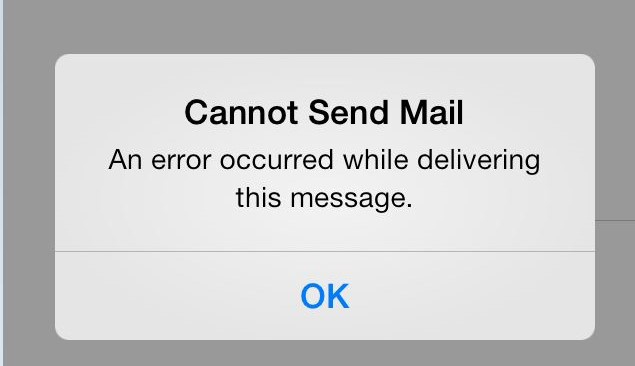 Part 1: Why Can't I Send Emails from My iPhone?
Before you take fixes to solve this issue, you need to find out the cause of it first. There are a few reasons why you can't send emails from iPhone. Here are some possible reasons for this email sending issue.
1. Your iPhone is not connected to a stable network, which disallows you to send emails successfully.
2. There is something wrong with the mail app you use. Due to the malfunctioning mail app, you can't send emails from your iPhone.
3. The iOS version of your iPhone is outdated, causing some system problems to prevent you from sending emails.
4. Some system problems with your iPhone itself stop you from sending emails with it.
Part 2: Things You Need to Check Before You Begin
After knowing the possible reasons for this issue, you can do some simple checks to make sure which reason causes this problem. Here are the checks you can conduct when you can't send email from iPhone.
1. Check Internet Connection
The first thing you need to check is the internet connection of your iPhone. You can view the signal icon of cellular data and Wi-Fi in the top right corner of the screen. If the signal is not strong enough, you need to change to another Wi-Fi or move to another place with a stronger signal.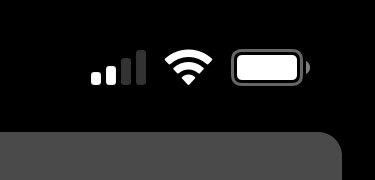 2. Check Outbox for Unsent Emails
When you get a message saying that your email wasn't sent, the email will go to the Outbox. You can go to Mail > Outbox, and check if your email was there. If not, it means that your email has been sent. If you can see the email unsent, make sure that the recipient's email address is correct and tap Send to send it again.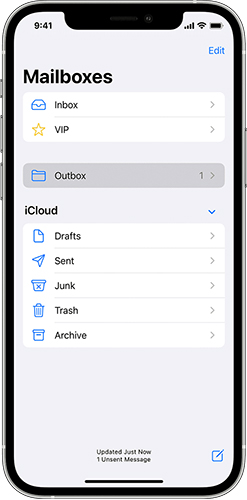 3. Check Email Address and Password
If Mail asks you to enter your password for your email account, you need to ensure that your password is correct. If you still get a username or password error, you can contact your email provider or system administrator.
Part 3: The Best Tool to Fix Emails Not Sending on iPhone
After you check the things above, you may need to use an advanced tool to help you fix it. Try to use our most recommended tool – TunesKit iOS System Recovery. TunesKit iOS System Recovery has an ability to fix over 150 system related issues, including emails not sending on iPhone, iPhone mail app not working, iPhone emails disappeared, iPhone won't turn on, and more. With this easy-to-conduct tool, you can fix your iPhone/iPad/iPod/Apple TV instantly by yourself without seeking for others' help. It's truly simply for you to finish the fixing process and solve your problem.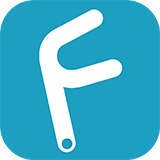 Key Feartures of TunesKit iOS System Recovery:
Fix emails not sending on iPhone at ease.
Supports iOS devices including iPhone, iPad, and iPod.
Compatible with all iOS versions including the iOS 16.
One-click to enter or exit Recovery mode.
Easy fixing steps and user-friendly interface.
Try It Free
600,000+ Downloads
Try It Free
600,000+ Downloads
Now, let's see how to use TunesKit iOS System Recovery to fix can't send emails from iPhone.
Step 1: First of all, run TunesKit iOS System Recovery on your PC. Then, use a fitted cable to make your iPhone connected, and then tap on the iOS System Recovery button.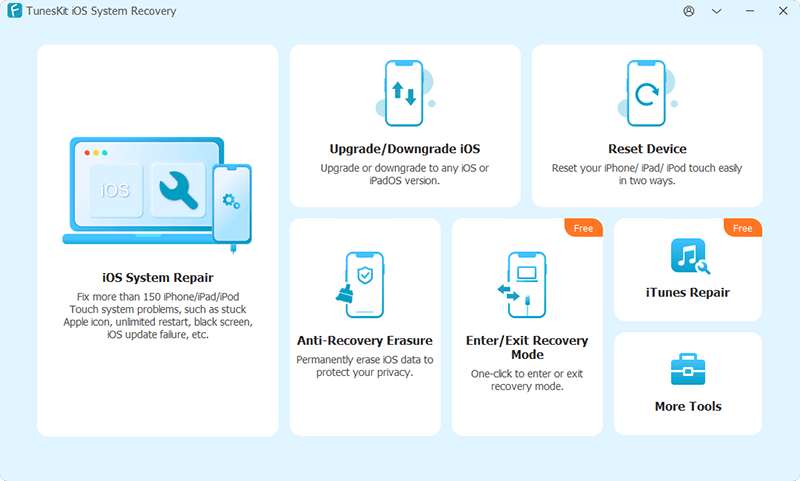 Step 2: Then, you can see two repair modes, including Standard Repair and Deep Repair. As the Deep Repair will erase all data on your iPhone, you are suggested to use Standard Repair first.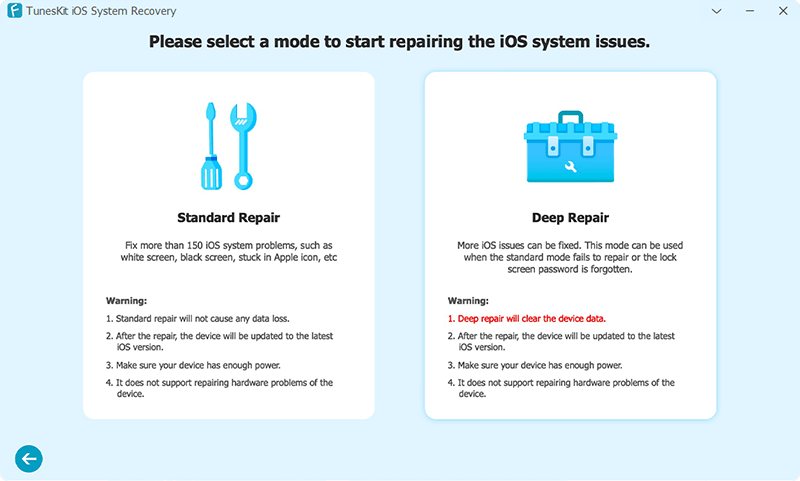 Step 3: After choosing the Standard Repair, you can see the detailed information of your iPhone on the window. Click on the Download button if you find that the information is matched with your device.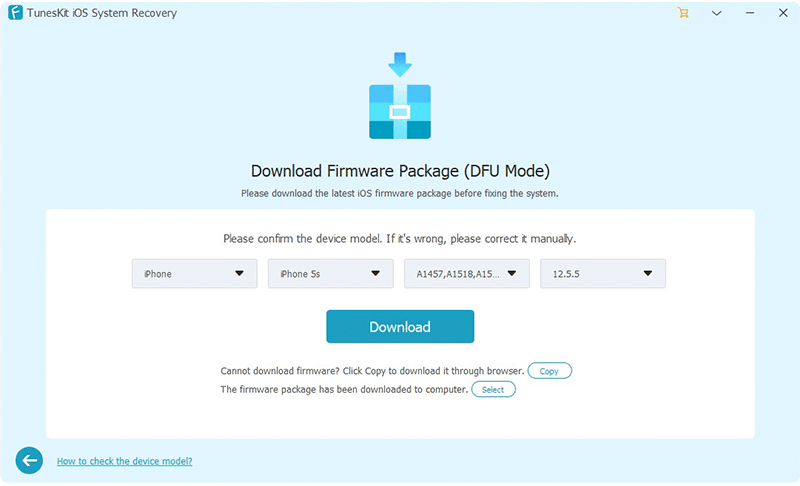 Step 4: Next, you can see the Repair button on the screen when the package is downloaded. Tap on the Repair button, and your problem of can't send email from iPhone can be resolved instantly.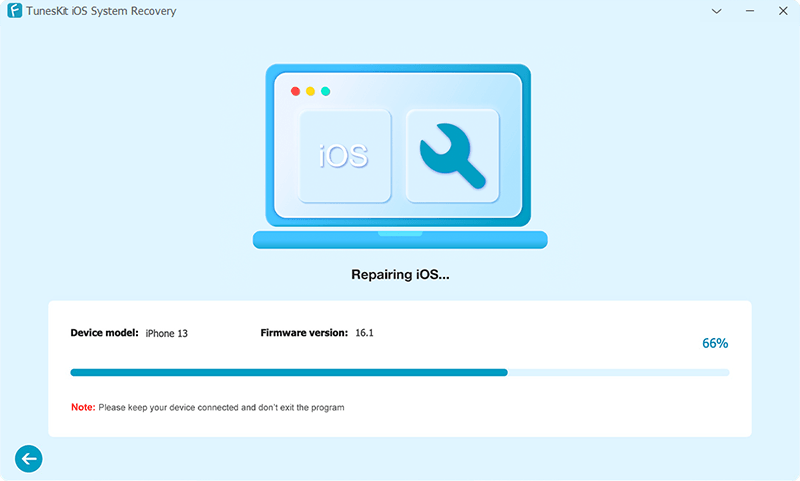 Part 4: Other Ways to Fix Can't Send Emails from iPhone
Way 1: Sign in Your Email Account Again
When you meet such issues, one common way for you to fix it is to remove your email account and sign in it again. Here are the detailed steps you can take to set up your email account again.
Step 1: On your iPhone, head to Settings > Mail, and then choose Accounts.
Step 2: Tap on the email account that you want to remove, and then choose Delete Account.
Step 3: When your account is removed, tap Add Account and choose your email provider.
Step 4: Enter your email address and password to verify and sign in again.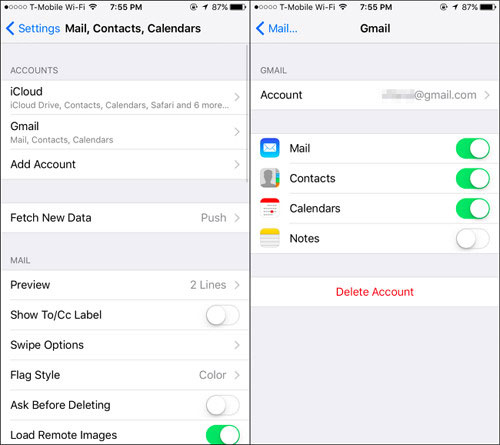 Way 2: Disable Privacy Protection in Mail
If you have updated your iPhone to iOS 15 or later, the Privacy Protection function newly launched is likely to hide your Mail activity on iPhone. This feature can hide your IP address and load remoter content privately in the background. It may interfere with the email functions on your iPhone. You can follow the steps below to disable Mail Privacy Protection.
Step 1: On your iPhone, go to Settings and choose Mail from the list.
Step 2: Under the Messages menu, tap on Privacy Protection.
Step 3: Disable the Protect Mail Activity and try to send emails again.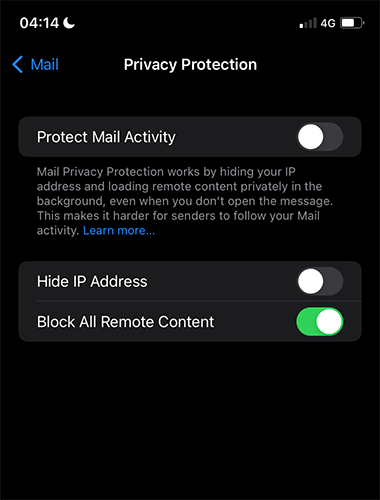 Way 3: Reinstall Mail App
Reinstalling the mail app is a viable way for you to fix emails not sending on iPhone. Apple allows users to delete and reinstall the built-in apps on your iPhone. You can simply long press the Mail icon and tap on Remove App. Then, tap on Delete App to remove Mail from your iPhone. Next, go to the App Store and reinstall Mail again.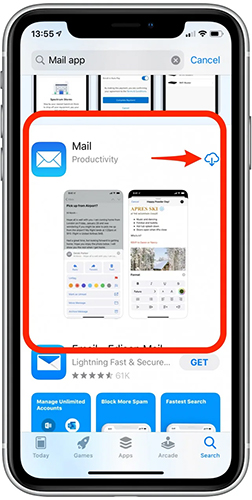 Way 4: Update Your iPhone
According to Apple, you had better keep your iPhone up-to-date to keep it away from bugs and errors. When you can't send emails from iPhone, you can try to fix it by updating your iPhone. Just head to iPhone Settings, and then go to the General menu. Then, choose Software Update and tap Download and Install to install the newest version.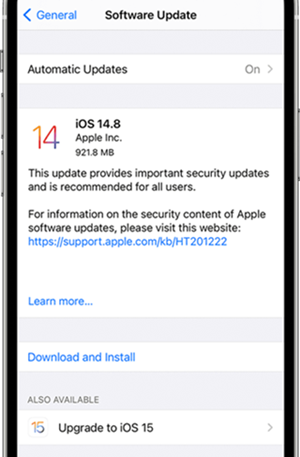 Part 5: Conclusion
That's all for how to fix emails not sending on iPhone. You must have learned how to check and fix your iPhone email issue after reading this post. Among all these solutions, the most recommended one is TunesKit iOS System Recovery. It's one of the most convenient repair tools for you even if you know little about iPhone system problems. You can try this tool by clicking on the Download button below now!