Safari Cannot Open Page on iPhone? Easy Ways to Fix!
6 mins read
Browsers that existed with the rise of the Internet have been innovated and improved on and on. The browser integrates and optimizes pages with specific technologies to show users the best-fit search results. With a smart browser, users can fix any problem in their daily lives by searching for keywords. Safari is a browser built into iOS devices. Some of the features from Safari support users to maximize their efficiency by syncing their actions across different devices, such as iPad, iPhone, Mac. What's more, security is one of Safari's highlights, protecting our privacy by preventing others from spying on us while we surf the web. However, there is a common problem that we always encounter iPhone Safari cannot open page when we search for things. Why does it happen all the time? Can we fix it by ourselves? In this post, you can find the answers.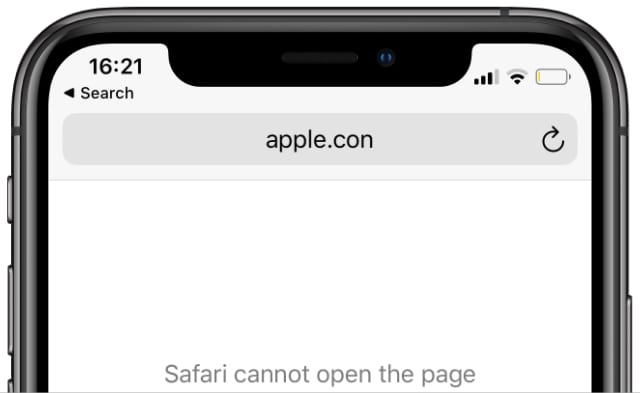 Part 1: Why does my iPhone say Safari cannot open page?
In general, a page that fails to open may occur if an error occurs in any of the network, URL, DNS server, running space. Detailed scenarios are posted in the listing to assist you in understanding how the problem occurred to your iPhone.
1. Unstable WiFi or cellular data connection.
2. Uncorrected URL. The Uncorrected URL cannot be recognized by the Safari so that it cannot open the page on iPhone.
3. Blocked by DNS server.
4. Not enough space for running Safari.
5. System problems.
After figuring out why does my iPhone say Safari cannot open page, you can easily find the solution that works best for you in the following. You can fix your Safari with an easy setup or system recovery. Here are the top five solutions to show you how to do it.
Part 2: Top 5 solutions to fix iPhone Safari cannot open page
Solution 1: Check your network & Turn off VPN
Network issues can completely limit the running of Safari, so it's essential to check your network connection while you start to fix the problem. You can change your network to cellular data if you connect to WiFi, and it's also fine to connect to other WiFi. And some VPN apps may be set up with rules that cause certain connectivity issues, such as slowing down Internet speeds. The tips below show you how to turn off the VPN on your iPhone.
1. Go to Settings.
2. Turn off the VPN button under Personal Hotspot.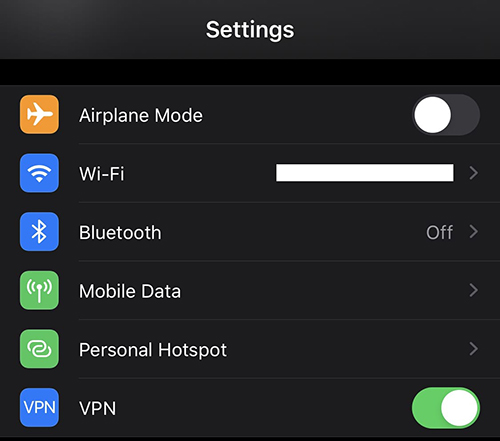 Solution 2: Turn on JavaScript
JavaScript is a web scripting language that makes you better at browsing websites and using built-in features. You will not be able to access photos and buttons on the page, or even open the page with JavaScript turned off. In order to fix "cannot open page Safari iPhone", follow the tip to disable Safari JavaScript on your iPhone.
1. Tap Settings on your iPhone and look for Safari on the list of apps.
2. There is the Advanced displayed at the bottom of this page, please scroll down and tap on it.
3. You can see the JavaScript button below the Website Data. Go to turn the button on.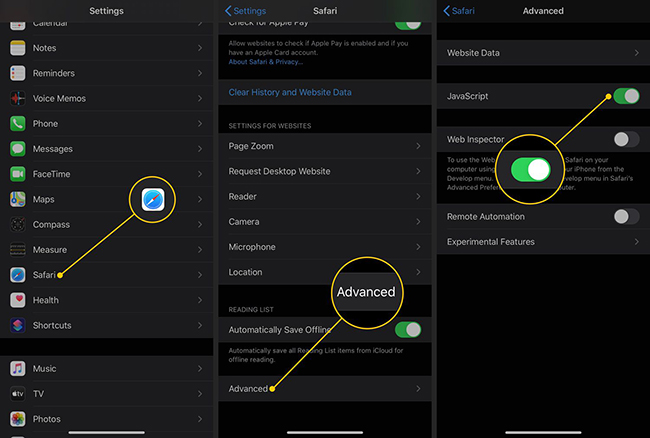 Solution 3: Clear cache
Safari performs poorly when it does not have enough running space, which can lead to pages that cannot be opened. So, clear the cache in Safari and let it run as normal. The steps show you how you can clear it on your device.
1. Open Setting apps on your Home Screen.
2. Scroll down to look for Safari, and tap on it.
3. Tap Clear History and Website Data to clear browsing data and cookies in Safari.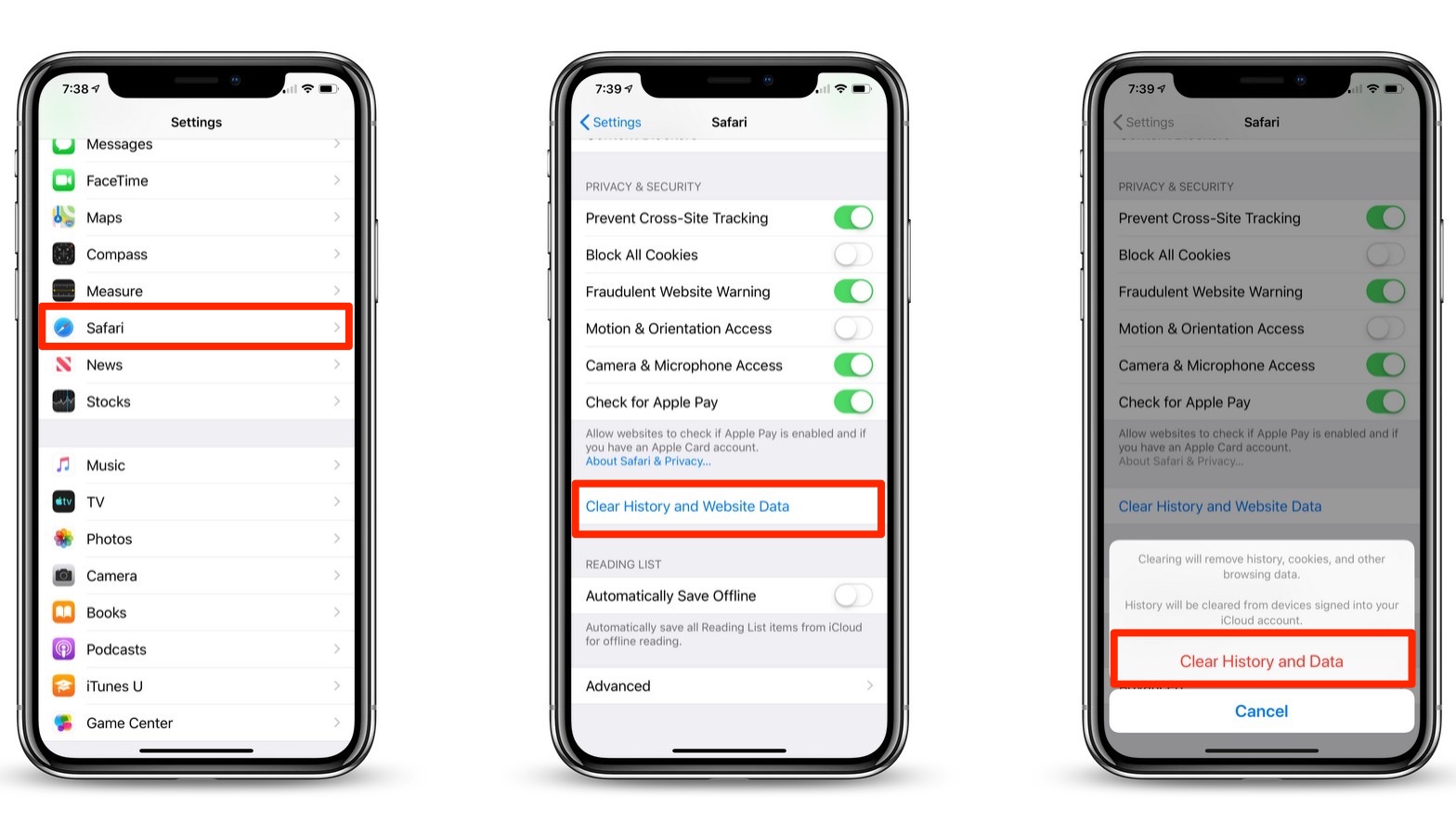 Solution 4: Change DNS
Sometimes DNS servers fail or cannot parse the URL correctly so that pages cannot be opened properly. You can switch to another server to see if the issue can be fixed, such as Google's public DNS server.
1. Go to Setting and tap WiFi, then you can see an icon shown on the right of the WiFi name you connected, please tap on it.
2. Tap on Configure DNS, then select Manual.
3. Tap on Add Server and enter the Google public server 8.8.8.8 or 8.8.4.4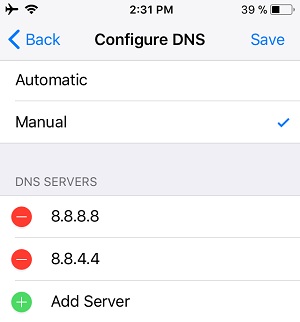 Solution 5: Fix Safari cannot open the page on iPhone with TunesKit iOS System Recovery
The last possibility that leads to iPhone Safari cannot open page I mentioned in Part 1 is a systematic problem. If you have tried to deal with the problem with the above 4 solutions and it has not worked at all, your iPhone must have some system issue. No worries about that! You can easily fix your iOS system with TunesKit iOS System Recovery.
TunesKit iOS System Recovery is a professional software for iOS system repair that has received a lot of praise from users. It supports handling over 150 issues on iOS devices, such as devices stuck on no service, stuck on white screen, stuck on setting up Apple ID, iTunes error when backup devices, and other problems. TunesKit is not only for iOS system repair, in addition, you can also reset your iPhone, upgrade your system to iOS 16 Series or downgrade below iOS 16, and enter Recovery Mode or exit it with easy steps. All iDevice, such as iPhone, iPad, iPod touch are available for this tool, and devices with iOS 16 are allowed to use all features of TunesKit iOS System Recovery. It's super easy to use, as a step-by-step guide to each feature is provided to you.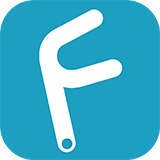 Key Functions of TunesKit iOS System Recovery
Fix 150+ iOS issues on iPhone, iPad, iPod touch
Simple interface & Easy to use
High success rate & Unlimited usage within validity period
iOS 16 is supported
Try It Free
600,000+ Downloads
Try It Free
600,000+ Downloads
Repair your iOS system and fix safari cannot open the page on iPhone through several easy steps with TunesKit iOS System Recovery. The guide below shows you how easy it can be to fix the issue with this tool.
Step 1:

Connect Your Device

Use a USB cable to connect your iPhone to a computer first, then launch the tool. You can see several features displayed on the interface. Click on "iOS System Repair". Note: Connection between the device and computer cannot be disconnected until  you complete fixing the problem of Safari cannot open the page on iPhone.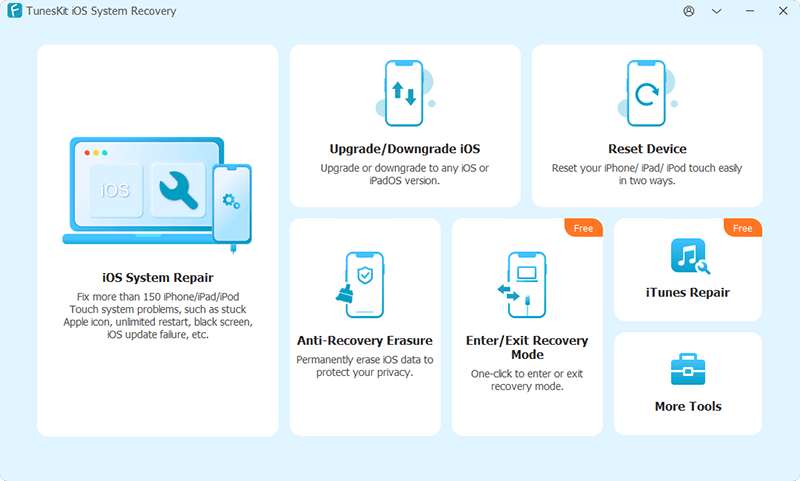 Step 2:

Choose Repair Type

The category of iOS system problems are listed, please select "Other Problem" to fix iPhone Safari cannot open page. Then, you can see Standard Repair and Deep Repair. Standard Repair is a basic repair of your system and no data will be erased in this mode. Instead, Deep Repair is to fix the difficulties that Standard Repair cannot fix, and all data will be removed when you repair your system with this mode. So, Standard Mode is recommended first.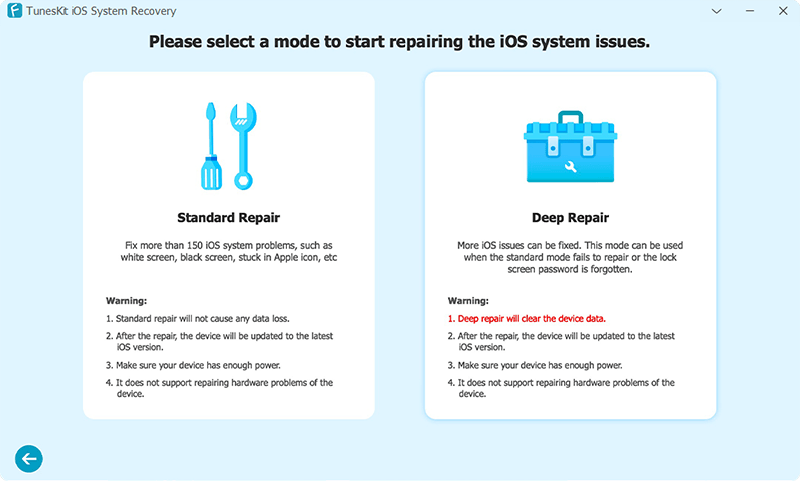 Step 3:

Begin to Repair

Device's info is displayed, please check on it, then download the firmware package. Next, the system starts to verify the firmware package. After that, click on "Start" to fix Safari issues on your iPhone.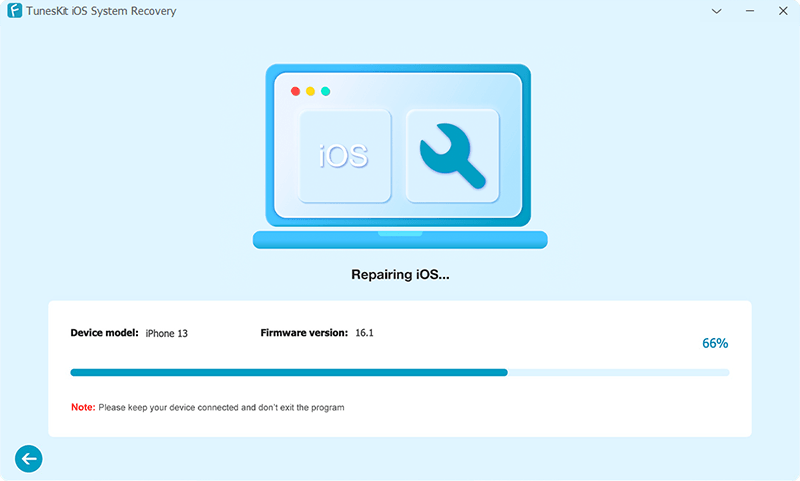 Part 3: Summary
iPhone Safari cannot open page is a general issue encountered by people. The above solutions show you how to fix the problem in different ways. If you are bothered by complicated settings on your iPhone, fixing your iOS system using the effective tool TunesKit iOS System Recovery saves you time and effort in a way that is easy to use. Hope you can learn something from this article!