Solved: Not Receiving Texts from One Person in iPhone 14/13/12/11
6 mins read
Once you used to receive a good morning text daily from your best friend, but now this is no longer happening, and it irritates you. It comes to your knowledge that your friend is still sending you those texts. Now, this comes out as a problem with your iPhone.
You may wondering why am I not receiving texts from a certain person, and how can I solve it? Don't worry! Here in the post, we will walk through the reasons and fixes for iPhone not receiving texts from one person problem.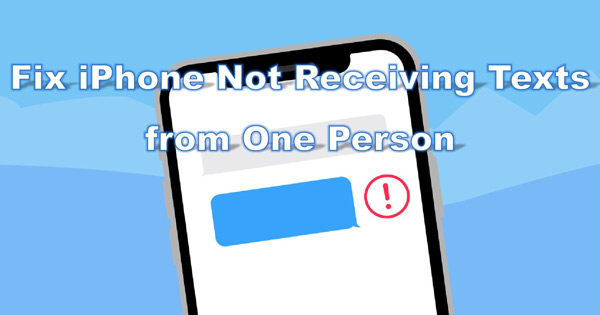 Part 1. Primary Reasons Behind iPhone Not Receiving Texts from One Person
To ensure you never encounter this problem again, you need to clearly understand the factors that lead to this issue. Here are some of the most common factors involving the problem in discussion:
1. Sometimes, when a person other than you tries using your iPhone, they might accidentally disable the message option. When the message option is not active, you won't be able to get any messages on your device.
2. When someone out of your contacts sends a message to your iPhone, you won't get that message if you have enabled the unknown filter message option for security purposes. So, receiving a text message from an unknown person won't be entertained by your iPhone until you deactivate it.
3. Updates are very common on iPhones, and sometimes, a bug appears with it. The appearance of that bug interrupts your iPhone's settings, which can halt your messaging option.
Part 2. 7 Fixes to iPhone Not Receiving Texts from One Person
Any device problem, no matter how complex, is resolvable. While you do not have to panic over these issues, you can use some methods and tools to resolve them without consulting any tech professional. In case you are not receiving texts from one person on iPhone 11, 12, 13, 14, etc., you can take assistance from some of the fixes mentioned here:
Fix 1: Check If the Person is Blocked
If you are confused about why you are not receiving texts from another person on your iPhone, it is best to check out your blocked person list. You might likely have accidentally blocked the number, hence this issue. We will be providing you with a guide explaining how you can check it out:
Step 1: Launch your iPhone's "Settings" and scroll down to find the "Phone" option in the list.
Step 2: As you redirect to the next screen, locate the "Blocked Contacts" option and observe the list on the next screen. If you find them in the list, you can edit and remove them from there.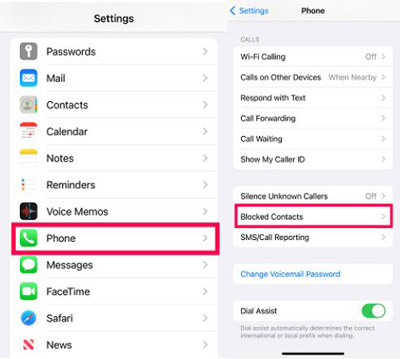 Fix 2: Try Restarting Your iPhone
Another thing that you can try with your iPhone is to restart it. There might be some glitch in the device causing issues like not receiving texts from a person. To fix this problem, you must follow the respective guideline:
Step 1: Open the "Settings" of your iPhone and proceed to the "General" section. On the next screen, you must scroll down and find the "Shut Down" button to turn off your iPhone.
Step 2: To restart the device, hold the "Power" button for a few seconds until you see the Apple logo appearing on the screen.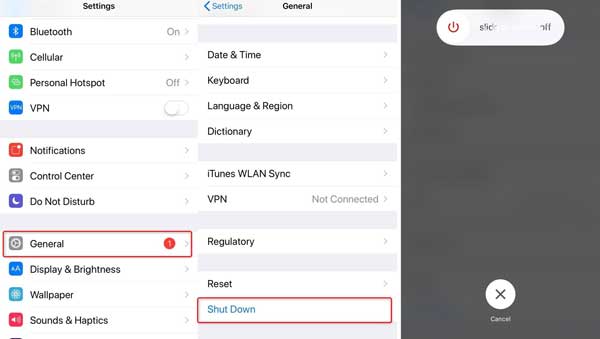 Fix 3: Try Turning Airplane Mode On and Off
If you are still confused about why iPhone not receiving texts from one person properly, you can try managing your iPhone's Airplane Mode. Cellular network glitches are also quite common, which can cause multiple issues such as the one in the discussion. Let's find out how it can be avoided:
Step 1: Access the "Settings" of your iPhone and look for the "Airplane Mode" option.
Step 2: On finding it, turn on the slider to activate Airplane Mode and turn it off within a few seconds. This will refresh the cellular network of your iPhone for you.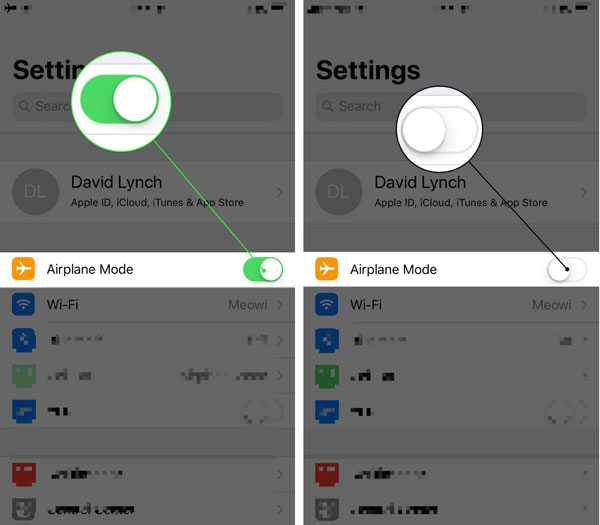 Fix 4: Enable and Disable Messages
Sometimes, the settings of the Messages app start glitching, which can cause issues in receiving messages from the other end. To eliminate this issue, you must go through the following instructions:
Step 1: To get started, open "Settings" on your iPhone and scroll down through the list of options. Once you find the "Messages" option, tap on it. Initially, disable the "iMessage" option on the next window and enable it again.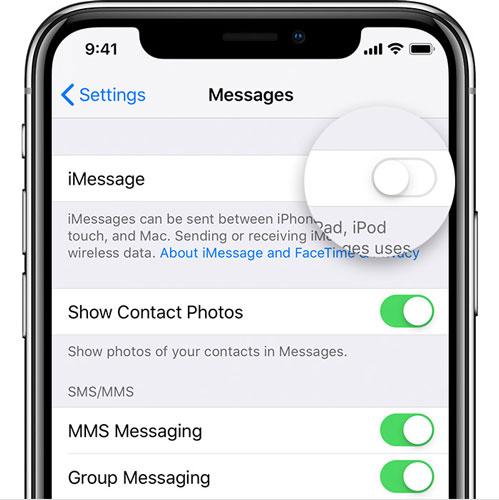 Step 2: Following this, scroll down through this window and find the "Filter Unknown Senders" option. Primarily enable it, and then again disable this option.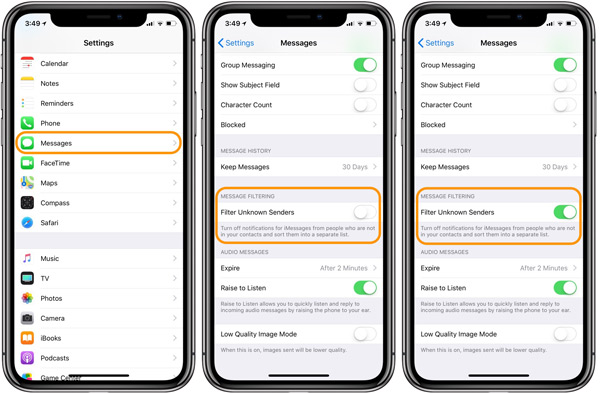 Fix 5: Delete and Re-Add the Contact
Are you still confused about why I am not receiving texts from a certain person? This issue can be fixed by deleting and adding that person's contact again. You can execute this process by following these simple steps:
Step 1: On your iPhone, open "Contacts" and find the contact whose messages you are not receiving. Then, tap on its "Name" and hit the "Edit" option in the next window. Scroll down to the bottom of this window and select the "Delete Contact" option. Again, tap on the "Delete Contact" button provided on the prompt.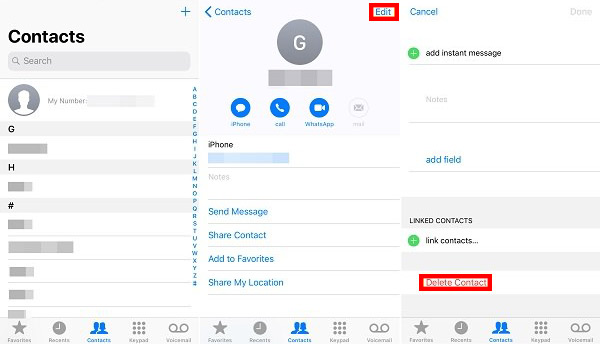 Step 2: Open "Keypad" on the iPhone device and dial the contact number of the person you recently deleted. Then, tap on the "Add Number" option, select "Create New Contact", and add that person's name. Following this, hit "Done".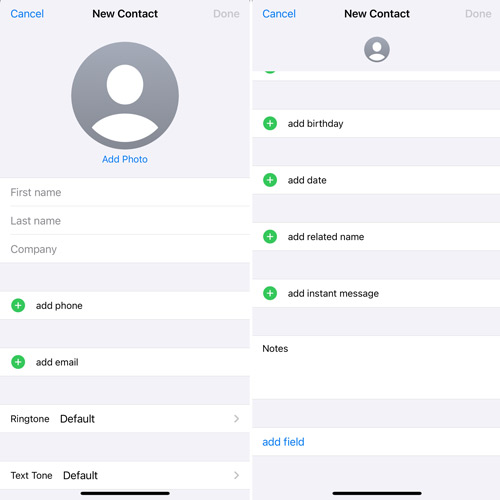 Fix 6: Use a Powerful and Secure iOS System Recovery Tool to Fix Issues Without Data Loss
Users mainly struggle to find tools by which they can solve problems like the iPhone not receiving messages from a person, black screen, repeat alerts not working, etc. A tool that can help in these scenarios should be reliable and innovative, like the TunesKit iOS System Recovery.
With the help of this system recovery tool specifically designed to solve problems on iOS devices, you can accomplish your task swiftly. This is an intuitive tool that can help you in solving more than 150 iOS problems without any data loss. You can also enter and exit the recovery mode with one click by using this tool.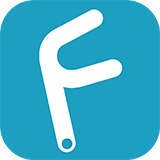 Characteristics of TunesKit iOS System Recovery:
It enables you to restore iPhone settings to factory reset the iPhone
It allows you to repair iOS system faults such as the Apple logo, boot loop, and blank screen
You may enter and leave iPhone recovery mode with only one click
It is compatible with the most recent iOS 16 version and iOS devices
Try It Free
600,000+ Downloads
Try It Free
600,000+ Downloads
If you want to solve the text-receiving crisis, feel free to follow the steps listed below:
Step 1

Connect iPhone with PC/MacBook

Initially, download and launch the TunesKit iOS System Recovery tool on your PC or MacBook and connect the iPhone with it. Once both devices are connected, click on the "iOS System Repair" button and select "Standard Repair" to proceed with the process.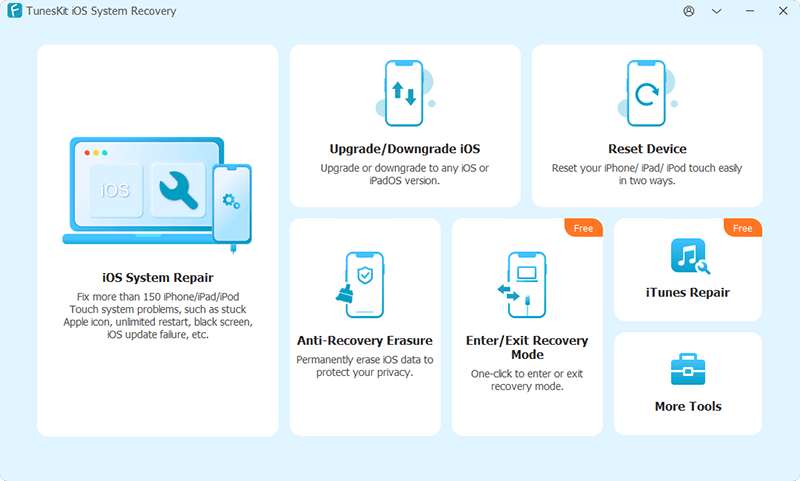 Step 2

Install the iOS Firmware Package

Afterward, select the model of the iPhone you've connected and follow the instructions on the screen to put your device in DFU mode. Then, hit the "Next" button and select the "Download" option from the next screen to download the firmware package after confirming your iPhone details.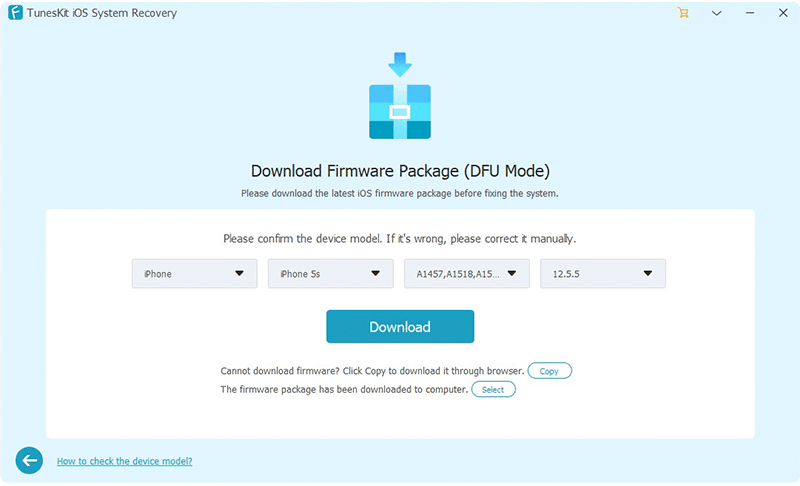 Step 3

Fix Messages Not Receiving Issue

Once TunesKit downloads the firmware package, click on the "Repair" button. The program will automatically fix the messages not receiving issue in your iPhone. Make sure you don't interrupt the connection while TunesKit fixing procedure.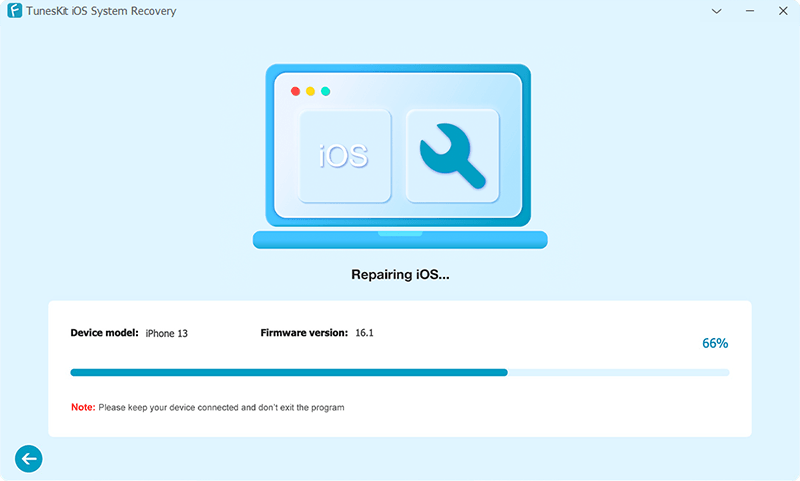 Fix 7: Try Updating the iOS
You can also try updating your device's iOS to the latest version. Outdated iOS can also cause glitches, leading to many other issues. Look below to figure out how to easily update your iPhone:
Step 1: You must open the "Settings" of your iPhone and look for the "General" option in the list.
Step 2: On the next window, search for the "Software Update" option and let the iPhone detect any new iOS updates available.
Step 3: If there are updates to install, click the "Download and Install" button and let the device get updated to the latest iOS.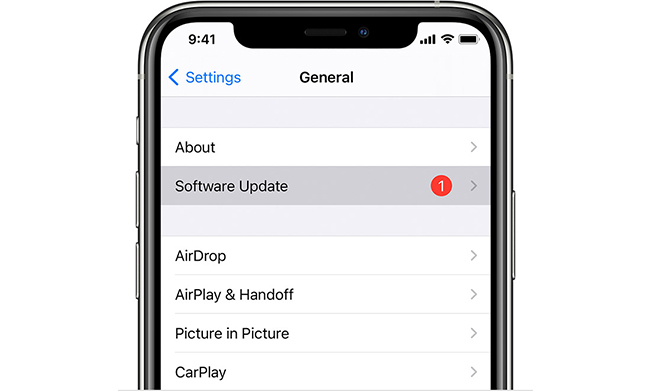 Part 3. In Conclusion
To wrap up this discussion, it is evident that anyone can face problems with iPhone, like not receiving a text from one certain person. But, to your surprise, it has been shown that these problems can be fixed. You can fix them by using some of the effective methods mentioned above. If you want to use the one with the most satisfactory results, go for the TunesKit iOS System Recovery because it can carry out your task swiftly.