Why iPhone Keeps Signing Out of iMessage? Solutions to Fix
6 mins read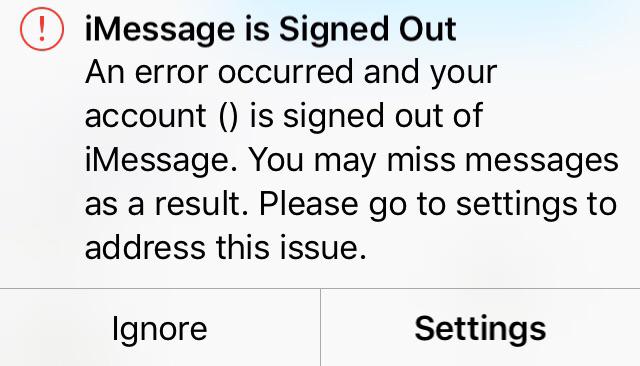 Text messages from iMessage can be sent in real-time without going through a third-party carrier. It's a popular communication software selected by most iPhone users. Recently, many iPhone users experienced an unexpected error while using iMessage - iPhone keeps signing out of iMessage. They have received a pop-up saying "iMessage is signed out" even though they did not sign out their account manually. This error can affect the efficiency of processing messages and miss important information. Why does it happen? And how to stop keeping signing out of iMessage? A complete guide, including explanations and seven valid solutions, is posted below.
Part 1: Why does my iMessage keep signing out?
iMessage keeping signing out is an annoying and frustrating issue. We have to sign into the account every time we use iMessage. What might cause in this situation are listed below.
1. Software issues. If there is any issue with the latest iOS update, some apps will crash on iPhone, such as iMessage signs out by itself.
2. Server issues. The service and features cannot be offered when the iMessage server runs into an unstable state or is stuck on bugs.
3. System issues. System issues are always triggered by some unknown reasons. It may occur when you install a third-party that is not official or not compatible with your system, when you change some settings on iPhone or in other situations, affecting iMessage running.
Part 2: How to fix iPhone keeps signing out of iMessage?
Method 1: Restart iMessage & iPhone
If you have run the iMessage and your iPhone for a long time, there will be some glitches on the program running. So, to easily fix the issues on your iPhone, you can close the iMessage and run it again. If the issue remains, close all the apps in the background and go reboot your iPhone. By rebooting, your iPhone can be completely refreshed. Glitches on your iPhone can be fixed with this easy operation.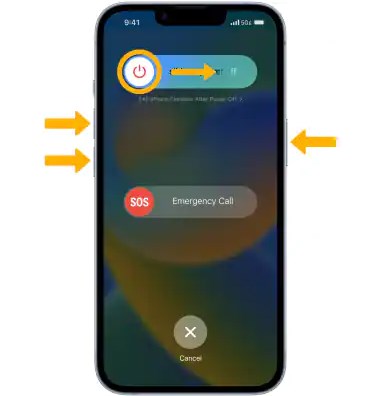 Method 2: Switch iMessage on and off
You may always be bothered by those unexpected situations when you use the program, apps or features on iPhone. In fact, most of the issues occur randomly and it is hard to figure out why it happens on your iPhone. We can only fix these kinds of common issues with a routine solution. Disable the feature and enable it again. With these simple steps, the feature or running program on your iPhone can be fixed easily. Next, I will show you how to disable your iMessage and turn it on again to fix iPhone keeps signing out of iMessage:
1. Go to Settings.
2. Find Messages.
3. Switch off iMessage, then go switch it on.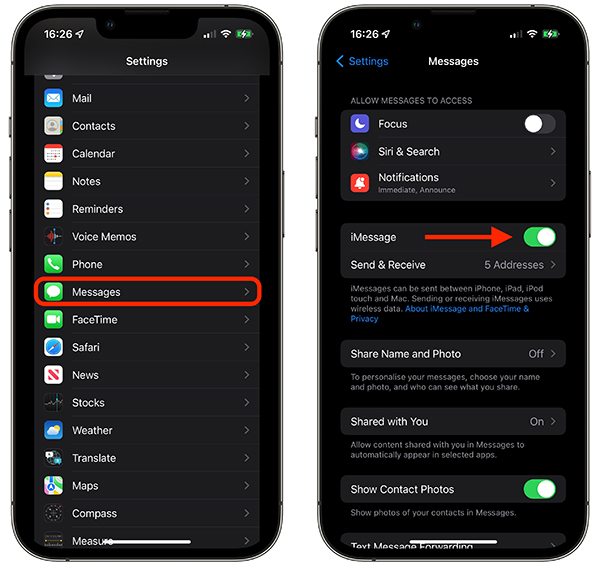 Method 3: Completely get rid of the issue via TunesKit iOS System Recovery
In most instances, the issues on the complicated iOS system cannot be fixed completely with those easy steps. You better use a professional tool to help you fix the iOS system. Compared with most unofficial and illegal system repair tools, TunesKit iOS System Recovery comes with a high success rate and will not spy on your iPhone. This tool specializes in fixing system issues happening unexpectedly on iPhone, iPad and iPod touch, including stuck on Apple logo screen, errors on using iTunes, apps keep crashing, iPhone failing to update iOS version, iPhone disconnecting from WiFi, and more scenarios. The latest iOS 16 version and models are supported. Only with three steps, you can fix all the iOS system issues via this wonderful iOS system repair tool.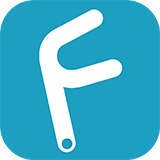 Key Functions of TunesKit iOS System Recovery
Fix 150+ iOS issues on iPhone, iPad, iPod touch
Simple interface & Easy to use
High success rate & Unlimited usage within validity period.
Compatible with the latest iOS 16
Try It Free
600,000+ Downloads
Try It Free
600,000+ Downloads
Next, follow my steps and see how your iPhone can be simply fixed with the TunesKit iOS System Recovery.
Step 1:

Connect Your iPhone

In order to successfully fix iMessage is signed out error, you need to use a USB cable to connect your device to a computer. Meanwhile, the connection should be stable once you start to fix the system. After all the preparatory work is done, go to click iOS System Repair.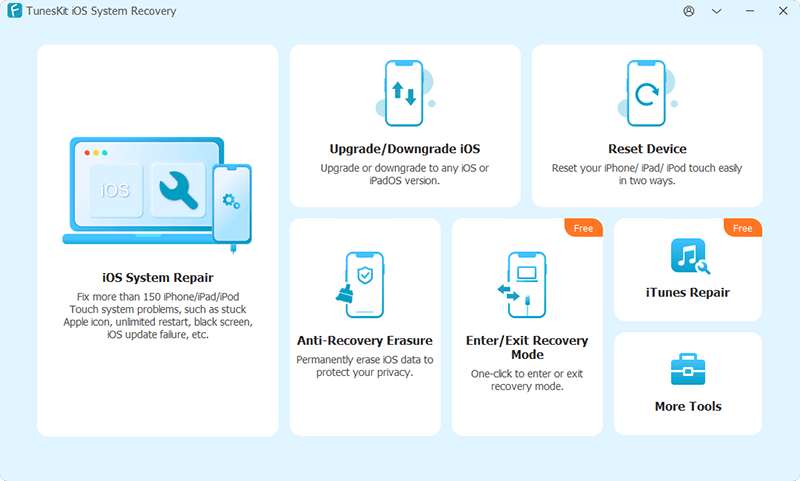 Step 2:

Choose Repair Type

Click Other Problems. Next, the interface comes with two repair modes. The standard one can give your iPhone a simple repair with no data loss, while Deep Repair will erase all the data on your iPhone but with a deep fix on your iOS system. Select the former mode first, if it's not working for you, move on to the latter mode.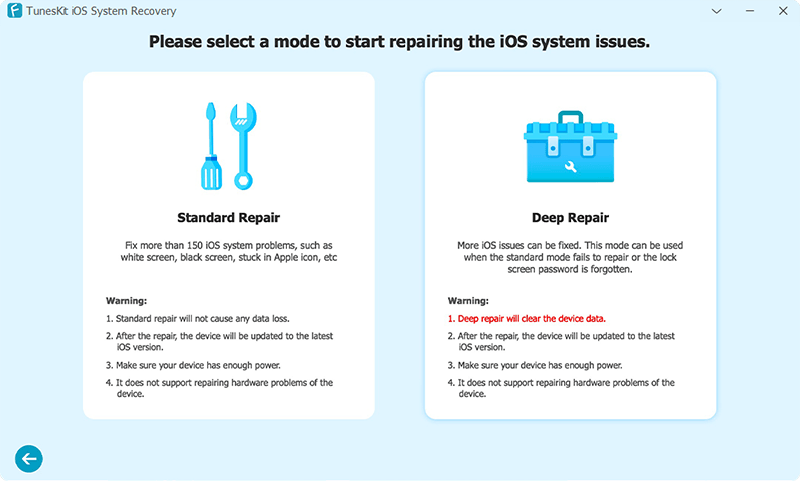 Step 3:

Begin to Repair

On the next page, you need to check your device's info and go to download it on your PC. When the verified process is done, go to click Start. Then, the TunesKit iOS System Recovery begins to fix the issues on your system.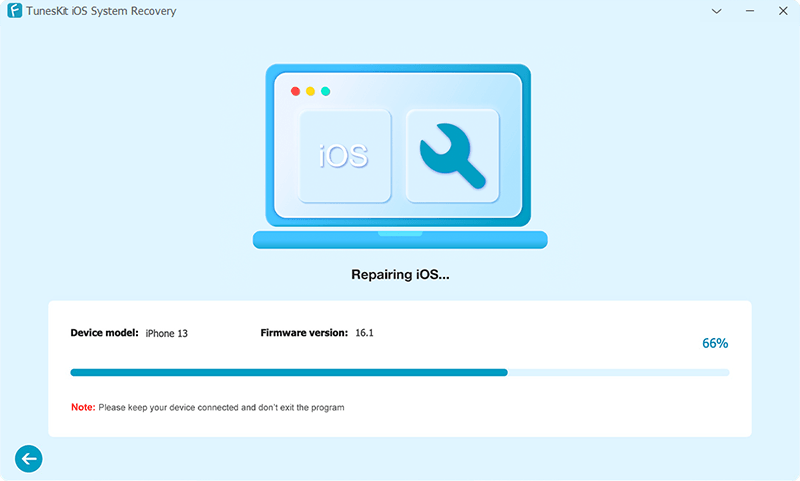 Method 4: Check your network
iMessage is a communication software based on WiFi and cellular data. When the iPhone runs with a stable network, iMessage is able to be used smoothly. Since network errors on your iPhone, iMessage cannot connect to the network and fails to offer service for you so that iMessage signed out by itself. To fix your network, you can turn on the airplane mode for 30 seconds and turn it off, or go to reset your network settings on your iPhone with these steps below.
1. Go to Settings.
2 .Tap General.
3. Select Transfer or Reset iPhone, go ahead to tap Reset. You need to find Reset Network Settings listed and tap it. No data will be lost with this step.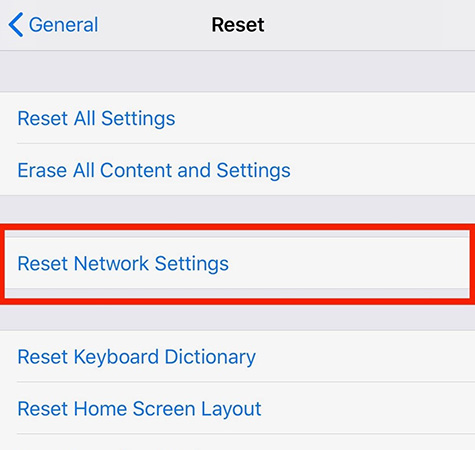 Method 5: Check the Apple ID for iMessage
You need to add your Apple ID to iMessage on the Settings if you want to stay logged in iMessage. If you have not already enabled your Apple ID for iMessage log in, your iMessage might keep signing out. Go to check your Apple ID with the steps here.
1. Navigate to Settings.
2. Scroll down to find Message. Tap on Send & Receive and check if your Apple ID is added to iMessage. If it's not added to your iMessage, tap on Use your Apple ID for iMessage.
3. If you have already added the Apple ID to iMessage, tap on the Apple ID and select Sign out. Then, go to sign in again.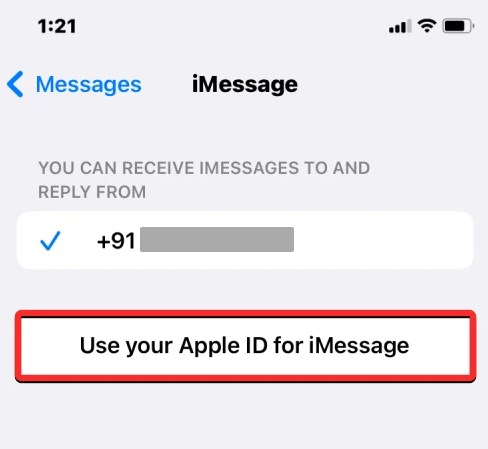 Method 6: Set the right Date & Time on iPhone
If you have set a wrong date and time on your device, it will make your apps fail to run in the right way, like iMessage randomly signed out, as iMessage runs in real-time. So, make sure your time zone and Set Automatically button is enabled.
1. Go to Settings.
2. Tap General.
3. Tap Data & Time, then you can see your time zone. Switch on the Set Automatically.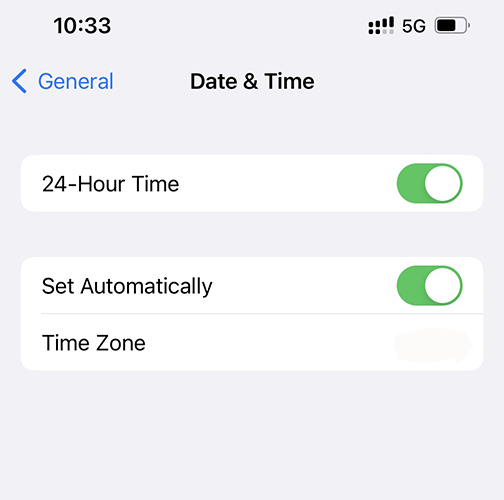 Method 7: Update iOS
Bugs on the iOS software can trigger many system issues on your iPhone, and some of them might be difficult to fix even if you use a third-party iOS repair tool to fix it. Apple will fix the bugs on the latest released iOS version. If the system has some bugs triggering that issue on iMessage, it can be fixed once you update your iOS version to the latest version. So, you can navigate to Settings and update your iOS version as in the steps below.
1. Tap General.
2.Select Software Update.
3.Tap Download and Install.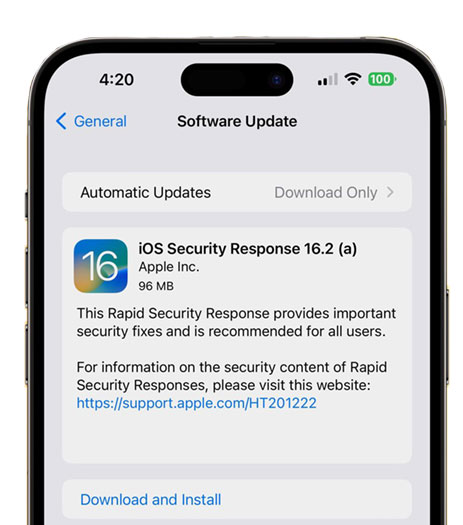 Part 3: Conclusion
This post offers you a full guide to fix your device if your iPhone keeps signing out of iMessage. Using TunesKit iOS System Recovery is the best option for you to fix the system issues on iPhone. With its high success rate and easy steps, repairing your iOS system can be a piece of cake. If you want to learn more about this tool, please feel free to contact us.