iPhone Doesn't Vibrate? You Are Not Alone
5 mins read
Apple added a special button to bring silence, and the iPhone doesn't vibrate situation might hit upon you. Of course, you can change the function in any way, however, what if you can't summon the sound back to life? When you have time to spare, you can troubleshoot in these situations, but if you are short on time and your job is calling you to duty, things get a little more challenging.
Even though we each have an identical piece of technology in our hands, not every Apple customer may experience the same situation. I'm going to talk about several causes of this topic, and then we'll talk about some solutions. We believe in visual and readable instructions; we'll go over the solutions in great detail.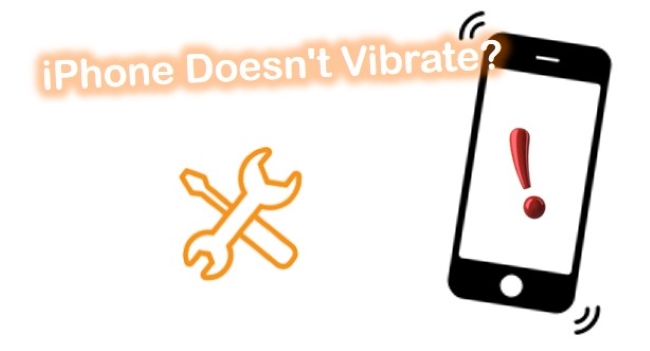 Part 1. Why Does My Vibrate Not Work on iPhone?
iPhones employ a vibration mode in addition to a ring mode to notify the user of incoming calls and messages. If your iPhone not vibrating on ring mode, the vibrate feature may not be turned on, or there may be a firmware issue with the device. Fortunately, you may cure the iPhone not vibrating issue using any of the ways listed below.
Part 2. How to Fix iPhone Vibration Not Working?
Before jumping into the solutions, let's see if your vibration motor is functioning properly. To do that, toggle the Ring / Silent switch (found on the left side of your iPhone) back and forth. If you feel a slight vibration or buzz while flipping it, then you can be sure that the vibration motor on your iPhone is functioning, and you can start applying the methods beneath.
Fix 1. Use the Top-Notch Repair Tool—TunesKit iOS System Recovery [Data Security]
It is thankfully possible to recover your phone and bring it back to normal using specific tools. A professional iOS recovery program designed by TunesKit is always used by a user to fix such problems. TunesKit iOS System Recovery is a little comprehensive. Almost every iOS system recovery issue you can think of can be solved with it, and a few you don't even know about, such as Apple watch not vibrating for texts, iPhone ear speaker not working, Twitter notifications not working, and more.
In fact, not many programs can repair for you without causing any data loss. Several clicks are all it takes to resolve the issue and there is no risk of data loss. Further, the software is incredibly intuitive for first-time users, and your phone will be back to normal in a jiff.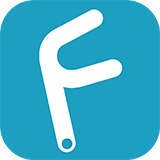 Characteristics of TunesKit iOS System Recovery:
Fix iPhone vibration not working without data loss
Repair different tvOS/iOS issues in a few clicks
Provide Standard Mode and Advanced Mode
Easy to use with a friendly interface
Try It Free
600,000+ Downloads
Try It Free
600,000+ Downloads
To save time and get the job done correctly the first time, follow these steps:
Step 1

Connect Your iPhone to the Computer

Open and launch the program on your computer. Then, take a USB cable to plug your iPhone into your computer. Wait for a few seconds, and the program will detect your device. If done, just click on the Start button.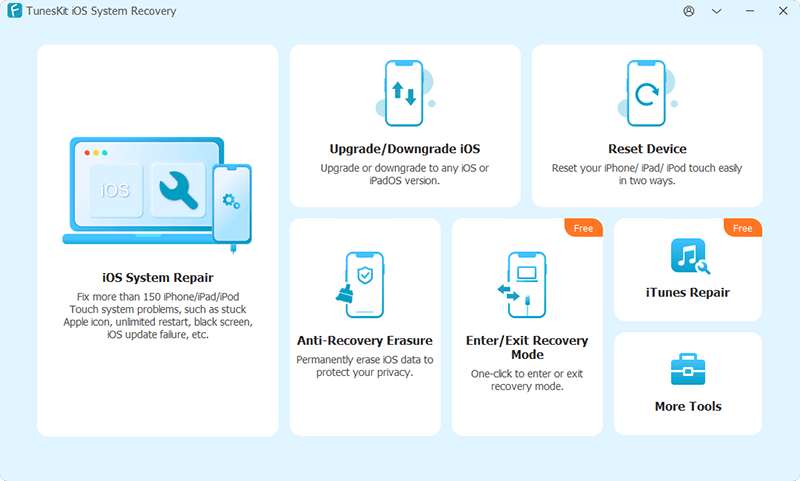 Step 2

Choose a Repair Mode

On this screen, you should choose a repair mode. The features of the repair mode will display. The Standard Mode is highly recommended to fix your problem. If you select Advanced Mode, you should back up all your data in advance. After deciding, click on the Next button.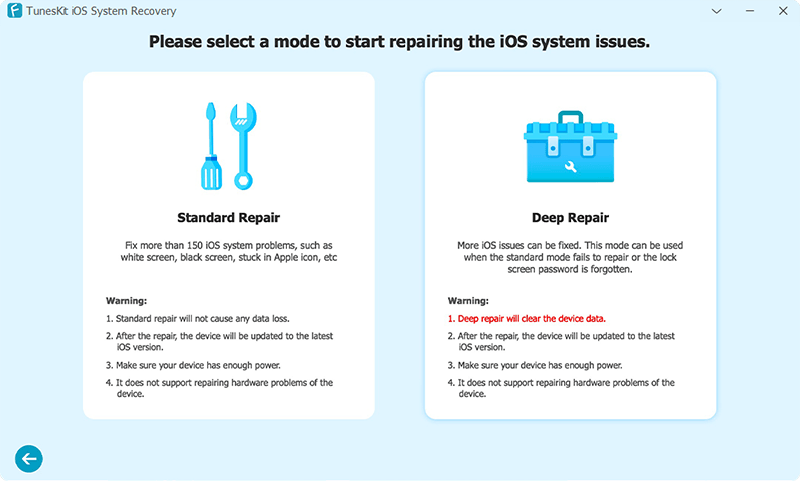 Step 3

Download Firmware Package

The next step is to download the firmware package. Before downloading, check the information carefully. Then "Download" the firmware package. The process requires several minutes, wait patiently.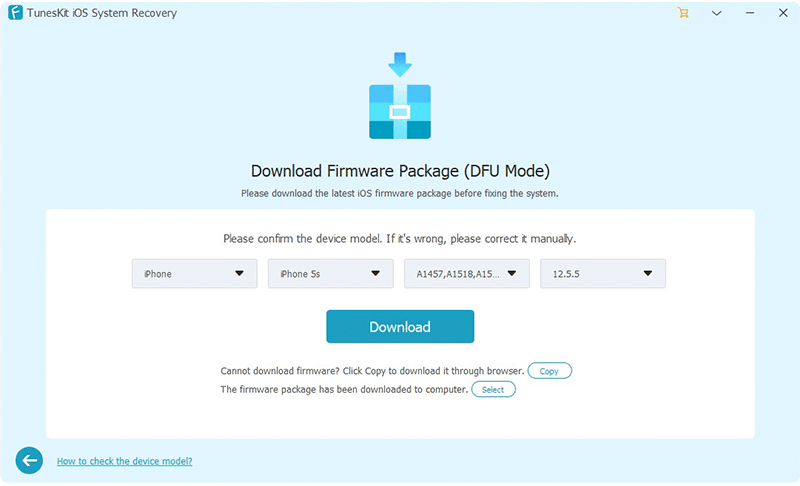 Step 4

Repair iPhone Vibration Not Working

Lastly, you need to click on the Repair button. Then, will be fixed.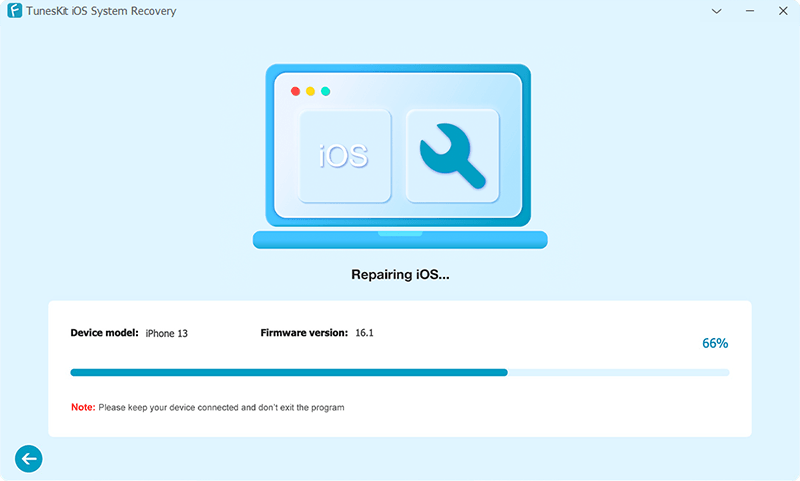 Fix 2. Enable Vibration
Most of the time, it is a simple fix if your iPhone not vibrating on Silent or Ring Mode.
Step 1. Open the Settings app. Navigate to Sounds and Haptics.
Step 2. Under Vibrate, there should be two possible options—"Vibrate on Ring" and "Vibrate on Silent", toggle on the switches next to it.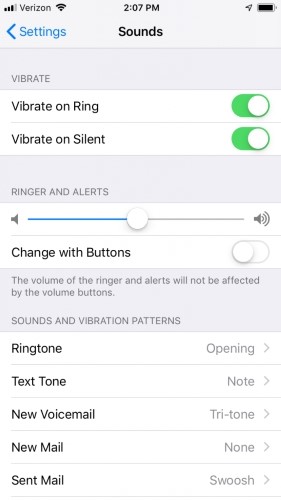 Fix 3. Check Vibration Pattern
Check the set vibration pattern if your iPhone vibrate not working after enabling. The vibration pattern might have been unintentionally set to None if you haven't done so already. Here's how you can change the iPhone's vibration pattern:
Step 1. Open the Settings on your phone screen.
Step 2. Select General.
Step 3. Scroll down and tap on Sounds and Haptics.
Step 4. Next, choose Ringtone and tap Vibration at the top of the screen. You can choose from any of the available options that appeal to you. You want to confirm that something other than None has a checkmark next to it.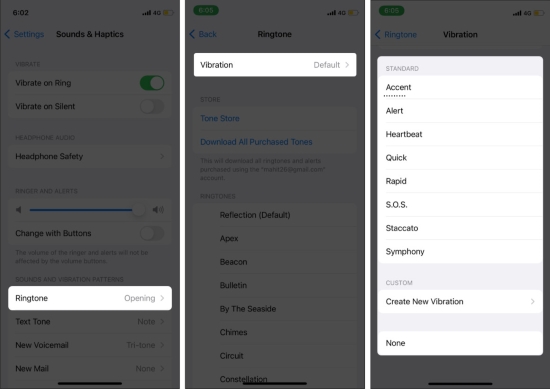 Fix 4. Enable Vibration in Accessibility
If you have already attempted to modify your phone's vibration functionality through the Settings app and it still does not seem to be cooperating. The next obvious step when you still suffer from iPhone stopped vibrating would be to switch on Vibrate in the Accessibility Settings. It should be noted that even if the vibration motor is operational, it will not respond if vibrate is not enabled in the accessibility settings.
Step 1. Head to Settings.
Step 2. Then tap on General.
Step 3. Go to Accessibility next; you should see a Vibration option there. Tap on the right side to activate the switch. You will know for sure that it is on when the switch goes green, and the phone should vibrate in response.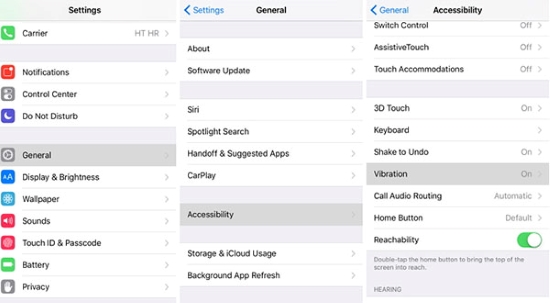 Fix 5. Close Do Not Disturb
Perhaps you enable "Do Not Disturb" and then forget to activate it again, so your iPhone no longer vibrates. When you activate this option, the entire system goes silent. As a result, "Do Not Disturb mode" also prevents the iPhone's vibration from functioning. If so, you can activate the vibration by disabling the "Do Not Disturb" inside the "Settings".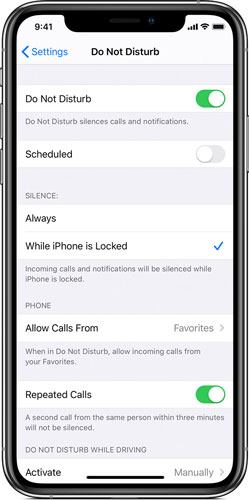 Fix 6. Reset All Settings
In this step, performing a complete reset of the phone's settings, you might be able to resolve the issue. It's possible that the issue is caused by software bugs. In some cases, iOS upgrade bugs might affect your phone.
Step 1. Launch the Settings app on the phone.
Step 2. Choose General.
Step 3. Scroll down to choose Reset.
Step 4. Hit on the Reset All Settings option and confirm that you would like to continue.
Step 5. Your passcode entry prompt should appear. Access it. Allow the phone to restart for a while. Check to see whether it vibrates now.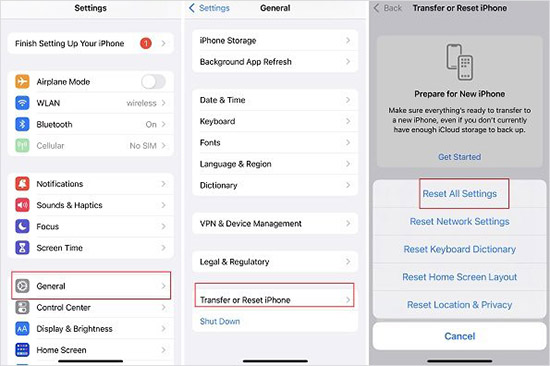 Part 3. Summary
We've covered all the possible ways to fix the iPhone doesn't vibrate issue. Easy, right? Some of the solutions may tedious, but most of them work. The troubleshooting steps will assist in resolving minor vibrator glitches. As for my problem, I found that TunesKit iOS System Recovery is the best bet. After using it, my vibration works better than ever. For a successful outcome, give it a try!