Top 6 Ways to iPhone Control Center Not Working
5 mins read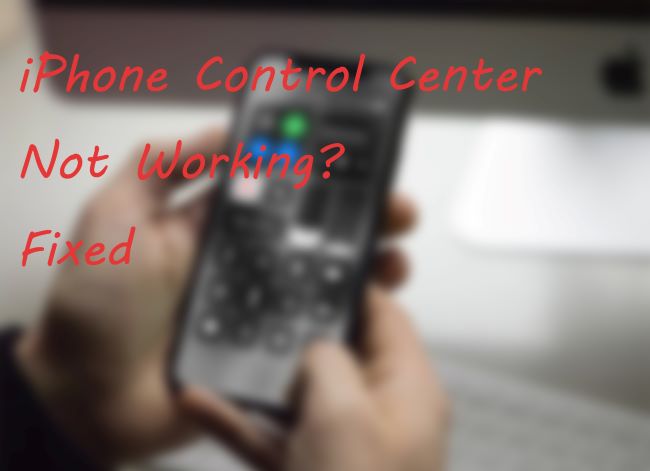 iPhone is a demanding mobile phone having iOS world's second advanced, widely used operating system. However, users of iPhone might have faced issues regarding the control center in their phones. So why the issue that my iPhone control center not working occurs? There might be many reasons which cause the unresponsiveness of the control system. Some of the reasons include app access and voiceover settings are disturbed, phone screen needs to be wiped off, and many other reasons. The discussion in subsequent parts of the article will surely solve your control center issues in iPhone
Method 1: Turn on Access within Apps
While using apps on iPhone, there is an option of a control center. This option will let you open the control center when an app is already available. By any chance, if you are having trouble regarding the opening of the control center within the app, check your settings. The Access within Apps option provided to you may be turned off. Follow the steps provided as follows to turn on this option.
• Open iPhone Settings and select Control center settings. You can then see other settings details of the Control Center;
• There is an option Access Within Apps. You need to turn on this feature so that you can then access your control center within apps.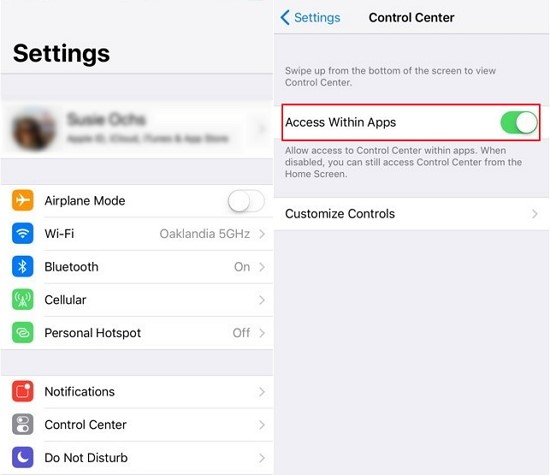 Method 2: Force Restart Your iPhone
Some minor glitches in your phones need troubleshooting to give a normal response. If a simple restart isn't working, then you should go for a force restart. Some methods vary in different iPhones for force restart; these are:
iPhone 6s or earlier models: You need to press and hold the Home and Power buttons consecutively until the Apple logo appears.
iPhone 7 and 7 Plus: You need to press and hold the Volume Down and Power buttons at the same time until you see an Apple logo on the screen.
iPhone 8 and later models: First, press and instantly release the Volume Up button and repeat the same for the Volume Down button. After that, press and hold the Side button until the Apple logo appears on your iPhone's screen.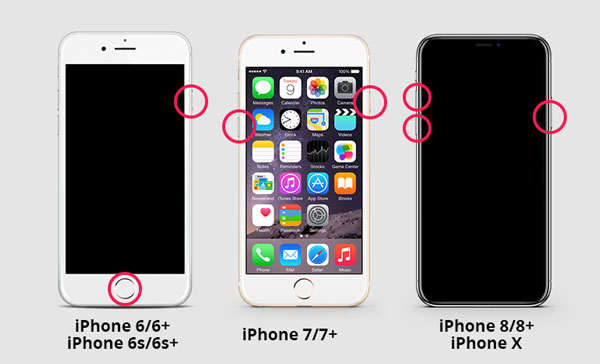 Method 3: Check VoiceOver Settings
If you are using Control Center on your iPhone, then continue using it and disable VoiceOver from your phone's settings. To cover this procedure, follow the steps as declared below.
• Open Settings on your phone and tap on the Accessibility option;
• You will get to see a General button, and just click on it;
• In the General settings, click on the toggle to OFF the VoiceOver option. You can then use your control center without any resistance.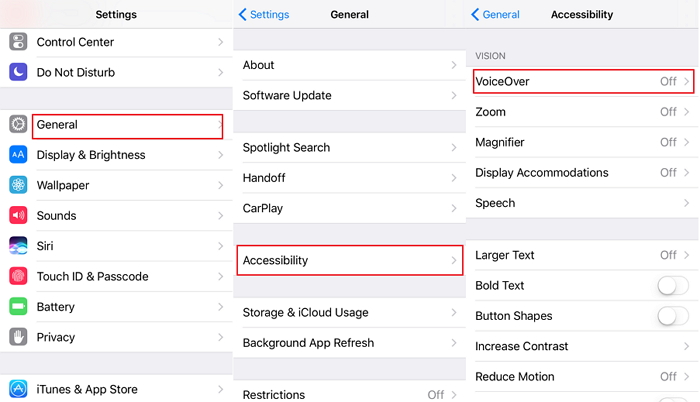 Method 4: Use TunesKit iOS System Recovery
TunesKit iOS System Recovery is a remarkable tool for iOS repairing. It is dedicated to iPhone/iPod/iPad/Apple TV users to solve their iOS update failure, iPhone recovery mode, black screen, white Apple logo, etc. This software tool is highly recommended to the users who need technical support to solve their iPhone's unresponsive actions.
As for the control center not working on iPhone, TunesKit can resolve the problem quickly and without any data loss. Now follow the solution to your problem discussed below.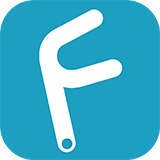 Characteristics of TunesKit iOS System Recovery:
Fix iPhone control center not working without data loss
Repair different tvOS/iOS issues at home
Fix iOS system issues at a fast speed
Easy to use with friendly interface
Try It Free
600,000+ Downloads
Try It Free
600,000+ Downloads
A step-by-step guide
Step 1: First, you need to launch TunesKit iOS System Recovery for Windows on your personal computer. Using a USB cable, attach your iPhone with a PC. You need to wait until the PC detects the device. TunesKit will confirm your device within seconds.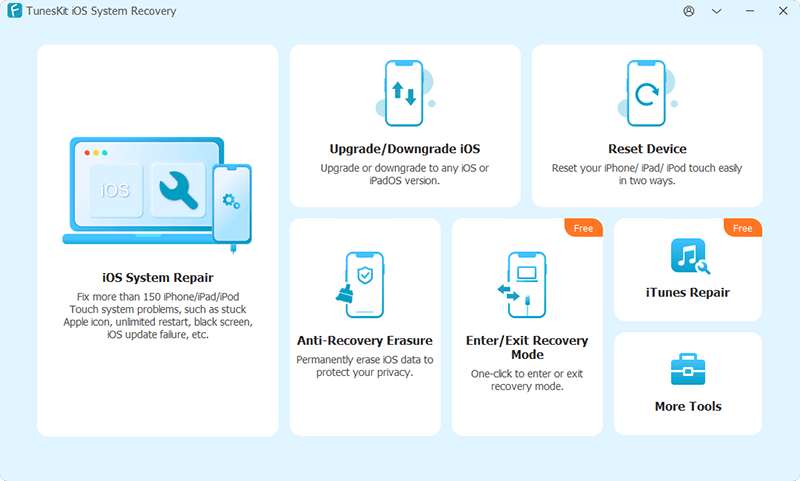 Step 2:After detection, click on Start for further processing. Select Standard Mode in the provided options. Next, click on the Next button.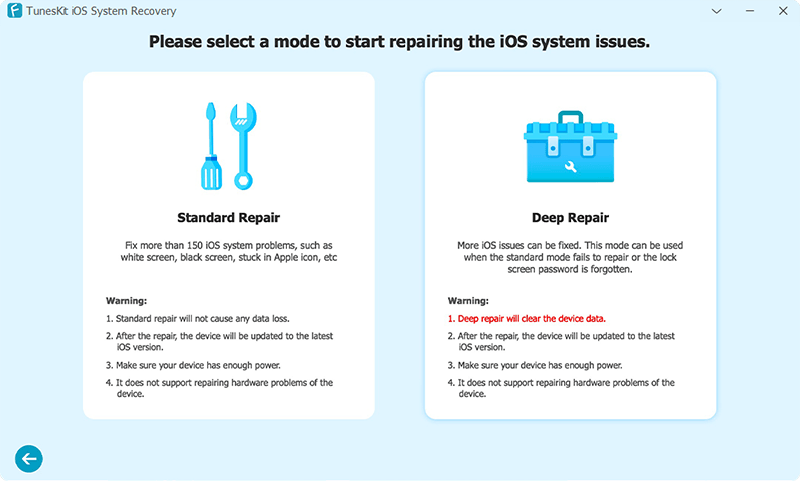 Step 3: In this step, you need to download the firmware package suitable for your device. Before doing this, make sure your device information is correct, including the iOS version, model version, etc. You can edit it if it is wrong somewhere. You can then click on the Download button, and it will start downloading the firmware package.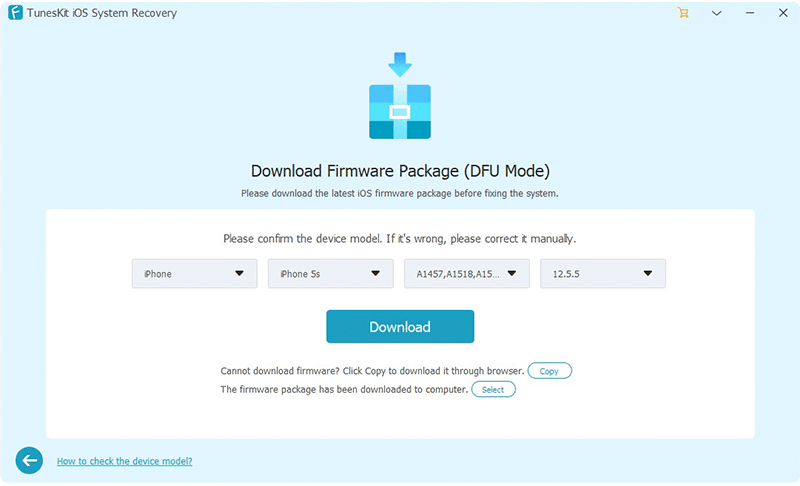 Step 4: After the complete download of the firmware package, click on the Repair button to automatically fix iPhone control center not working. You are recommended to connect your device until this whole process completes.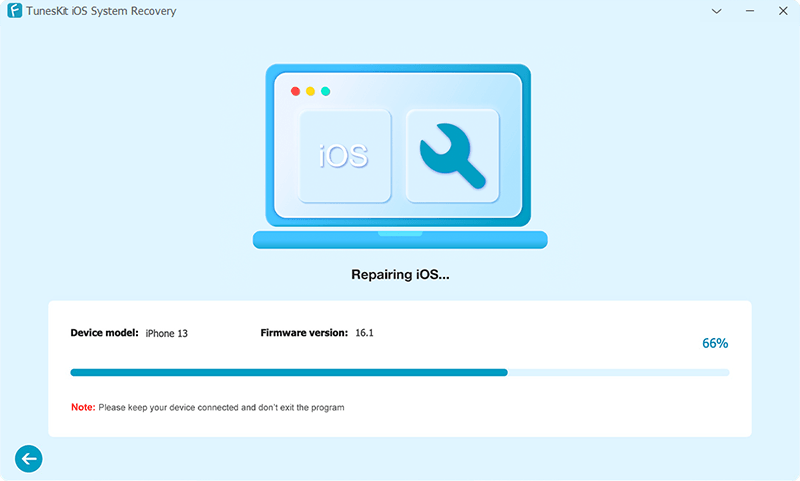 Method 5: Setup Control Center on Your Lock Screen
If you are dealing with a control center issue and can't access it while your screen is locked, turn on its access in lock screen mode. In that case, you are recommended to follow the steps below for accessing lock screen mode for the control center:
• To open the swipe up menu settings, open iPhones Settings and click on Control Center for further customization;
• Now click on Access on Lock Screen and turn the toggle to ON. This will allow you to access the control center while your phone is in lock screen mode.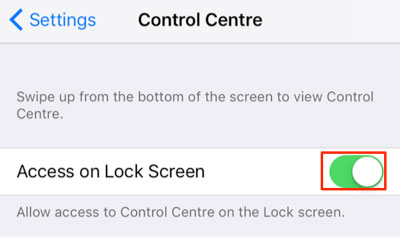 Method 6: Wipe off Your iPhone Screen
The cleaning of your phone screen might be a reason for the unresponsive control center. If you haven not wiped your phone screen for a long time, dust on your phone might resist you from doing some wanted action and acts on its own. Gently wipe off your screen from time to time to avoid these hindrances.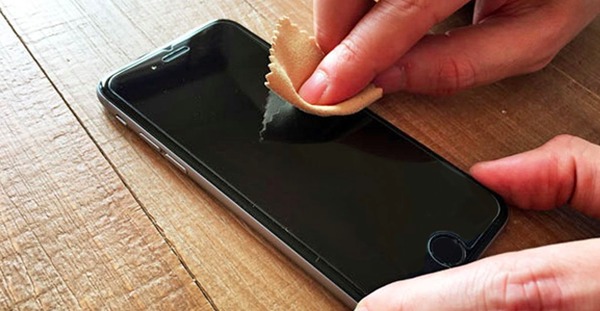 Conclusion
Technical faults in phones are typical for the user, but iPhone users might have to face minor issues that cause them significant problems while using their phones. The above article discussed that if your iPhone control center is not working, you are dedicated to some valuable solutions. While discussing the solution of the control center, we introduce you to a software tool. This tool is TunesKit that is well-designed for solving the common issues of iOS or tvOS users. Helped by TunesKit, you can get rid of most of your problems in your iPhone.