Voicemail is a reliable feature in iPhone that enables users to schedule their meetings and contact others when they get time to respond. Although it provides excellent help, sometimes, you want to disable it for some reason. Many people search for a solution to the issue of how to turn off voicemail on iPhone. This article will provide you with basic information about voicemail.
Also, you will get methods for turning off and reactivating voicemail on your iPhone. People get into trouble when voicemail systems crash or get stuck on their iPhone's screen. So, we will introduce you to the best iOS fixing program to solve all your iOS system issues. Read the article and get valuable solutions for your iPhone-related problems.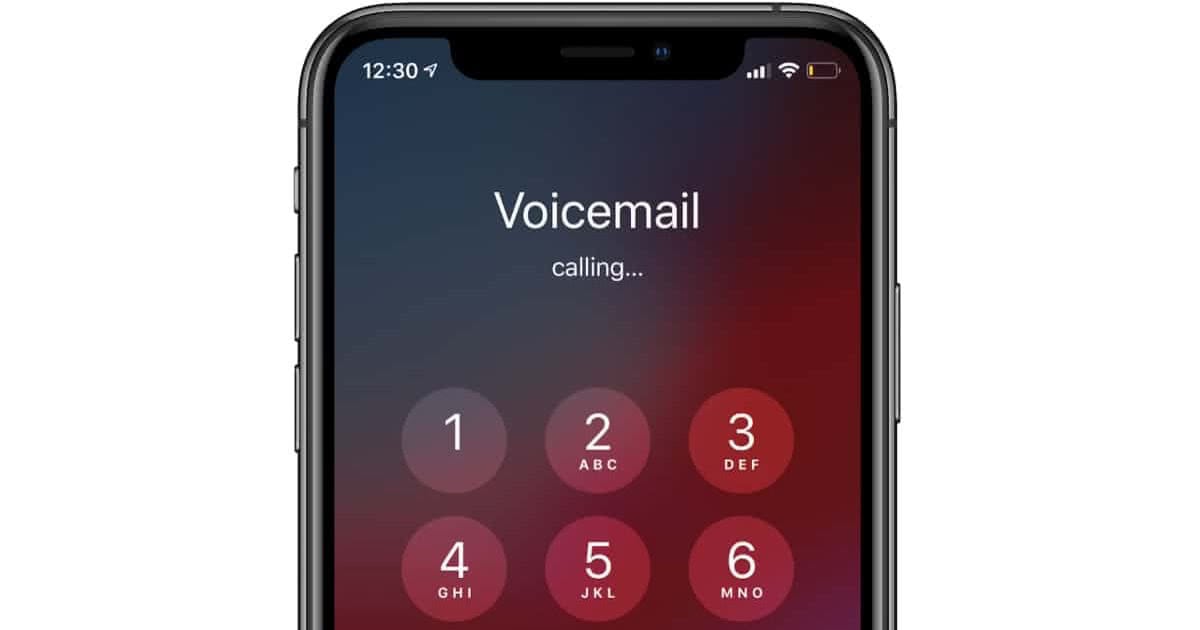 Part 1. What Is Voicemail on iPhone
Along with many beneficial features, iPhone enables users to use the voicemail feature when they can't pick up their calls. Voicemail is a feature in iPhone that helps you engage with your callers and clients and schedule meetings and appointments. It allows you to forward your upcoming calls and record them, so you can listen to them when you get time.
Among many, some iPhone users enjoy the voicemail feature. So, if you don't need it, you must learn how to turn off voicemail on your iPhone. There are several ways to turn off voicemail on iPhone. In the following section, we will tell you about them in detail.
Part 2. Two Methods to Turn Off Voice on iPhone
Turn Off Voicemail on Your iPhone by Dialing Numbers
The most common method to turn off voicemail on iPhone is using shortcodes or dial numbers. Following is the procedure to use a unique code for disabling the voicemail feature:
Step 1. Go to the Phone app on your iPhone and open it.
Step 2. Here you will find a six dots keypad icon; click on it.
Step 3. The voicemail deactivation code worldwide is #004#; dial it.
Step 4. Now tap the Phone or call icon. After that, a screen with gray color will appear and say, "Please Wait". Now, you will see a screen full of text about voice call forwarding.
Step 5. If the screen tells you "Setting Deactivated Succeeded", you have turned off the voicemail on your iPhone. But sometimes, you must check if it is deactivated or not.
Step 6. To check it, call on your number from another device.
Step 7. After successfully turning off the voicemail, tap the Dismiss option.
Turn Off Voicemail on iPhone via Different Carriers
The other method to turn off voicemail on iPhone is to directly call your carrier and request them to disable call forwarding on your device. To do so, follow the given steps:
Step 1. Navigate the Phone app on your iPhone.
Step 2. You need to dial your carrier's customer service number. The common number of carriers is *611, dial it and tap the phone icon. You can try any common carrier if the number doesn't work for you. They are:
AT&T: Dial 611 or 1-800-331-0500
Sprint: Dial 611 or call 1-800-937-8997
Verizon: Dial 611 or call 1-800-922-0204
T-Mobile: Dial 611 or call 1-800-937-8997
Part 3. How to Reactivate Voicemail on iPhone
Now, you get to know how to turn off voicemail on your iPhone. If you disabled voicemail on your device and want to reactivate it, you must follow some simple steps. Turning on the voicemail feature on your iPhone is not a complex matter.
Suppose you need the voicemail on your device, short dial codes such as 004#, any time. The reactivation depends on your account and provider. So when you reactivate it, it takes time to start working. Restarting your iPhone after you dial the short code and reactivate the voicemail is better.
Part 4. The Best iOS Fixing Program to Fix Voicemail Issues on iPhone
Although all the above methods for turning off voicemail are helpful, if your voicemail screen gets stuck or crashes, you must get your iOS device repaired. In that case, you must use a third-party tool to turn off voicemail on your iPhone. We recommend you use the TunesKit iOS System Recovery to solve how to turn off voicemail on iPhone issues.
TunesKit iOS System Recovery can fix all iOS devices related issues. It supports all iOS devices like iPhones, iPods, iPad, and others. The software has an easy-to-use interface. So you don't need any technical understanding to use it. Also, it offers you two repair modes so that you can choose them according to your problem.

Characteristics of TunesKit iOS System Recovery:
Available on Mac/Win and supports iOS 15/16
Provide Standard Mode and Advanced Mode to fix
Easy-to-use and beginner-friendly interface
Fix your iOS devices without losing any data
Follow the step-by-step process to use the software and know how to turn off voicemail on your iPhone.
Remember: Successfully install and download the TunesKit iOS System Recovery on your software-supported device.
Step 1

Start the Repairing Process

Connect your iPhone to the Mac or Windows computer with your iPhone's original cable. Once you have installed the software, click on its desktop icon to launch it. Click on the "Start" button at the software's main interface.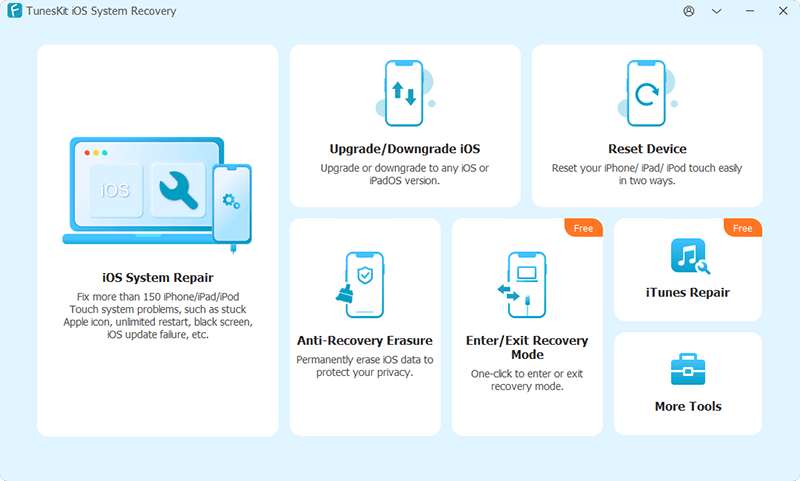 Step 2

Select a Repairing Mode

TunesKit iOS System Recovery has two repair modes. The Standard Mode is mainly used to fix all the iOS System issues. It is beneficial because it does not delete any data from your iOS device. The Advanced Mode is used when the first mode is not working. Also, it erases all the device's data. The Standard Mode can solve the ultimate solution: turn off voicemail on an iPhone. Select Standard Mode and move towards the following method.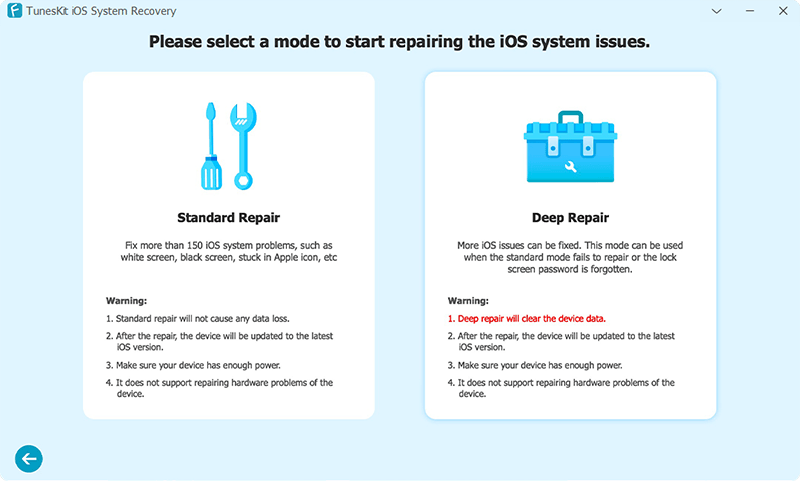 Step 3

Download Firmware Package

The software will detect all your iPhone's basic details. Check all the information and correct if something is wrong. At the bottom, there is a "Download" button; click on it to start the downloading process.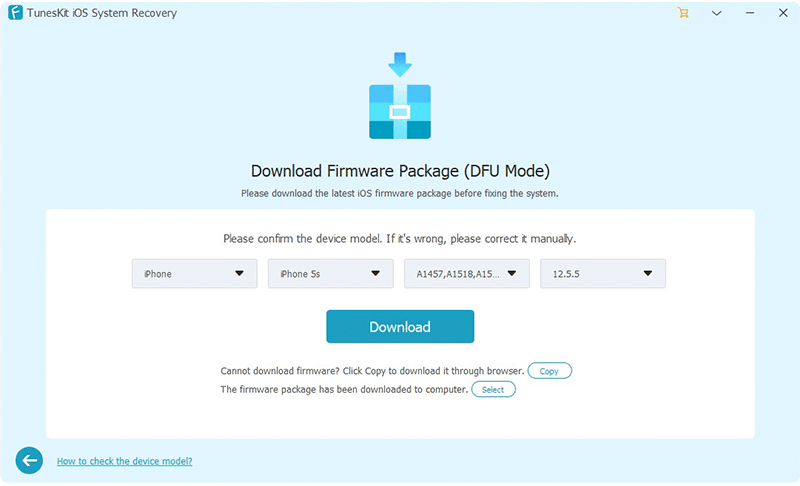 Step 4

Fix the iOS Issue

Once the download is completed, click on the Repair button. Then, the software will start repairing your iPhone. Wait for the process to complete.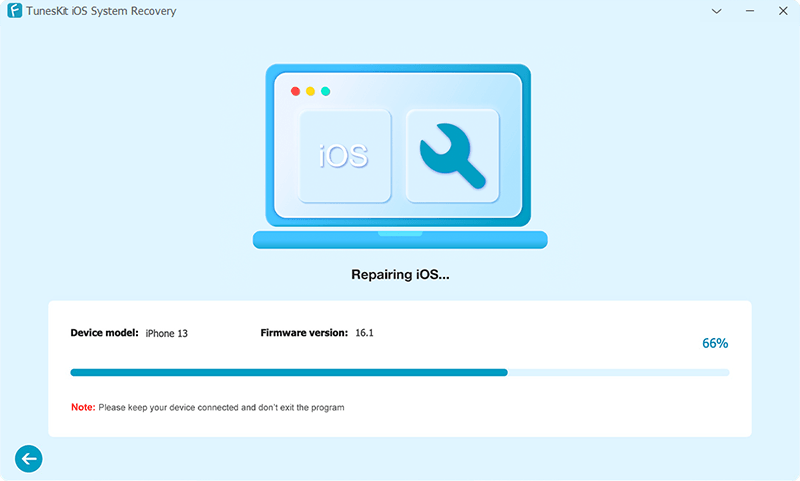 Now, your iPhone's software issues are fixed. Restart your iPhone after the repair. Now the turning off voicemail issue is solved.
Part 5. Conclusion
With simple procedures, you can now control the voicemail on your iPhone. The article has provided all the information you need about the voicemail feature on iPhone. Try the steps mentioned above if you want to turn off voicemail on your iPhone. If you face software issues and can't get help with the provided methods, TunesKit iOS System Recovery will help you. The software is reliable for solving iOS issues, including how to turn off voicemail on iPhone.

Brian Davis has covered tech and entertainment for over 10 years. He loves technology in all its forms.