Full Guides to Fix iPhone not Vibrating
4 mins read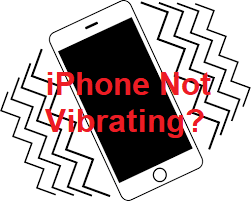 When you are at our company or school, especially during the meeting or class, you do not want the noise of your ring to bother others and make you the focus of everyone. But you do not want to miss calls or notifications, either. Generally, people use the vibrating function of our phone to replace ringing. By doing this people will not be disturbed and you will know when you get calls or messages. Since the vibrating function is so important, when some find that their iPhone not vibrating anymore, they are in bad horror and anxiety. This passage will provide some workarounds for this problem. If you get this problem as well, just read it.
How to Fix iPhone Vibration Issues
The causes of iPhone vibration problem are varying. The problem can be caused by hardware issues such as a broken vibration motor. If you drop your iPhone on the ground or let water in iPhone accidentally, maybe the hardware of your iPhone is the reason. But mostly, there may be just a system problem. Here listed 6 methods. Let us start with the simplest one.
Video Tutorial
Method 1. iPhone Silent Mode
If you touch on the left side of your iPhone, the Ring/Silent switch can be found. You can turn on and turn off the silent mode of iPhone 2 or 3 times. Sometimes the iPhone will vibrate and the vibration function can return to normal thanks to this operation.
Method 2. Check the Vibration Button
The closed Vibration button may cause the problem of vibration not working on iPhone. We need to check it at the Settings, too. Then is the Generation and the Accessibility. Find the Vibration button after clicking the Touch button and check whether it is turned on. If not, turn on it.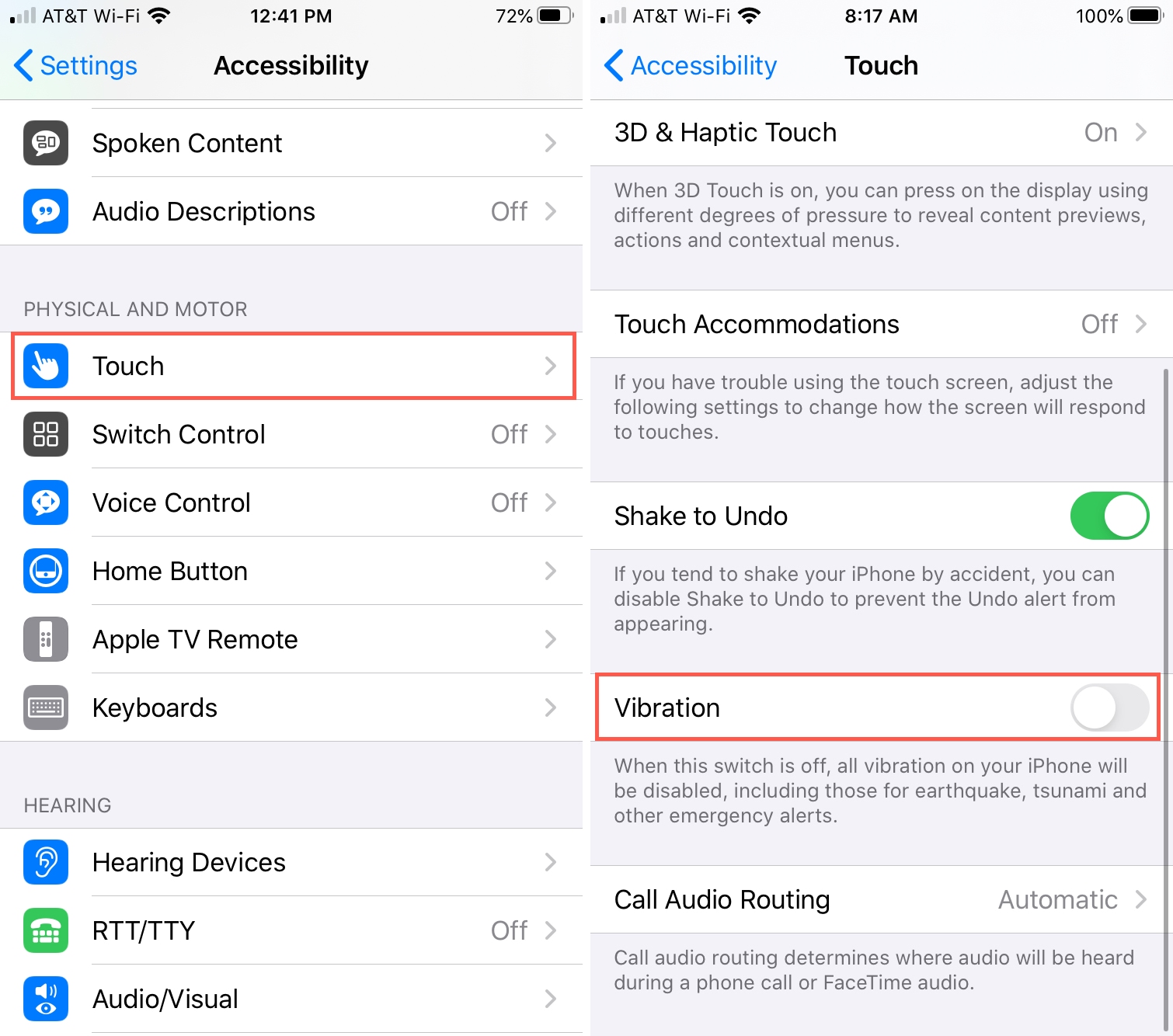 Method 3. Turn on the Vibrate on Ring or the Vibrate on Silent Button
Sometimes our iPhone does not vibrate for text or call, because we turn off the Vibrate on Ring button or Vibrate on Silent button. Turning on the Vibrate on Ring button, your iPhone will vibrate under ring mode. Turning on the Vibrate on Silent button will let your iPhone vibrate on silent mode. Go to the Settings of your iPhone, find out the Sounds button, and click it. These two buttons will appear. You can check and turn on one of them or both if these buttons are off.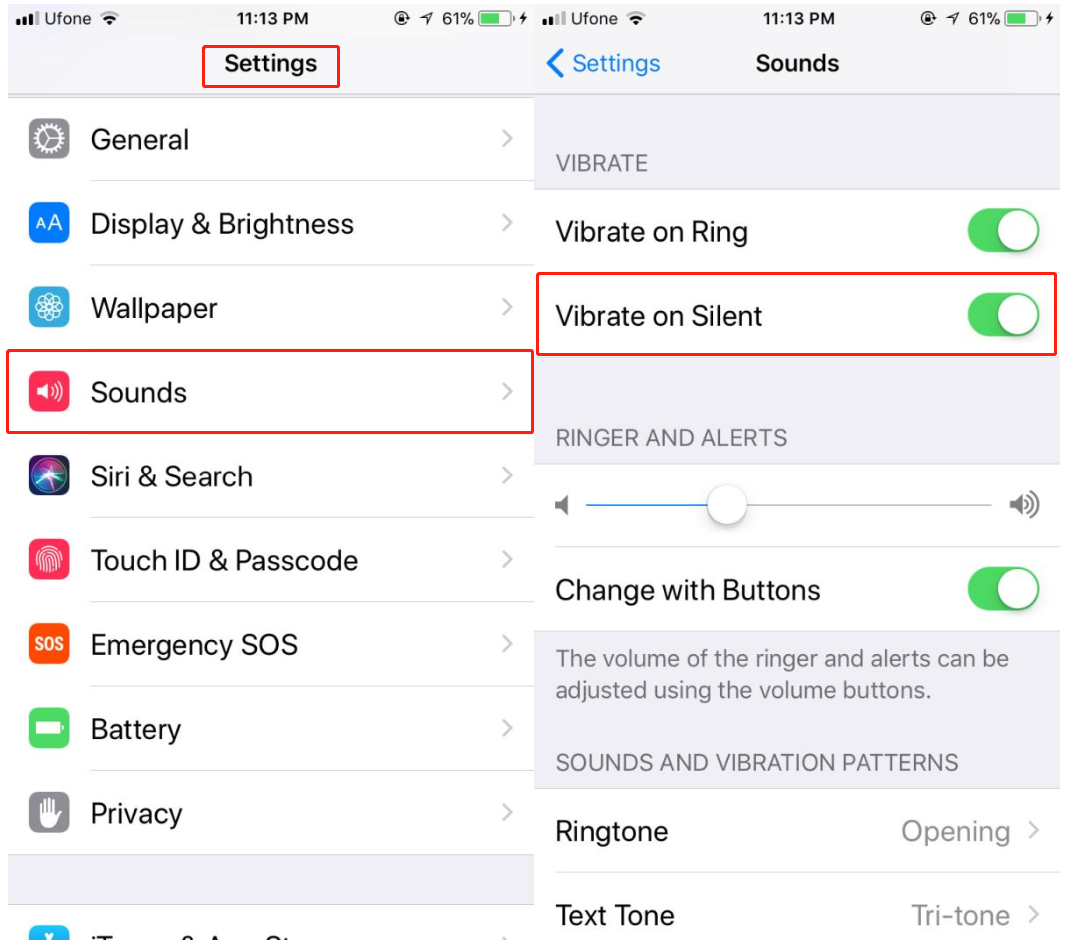 Method 4. Repair Vibration Not Working in iPhone without Data Loss
Some may think that changing and checking settings of iPhone one by one is too troublesome. Are there any software or other things that can fix this problem easily? Of course, there are. Some iOS system repairing tools like Tuneskit iOS System Recovery can fix problems like that.
TunesKit, this amazing software, can fix 50+ iOS system issues without data loss, including iPhone stuck in Apple logo, or becoming black/white/frozen screen, etc. In addition to iPhone, iPad, iPod touch, Apple TV can be fixed by it, too. And it is more than a tool iOS system repairing tool, for it can degrade iOS, fix iTunes errors and let iPhone enter or exit Recovery mode easily. It offers two modes for you to choose according to your situation: Standard Mode (for common issues) and Advanced Mode (for serious issues).
Only 3 steps can you fix iPhone not vibrating using this software.
Step1: Connect the iPhone with Vibrating Problem to PC
Connect the iPhone with computer. Start TunesKit and you can enter Recovery Mode by clicking the Enter Recovery Mode button (you can also exit from this mode by clicking the same button). Click the blue Start button.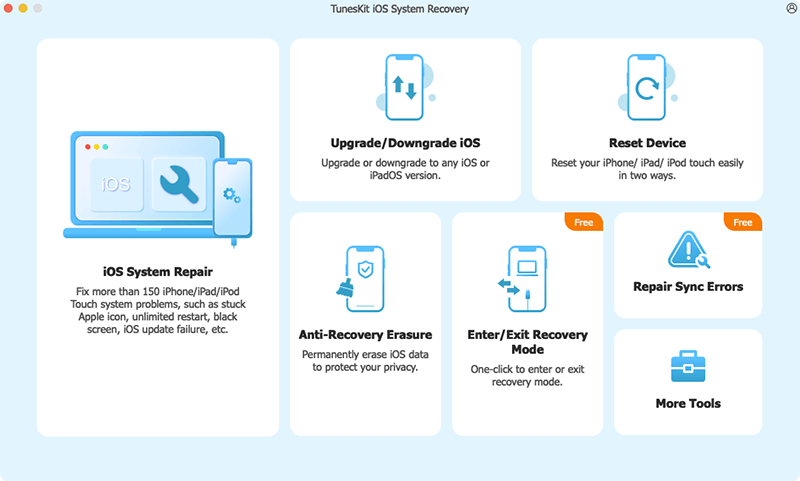 Read the description. Choose the Standard Mode and the Next button. (The Standard Mode will not cause data loss and the Advanced Mode will since it is a kind of deeper fix.)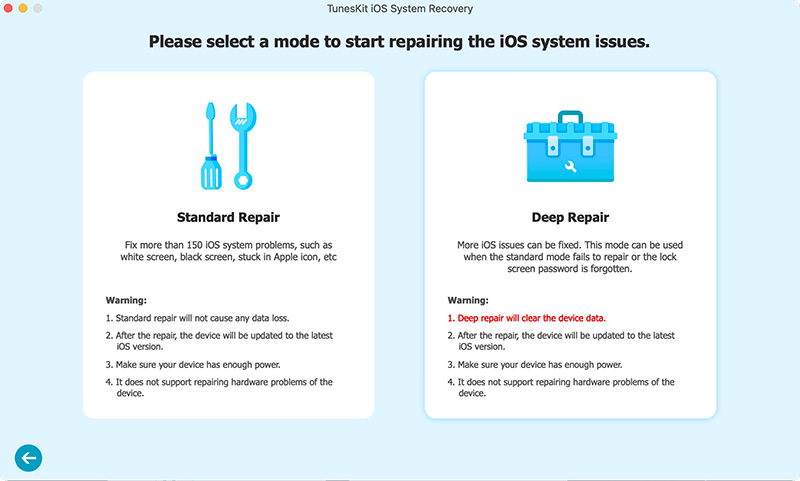 Step2: Download Firmware
Check the information here is correct or not. Correct, tap the Download button. If not, edit it and tap the Download button.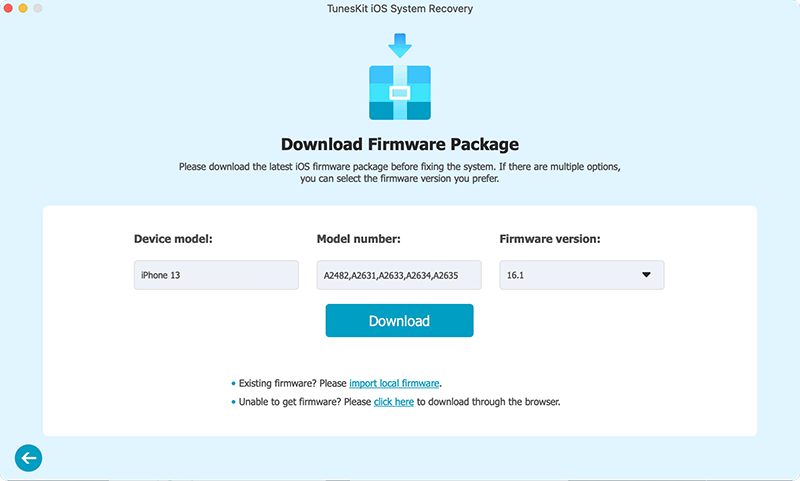 Step3: Fix the Issue with a Click
When you have downloaded firmware, click the Repair button. The problem is fixed.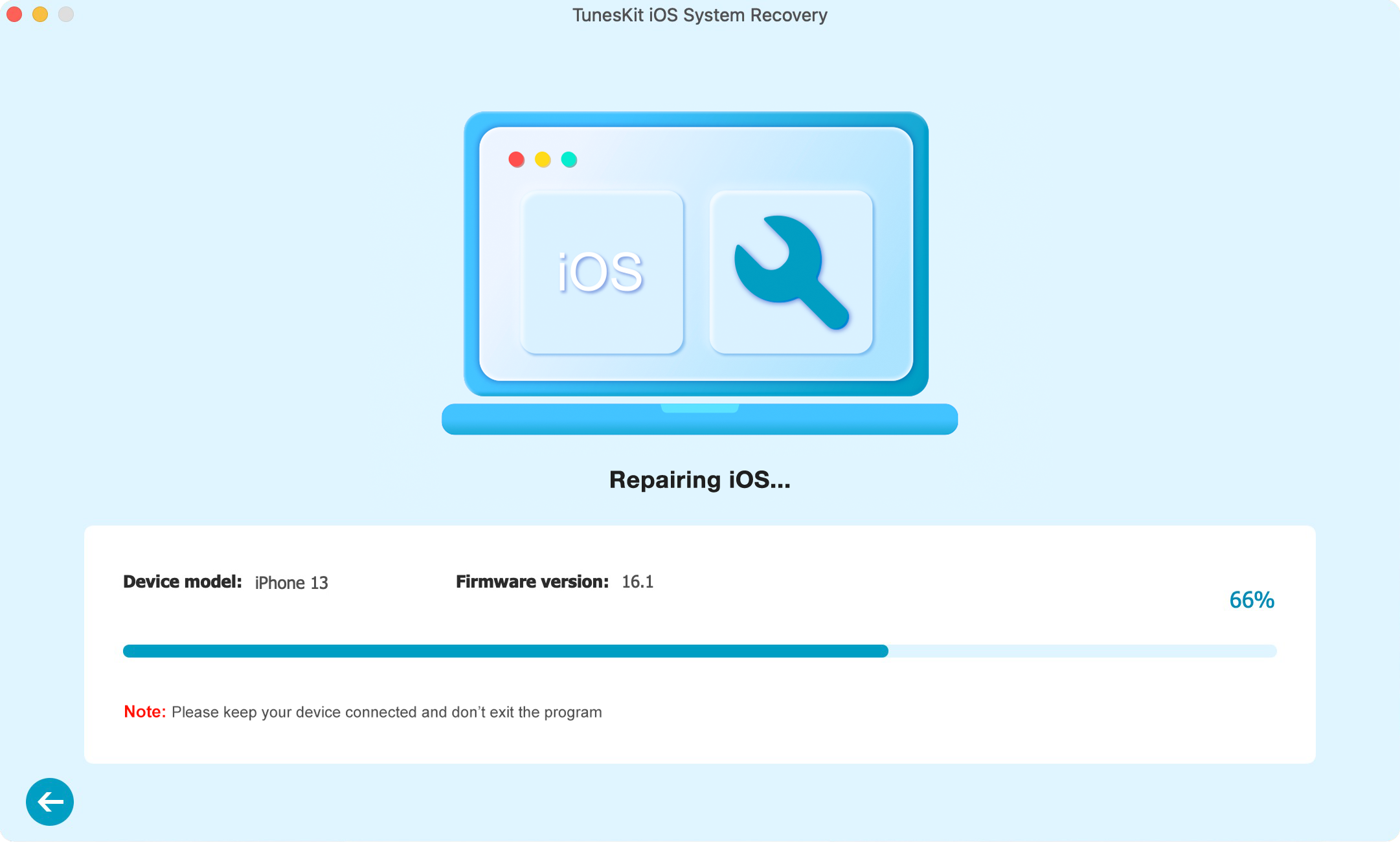 Method 5. Reset All Settings
Resetting all settings is a method used in fix iOS system problem a lot. To fix iPhone vibration not working, it is a good way we cannot forget. Resetting all settings means return all the settings of your iPhone to factory default. You have to reset everything, including battery settings, themes, Wi-Fi networks and passwords. And it will clean all your apps, photos and music on your iPhone as well. This method is useful but troublesome. Most people will not take it as the first choice. If you decide to reset all settings, back up all your data on iPhone first.
Follow: Settings > General > Reset > Reset All Settings.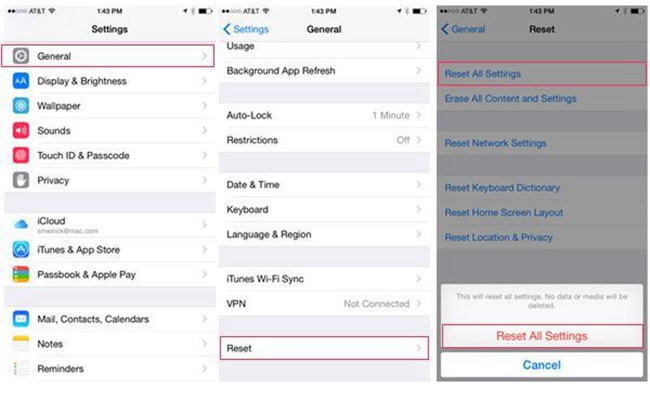 Method 6. Turn off the Do Not Disturb Switch
The Do Not Disturb function of your iPhone is to avoid things like calls, messages, alerts from disturbing you. When this function is on, all these will not bring the vibration and you may think your iPhone does not vibrate.
How to: Settings > Do Not Disturb
More FAQs
Q: Which method should I choose if I only want to pick one?
A: If you want to fix it at one time, you should choose the TunesKit iOS System Recovery. It is a professional program for fixing iOS system glitches. It is easy to operate and will not cause data loss under the Standard Mode.
Q: What should I do if all the methods do not work?
A: Maybe the hardware cause iPhone not vibrating. You are recommended to ask Apple Center for help.