The Best Way to Cut Videos for Free
Posted by Adam Gorden on April 5, 2017 11:02:35 AM • Category:
Resource
3 mins read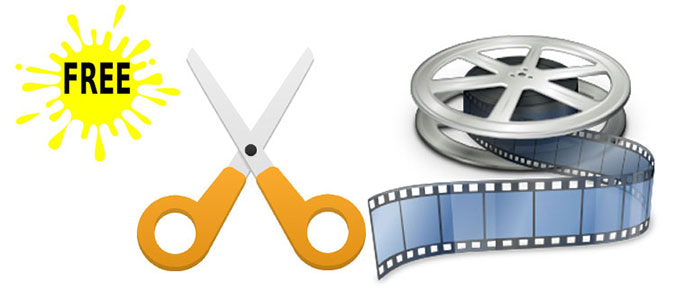 When talking about video editing, many people think it is a rather complicated task and are not willing to try by themselves. Actually, with the help of a well-designed video editing software, almost anyone can do that in a easy way. Cutting video is the most basic skill to edit videos. If you are a new video editing user, we'd recommend you to start from cutting videos first. You will find out that it is really interesting and you will fall in love with it.
Professional Video Editor VS Simple Video Cutter: Which One Is Better
To answer this question, you'd better find out what are the differences between a professional video editor and a simple video cutter first. Let's take a look at the features, usability and price.
Features:A powerful video editor usually comes with a lot of features like trimming, merging, cropping, adding a caption, adding an element, PIP, filters and effects etc while a specific video cutter may only comes with the feature to cut and merge videos.
Usability: You must spend days or weeks to learn an advanced video editor before you can handle it. For a specific video cutter, you can use it within the first glance.
Price: It could cost from dozens of dollars to hundreds of dollars to get a powerful video editor. For a video cutter, usually they are available at a very low price, some of them are even offered for free.
Both have different advantages and disadvantages, right? The answer to which one is better varies depending on your special requirements. For an experienced user, it is right to get a professional one to create a masterpiece surely. But as a video editing beginner, a specific video cutter will help you trim videos effectively.
How to Cut Videos in a Best Way for Free
Though professional video editor is powerful, it is not a best option to cut videos for beginners. In my opinion, the perfect way to cut videos is to use a best video cutter. It can save you a lot of time and prevent you from any editing hassles. After using a lot of free video cutters, I would say that TunesKit Free Video Cutter is the best one due to the following reasons:
1. It is a specific software designed for spliting large videos to small pieces, pretty easy to use.
2. By using the lastest technology, it can keep the original quality.
3. It is totally free with lifetime free update and no hidden charges. .
It comes with both Windows and Mac versions, the mac version is called TunesKit Free Video Cutter for Mac, you can download the right version to try it out yourself. I am sure you will get addicted to it after trying it.
Detailed instruction on how to cut videos to small segments step by step:
Step 1

Prepare your videos for cutting and load a video file to the software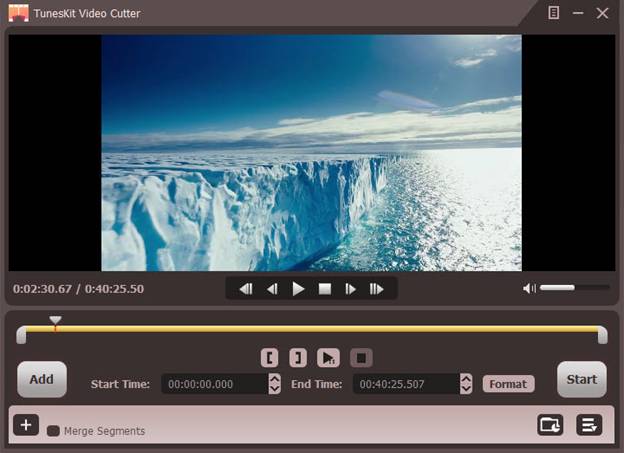 You can cut any videos you shoot or downloaded online. Just make sure they are already saved or transferred on the computer. Then you can add a video to the software to start.
Step 2

Trim your desired video segments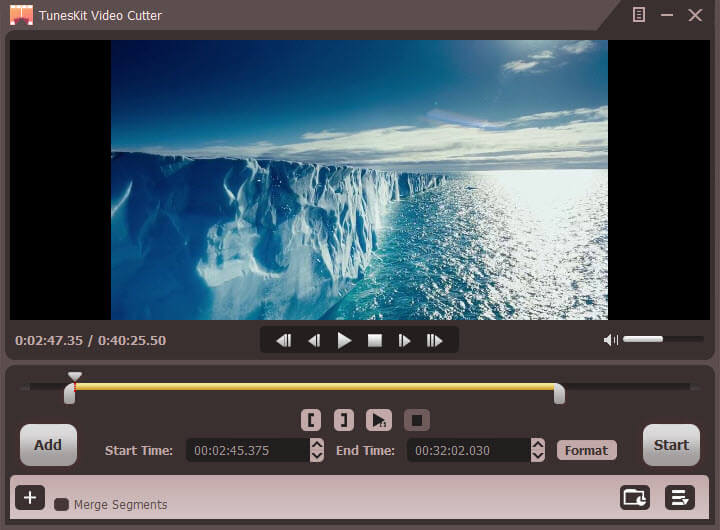 Use the slider bars to select the video parts easily and you can adjust the value directly if you want to cut more precisely. Moreover, you can press '+' to select another new segment. What is more, there is an option 'Merge Segments' to join the video clips.
Step 3

Click 'Start' to apply the changes and export to new videos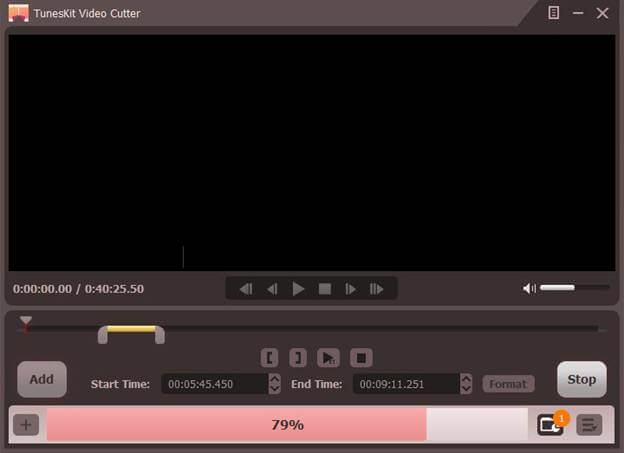 When you do the trim settings, the videos are not really cut until you start the process to do that. It runs really fast to cut a video like a flash after starting.
More Tips: If you are looking for a more professional video splitter that can convert and edit your video cuttings, you should upgrade to TunesKit Video Cutter for Windows/Mac.