Ultimate Tutorial: How to Extract Subtitles from iTunes DRM Movies
Posted by Adam Gorden on May 19, 2017 11:22:24 AM • Category:
Resource
5 mins read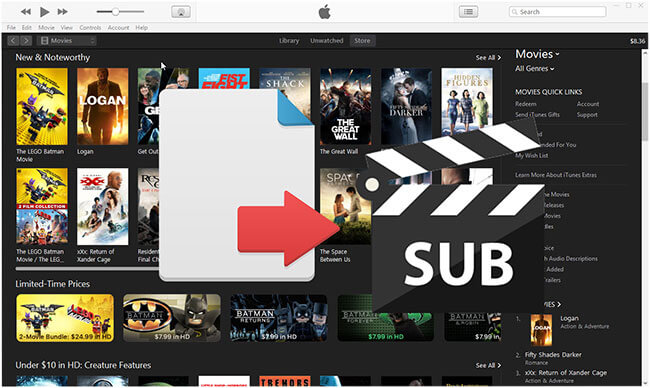 "The movie I purchased from iTunes comes with multiple different language subtitles, but there are some translation errors on the subtitle of my language . Is there a way for me to extract the subtitle so that I can reedit it and then enjoy the video with my families together?" Asked by Stella Garcia.
I have been hearing many similar complains of the problems regarding the iTunes movie subtitles from the people around me recently, they are all looking for ways to extract subtitles from iTunes videos. Not just the situation mentioned above, there are a lot of times we need to takes out iTunes video subtitles. It is not an intuitive task though as the iTunes videos are embedded with digital rights management protection. There is no way to edit subtitles unless you disable the DRM. Yet no worries, to protect the users from any inconvenience, I will show an ultimate way to remove DRM and then extract subtitles from iTunes videos by TunesKit Free Subtitle Extractor for Mac/ Windows here.
How to Remove DRM from iTunes Videos losslessly before Pulling out Subtitles
When it comes to removing DRM from iTunes videos, the most straightforward way you may think of is to record the videos to new ones. If you do that, the subtitle will be hardcoded to the video as an entirety which makes it impossible to rip subtitles. So I won't recommend that way, you will have to get a lossless iTunes DRM removal tool. By using such a software, you can get rid of DRM limitations from the iTunes episodes directly without recording or transcoding while keeping all the subtitles and closed captions as original softcoded subtitle files. Most DRM converters in the market are not lossless, following are the top two lossless DRM M4V Converter recommended:
Requiem 4.1 for Windows/Mac. It is a totally free open source freeware for unlocking DRM protections from all kinds of iTunes videos like movies, TV shows and extras. It adopts the same mechanism of iTunes DRM copyright protection to reverse the iTunes DRM encryption process, so the video quality won't be effected a little, all the tracks including videos, audios and subtitles can be kept in their original styles. It runs quickly within one click after installing to unlock FairPlay DRM of all the iTunes M4V movies. In spite of this, it has a serious drawback that it was discontinued in 2012 and the latest version Requiem 4.1 only works in the old version iTunes 7.05 or lower ones. Peoples without such an old version iTunes will need to spend hours to roll back the iTunes to the old versions and try again to import or download all the media files.
TunesKit DRM Media Converter for Windows/Mac. This is a cutting-edge DRM Remover released by the TunesKit studio. It can remove DRM from iTunes videos at a 20X faster speed without quality loss, all the subtitles and closed captions can be retained. Compared to Requiem, it is not free, but it has a lot of useful features such as it supports multiple formats and popular devices and it is compatible with all kinds of iTunes and different versions of systems. Furthermore, you can get lifetime free update and technical support after purchasing. Before you do that, you can also download and try it out by yourself for free. It is unbelievably easy to use. Generally it takes only three steps to remove DRM from iTunes videos and convert iTunes videos losslessly. Please make sure you select the output format as lossless M4V or MP4, else you might not be able to extract the subtitle later. For more info, you can visit the complete guide: How to Losslessly Remove DRM and Convert iTunes M4V Videos
How to Extract iTunes Movie Subtitles by TunesKit Free Subtitle Extractor
After removing DRM and converting to the lossless DRM free videos, you can easily extract iTunes movie subtitles from them by the TunesKit Free Subtitle Extractor for Windows/Mac. It is a most convenient SRT extractor which supports to export SRT subtitles from many kinds of videos such as MP4, M4V, MOV, 3GP for free. This subtitle program is very robust and the running speed is really fast beyond your imagination.
Fool-proof instruction on how to rip iTunes video subtitles by TunesKit Free Subtitle Extractor:
Step 1

Add the iTunes DRM free videos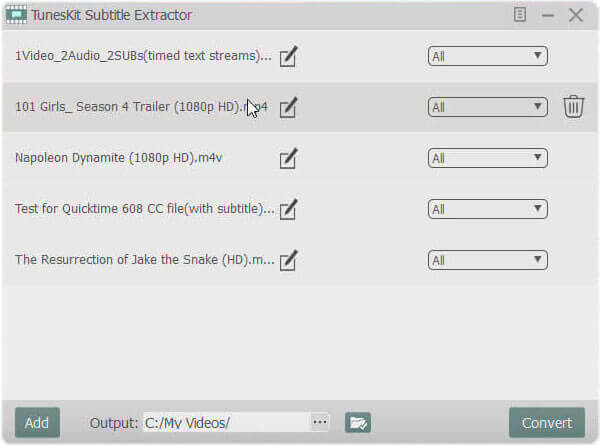 Please click 'Add Files' to browse the iTunes videos folder to import the DRM free MP4 or M4V videos with subtitles. Or you can try the other way to just drag and drop to import if you prefer .
Step 2

Customize the subtitle settings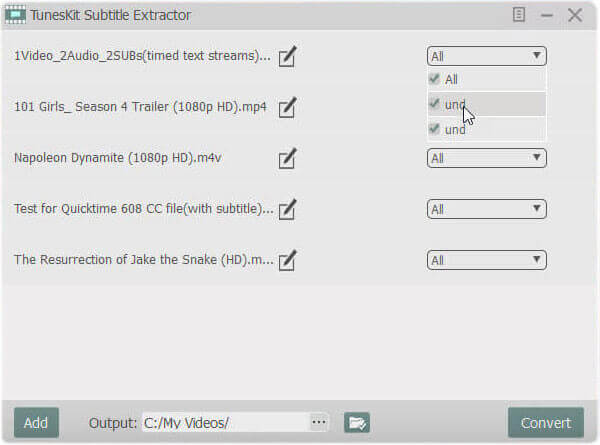 If there are multiple subtitles from the converted MP4 or M4V videos, you can select all subtitles or some of them as you want. Also, you can change the SRT subtitle name and output folder. Still, it is OK if you just want to the keep the default settings.
Step 3

Export subtitles fast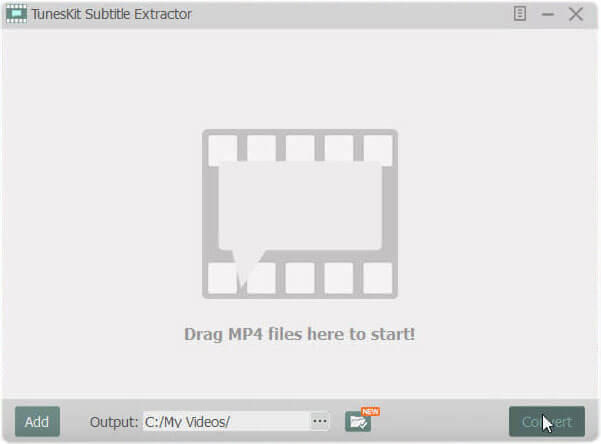 By clicking 'Convert', the subtitle software will quickly extract the iTunes movie subtitles to the output folder you selected, it takes only seconds.
Further tips on what can you do with the exported subtitles:
It is really terrific to get the subtitles from iTunes videos. You can not only modify the SRT subtitles to make a better one, but also use them for other scenarios. For instance, if you don't have enough time to watch through the videos, you may read the subtitles to get an overview of the story, this is a new way to enjoy movies. Second, some devices require standalone videos and subtitle files to play well, with the external subtitles, you can get the best enjoyment of iTunes videos with subtitles or captions on any devices. Third, the SRT subtitles are really small in size, you can store them on you computer instead of videos if there is not enough space. Apart from these, you can use the subtitles for any purposes you might think of.