Apple TV not Showing Apps? Check 6 Fixes
5 mins read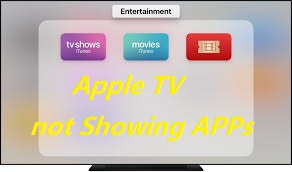 " Apple TV are all gone. I don' t have any apps on my Apple TV. What can I do to restore all my apps? " " Apple TV doesn' t display anything other than Computer and Setting, and how to solve it? "
In Apple TV communities or other forums, we can see some similar complaints like the feedback above. Some users once point out they tried simple ways, but they still fail to fix Apple TV not showing apps. And they want an effective way. Without showing any app like Netflix, YouTube, TED or Music, users can not enjoy movies, videos, lectures or music that should have been played on Apple TV.
In order to solve people' s confusion, here in this tutorial, we will offer several solutions for you to fix Apple TV apps not showing up, ranging from simple, frequent ways to the most effective one.
The Most Effective Way: Fix Apple TV Apps Issues with System Repair Tool (No Data Loss)
One of the reasons for repair tools' effectiveness is that they can fix all issues caused by software or system troubles. TunesKit iOS System Recovery is such a powerful repair tool, and users who have employed it tend to give a like.
If your Apple TV still does not show any app after you try to restart or reset the device, just resort to TunesKit to help you. In the process of fixing Apple TV apps not showing, it can ensure 100% safe and higher success rate at a fast speed. Get your Apple TV back to normal status is its special advantage that some other similar software lacks. The system issues it can fix include Apple TV not connecting to iTunes store, stuck on home sharing or Apple logo, not responding, etc. Of course, other Apple products including iPhone, iPad, iPod Touch will not be excluded, and you can use TunesKit to let these devices turn normal again.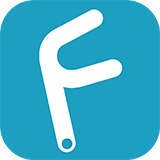 Characteristics of TunesKit iOS System Recovery:
Fix Apple TV not showing apps without data loss
Repair 30+ tvOS/iOS issues at home
100% safe and a high success rate
Easy to use with friendly interface
Try It Free
600,000+ Downloads
Try It Free
600,000+ Downloads
Steps to downgrade Apple TV by TunesKit
Now we will show you how to fix the issue by three steps. As TunesKit is a desktop software for Mac and Windows, you need to install it to your PC. A USB cable is also needed.
Step 1: Firstly, open TunesKit and use the USB cable you prepare to connect your Apple TV to the software. Wait for a while and then your Apple TV will be detected. Next, click Start on the right side of the interface.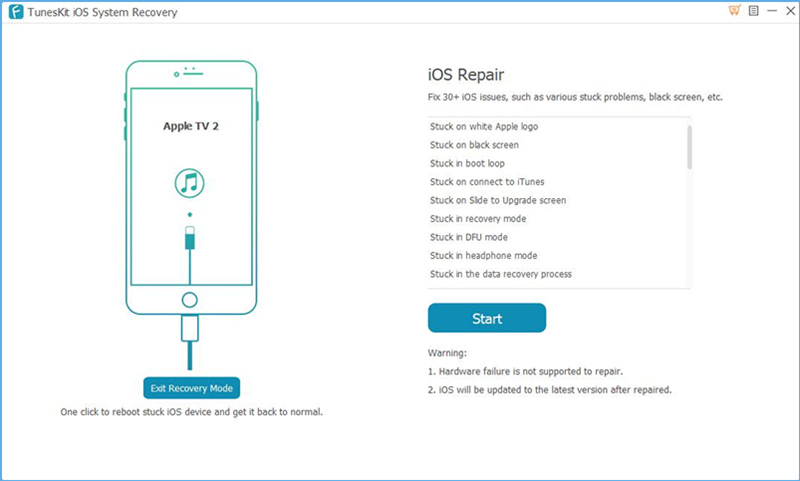 Step 2: Secondly, according the software hint, choose a mode which will lead to data loss (Standard Mode is recommended). Then click Next.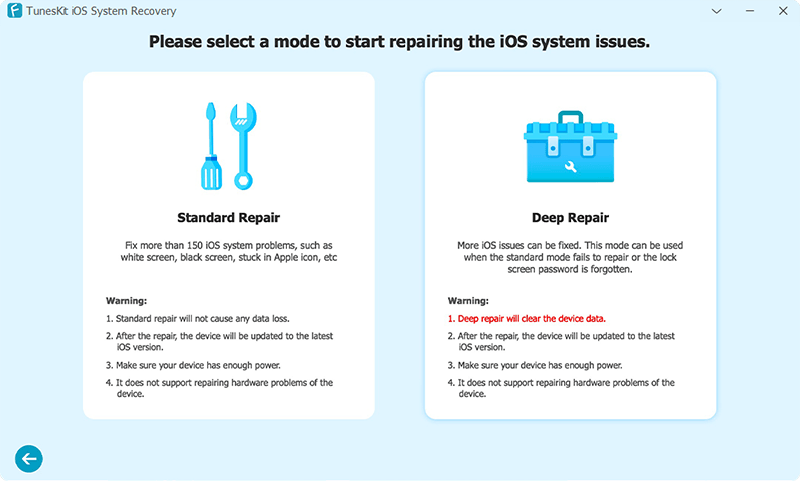 Step 3: Lastly, start to download firmware package and check if the device model is wrong. Next, click Download. When the package is completed, just click Repair to fix your Apple TV.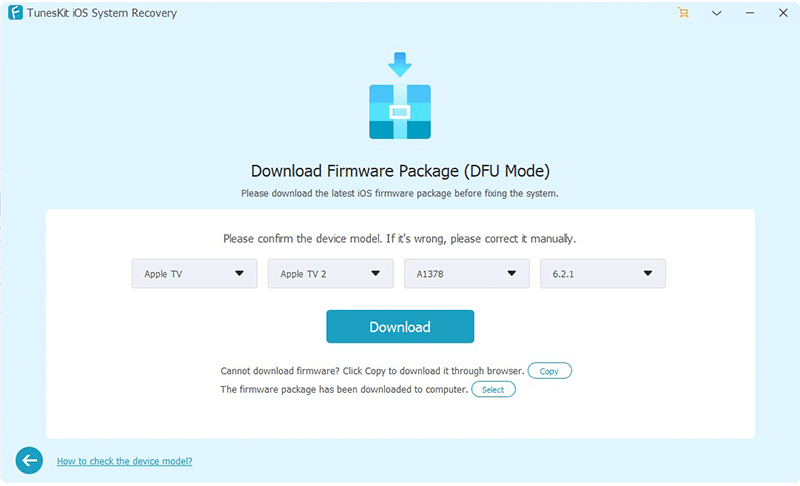 Note: If the Standard Mode is not useful to fix the issue, just try Advanced Mode. But you have to back up your Apple data before fixing it.
What Can I Do Else?
In addition to the first solution, there are other conventional ways to fix Apple TV not showing apps. Or you can also try the following ways firstly if you think your device has not suffered from serious system problems.
Method 1: Replug the power cable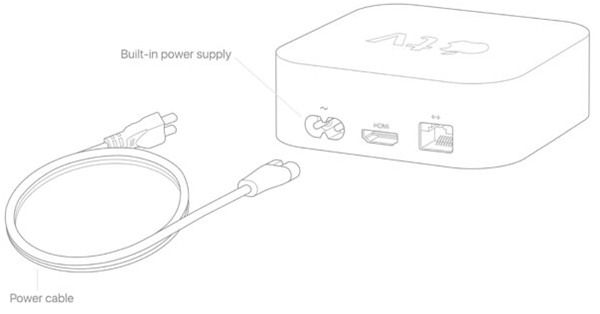 You only need to unplug the power cable from all connection ports. Then wait for several seconds and plug the power cable back again to check apps can be shown.
Method 2: Restart your Apple TV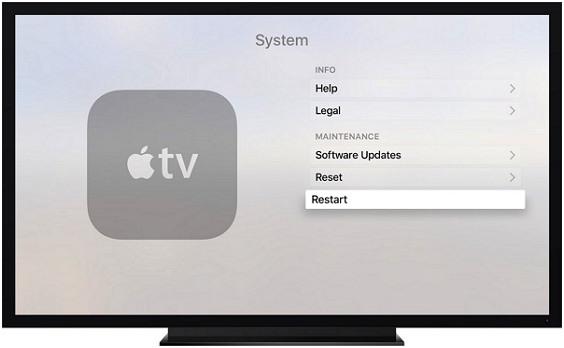 If Apple TV apps are not responding, try to restart the device, and two options are for you:
• Press and hold the Menu and Home buttons on the Siri Remote until the Apple TV status light blinks rapidly;
• Go to Settings on Apple TV, choose System and then click Restart.
Method 3: Reset your Apple TV using the Remote
Be careful that resetting Apple TV means it will turn the device to its original factory settings, thus erasing data. Firstly, you should connect your Apple TV to a TV and power it on. Then follow the next steps.
For Apple TV Generations 2 and 3:
• Open Settings and click General. Scroll down to select Reset;
• Choose one of these options: Select Reset All Settings (This option resets your settings, including your accounts and configurations.) or Restore. (This option returns your Apple TV to its factory settings and installs software updates. It requires Internet.)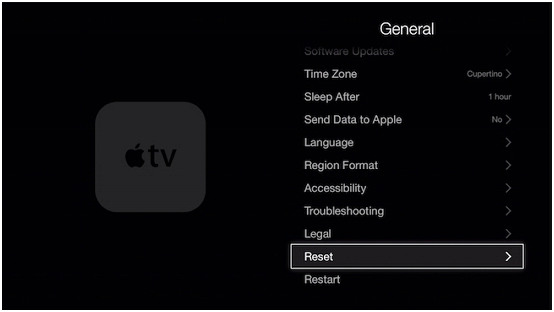 For Apple TV 4K and HD:
• Open Settings and go to System. Scroll down to select Reset;
• Choose a reset option: Select Reset (This option is the fastest way to return your Apple TV to factory settings.) or Reset and Update. (This option returns your Apple TV to its factory settings and installs software updates. It requires an Internet connection.)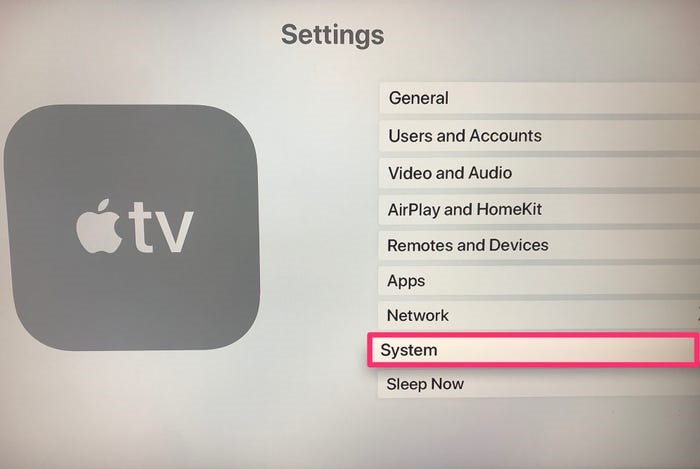 Method 4: Update Apple TV software to the latest
• For updating manually: Open Settings on Apple TV. Go to System > Software Updates, and then select Update Software. Select Download to start installing. And do not disconnecting Apple TV during the update process;

• Set automatic update: Open Settings. Go to System > Software Updates. Next, select Automatically Update.
Method 5: Restore Apple TV through iTunes
To use this method, you will need iTunes on your PC and a USB cable.
• Disconnect the power and HDMI cables from Apple TV;
• Connect one end of a USB-C cable (for 2nd and 3rd generation Apple TVs, use a Micro-USB cable) to Apple TV and the other end to your computer;
• Plug the Apple TV' s power cable back in (3rd and 4th generation only). If you have a 2nd generation Apple TV, leave it disconnected from the power source;
• Open iTunes on your computer, select Restore Apple TV.

Final Words
As six ways to fix Apple TV not showing apps are provided for you, it is certain for you to find a best way. To get a most effective fix and avoid data loss, TunesKit can certainly help you. Just try it and download it to help you solve any system issues at any time without leaving home.